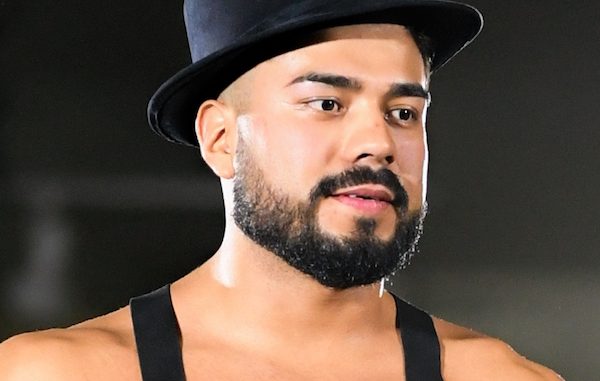 ---
SPOTLIGHTED PODCAST ALERT (YOUR ARTICLE BEGINS A FEW INCHES DOWN)...
---
Hello, gang, and welcome back to the NXT TRACKER, where I pick an NXT talent, assess their progression to this point and make bold, sure-to-look-hilarious-in-retrospect predictions about their future prospects. Today I'll tackle the strange case of Andrade "Cien" Almas.
The Man
Andrade "Cien" Almas is just 27, but like many of his Mexican contemporaries, has already wrestled for over half his life and is from a large wrestling family that spans generations. Almas enjoyed great success in CMLL as the masked La Sombra, a fact that wasn't hidden by the NXT announcers, though they've rarely gotten into specifics. He lost his mask in a Luchas de Apuestas match in September of 2015, just before he reported to NXT, though he wore the mask for his entrance at the Osaka show that aired this Wednesday before his match with Oney Lorcan.
Signature Wins in NXT
Almas started with a bang. He was the subject of many video packages hyping his arrival, and the announcers talked him up as a major signing. He wrestled dark matches for months before getting the sweet debut spot against Tye Dillinger on June 8th at NXT Takeover: The End.
Almas has had mixed success since. He strangely made only sporadic appearances throughout the rest of the summer and fall, and his babyface act went cold as he didn't appear to be trying, as a character, to move up the card. A heel turn after a first-round loss in the Dusty Rhodes Tag Team Classic inspired a new push on the other side, and he defeated his partner Cedric Alexander to put an exclamation point on it. He also beat No Way Jose to advance to a four-way #1 contender's match. Although he was the first eliminated in the four-way, the fact that Almas advanced to the match would suggest that things are far from over for him.
Live Reactions
Almas has seen it all. He initially enjoyed some decent pops, but saw this change for him as he was a fairly bland face with no defined goals. Before long, when Almas would do his signature spot where he's thrown into the ropes and he leans across them like he's just resting, he would be on the receiving end of boos that would lead to a heel turn that seems to be playing into his natural strengths much better.
The Booking
It's probably obvious by now that I think Almas was mishandled early, though it's also possible that this was the long-term plan all along, given that Almas played a heel effectively in the past as La Sombra. Even if it was the endgame plan, the weak initial push of Almas couldn't have done any favors, to the point where the heel turn was necessary to salvage whatever they could. Since the turn, I've really liked what they've done with Almas, from interviews to in-ring persona.
The Future
Almas does some high-flying spots here and there, but is more or less a mat wrestler who has a style that should make him an asset for years to come if booked properly. While Almas plays both sides well enough and the WWE most certainly wants to see another Eddie Guerrero or Rey Mysterio, his call-up should be as the arrogant heel he is. He's a handsome dude, and has the facial expressions of the handsome dude you'd like to see hit in the face. Andrade comes off a lot to me as Rick "The Model" Martel, and could enjoy a long career in the upper midcard in this role.
Predictions
Almas can't take losses at this point. He was damaged enough as it is when his face push stalled. He did lose to Oney Lorcan in the Osaka show, but this was essentially a house show that ended up being aired and didn't come off as a show that had any effect on the long-term narrative. Almas will find himself totally logjammed behind Bobby Roode right now, which is a very tough place to be since they're both playing arrogant heels with some of the same body language, so the time to call up one or the other might be approaching. I still think Roode is going to be asked to carry the NXT for a while, so Almas could reap all the benefits and move up.
As for specifics, it's hard to say. Gaining some wins against sympathetic lower-midcard faces like Kalisto might be a start, and from there Almas could slide into a program for secondary singles titles fairly easily. I don't see Almas being a world title contender given the talent base available, but he's got untapped charisma and clearly works hard, so anything is possible.
---
NOW CHECK OUT LAST WEEK'S ARTICLE: NXT TRACKER – TYE DILLINGER: A weekly assessment and predictions on the prospects of an NXT wrestler's main roster future