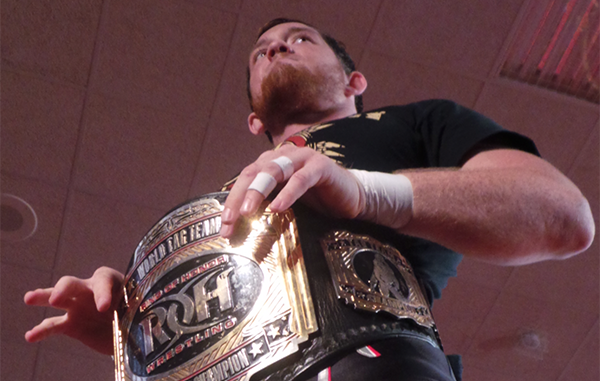 ---
SPOTLIGHTED PODCAST ALERT (YOUR ARTICLE BEGINS A FEW INCHES DOWN)...
---
There's a common question being asked among many wrestling fans, journalists, podcasters and writers:
Who will be the A.J. Styles of 2017?
One year ago, Styles seemed set to continue along his path of success: star in New Japan Pro Wrestling, wrestle some big matches for Ring of Honor and take some independent dates along the way. Then came the news, just hours after Styles' loss to Shinsuke Nakamura in the semi-main event of NJPW's Wrestle Kingdom 10: Styles was gone from NJPW and headed to WWE, along with Nakamura, Karl Anderson and Doc Gallows. Styles debuted to a big push at the Royal Rumble weeks later, and after a few shaky months, became arguably the WWE's top full-time wrestler.
Styles has always had a following, but his jump to WWE exposed him to a whole new audience. Hardcore fans would now have to share their hero with WWE loyalists and more casual fans – and that meant increased competition for Styles' early action figures, trading cards and other merchandise.
By the end of the year, few wrestlers were more popular with collectors than AJ Styles. His first WWE trading cards debuted in mid-2016, including his first WWE certified autograph in 2016 Topps WWE Undisputed. Mattel rushed to put out its first Elite action figure of Styles, but was beat to the punch by Figures Toy Company, which had announced plans for their own AJ figure back in 2015. Many fans prefer the FTC AJ to the Mattel figure, and several named it as one of the top figures of 2016 in a recent PWTorch Collectibles Column (link: http://www.pwtorch.com/site/2016/12/09/collectibles-column-collectors-pick-favorite-figures-2016/).
Chris DePetrillo, chief marketing officer for Figures Toy Company, said AJ's jump to WWE brought a lot more eyes to FTC's products.
"It also helped that ours arrived far ahead of Mattel, and the inclusion in the Wrestlecrate was huge for us too," DePetrillo said. "I think all that led to some new collectors hopping on board and picking him up."
Styles wasn't the only wrestler who had a breakout year with collectors. Here's a look at a few wrestlers whose collectibles took off in 2016, and some others who could garner attention in 2017.
Big in 2016
Alexa Bliss. The former NXT valet of Blake and Murphy very quickly established herself as one of the better talkers on Smackdown and defeated Becky Lynch for the blue brand's women's belt. Until the end of the year, her only certified autograph was found in 2015 Topps WWE Chrome, but new autographs and memorabilia cards have surfaced in 2016 Topps WWE Divas Revolution and 2016 Topps NXT. Her first basic Mattel figure hit shelves at the end of 2016, and the $9.99 figure was quickly selling on eBay for $40. A special chase version of the figure, which includes a toy Slammy Award, is much tougher to find and sells for more.
Bill Goldberg. For years fans have been asking when Goldberg would be inducted into the WWE Hall of Fame. He returned in a much different capacity in 2016, cutting arguably the best wrestling promo of the year upon his return and then squashing Brock Lesnar in under two minutes. Goldberg's old WWE action figures from Jakks Pacific caught fire upon his return, with some packaged figures selling for upwards of $100. Goldberg's certified autographs from Leaf Trading Cards remain affordable, with some as low as $25. It seems like a forgone conclusion that Goldberg will be included in new products from Topps and Mattel in 2017.
Finn Balor. Balor's debut Elite action figure, from Elite Series 41, was probably the most eagerly anticipated wrestling figure ever made. Sites like Ringside Collectibles were taking pre-orders on the "Demon King" figure in 2015, and then the figure was often on back order well into the second quarter of 2016. A lot of collectors never found one in their local retail stores, and had to pay higher prices online. Balor's second Elite figure, which featured a new paint job and a different take on the "Demon King," was included in Elite Series 46 and was just as popular and elusive.
Matt Hardy. The year began with the elder Hardy Boy wrestling as a very dastardly heel TNA World Champion. But before long, Matt was broken – and the wrestling world hasn't been the same since. Hardy has plenty of figures from Jakks Pacific, but his two Mattel Elite figures – from Series 2 and 5 – seem to be most popular with collectors right now, selling for around $50 loose with accessories. Matt's autographs can be found in WWE products from Topps, TNA sets from TRISTAR and even in 2016 Leaf Signature Series Wrestling.
A Big Year Looming
Braun Strowman. It sure feels like Vince McMahon is prepping Strowman for a WrestleMania match with Roman Reigns. Strowman has been kept strong, and interest in his collectibles slowly crept up over the year. A big push at the Royal Rumble could do for Braun what it did for Reigns in 2014. Strowman has a few certified autographs from Topps; his 2016 Topps WWE Undisputed Autograph, which features an on-card signature, is his most popular. The basic version, serial numbered to 299, is currently selling for around $15, but was selling for less than $10 just a few months ago. His first Mattel Elite figure, from Series 4, is currently selling for around $30, and the black sheep mask is a big reason for its popularity.
Bobby Fish and Kyle O'Reilly. Both of the reDRagon guys enjoyed breakout solo years in 2016. Fish defeated NJPW star Tomohiro Ishii for the ROH Television Title in May, and O'Reilly beat Adam Cole for the ROH World Title in December. Fish and O'Reilly will both be featured in FTC's Rising Stars action figure line, and early pictures of the Fish figure in particular received very positive feedback from collectors. Both Fish and O'Reilly have several cards in various Bushiroad King of Pro Wrestling (KinPuro) gaming sets. O'Reilly's first trading card was produced as part of the Missouri Wrestling Revival (MWR) set and can still be ordered from http://missouriwrestlingrevival.com.
Jeff Cobb. Perhaps best known to fans as Lucha Underground's resident monster Matanza Cueto, Cobb is a world class athlete with a very unique skillset. Like many other potential stars, Cobb has a figure planned as part of FTC's Rising Stars line in 2017. His first trading card was issued as part of a special set available at Pro Wrestling Guerrilla's Battle of Los Angeles events.
Kenny Omega. AJ Styles' defection from NJPW to WWE left a big hole in the company – one that Kenny Omega more than filled. He's become an international superstar, and may be the biggest non-WWE star in the world. His lone certified autographed trading card – from 2011 BBM Legend of the Champion – is serial numbered to 99, very scarce and extremely volatile. One copy sold on eBay earlier this year for nearly $300, and one is being offered for sale right now for $149.95. Collectors are already salivating over Omega's first action figure, due from FTC in 2017.
Shinsuke Nakamura. Nakamura's stock has been rising in North America since Jeff Jarrett brought Wrestle Kingdom 9 to U.S. pay-per-view audiences in January 2015. His shocking departure from NJPW to WWE via NXT made him an even bigger name. His popularity will explode even more once he becomes a fixture on one of WWE's main shows. Fans are clamoring for his first WWE action figure, a Defining Moments figure from Mattel that is due out in 2017. His autograph was included in 2016 Then Now Forever, and was one of the most coveted WWE trading cards of 2016. His on-card autographs from BBM are low numbered and also very popular, usually selling in the $100-$150 range.
PWTorch Collectibles Specialist Michael Moore can be reached atmichaelmoorewriter@gmail.com. Follow him on Twitter @MMooreWriter.
NOW READ OUR PREVIOUS COLLECTIBLES COLUMN: The Best and Worst Cards of 2016