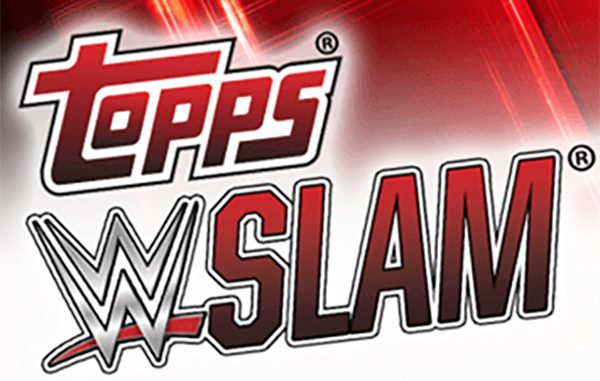 ---
SPOTLIGHTED PODCAST ALERT (YOUR ARTICLE BEGINS A FEW INCHES DOWN)...
---
With several thousand cards already released and several thousand still to come (assuming the game lasts as long as the others, and there's no indication it won't, seems like Slam is the #1 or 2 game in Topps arsenal currently), the value of cards gets to be a bit contentious amongst players. "What's it worth?" is a question that gets asked a lot in this game, just as much as "is this a fair trade?" I've already taken a look at general values, and undoubtedly we'll go over them again in the next few weeks, but let's take a look at the best and worst that Topps has produced thus far. Of course, this is my opinion alone, however I'm basing this on my personal experiences, and sold eBay listings.
First individual cards, the best of the best. I'm only including cards that are 25cc or higher, meaning that everyday players had a chance at actually obtaining them at some point. Maybe.
Backlash Women's Championship Six Signature (50cc) – Sometime in the last couple of months I'd say this card took over the number one spot from the Battleground Triple Sig. It's sold for over $100 recently, and was the first 6 sig in the game.

Becky Lynch/Alexa Bliss TLC Gold Signature (30cc) – Anything under 50cc in a female sig is valuable, but this is the best PPV sigs. Helps that this was the PPV where Alexa won her first title.

Sasha Banks Gold Rush (50cc) – You could swap this card out for Paige, Becky Lynch or Bayley Gold Rush, though Sasha sells for slightly higher.

Battleground Signature Gold (75cc) – Long the #1 card in the game other triple sigs have overtaken it, plus the 500cc version is still super-popular. This card has basically sold through, in that the people who own it now aren't selling or trading.

Elimination Chamber Midnight 6 Signature (50cc) – KInd of a sneaky card, it's the first "booklet" which doesn't mean much, they basically die-cut the card. It doesn't fold out like it could. In any case, it's got value to be sure, and there's a 500cc version for those who don't want to shell out the big bucks.

Charlotte Flair Topps Now Mat Relic (25cc) – Once again you can swap this one out for any of the other 4 mat relics, since they're all 25cc. Charlotte seems like the most valuable.

Then, Now, Forever Brock Signature (25cc) – Another 25cc card, there's plenty of Brock signatures in the game, but this one has the low cc cache.

Then, Now, Forever Women's Triple Signature (100cc) – Nattie, Charlotte and Becky on one card, they're all HOFers in my book, and in a lot of folks book. Goes for $40 or more regularly

Pat Patterson Green Hall of Fame Award (85cc) – Another one where similar awards could sit in this spot, thinking the NXT Gen Bayley or Finn, or the QOTR Lita. This Patterson though is key for other awards, and it's pretty low for an award. Means the Green Award for Ric Flair and Stone Cold Steve Austin from the same set are going to be very very low CC.

Finn Balor Demon King Red Signature (100cc) – Lastly this was the best Finn I could think of to go on this list, even though his other cards are just as popular, this one really shines. I think it's sold through as well, considering you don't see him up for sale or trade often. If you do you should probably grab it. Once he makes his comeback shortly his popularity will skyrocket even higher.
Honorable Mention – Black Base NXT Eva Marie -(3cc), Low CC Lime Greens/Purple.  
The live signature 1/1s were basically a bust as far as secondary value goes. Cards with 20cc and under are usually reserved for the super-collectors or "whales" who have money to spend on the game. Since most of those cards don't get traded or sold anyway, it's hard to put them on a most popular list. That said, those 10cc Lime Greens that were given away for TapJoy Contests which they have put on hold for now, sell for between $50 and $100 depending on performer. Suffice to say if you manage to pull a very low cc card, your best bet is to flip it as soon as possible unless you collect that performer.  The 3 cc Eva Marie NXT Black Base might be the single most valuable card in the game, but then there's only 3 of them. You won't be able to trade for one, no matter what you have.
The Worst of the Worst – No criteria, just cards you never want to see in a trade and cards you shouldn't put in your trade offer unless you want a 1-star rating.
10.  Stone Cold Steve Austin – Week 1 Award (11,457cc) – Let's start with an award that you'd think would have some value, but no it doesn't. This one was given to everyone who had all 7 Week 1 freebies, which makes it the 2nd most populous award (the first is the HIAC Awards, but since those actually had value due to being needed for the PPV Season 1 awards, they aren't here).
9.  Sasha Banks Clash of Champions Base – The low-tier or high cc base version of PPV cards all have very very high CC, at least 10K or higher per card. This one though is over 60L due to how they decided to distribute Clash of Champions cards. It's only redeeming quality is that it's Sasha.
8.  AJ Styles Election Day Parallel – A glitch in the system made it super-easy to purchase guaranteed Election Day Parallels for virtually nothing, this card was automatically guaranteed in every pack, thus over 60K of them.  
7.  Choose Your Allegiance Teasers – Besides the fact that there are a virtual butt-load of them, they don't say anything and have no cool design. If there were 10x less of them (over 30K each) they might have some "oddity" value, but as it is, they're worth about as much as a white common.
6.  Apollo Crews Flex Black/Purple – They gave these away earlier this week. Need I say more?
5.  Kevin Owens Flight White (OE) – I personally hate this card. If I see it in a trade I will automatically decline.  Despite the fact that it's one of the top 10 highest CC inserts, it's just plain ugly. For the longest time it was my most hated card. Basically any first card from the original Open Edition "Verb" sets (Power, Speed, Flight, Charisma) has been readily available from packs since they day they came out. So you can put in Dolph Ziggler's Speed or John Cena's Power here too. The same goes for their Series 2 sets, only they don't have quite as many specimens out there. The only exception is Sasha Banks Charisma since it was one of the first inserts in the entire game, and it's Sasha.
4.  Daniel Bryan Black Signature Pose (OE) – Had this set come out after the "Signature Moves" set it might have done something, but as it is, it was pretty weak-sauce, and open edition first cards are the worst of the worst. Don't kid yourself, it never had any value, and being available still in "open edition guaranteed packs" isn't helping.
3.  Ultimate Warrior Tribute White Day 1 (OE) Our second single Wrestler tribute set went to Ultimate Warrior, and the set was really lame, just badly photoshopped publicity photos on bad backgrounds, with four different color variations. I personally despise this card too, but fortunately I don't see it that often in trades today.
2.  Mick Foley Have a Nice Day Tribute Day 1 Purple (OE) My new least favorite card, from my 2nd least favorite set. Foley was a better choice for a tribute set, but multiple variations and no real differences between cards didn't really make it all that interesting. The two single wrestler sets that have any value at all are the ones with single variations (Bret Hart and Roman Reigns).
1.  Bronze Heath Slater/Austin Aries (OE) – These are "award" cards you get for playing Topps Coin Suck…I mean "Challenge." I could explain the challenge here, but it's not worth it. Don't play it, but if you do, after 3 packs I guaranteed you'll have both these cards. Suffice to say, these have ZERO trade value whatsoever. No one wants them. Including them in a trade is an insult.  
Honorable Mention – Becky Lynch Purple/Maroon/Lime Green – You'd think Becky Lynch cards would be valuable, especially those certain color base variants, as most of the time those are lower CC base variants. However, these cards were issued to a lot of people due to another Topps glitch. Lime Green Becky was supposed to be the award for the top 200 players who did as many TapJoy offers in a certain amount of time (I think it was 24 hours). BUT when time came to distribute the awards Topps gave them to EVERYONE in the game. So to make good they gave away a Purple Award but they screwed that up too, and gave a Maroon one to make good on that screw up. At least that's how I remember it. In any case, there's a lot of them out there, and they're really not worth a lot.
As always if you have any questions or comments post them here, or go to the Reddit Topps WWE Page at reddit.com/r/toppswwe, or find me in the game under user name GRENDELSEN.
NOW CHECK OUT LAST WEEK'S ARTICLE: DIGITAL DABBLINGS #5 – New Set: "Then, Now, Forever" Released & Looking at Physical-to-Digital Sets