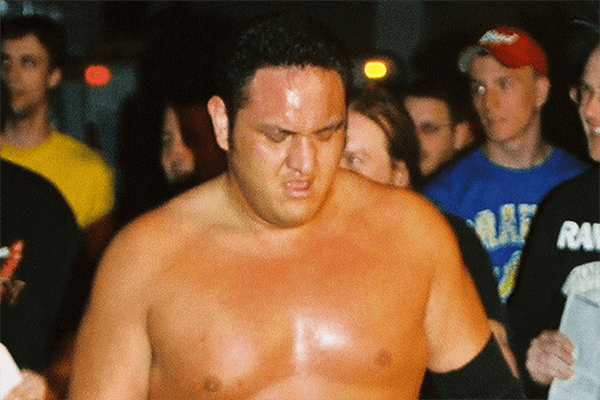 ---
SPOTLIGHTED PODCAST ALERT (YOUR ARTICLE BEGINS A FEW INCHES DOWN)...
---
RAW HITS
Opening Segment: There were some strong performances during the opening segment. Like the closing segment last week, it did focus too much on the authority figures. At least it transferred some heat onto Sami Zayn, but not enough. I am giving it a Hit as I did enjoy it. Mick Foley was particularly good in dejectedly reading his prepared statement before ripping it up. That was a cool moment. The way the mic cut out and then come back on only to cut out again was not believable. They would have just cut the mic, period. Stephanie McMahon was good in her role, but of course I still argue it is the wrong role to play. The fact that a wrestler made an appearance saved this from being a Miss despite the strong performances. Zayn was also good for his part. It set up his match against Samoa Joe after the break which got off to a hot start with Zayn leaping over the top rope onto Joe. In the end, this is a marginal Hit for strong performances from people who shouldn't be taking up this much time on Raw.
Zayn vs. Joe: This was a good match, probably better than the one that they had at Fastlane. It went 12 minutes and featured good wrestling action. Zayn is playing the role of the underdog who takes a ton of punishment only to keep fighting back. He doesn't always win, but he has those strong comebacks like he did here. He plays that role well and unfortunately is not likely to get more of a stronger role any time soon. Despite the fact that I appreciated WWE giving a rub to a wrestler like Zayn in the opening segment, Zayn lost. So, did he even gain anything from the rub?
Highlight Reel: This is another minor Hit. I did enjoy parts of the segment, but it did go on too long. Chris Jericho had some funny lines. It was interesting to see him take a look at the "real" Kevin Owens. I liked how Jericho turned things around on Owens to say that they weren't best friends, but that he was Owens' hero. We got more of the undefined relationship between Owens and Joe with Joe providing a distraction for Owens to attack Jericho from behind. I laughed at Owens chewing up some of the List and spitting it at Jericho. Maybe there was too much comedy here? And it did go on too long. That's why it is just a minor Hit.
Aries vs. Nese: I was disappointed in the lack of a pop for Austin Aires. After his big moment with Neville a few weeks ago, the reactions from the crowds have been lukewarm. I'm not sure why. Part of it is that the Cruiserweights are not over in general. Part of it might be that he is more of a heel than a face. He was a heel, albeit an entertaining one, as a commentator. He wears a heel jacket to the ring. He doesn't wrestle as flashy a style as a lot of the other babyface Cruiserweights. He should be a heel in the long run. However, he can be a good babyface. He should be a star. He had a good match against Tony Nese here on Raw (this is a Hit after all). The long delay with the purple rope change is sending a signal to a lot of fans in the arenas that it is time to go to the bathroom or get some food. It isn't serving the wrestlers well. Aries got a good reaction with his mic work after the match making fun of Neville. So maybe reversing that formula and having him get over with some pre-match mic work would be smart so that he then gets a stronger reaction during his matches which are good.
End of the Show: Roman Reigns vs. Braun Strowman was a decent main event. I wasn't a fan of their Fastlane match (I lost count during that match of how many times Strowman ran or jumped at Reigns only to have Reigns move and Strowman hit the turnbuckle, the corner post, the protective barrier, or splatting in the middle of the ring). Both of these guys can have good matches, but at this point, not together. This one was solid. It was interesting how The Undertaker attacked Strowman with a chokeslam when he entered the ring. Was he sending a message to Reigns? He seemed to be showing that he could handle Strowman which Reigns has trouble doing. Was it just my imagination, or did Undertaker look upset, maybe even dejected after the chokeslam? It was odd how he sort of winced like he pulled something and then had to compose himself to slowly turn around and take the spear from Reigns. He really needs to retire. But, this was a good moment. It got a huge pop from the crowd. The fans were super excited to see him and super angry at Reigns for spearing him. Then they got to pop again for Undertaker sitting up afterwards. It was a strong ending to Raw.
RAW MISSES
Charlotte vs. Brooke: The turn from Dana Brooke was not good last week as the timing was way off. Then we get her first match against Charlotte the next week and it was a big dud. Brooke showed great fire early in the match, but then she got one weak kick to the chest and got pinned in under 4 minutes. I understand that Charlotte is the star and is the one in the Women's Championship match at WrestleMania. So she had to win this match and it makes sense for it to be a strong win. So once again, I would say the timing of this angle is just off. Under other circumstances, Brooke could have been elevated with a longer match where she looked better. And again, it was a very weak ending.
Kendrick vs. Perkins: It seemed like TJ Perkins was upset at the referee for getting in his way which allowed The Brian Kendrick to hit Sliced Bread #2 for the quick win. Last week, it seemed like Perkins was annoyed at Akira Tozawa. Maybe it was just my imagination? But these seem like two small seeds being planted for a heel turn. I'd be all in for him turning heel and if this loss is part of that process, then that's good. But, it was still a match between two former Cruiserweight Champions who have been presented as equals which lasted less than 2 minutes. This was very disappointing. And while I have enjoyed a lot of what WWE has done with Kendrick and Tozawa, the bit after the match with Kendrick revealing that he had stollen Tozawa's passport was dull and didn't do much for their feud.
Goldberg – Lesnar Build: I do appreciate the fact that in this situation when you aren't going to have Brock Lesnar or Goldberg on Raw every week. A week where you feature video packages to build to their WrestleMania match is fine and it makes sense to have it this week so that they can be face to face on the go home Raw. However, these video packages did nothing for me. They took the fans down memory lane, but they did nothing to really get the fans excited about their match. It reminded us that Goldberg has dominated their feud. It reminded us that their match at WM 20 was terrible. These videos were not effective at all.
Bayley vs. Jax: Nia Jax just isn't that good. This was a solid match and better than I expected it to be. However, it did the predictable and turned what should be a good triple threat match into a disappointing fatal four way. It also continued to sell the fact that the Women's Champion is a loser. I hate what WWE has done with Bayley starting with the night she won the Championship. I don't understand why Sasha Banks looked pleased at Jax who has beaten the crap out of her several times has been added to their Title match. That makes no sense at all.
Triple H Interview: Triple H was intense in this interview, but it points to the fact that the McMahon family is always the top most important people in the company. It was again a very long segment involving an authority figure. Yes, it was to hype an actual match (unlike the opening segment). But, that match could have had much more heat if the angle had been better written. Triple H is the heel, but he is the badass. He is the one demanding a non-sanctioned match when it should be the babyface. I suspect that Seth Rollins will win at WM, but I'm not sure he will get over in the precess. We also had the split personality issue with Triple H saying he's never cared what the fans think about him to polling the fans about whether they want to see him fight Rollins at WM. And as I said, it just reinforces that Triple H is the alpha and everyone else is beneath him.
NOW CHECK OUT LAST WEEK'S ARTICLE: WWE RAW HITS & MISSES 3/13: Heyman & Lesnar, Reigns and HBK, Dana's turn, New Day, Enzo & Cass
OR CHECK OUT JASON POWELL'S HITLIST ARTICLES HERE.
---
Jon Mezzera is PWTorch.com's WWE Hits & Misses Specialist, providing his point of view for Raw and Smackdown each week. Email him at jmezz_torch@yahoo.com. Act now and become my 68th Twitter follower@JonMezzera (pretty clever handle right?). Just be aware that I don't live tweet Raw, I don't tweet much about wrestling, and I don't tweet much at all.