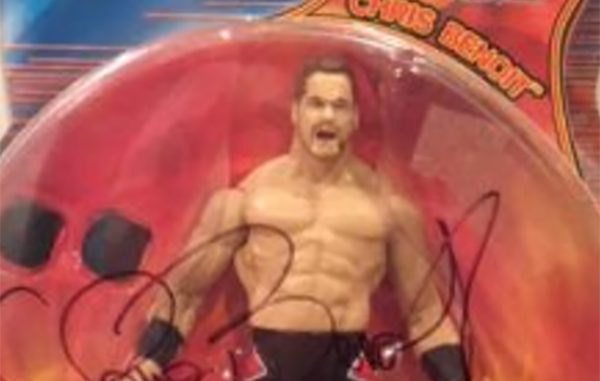 ---
SPOTLIGHTED PODCAST ALERT (YOUR ARTICLE BEGINS A FEW INCHES DOWN)...
---
The Benoit family double murder-suicide was the ugliest, darkest moment in pro wrestling history. A decade later, many wrestling fans still have a difficult time reconciling the events of that weekend with the memories and career of a wrestler who so many fans respected.
The question that is often asked of wrestling fans is, "can you separate the career of Chris Benoit from the final days of a man who killed his wife and son?"
"This is a very tough question," said Zac George of Topeka, Kan., a longtime wrestling fan and collector of wrestling autographs. "I don't think I'll ever be able to truly separate what he did to his family from his career. That being said, advances in medicine have really helped us understand what might have caused Chris Benoit to snap. Chronic traumatic encephalopathy is real, and it is dangerous."
PWTorch.com has been publishing the Collectibles Column since January 2011. Six years later, readers still write in with more questions about Benoit items than those of any other wrestler. Collectors often stumble across a Benoit autograph or action figure that they want to buy or sell, and really have no idea how to determine a fair price.
Many of Benoit's collectibles – such as trading cards, autographs and vintage T-shirts – have largely held their value over the last six or seven years. Benoit's signature appeared in only a handful of Topps WWE trading card products before his death, most notably 2006 Topps WWE Chrome Heritage. Ever since Benoit's death, that card has regularly sold in the $125 to $150 range, and earlier this week, one sold on eBay for £100 (about $127). Benoit's top card is a 1998 Topps WCW Autograph, but that card changes hands so infrequently that it's tough to come up with a value.
Collectors often write in with questions about signed Benoit items, and are often disappointed with how little they are worth. Sellers on eBay regularly ask anywhere from $500 to $1,000 for a signed Benoit item, such as an 8×10 photo, but the reality is that those items aren't worth anywhere near that amount. Most signed 8x10s with PSA/DNA certification have been selling for around $75 lately, and signed items without any sort of authentication usually won't sell for more than $30.
Vintage WWE and WCW T-shirts are tough to find in good condition, so collectors are sometimes willing to spend a decent amount on those. Most recently, a couple of auctions for a vintage Benoit WWE shirt ended at around $50 and $75, respectively. This particularly morbid shirt reads, "Victim of the Crossface" and shows an x-ray of a bone snapping.
Jakks-Pacific made WWE action figures from 1996 to 2009, and as supply has dried up over the last six or seven years, secondary market sale prices have increased somewhat for many figures. Six years ago, Benoit's figures were routinely selling in the $5 to $10 range for loose figures, or $10 to $15 for packaged figures. Many figures on eBay are still selling in that same range, perhaps even a little less.
The sluggish sale prices of older Benoit action figures are interesting. This is probably a sign that collectors already have the figures they want, and aren't driving up secondary market prices to get another.
It may also be an indication that parents aren't buying Benoit action figures for their kids.
Today, many longtime wrestling fans have kids of their own who are playing with wrestling toys. Thanks to the WWE Network, YouTube and the overall plethora of vintage wrestling content that is available, parents often turn to eBay to buy their kids figures of yesterday's wrestlers. But many parents probably avoid Benoit figures, and are careful to pick out any Benoit toys that may show up in lots that they've purchased online.
"My youngest daughter actually just got her first wrestling ring and figures a few weeks ago," said Scott Toon, cohost of the Fully Poseable Wrestling Figure Podcast. "I would not allow my kids to play with or collect (Benoit) figures. I would be very honest with them as to why, and let them know that we cannot support a person who did what he did."
Jerry Saurbeir, who has young children of his own in what he described as a "crazy wrestling household," echoed Toon's sentiments.
"As a parent, I would have trouble with that until I had a talk with either my son or daughter," Sauerbeir said, but noted, "you can choose to like the wrestler or hate the evil the sport brought upon him. I'll let them decide."
Saurbeir was featured in a PWTorch Collectibles Column in April 2011 because of a truly unique item in his vast wrestling collection. Saurbeir owns one of the 12 turnbuckle pads from WrestleMania XX in 2004, where Benoit defeated Shawn Michaels and Triple H to win WWE's World Heavyweight Championship. The pad is signed by Benoit and inscribed "WrestleMania XX World Champion," and was sold directly by WWE after the event. He still has the item displayed with the rest of his collection.
"When friends come over, they really like the items," Saurbeir said of his collection. "The turnbuckle goes over well, actually. Family is a bit different; I get that, though. I always have to reiterate it's a signed turnbuckle from WrestleMania XX."
George, who has an extensive collection of rare vintage wrestling autographs, has an item signed by both Benoit and his wife Nancy, aka Woman. He purchased the signatures from a fan who met the couple in Des Moines, Ia., in the 1990s.
"For me, the Benoits were a huge part of my childhood, whether it be in WCW or WWE," George said. "To have both their signatures on one item, I thought that was a great piece of wrestling history, aside from what happened in their personal lives. I will admit it can be eerie to look at when I walk into my office."
As for the question of whether Benoit's career can be separated from his final actions, fans and collectors have differing opinions.
"It is certainly an interesting topic," Saurbeir said. "I stand by separating the tragedy from the wrestler. It's not a popular decision."
Toon disagrees.
"When I hear the name Benoit, I think 'killer,' not 'wrestler,'" Toon said. "I still have a very hard time even speaking his name or talking about him in general. He doesn't deserve to be recognized for anything but the tragedy that he caused his family."
NOW CHECK OUT THE PRIOR COLUMN: COLLECTIBLES COLUMN: The Best, Worst, and Weirdest Action Figures of Randy Savage
---
PWTorch Collectibles Specialist Michael Moore can be reached at michaelmoorewriter@gmail.com. Follow him on Twitter @MMooreWriter.