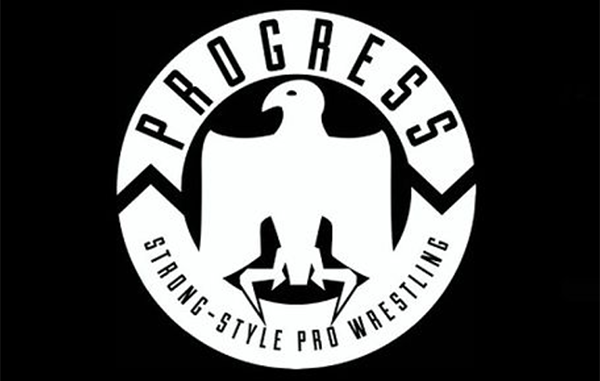 ---
SPOTLIGHTED PODCAST ALERT (YOUR ARTICLE BEGINS A FEW INCHES DOWN)...
---
PROGRESS WRESTLING – "I Give It Six Months"
JUNE 25, 2017
CAMDEN, LONDON AT ELECTRIC BALLROOOM
REPORT BY DAVE GREEN (@dagreeno), PWTORCH CORRESPONDENT
Sellout Crowd of 700.
The show kicked off with WWE UK and PROGRESS Wrestling Champion Pete Dunne coming out to address the crowd. He acknowledged that the winner of last month's Super Strong Style 16, Travis Banks, was getting his title shot at September's big show at Alexandra Palace (tickets still on sale!) and that he was refusing to put the title on the line until that show. Co owner and announcer Jim Smallman informed Dunne that he worked for them and that he had a match later in the show against an unnamed opponent. It would be non-title, but also mentioned that should Dunne lose any non-title match before the September show, that person would get a title shot.
(1) Toni Storm (c) vs. Kay Lee Ray for the PROGRESS Women's Championship.  Storm was making her first title defence after winning the strap last month. These two put on an absolute clinic. Ray made several attempts to make Storm tap to a Koji Klutch, the second of which Storm broke by touching the ropes with her tongue! Storm caught a spring boarding Ray with an incredible German Suplex followed by her snap piledriver, but it wasn't enough for the win just yet. That would be attained by a middle rope piledriver to get the title retaining victory. Both ladies showed sportsmanship after the match.
WINNER: Toni Storm by pinfall to retain the Women's Championship
(2) The London Riots (James Davis & Rob Lynch) vs. Banter Edition (Dave Mastiff & El Ligero)
It didn't take long for Banter Edition to get the laughs rolling as they encouraged the crowd to sing their old entrance music Turn the Page (which they can no longer use due to copyright), which failed hilariously due to no one knowing the words well enough. This match was played for laughs for the most part, with Ligero swapping roles with Mastiff for a moment as he showcased power by German Suplexing the much larger Rob Lynch, before Mastiff answered that by taking Lynch over with a step up hurrancara, which was met by a standing ovation from the crowd. After much banter involving trust falls, the match took a more serious turn as the Riots took over the match quite handily, ending things with the GBH on Ligero for the win. This was the Riots' first win in PROGRESS since January and seemed a bit out of nowhere, what with recent post match behaviour suggesting some friction between the two. With this win, that seems to be out of the window for now.
WINNER: the London Riots by pinfall (Lynch over Ligero)
(3) Jack Sexsmith vs. Flash Morgan Webster. This battle of perennial PROGRESS favourites seemed to split the crowd somewhat in Sexsmith's favour, with Webster using a sportsmanly handshake as an opening to attack. He looked apologetic to the crowd as he motioned that he needed the win. This was a strong showing from both men, with Sexsmith drawing a big reaction from a near fall from his version of the Canadian Destroyer, which he dubs the Rainbow Ride. Just as Sexsmith looked to lock Flash in the Mr Cocko submission, the lights went out. Sirens blared and on the stage was the returning Damian Dunne, not seen in PROGRESS since Chapter 35. He debuted his "No Fun" policeman character, attacking Webster first to get Sexsmith disqualified. He then attacked both men with tremendous ferocity. On the mic, Dunne declared that Sexsmith was having too much fun and that he was there to ensure no more of this was to take place, with his tagline of "nobody has any fun, and nobody gets hurt."
WINNER: Flash Morgan Webster by DQ
The fourth match was Pete Dunne in a non-title match against the aforementioned mystery opponent, who turned out to be none other than the debuting Donovan Dijak!
(4) PROGRESS Champion Pete Dunne vs. Donovan Dijak (non title). Dunne seemed unable to answer Dijak's offence at first, with the big man hitting some flying moves that those in attendance unfamiliar with Dijak were shocked by. A big flying elbow nearly ended things early. Dunne gained the advantage by shockingly hitting the X-Plex and maintained the advantage with limb work. Great back and forth work from both men saw an attempted cyclone kick from Dijak getting him caught in just the right position for Dunne to hit the Bitter End for three. No title shot for Dijak, but he really impressed everyone in the crowd who gave him a standing ovation.
WINNER: Pete Dunne by pinfall
(5) Mark Haskins & Jimmy Havoc vs Nathan Cruz & Zack Gibson. This match was requested by Havoc and Haskins after their altercations at Super Strong Style saw Haskins eliminated from the tournament and losing a submissions match to Trent Seven in part thanks to Havoc's attempts at help gone awry. This was a strong match that had plenty of drama. The Origin pairing of Gibson and Cruz took advantage of Havoc's injuries from his winning the CZW Tournament of Death, digging their fingers in the very nasty liking scars on Havoc's back and shoulders.  Haskins and Havoc got aggressive with their opponents and beat Gibson down in the corner and ended up shoving referee Chris Roberts down. While the ref was inactive, Havoc chose to get a birthday present from under the ring to give to Haskins on his big day – a wrapped up steel chair. Gibson ended up with the chair and tried to pull and Eddie Guerrero on Havoc as the ref was getting back up by feigning being hit. Unfortunately for Gibson, Roberts fell down again which led to Liverpool's number one being destroyed by chair shots from Havoc. Sadly Haskins attempt at throwing the chair at Cruz was avoided, resulting in the chair hitting Havoc, with Gibson rolling Haskins up for the cheap win. Haskins and Havoc didn't get angry with each other, instead consoling each other as they left to an appreciative reaction.
WINNER: Nathan Cruz and Zack Gibson by pinfall (Gibson over Haskins)
(6) Travis Banks vs. James Drake. This was a hard hitting match between two absolute bruisers. Banks was the clear favourite, as the Super Strong Style got the crowd worked up whilst pounding the vastly hated Drake. Banks finished things with the Slice of Heaven kick.
WINNER: Travis Banks by pinfall
(7) British Strong Style (Trent Seven & Tyler Bate) vs #CCK (Chris Brookes & Kid Lykos) for the PROGRESS Tag Team Championships. This was #CCK's official debut in PROGRESS, after fans of them had been begging management to bring them in for quite some time. It's rare for a debuting pair to get a main event and title shot right away, but this match showed they definitely belonged. The match began upon BSS' entrance, with #CCK hitting some big dives before the bell rang. The teams brawled outside for a long time, with everyone taking some ridiculous bumps into the crowd. A pair of dives from the stage by #CCK finally saw all four men crawl to the ring so the match could officially begin. Both teams exhibited incredible tandem offence, with Trent Seven nailing Brookes with some hard clothesline and a piledriver for a very believable false finish. Bate controlled proceedings enough to set Lykos up for a top rope move, but was cut off by Lykos. The "Problem Child of British Wrestling" called for his rarely hit brainbustah and he nailed it, hitting a top rope turnbuckle variation on Bate for the title winning pin fall to the delight of the Ballroom crowd.
WINNERS: #CCK, Chris Brookes and Kid Lykos, by pinfall to win the PROGRESS Tag Team Championship (Lykos over Bate)
Another hit of a show from PROGRESS, who celebrated their fiftieth chapter in fine style. The show will be up on their VOD site by next weekend. I heartily recommend visiting the site as the recent Super Strong Style 16 tournament is up and a must see, as well as other recent shows for which I personally wasn't able to be in attendance. Their Freedom's Road show is a unique platform for their younger wrestlers to showcase their skills and is an easy watch too.
The month of July will be a busy one for PROGRESS, as they begin the month teaming with WXW for a show in Köln, Germany, and follow up with shows in Birmingham, Manchester and London, with just one weekend without a show. An incredibly busy schedule for arguably the best company in British wrestling.
---
If you attend a live event of any kind from any promotion, send results to pwtorch@pwtorch.com. If you plan to attend a future Raw or Smackdown live TV event, email us ahead of time if you're interested in being a phone correspondent for the PWTorch Livecast / Wade Keller Pro Wrestling Podcast.