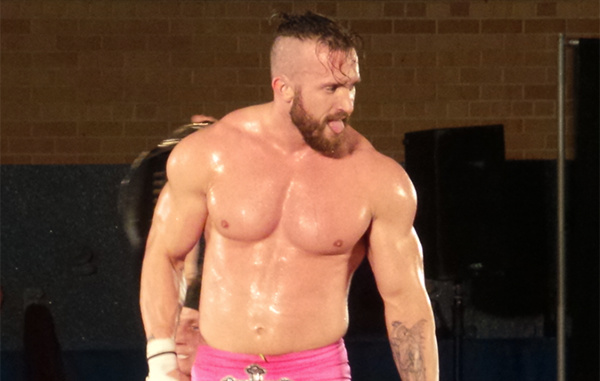 ---
SPOTLIGHTED PODCAST ALERT (YOUR ARTICLE BEGINS A FEW INCHES DOWN)...
---
This week WWE started its full march towards Summerslam. Raw was a really solid show furthering many storylines that will come to a head in August while Smackdown sorted out the fallout from Battleground. Lets take a closer look a who stood out and who missed the mark.
RAW ALL-STARS: SASHA BANKS & BAYLEY
Following a 2-3 month lull in the Raw Women's division (aside from Alexa's brilliance, of course), Bayley and Sasha Banks had one of the best matches on Raw this year and they really got the crowd going. Rather than seeing contrived and overly scripted promos from each women, we got some genuine backstage footage of these two preparing for their match which built up everything really well. The match itself was tremendous and had a PPV-type atmosphere throughout. There was a dueling "Lets go Sasha! Lets go Bayley" chant as the contest built to its climax, a reaction both women rightfully deserved.
The most important thing coming out of this match was the surprise victory by Bayley. After Sasha was unable to capture the Raw Women's Championship at Great Balls of Fire because of a count out, partnered with how well she and Alexa worked off of one another in the build, it felt certain that Sasha would come out on top on Monday. Especially with the way Bayley has been portrayed. A performance like the one we saw from The Hugger on Raw could be just what she needs to erase the last 4-6 months of her main roster run. There was a lot of damage done, but after putting in such an amazing effort and coming out on top, we can now start to view Bayley as a serious contender again. Well done.
RAW UNDERPERFORMER: ENZO AMORE
Okay, we we could stomach one or two Enzo beatdowns without any chance of a comeback but this week was excessive. Understating that WWE is trying desperately to get Big Cass over as a heel it made sense for him to make quick work of Enzo and Big Show, but at what expense? Enzo has been defiant and confidence since he and Cass separated but he is playing directly into why Cass ditched him in the first place – writing way too many checks his you-know-what can't cash. Without any sort of "hope spots" for Amore through all of this has made him out to be a glorified jobber that cannot hang with the elite of Raw.
It is uncertain what the plans will be for Enzo once this program is over, but if he continues to be treated this way his promos will have little effect months down the road. The pops for him have already calmed a bit and the crowd was lukewarm at best when Amore spoke about how he would overcome Big Cass this week. Fans already know he has no chance and he comes off looking foolish as he continues to try and fail. Plus, with such a lack of offense, what interest would anyone have in seeing Enzo face Cass, or any major star in the future? He is a hot commodity that resonates with different demographics and defining him down at this point would not be "best for business".
SMACKDOWN ALL-STAR: CHRIS JERICHO
How is it that so much in wrestling is spoiled ahead of time but Chris Jericho always seems to surprise us? It is amazing! Y2J triumphantly returned to Smackdown on Tuesday and was as over as he has ever been. While entertaining us with his most recent catch phrases, Jericho made his case for why he, and not AJ Styles, should be next in line for the United States Championship. He never got his rematch after all, and spoke to both men in the ring like he never skipped a beat. What is so incredible is how well he performed in the ring after time off, especially given that it was a main event title match where expectations were high.
Sure, working with two pros like Owens and Styles helped, but his timing, selling, and move execution was as crisp as ever. Understanding that Fozzy is going back on tour after Summerslam, we shouldn't get used to having Jericho around but his presence on Smackdown always makes the show better as a whole. It will be interesting to see how he fits into the Summerslam card, perhaps against AJ and KO for the US Championship with some sort of stipulation. Regardless, it was a great way to wash away some of the stench that was Battleground. It is performances and crowd reactions like this that put Jericho in the conversation of one of the best of all time. There is no doubting that.
SMACKDOWN UNDERPERFORMER: MIKE KANELLIS
I'll start by saying that I am, and have always been a fan of Mike Bennett, but the way he has been portrayed on WWE television makes it very evident that he was only signed to acquire his wife Maria. After losing to Sami Zayn in convincing fashion at Battleground, Mike was on the losing side again on Tuesday and got almost no time to shine. When a new wrestler is brought in, no mater his/her talent level, if they are strapped with an outlandish gimmick they had better win matches quickly before fans lose interest.
I am afraid that is what could be happening here. Mike is a tremendous worker that has good mic skills and a heat seeking missile for a wife. On a show where a mid card is almost non-existent, it makes no sense to me why Kanellis would be positioned in the way that he has. By no means am I making the case that his character is already dead, but if WWE does not get a few wins under his belt soon he will quickly turn into Raw's version of Curt Hawkins. Personally, I think he is capable of much more.
---
NOW CHECK OUT LAST WEEK'S COLUMN: ALL-STARS & UNDERPERFORMERS: Kurt Angle, Chad Gable, Titus O'Neal, Seth Rollins, Dean Ambrose, Randy Orton, Jinder Mahal