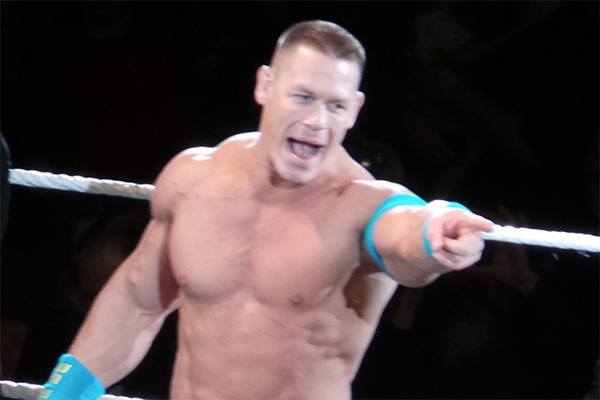 ---
SPOTLIGHTED PODCAST ALERT (YOUR ARTICLE BEGINS A FEW INCHES DOWN)...
---
WWE HOUSE SHOW
JULY 29, 2017
DETROIT, MICH. AT JOE LOUIS ARENA
REPORT BY BRYAN METRO, PWTORCH CORRESPONDENT
I attended my first show at Joe Louis Arena in grade scholl in the '80s with my Pops, so I had to attend the last-ever event (not just WWE, but all sports/concerts) at the Joe.  I went in with high expectations based on the MSG show, was a little disappointed, but it was a very good live event.
(1) A.J. Styles beat Kevin Owens. I was about five minutes late to the opener due to the merch stand situation (more on that later).  The middle section was a basic house show – stall, heel, hope spot, heel, finish.  The crowd was into A.J. but were turned off by Owens' constant restholds.  A.J. won via the Forearm.
(2) Tye Dillenger & Sin Cara beat Aiden English & Erick Rowan. Basic cool down match for a live event.  English was able to get a large amount of heel heat.  Tye was over with the "10" chants and the kids loved Sin Cara.  Tye pinned Rowan with a roll up into a (Belle Isle) bridge.  After the match, Rowan refused to to leave the ring and blew up balloons.  Cue Luke Harper.  Next match.
(3) Luke Harper beat Erick Rowan.  Your basic five second house show special.  Discus lariat.  Pin.  Crowd was receptive to Harper.
(4) Baron Corbin beat Sami Zayn. Decent match with both putting in the work.  Sami was over and Corbin is really good at heeling up the crowd.  Finish came after Corbin hit Zayn with End of Days.
(5) New Day beat Breezango and The Usos. New Day were very over with the crowd. The Usos were too.  Standard tag team triple threat with lots of comedy from New Day who won with their double team finisher on an Uso.
(6) Brock Lesnar beat Samoa Joe. It's probably bias, because I was there, but I thought this match was equal to or better than their Great Balls of Fire PPV match.  Joe was ridiculously over with the crowd, as was Lesnar.  Heyman did the ring intros and kind of phoned it in before dropping the mic.  Joe got in a lot of offense and had the crowd ready to blow up during a near fall with the Clutch.  Lesnar came back and won with an F5.  Lesnar seemed engaged and didn't phone it in.  Joe saluted the crowd after.  Numerous "Joe's gonna kill you" chants which may have been a tribute to Joe Louis Arena's notoriously dangerous steps.
Intermission
(7) Becky Lynch & Charlotte/Naomi vs. Carmella/Natalya/Tamina-  All the women worked hard to engage the crowd rather than put on a five-star match.  Carmella was especially great at antagonizing the ringside crowd.  The face team looked to be having a blast interacting.  Naomi eventually won with a pin over Carmella.
(8) Shinsuke Nakamura & Randy Orton beat Jinder Mahal & Dolph Ziggler. Maybe the match of the night.  The crowd was electric the entire time.  Even Ziggler got a face pop until they realized he was teaming with Jinder.  Both Singh brothers were taped up from the PPV match, while Jinder had insane heat; not go-away heat, but he had the crowd frothing.  The only problem is was you could not hear him on the mic which prompted a "You can't hear me" chant.  Nakamura was really over, but Orton actually received the pop of the night, even louder than Cena.  Standard tag match which ended with Nakamura taking out Jinder so Orton could hit the RKO on Ziggler.
(9) John Cena beat Rusev. The crowd was very pro-Cena instead of a divided audience.  Standard Cena house show main event.  Tables, chairs, kick outs, an AA, and that's it.  Cena took to the mic after to thank everybody, and officially close down the Joe.
Random Notes: I had a blast.  There were some snags such as not too many merch stands and some parts of the concourse/arena were already closed down (because the arena will be demolished soon).  I was curious about this because the Red Wings played their last game months ago and there have only been sporadic concerts since then.  That being said, the draft beer was completely skunked and the wait at the merch table was 45 minutes for me.  Everybody wanted the limited, exclusive "Last Throw at the Joe" shirts.  People in line were actually plotting to buy a bunch (at $30) and go to the back of the line and sell them for $40.  Detroit hustles harder, I guess.  Overall, it was a great show and I wish my dad (who passed in 2015) could have been there as he took me to my first ever show in the '80s.
Anyway, thats it.  Hope it gives you a fun insight to the experience aside from the standard so and so beat so and so.  Keep up the cool site.
---
CHECK OUT THIS OTHER REPORT ON THE SAME EVENT: 7/29 WWE in Detroit at Joe Louis Arena: Lesnar vs. Joe, Cena vs. Rusev, Styles vs. Nakamura, plus Shinsuke, New Day