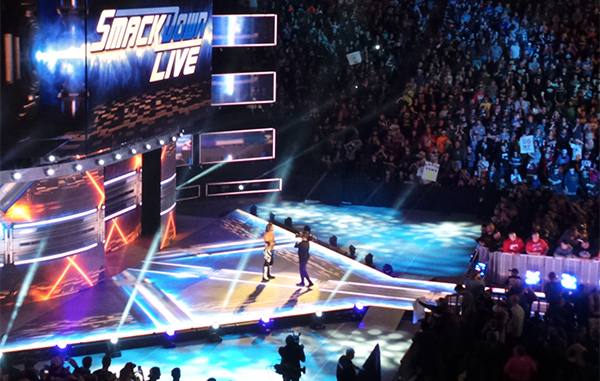 ---
SPOTLIGHTED PODCAST ALERT (YOUR ARTICLE BEGINS A FEW INCHES DOWN)...
---
This week's episode of WWE Smackdown (8/1) drew a 1.70 rating, down from last week's 1.73 rating, but above two of the previous four weekly ratings. Viewership was 2.57 million, actually above the 2.53 million last week. (This is an aberration because rating measures an overall average over the course of the two hour show, and viewership measures how many individuals watched at least a small part of the show; these numbers indicate that more viewers watched but for a shorter amount of time on average than last week.)
The 1.70 rating is above the ten week rolling average headed into this week of 1.65. It was the third-highest viewership since Apr. 11, which was just after WrestleMania and headed into the Superstar Shake-up.
This week's rating was below the 2017 average of 1.76 headed into this week, but above the July average off 1.67 and the June average of 1.65 and the May average of 1.60. The 2017 average is still above the 2016 average through this week, which was 1.72.
Keller's Analysis: So Smackdown, in essence, drew a typical rating despite heavy hype for John Cena vs. Shinsuke Nakamura as a "first-time ever dream match" and a U.S. Title rematch between Kevin Owens and A.J. Styles. This indicates perhaps a dropoff in Cena's ability to "pop" a rating and the lack of strong emotional investment by the mainstream occasional Smackdown viewer in the "journey" that Shinsuke Nakamura is on. The fact that last year, the draft popped a 2.20 rating, well above the 1.62 that preceded it and the 1.92 that followed it, indicates WWE's audiences will tune in for a special Smackdown in higher than usual numbers if the hook is strong enough. Last year, it was a game-changing continuation of the draft that aired on Monday. Getting fans who typically watch Raw but not Smackdown is difficult, and Cena-Nakamura and Styles-Owens matches aren't enough. I wonder if having an "Events Center" type of segment on Raw with some fresh promos and highlight videos hyping Smackdown's main event(s) wouldn't help draw viewers from Raw to Smackdown with greater effectiveness than just the standard commercials that a lot of viewers might tune out.