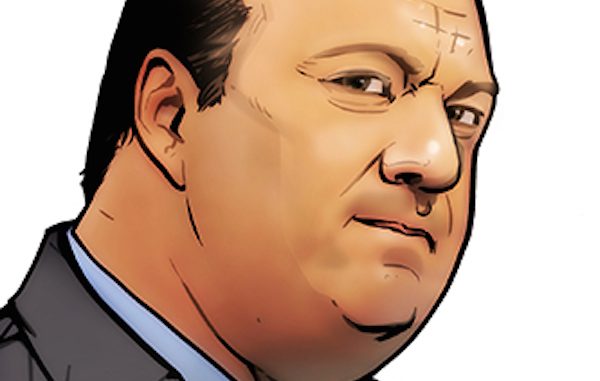 ---
SPOTLIGHTED PODCAST ALERT (YOUR ARTICLE BEGINS A FEW INCHES DOWN)...
---
For a second week in a row WWE delivered quality television programming as both Raw and Smackdown gear up for Summerslam. Lets take a closer look at who shined and who missed the mark.
RAW ALL-STAR: PAUL HEYMAN
Paul Heyman almost never fails when trying to hype a Brock Lesnar match and Monday night was another brilliant performance, with an interesting twist. Rather than concocting a story about how unfair it was to put Brock Lesnar in a fatal four way match for the Universal Title at Summerslam, Heyman indirectly used the public knowledge of the impending UFC fight to make this match even more interesting. There was a slight crack in the 4th wall as Heyman accused Kurt Angle and the office of wanting to "take the belt off of" Lesnar, a phrase never usually used on television which added quite a bit of intrigue. On top of that, we now know that Brock would leave WWE if he were to lose given the unreasonable circumstances of this match… an easy out for Lesnar to compete in UFC or a tremendous piece of bait given to the WWE fans to make us believe anyone but Brock would be leaving Brooklyn with the Universal Championship. Either way, Heyman sold every scenario brilliantly and left everyone more unsure of who might win this match than before he and his client walked through the curtain. His delivery and cadence, along with the concern he showed for how poorly WWE is treating Brock was so entertaining and I am certain there will be more promos like this to come. Well done.
RAW UNDERPERFORMER: JASON JORDAN
Jason Jordan is getting a push on Raw but has also been put in a very tough situation. It is one thing play out a push by a wrestler winning more matches than usual and getting significant promo time to establish a character. It is another to be positioned as Kurt Angle's son after having little to no mic experience or any significant singles matches on television before. This is the scenario Jordan has found himself in and was at a disadvantage from the moment this story started. Jordan is now forced (and expected) to deliver high quality performances both in the ring and on the mic to ensure that he gets over, which is a tough ask. It was smart to stick Jordan with Miz in his first singles feud as its almost guaranteed that fans would side with the babyface. Jordan, however, has to hold up his end of the bargain which is difficult when you are verbally sparring with someone as talented as The Miz. Jordan came off extremely timid and scripted on MizTV this week and gave us nothing genuine to sink their teeth into. Miz did what he could to pull some true emotion out of Jordan, but Angle's newest son stuck to the script without ever really exuding anything fans could get behind or relate to. It was very vanilla and nothing resembling a star in the making. The suplex into the MizTourage was a nice touch at the end, but Jordan's acting skills need to improve quickly if this angle is ever going to work long-term.
SMACKDOWN ALL-STAR: RUSEV
Let us all remember this – When Rusev has a microphone, any show he is on gets better. Rusev had a great match with Chad Gable on Tuesday evening, making his opponent look fantastic while still picking up an impressive victory. After the match Rusev proclaimed that no one can beat him, everyone was scared of him and that he was looking for more competition. While the "I want more competition" line has been much more synonymous with Braun Strowman over the last 4-6 months, it was believable coming from Rusev who has been underutilized for over a year now. He spoke with tremendous confidence and demanded an opponent for Summerslam… enter Randy Orton, which brought the crowd to its feet. Instead of cowering like many heels would in this scenario, Rusev stood his ground and invited Randy into the ring. After Orton told Rusev that he was not afraid of him, the Bulgarian Brute shouted defiantly in his native language that created quite a bit of tension in the building. Although I had no idea what Rusev was saying, the way he delivered it was defiant, almost insulted that Orton threatened him which came off really well on TV. Sure, Rusev ended up being left laying, but he looked fantastic all around. While I would have much preferred Rusev begin a program with Gable, he vs. Randy is a fresh matchup that could be a surprisingly good Summerslam match. Lets just hope it is used to get Rusev over. He has been a jobber to the legends and legacy stars for far too long now.
SMACKDOWN UNDERPERFORMER: SAMI ZAYN
Speaking strictly from a storyline perspective here, losing to Aiden English in about 1 minute on TV was not a good look for Sami Zayn. Aside from Aiden's victory over Tye Dillinger on the Battleground Kick-Off Show, he has been nothing but an enhancement talent with zero credibility. Sami has had such a stop/start run on the main roster since returning from injury. Fans are still firmly behind him, but there is a high probability of the Ziggler or Wyatt effect where fans will start losing interest and their emotional attachment to Zayn will fade as he continues to lose matches, especially to wrestlers like English. When fans are wait and wait for their favorites to pick up key victories and it never comes to fruition, that wrestler's crowd reactions and support disappears very quickly. It certainly did not help things when Mike & Maria came out following his loss to rub it in, which made Zayn look awfully foolish rather than garner sympathy for him. WWE has been heading down a slippery slope with Sami since he was moved to Smackdown and need to rethink his positioning. He is an extremely talented wrestler and one of the very few "white meat" babyfaces that are truly over on their roster. If not showcased properly in the months leading up to Wrestlemania season, it could be a long while before we ever see Zayn in a title picture or even a meaningful angle. Rest assured, this one with Mike & Maria is not.
Within Smackdown I thought that AJ Styles, Kevin Owens, John Cena, and Shinsuke Nakamura performed fantastically. All were very worthy of the All Star spot this week, but I have to spread the love! Thanks for reading everyone, enjoy your weekend!
Follow Michael Souza @TheWrestlingFix.
---
NOW CHECK OUT LAST WEEK'S COLUMN: ALL-STARS & UNDERPERFORMERS: Sasha Banks and Bayley, Enzo Amore, Chris Jericho, Mike Kanellis