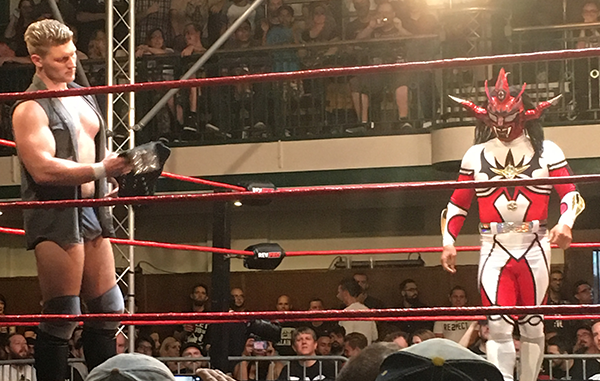 ---
SPOTLIGHTED PODCAST ALERT (YOUR ARTICLE BEGINS A FEW INCHES DOWN)...
---
REVOLUTION PRO WRESTLING – "SUMMERS SIZZLER 2017"
AUGUST 17, 2017
BETHNAL GREEN, LONDON AT YORK HALL
REPORT BY DAVID GREEN, PWTORCH CORRESPONDENT
(1) Martin Stone vs. Eddie Dennis. Stone is also known as NXT's Danny Burch. Dennis was a late replacement for the injured Sami Callihan. This was a fine and sportsmanlike opener, with Dennis looking to score his first Rev Pro win. He came close several times, but Stone had an answer for every attempt Dennis made to hit his Next Stop Driver. Stone stopped Eddie's momentum with a grab of the balls and followed with the London Bridge DDT for the win.
Post-match, Stone called out Callihan for the numerous comments that were made at his expense, yet he couldn't come to the actual arranged match. He then put Eddie over strong, saying he'd seen him in the main event down the road.
(2) Sha Samuels vs. Bully Ray. Bully made a Sandman-esque entrance through the crowd in the balcony. He requested the match be made a London Street Fight. This was by no means a technical classic, but with the pair of boisterous characters in the ring, they made it very entertaining. Bully got the win after a top rope …diving crossbody.
Post-match, Rob Lias (who is currently embroiled in a feud with Samuels) attacked both men. This proved to be a foolish idea as Ray and Samuels took control and hit the Wassup head butt and slammed Lias through a table. Bully got back on the mic and asked if anyone in the crowd wanted a piece of the table. A young lad took up the offer and got in the ring. After some banter, Bully proceeded to give the boy a whole half of the table! The boy got a huge pop when he managed to lift it up, a large feat considering it was bigger than him!
(3) Zack Gibson vs. Dalton Castle. Castle got a huge pop for his entrance with the Boys. This was an entertaining match with polar opposites in terms of personality. Castle seemed have a fondness for taking bumps onto the guardrail in this match, landing on it several times. Gibson focussed his offense on Castle's arm, though he managed to come back several times, at one point hitting a series of unique suplexes. After a ring post shot, Gibson locked in the Shankly Gates on the injured shoulder and Castle tapped.
(4) Jay & Mark Briscoe vs. All Day Swerve (Ryan Smile and Shane Strickland). The only tag match on the show did not disappoint. Both teams took turns to take control of the match for extended periods, before it broke into a free for all with some great looking offense. Smile hit a huge brainbuster which set up a great 450 splash from Strickland for a convincing near fall. Even more incredible was All Day Swerve hitting a Doomsday Device on Mark, but utilising a double stomp rather than a lariat. The Briscoes hit a top rope stomp / Cutthroat Driver combo on Smile to get the win.
(5) Jay White vs. RPW Tag Team champion Travis Banks. The second half opened with the battle of the Kiwis, as these New Zealanders went at it in a mostly technical encounter. Banks controlled the match for a long portion, getting the vast majority of the crowd support. White came back to little reaction and to the surprise of most got the win over Banks with a Lion Tamer submission. Nothing wrong with the match really, but White's blandness doesn't make the majority of the crowd interested in his matches, despite his strong win/loss record.
(6) RPW British Cruiserweight Championship match – Josh Bodom (c) vs Jushin Thunder Liger. This match was made after Liger defeated Bodom in two minutes at the British J Cup event. Liger advanced to the win the inaugural event to become number one contender.  The match started exactly like their previous encounter, with Liger hitting a Shotei, Liger Bomb and Brainbuster to get the closest of nearfalls. Bodom hit a trio of dives on the outside to almost get Liger counted out. Liger came back with another Shotei, superplex and top rope Frankensteiner. The pair went back and forth, until Bodom kicked the middle rope to low blow Liger and hit the Bliss Buster to retain the title. The immensely popular Liger received a standing ovation for his efforts.
(7) RPW British Heavyweight Championship – Zack Sabre Jr (c) vs. RPW Tag Team Champion Chris Brookes. Brookes became the top contender after making ZSJ submit in a tag team match a few months ago. Brookes attacked the champion right at the sound of the bell, starting strong and fast against the champion whose recent title defences have been long, slow burning matches. Both men put on a spectacle of submission grappling and hard strikes. Brookes impressed with a delayed top rope superplex, which looked particularly good considering how tall both men are. Despite wrapping ZSJ in every possible way he could, Brookes could not find an answer for the champ's barrage of submissions and was knocked conscious by ZSH until the referee called for the bell. This match was superb, highly recommended.
(8) Marty Scurll vs. Rey Mysterio. A much anticipated main event that had a tremendous match to follow – could it live up to expectations? Oh yes indeed it could. They started off with some lovely chain wrestling sequences incorporating some lucha, which ended with teases for both the 619 and the Chicken Wing. After some mocking off each other's taunts, Mysterio hit some of his classic high flying moves, including the sliding splash to the outside followed by Dropping the Dime for a 2 count. Marty slowed the momentum working on Rey's arm, before hitting a top rope superplex. Rey came back more of his signature moves, looking incredible. Scurll got desperate and actually pulled Rey's mask off! The follow up Mouse Trap cradle still wasn't enough for Marty to get the win, exhibiting frustration to the referee while Rey got the mask back on. Scurll smashed Rey with a huge lariat, but Rey came back to hit the 619 and springboard splash. Scurll managed to grab the bottom rope to stop the pin fall! After a ringpost 619, Rey went for the frog splash, but Scurll got the knees up and followed with a crucifix DDT to score the big win.
Post-match, Scurll thanked Rey for being an inspiration for smaller wrestler to break through and for being a classy veteran that wanted to work with the next generation of talent. Rey responded in kind, putting over the current crop of Cruiserweight wrestlers and how the styles of the UK and Mexico City were taking the wrestling world over. Both men left to a standing ovation.
This main event was better than anyone expected. Rey Mysterio was on incredible form and worked so well with Scurll to create a superb main event.
This show should be on RPW On Demand by the time you read this, as Rev Pro get their shows up very quickly. Rev Pro got some criticism for this card not being up to the usual standard of previous York Hall efforts. However the quality of the show was still a high standard, with the main event being superb as already stated, plus the two title matches were great as well, with a star making performance from Chris Brookes in particular. The tag match is worth checking out, as well as Dalton Castle's antics being entertaining too.
No return date was announced for York Hall, but there should be an announcement soon, which hopefully will be details about the annual New Japan collaboration show Global Wars. For now, Rev Pro have a big weekend collaborating with ROH, NJPW and CMLL for three shows on the War of the Worlds tour to that kicks off tonight at York Hall, which I will be attending and will have a report tomorrow.
---
NOW CHECK OUT THIS RECENT REPORT: 8/5 OTT Wrestling "WrestleRama" in Belfast, Northern Ireland: Mick Foley, Tyler Bate, Ricochet, Matt Cross, Joey Ryan, Trent Seven, Pete Dunne