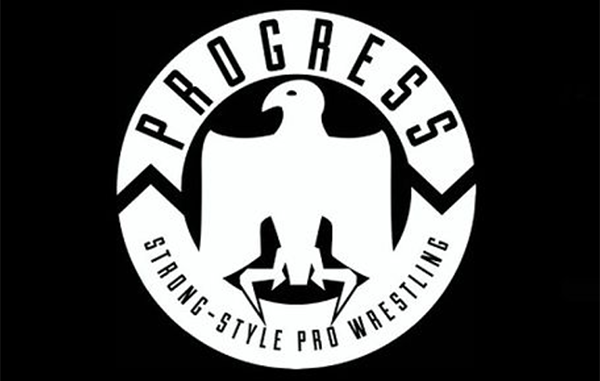 ---
SPOTLIGHTED PODCAST ALERT (YOUR ARTICLE BEGINS A FEW INCHES DOWN)...
---
PROGRESS WRESTLING – "Chapter 54: Go to Your God like a Soldier"
AUGUST 27, 2017
CAMDEN, LONDON
REPORT BY DAVE GREEN (@dagreeno), PWTORCH CORRESPONDENT
This show was the last show before the huge show in two weeks time at Alexandra Palace. Jim Smallman introduced the show noting that he and co-owners Jon Briley and Glen Joseph had all just got back from America, after their events in New York and Boston which were not without stress (if you haven't already, please do listen to the latest Tuesday Night Jaw podcast where the three tell the stories from the trip in very amusing fashion).
As is now the custom, the show kicked off with a preshow match.
(A) Never Say Die (Alex Cupid & Dillon DiAngelo) defeated Aussie Open (Mark Davis & Kyle Fletcher).
This was a really great way to open the show for the live crowd and it's a shame it won't make it's way to the VOD site. Aussie Open were making their PROGRESS debuts and come with a buzz, as they've been making waves across the country. Both hail from Australia, with Fletcher being very new into wrestling and Davis being a lesser known veteran (fun fact: he wrestled for PWG in 2008!). Both teams hit some scintillating moves throughout. Davis hit his ridiculously brutal piledriver (he grabs his face down opponent by the ankles and lifts them into the piledriver position!) followed by a Fletcher brainbuster for a near fall. NSD combined for a combination powerbomb & top rope Slingblade to pick up the impressive win.
MAIN SHOW
(1) James "Strangler" Davis defeated Connor Mills. Davis was making his singles debut in his new guise after his turn at the last chapter. The former London Riot surprised many by taking the young Mills down with superior technical wrestling rather than the brawling style we have come to expect. Mills got in some of his always impressive aerial offense, but Davis kept gaining the upper hand, including hitting a rolling senton slam on the floor. Eventually Davis caught Mills in the Stranglehold gaining the win via submission.
Next up was Flash Morgan Webster presenting a special edition of his Wrestling Friends podcast, with guests Mark Haskins and Jimmy Havoc. When introduced, the pair squared up face to face but ended up hugging. Havoc dryly remarked to Flash that they had already talked about the events of the last show and had made up. Flash carried with the interview regardless, as he had been up all night thinking of questions to ask. Both men remarked how they had been frustrated with their lack of success since returning from their respective injuries and only started to get angry when the other claimed that the PROGRESS title was rightfully theirs. This brought out number one contender Travis Banks, who told both it wouldn't matter because as the next chapter he would become the new champion. This in turn brought out PROGRESS champion Pete Dunne, who announced who he had chosen as Banks' opponent for the night: Jimmy Havoc……AND Mark Haskins. Banks' responded that he had also chosen Havoc and Haskins as Dunne's opponents for the evening. Jim Smallman then made the main event a tag team match – Havoc & Haskins vs Travis Banks & Pete Dunne. This segment was very entertaining.
(2) Tyler Bate defeated Kid Lykos. This was a match to decide a stipulation in the forthcoming CCK vs British Strong Style tag title match at Chapter 55. Lykos was making his second match appearance (after a match at Fight Club: Pro the night before) since suffering a separated shoulder three weeks ago.
This was a fun encounter with Lykos hitting some great aerial manoeuvres, including his Vertigo DDT for a close nearfall, which brought out Bate's partner Trent Seven. The referee was distracted allowing Seven to hit Lykos with a lariat from the apron. Bate then hit the Tyler Driver '97 for the win.
Seven got on the mic to pick the first stipulation. He trolled the audience by announcing it would be a Punjabi Prison match, then announcing the stipulation would be a 2 on 2 normal rules tag match, with FALLS COUNTING ANYWHERE… in the ring.
(3) Dahlia Black defeated Jinny to become number one contender to the PROGRESS Women's title.
Jinny relentlessly attacked Black's previously injured ankle throughout the match. It appeared as though Jinny may have caught a bad shot to the head at some point as the match appeared to slow down a few times to allow her to regain her bearings. The second time this happened, Jinny fiercely attacked Black in a rage before hitting the Style Clash, but only good for a two count. Black then caught Jinny with an inside cradle for the surprise win.
(4) Chris Brookes defeated Trent Seven. This match was to decide a second stipulation for the upcoming CCK vs BSS match. Seven began proceedings by giving himself the most egotistical, overinflated introduction for himself, only to be met with a running knee from Brookes, emulating Seven's six second loss to Matt Riddle at SSS16. This time, it was only good for a two count. They brawled outside for a long time, with Brookes being flung into multiple chairs. After some great back and forth, Tyler Bate ran in to cause a distraction, leading to a low blow and piledriver to Brookes, but it only garnered a two count. Another distraction saw Bate attempt to hook Brookes in the Tyler Driver, but referee Chris Roberts caught him in the act and physically threw Bate out of the ring! This distraction allowed Kid Lykos to run in. CCK hit a sick f—ing tag move allowing Brookes to pick up the win. Brookes told Trent that the two-on-two normal rules tag match would no longer be happening, as his stipulation for the title match was for it to be a ladder match.
(5) Grizzled Young Vets (Zack Gibson & James Drake) defeated FSU (Mark Andrews & Eddie Dennis).
A good tag match between two fine teams. Gibson for once refused to greet the jeering crowd with his traditional pre match promo. There was constant action throughout the match, never dipping, until Gibson and Drake hit big finisher, the Ticket to Mayhem, to get the clean win.
(6) Timothy Thatcher defeated Doug Williams. Williams was making his return to PROGRESS for the first time since Chapter 15, while Thatcher was making his first singles appearance in the Ballroom. This was a great technical exchange that was shown a lot of love from the crowd. Initially it was an even match up with no particular villain, but slowly Thatcher became the aggressor with repeated attacks to the left arm and shoulder. Williams came back with a big forearm from the top and a series of suplexes. An attempt at the Chaos Theory was thwarted and Thatcher locked in the Fujiwara armbar to get the submission win. This gave Thatcher momentum going into his Atlas title match at Chapter 55 against defending champion Matt Riddle and Ring Kampf team mate WALTER.
(7) Pete Dunne and Travis Banks defeated Mark Haskins and Jimmy Havoc. Dunne antagonised Banks by blind tagging into the match with a hard slap to the back, followed immediately by tagging out by slapping Banks' face. Dunne retreated up to the stage, where he commandeered commentator Callum Leslie's headset and punted him low, taking his place at the desk. Banks decided to take on Haskins and Havoc by himself. The pair took Banks to the outside where they threw him into a number of sections of the audience. Back in the ring, Banks countered the pair a few times, which started Havoc and Haskins to get frustrated with each other. At a point with all three down, Dunne got back on the apron and mockingly reached for a tag. Banks responded by flipping Dunne the double bird. Dunne left again at this point.
Havoc and Haskins got into a fight with each other, which Banks took advantage of. A lot of back and forth between the trio took place, with referee Chris Roberts seemingly forgetting that it was a tag match and not admonishing Havoc and Haskins for the lack of actual tagging. Haskins smacked Havoc accidentally with a superkick, then Havoc did the same with a Rainmaker lariat to Haskins. Banks hit Havoc with the Slice of Heaven and slammed Haskins down with the Kiwi Krusher. At this point, Havoc left Haskins down in the ring, while Dunne ran back into the ring, three Banks out, hit Haskins with the Bitter End and Roberts counted to three (despite no tag being made). Despite the lack of adherence to the rules of the match and a bit of a logic gap (why would Banks, Havoc and Haskins not just join up to beat down their joint enemy Dunne?) the performances here were flawless from everyone.
After the match, Banks beat down Dunne before Seven and Bate ran in. Brookes and Lykos made the save for Banks. Dunne reemerged on the stage pulling Dahlia Black with him by her hair. He kicked Black's injured leg and stomped down on it. Banks and CCK were attacked by Seven and Bate, and Dunne joined them with a sledgehammer in tow. With Dahlia, Brookes and Lykos down (and an injured TK Cooper unable to make the save), Dunne hit Banks in the head with the sledgehammer, before doing the same to CCK. British Strong Style left revelling in the chaos they had caused, with undoubted momentum heading into the next chapter. Banks, Brookes and Lykos were able to leave under their own power, though I did not see how Dahlia left the stage.
A lot of drama heading into the next show at Alexandra Palace in front of a sold out crowd of 2000. This show was heavy in storyline, with no matches that stood out as such, but all serving a purpose. Trent Seven in particular was stunningly good tonight, especially for his mic work trolling the crowd.
PROGRESS announced this week that the week's schedule for their on demand service will see the NYC show, the Boston show, and this chapter all going online in the week starting from Wednesday. A month's subscription from this point would seem a good move, as you'll also get the next chapter from Alexandra Palace in that time, as that takes place on September 10th. Matches for that show so far are:
PROGRESS Title match: Pete Dunne (c) vs Travis Banks
PROGRESS Tag Team Title match: British Strong Style (c) vs CCK (Ladder Match)
PROGRESS Atlas Title match: Matt Riddle (c) vs WALTER vs Timothy Thatcher
PROGRESS Women's Title match: Toni Storm (c) vs Dahlia Black
It would seem fair to assume that Mark Haskins vs Jimmy Havoc will also take place, maybe involving Flash Morgan Webster in some form or fashion.
Thanks for reading! Until Ally Pally, adios amigos!
---
CATCH UP ON REPORTS ON OTHER RECENT EUROPEAN WRESTLING EVENTS HERE.
---
If you attend a live wrestling event, please email results like those above to pwtorch@pwtorch.com. Thanks!