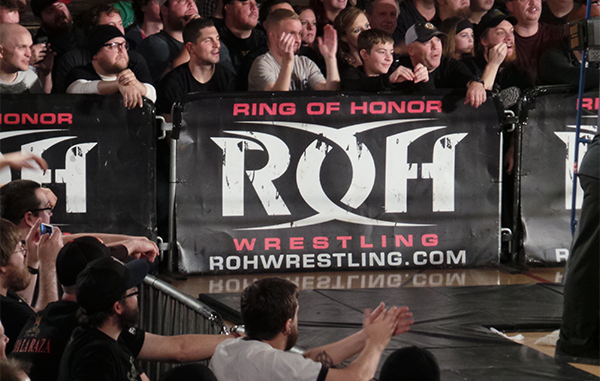 ---
SPOTLIGHTED PODCAST ALERT (YOUR ARTICLE BEGINS A FEW INCHES DOWN)...
---
HITS
Silas Young & Beer City Bruiser: Let me repeat it for the 5 millionth time, Young is one of the best pure promos and heels in wrestling today. Off the heels of Young defeating Jay Lethal at Death Before Dishonor, Young and Bruiser announce that they want a shot at the 6-man tag titles where it'll be Young, Bruiser, and Minoru Suzuki vs. the 6-man champs. Young calls out the Young Bucks and says, "how about you guys take a break from making your little internet show and come out here and face our challenge." The Young Bucks do come out and state that they will face the challenge from Suzuki, Bruiser, and Young in today's main event. Good opening to the show this week and a match to look forward to between these two teams. More to come on this later in this episode and column.
Kenny King vs Josh Woods: This was a good match but to me there was no suspense in it. That's not to say that King and Woods didn't give us a good match, it's just that King just won the ROH TV title and in my eyes, there was no way that Woods was going to defeat King. It wouldn't be fair for me to call this a miss since the guys put on a show. As a matter of fact, they wrestled a darn good match. For a young guy in the wrestling business, Woods showed again why he seems to have a bright future in pro wrestling. What he is lacking at this point in charisma, he does make up for in strength, power, and outright wrestling ability. King does defeat Woods and after the match grabs the microphone to tell us that he will defend his belt against anyone. To this, Shane Taylor comes out, followed by Chuckie T, Punishment Martinez, and then Mark Briscoe. King puts them all on notice that they can all get some of him.  King is the new champ and I like this sort of "Open challenge" for his title. I hope it's done better than the last "open challenge" when the Young Bucks declared one but it never played out on TV weekly. I think in that instance we saw them defend once and then the challenge was over. That said, I look forward to seeing what King will do as the ROH TV champ.
Marty Scurll: Very quick hitting segment with Scurll where Scurll plugs next week and his friend Cody signing a very lucrative deal. I am always good with small teasers like this sprinkled into the show in order to give viewers a reason to tune in week by week.
Silas Young, Beer City Bruiser, & Minoru Suzuki vs. The Young Bucks & Adam Page for the ROH 6-Man Tag Titles: This was outstanding. Although I never doubted for a second that The Young Bucks & Page would lose, that didn't take away from the drama and outstanding stuff we saw from all 6 of these guys during this match. There was everything from submission attempts, brutal Suzuki chops, Page forearm shots, a Beer City Bruiser cannon call on to Page on the floor, a Page drop-sault (as described by Cabana), a Page shooting star to Young on the floor, and so much more! In short, the match was full of non-stop great action. Although I knew the outcome in advance, I thought for sure Bruiser's frog splash on to Page may have won the titles for Bruiser, Young, and Suzuki but the Young Bucks made the save. The match goes on a few minutes longer after that point but when it is all said and done, Page hits Bruiser with his finisher and the team of The Young Bucks and Adam Page retain the ROH 6-Man Tag Titles in a great main event on this week's ROH. After the match, Bruiser and Young blame Suzuki for the loss. Things quickly break down for those three before security comes down to break them up and then we go to commercial. I am not sure if more will come from that ending with security but I don't want to overshadow how good of a match this was. Hats off to ROH for that match on this week's episode. This was tremendous.
MISSES
Tommy Dreamer: This segment started off with Jay Briscoe coming out and it appeared that he would address the crowd as to why he decided to turn on Bully Ray at Death Before Dishonor. As Jay Briscoe begins to explain why he did what he did to Bully Ray, Tommy Dreamer comes out to talk to Jay Briscoe. Dreamer does do a good job of creating sympathy for a beat up Bully Ray. Briscoe never says another word after Dreamer leaves. Briscoe leaves the ring once Dreamer leaves leaving doubt in the mind of what's going on. Where this goes from here is anyone's guess, but for me I am not into this at this point. I can't say I am not interested at all in what happens going forward but I will mention what I said a few weeks back and that's that I feel Bully Ray's act has gotten old for me. I was around for the ECW days and have seen him have a long and great run. I'm just not invested in this story. Could that change? Sure, and if it does I can admit when I am wrong if I get pulled back in.
Final Thoughts: We may have as well called this episode the Silas Young and Beer City Bruiser show. Yes, I know the Young Bucks, Page, and Suzuki all contributed to a great 6-man tag title match. However, the setup from Bruiser and Young at the beginning of the show contributed greatly. And as I have already stated, the match for the 6-man titles was exceptional. Overall, a solid episode of ROH this week.
---
Mike Mills is the PWTorch.com ROH TV Hits and Misses Specialist, providing his point of view on ROH TV weekly. You can follow Mike at @BTT_Podcast and @Mike504Saints on Twitter.
---
NOW CHECK OUT LAST WEEK'S COLUMN: ROH HITS & MISSES 9/30: War Machine, The Tempura Boyz, Gordon, Corey Hollis, Women of Honor Update, Cody, Kazarian