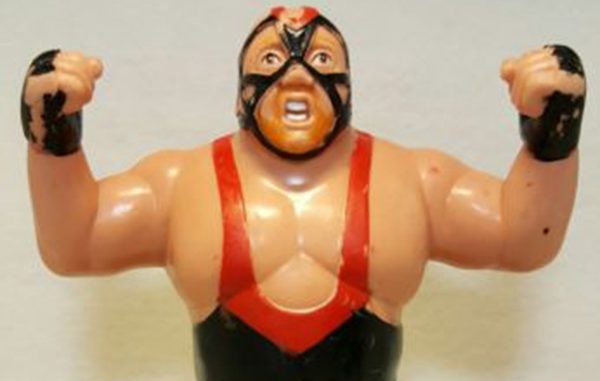 ---
SPOTLIGHTED PODCAST ALERT (YOUR ARTICLE BEGINS A FEW INCHES DOWN)...
---
Professional wrestling has had its share of monsters for decades, from undead mummies to evil leprechauns, and from zombies to vampires to – what the heck WAS Dustin Rhodes' Seven character supposed to be, anyway?
Many of wrestling top monsters have appeared in action figure form over the years, including the Undertaker, Kane, Gangrel, Abyss, Mankind, Kamala and many more. Sadly, many others are still waiting for their first figures, including Leatherface, Mantaur and the Yeti – who wasn't actually a yeti, but a part-time mummy, part-time ninja.
Just in time for Halloween, here's a look at some of the best and worst monster action figures in wrestling history.
The Best
Adam Bomb Hasbro WWF Series 11. As the Night Stalker, Bryan Clark worked a handful of WWF house shows as a vampire character in 1993. By the time he made it to television, the Night Stalker had become Adam Bomb, a survivor of the Three Mile Island nuclear accident in 1979. He wore yellow contact lenses and used 1950s creature feature music straight out of "It Came from Outer Space." Hasbro included a great figure of Adam Bomb in its 11thand final series of WWF action figures, which were packaged on green cards. These green card figures are incredibly rare, and Adam Bomb is one of the most popular in the set.
Kane Mattel WWE Elite Series 12 Flashback. When Kane debuted at the 1997 Bad Blood pay-per-view, the hulking, indestructible monster immediately drew comparisons to slasher villains like Michael Myers and Jason Voorhees. Kane's look changed over the years, but he was at his best (and baddest) as the hooded monster dressed head to toe in red and black. Jakks Pacific and Mattel have made several figures based on Kane's original look, but none are better than this Elite Flashback figure from Mattel. It's tough to find today and regularly sells for more than $100.
Undertaker Mattel WWE Elite Series 23 Flashback. Throughout his career the Undertaker has portrayed several different horror characters, most notably a zombie and the leader of a Satanic-like cult. In 1995, King Mabel dropped a big leg on the Undertaker, crushing bones in his face. Undertaker returned with a new Phantom of the Opera-esque mask. Mattel produced a great looking figure of this version of the Undertaker, complete with removable mask, coat and hat.
Father James Mitchell Toy Biz TNA. Whether he was Daryl Van Horne, James Vandenberg or the Sinister Minister, Father James Mitchell was always the same basic character: the Devil. There's not much to celebrate about the Toy Biz TNA line, but this is an excellent figure. Mitchell has that devilish look on his face and is decked out in a red suit.
Kamala LJN WWF Wrestling Superstars Series 4. Bloody, gory cannibal movies were all the rage in the early 1980s, thanks to infamous films like "Cannibal Holocaust" and "Cannibal Ferox." Enter Sugar Bear Harris, who was transformed into a Ugandan cannibal/giant/headhunter. Kamala had a phenomenal look for professional wrestling, and Hasbro, Jakks and Mattel have all made great figures of the big man. But the original Kamala figure, released by LJN in 1987, is still a favorite of many fans today.
The Worst
Gangrel Jakks WWF Maximum Sweat. Long before vampires were romanticized in the "Twilight" series, they were seen as a plague on mankind in movies like "Nosferatu." As Gangrel, David Heath was definitely much more Count Orlok than Edward Cullen. There's definitely room for a cool Gangrel figure, but this isn't it. These figures had jacked up bodies and distorted facial features, and would squirt "sweat" from their foreheads when water was pumped into their backs.
Brock Lesnar Mattel WWE Mutants. Brock Lesnar is a pretty straightforward character: ass-kicking amateur wrestler turned pro wrestler, turned MMA fighter, back to pro wrestler. But for some reason Mattel saw him as a four-armed monster with red skin and spikey things poking out of his chest. Mattel followed up its first WWE Zombies set with WWE Mutants, which weren't particularly well-received by collectors. Lesnar stands out as the worst from a bad bunch of wrestling toys.
Roman Reigns Mattel WWE Monsters. Did you ever wonder what Roman Reigns would look like as a werewolf? No? Well, Mattel has decided to show you anyway. Mattel is following up its Zombies and Mutants lines with Monsters figures, due out in 2018. Some of the figures, like Jake Roberts wrapped in two fang-baring snakes, have a fun campiness to them. But Roman Reigns as a werewolf? "An American Werewolf in London" this isn't.
Vader OSFTM WCW Series 1. As monsters go, Vader was the worst kind: a big, mean bully who hit hard and plowed through his opponents. His smoke-spewing mastodon mask and White Castle of Fear cape only added to his fearsome appearance. But OSFTM's first Vader toy induced more laughs than shrieks. The first OSFTM WCW toys came across as cheap knockoffs of LJN's WWF Wrestling Superstars line, and Vader in particular had a goofy looking face and wasn't nearly big enough.
Giant Gonzalez. In WCW, he was El Gigante, the big lovable Argentinian. But in the WWF, Jorge Gonzalez became the Giant Gonzalez, a nearly eight-foot tall guy in a body suit with patches of hair and airbrushed muscles. Gonzaelz has actually had some pretty cool toys; his Galoob WCW figure and Jakks Classic Superstars toy have great to detail and are considerably taller than the other figures in their respective lines. But this goofy Gonzalez figure looks more like something from an early-80s

Saturday

morning cartoon.
NOW CHECK OUT THE PRIOR COLUMN: COLLECTIBLES COLUMN: Leaf Produces Trading Cards of NJPW Stars
---
PWTorch Collectibles Specialist Michael Moore can be reached at michaelmoorewriter@gmail.com. Follow him on Twitter @MMooreWriter.