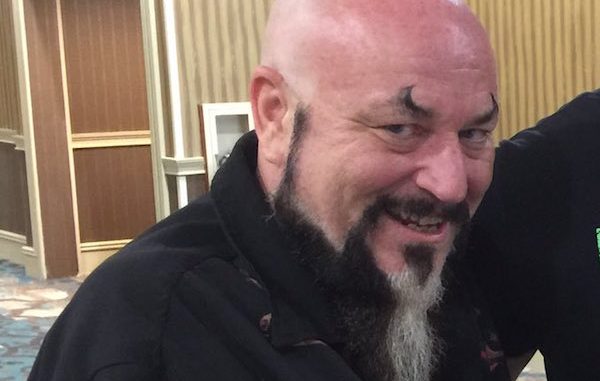 ---
SPOTLIGHTED PODCAST ALERT (YOUR ARTICLE BEGINS A FEW INCHES DOWN)...
---
IMPACT HITS
James Mitchell: In a just wrestling world, James Mitchell would have enjoyed steady employment the past 20 years. So many wrestlers could have benefited with him as their mouthpiece. While he's made a couple of cameos over the past year on Impact, he finally got to talk for an extended period of time and once again proved how valuable he can be on the mic. The Jimmy Jacobs/Kongo Kong vs. Abyss storyline has been inconsistent and cheesy so far, then in one segment, The Sinister Minister actually made it interesting. Hopefully he sticks around for some time to come. The man dances circles around everyone else on the roster when it comes to cutting promos. 
El Patron and Aries: While watching this video, I couldn't decide if it was horrible or entertaining. By the end, I moved over to the side of being impressed. Alberto El Patron displayed the right amount of arrogance and rudeness with the champion. He wasn't over the top in trying to offer his opponent some meat, which made the segment work. This cold and calculated version of him is far more effective than having him complain about management being against him. However, due to Patron's openness of wanting to go back to WWE, it seems ridiculous to main event a pay-per-view with this match. Still, Impact did a nice job in setting up the stage for it.
Rosemary and Taya Valkyrie: Despite a couple of rough spots (Rosemary could have badly injured herself performing her senton off the ring apron), the two women delivered a strong brawl that left the door wide open for future rematches. Even better is that the crowd finally came to life a bit when they were in the ring.
So Long Adonis: Chris Adonis abruptly left Impact and the creative team actually went to the effort of explaining why he isn't coming back. Every other show on TV would let their viewers know a character was leaving the show but wrestling usually doesn't bother. This is progress. Now could someone please explain what happened to Chandler Park, Laredo Kid, Garza Jr., and Suicide? Actually, I don't care about that last one. 
MISSES
Feast or Fired: This match continues to be the dumbest gimmick in all of wrestling. There are literally THREE tag teams on the entire roster. If you're in a team, why bother risking your job to grab a briefcase? Just wait a few weeks and you'll get a shot due to sheer math. And why would a wrestling promotion willingly fire a top star if they won the pink slip? It wouldn't make any sense from a business perspective. No matter who is in charge of the promotion, some awful TNA ideas continue to linger on.
The Guru: Possibly the Impact miss of the year so far. If management decides to keep villainous Josh Mathews on commentary every week then they have already lost their minds. The ratings are finally growing a little bit and they're going right back to something that was universally hated last year with a heelish Mathews? Insanity. While it's stupid to have a bad guy be the voice of the promotion, it makes even less sense to have him be a good guy 90% of the time and then heel it up when his wrestler comes out. It just doesn't work. Besides that, the announcer's segment with Matt Sydal was also a dud. Nothing about the man makes him feel like a guru. He's an overly abrasive guy in jeans and expensive clothes. Same as he always was. He didn't mix up his character in the slightest. Maybe I'm missing out on the irony or something of the angle but this was a lousy start to their pairing. I could accept Mathews as a full-time manger but having him perform double duty is simply an exercise in madness.