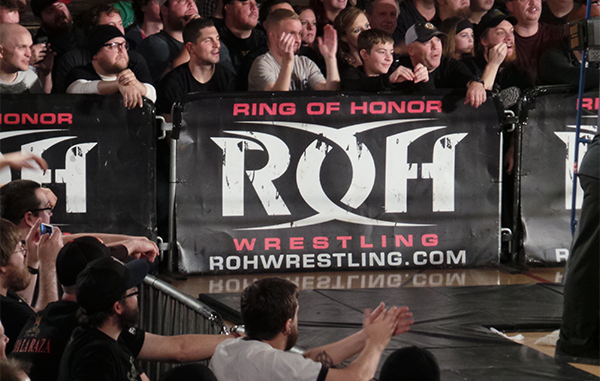 ---
SPOTLIGHTED PODCAST ALERT (YOUR ARTICLE BEGINS A FEW INCHES DOWN)...
---
HITS
Frankie Kazarian vs. Hiromu Takahashi: This was a good opening match. It did not have any long time potential in terms of storylines in my opinion, but we are also watching footage recorded prior to Supercard of Honor that took place April 7. We see this from time to time on ROH PPV weekends and/or the week after. The match was good. The crowd was into it. As we worked towards the finish, Kazarian hits Takahashi with a slingshot cutter. Takahashi rolls up Kazarian when Kazarian challenges the speed of Todd Sinclair's count. Kazarian then uses the ropes but only gets a two count. After a couple of more exchanges, Takahashi gets Kazarian into his finisher. The Time Bomb. Takahashi hits it and covers Kazarian for the 3 count. Once again, although this match does not seem to have any long term or future storylines within it, it was still a solid opening match from the two.
Beer City Bruiser & Brian Milonas Beat Up LSG Backstage: Immediately after the opening match, Ian Riccaboni throws us backstage where we join in progress Milonas & Bruiser destroying LSG. This coincides with what we saw on a previous episode where Milonas & Bruiser jumped Coast To Coast (CTC) after a match that CTC had with The Dawgs. This was a quick segment that sees LSG get destroyed before the match we will see shortly that kicks off the Tag Team Gauntlet match for the #1 contenders for the ROH World Tag Team titles. I really liked this. Milonas & Bruiser come away as strong heels. In the Gauntlet match, we will have even more sympathy for CTC since Shaheem Ali will now be without LSG because of LSG's injuries sustained here.
Tag Team Gauntlet Match To Determine #1 Contenders For The ROH World Tag Team Titles: The match starts off with Milonas & Bruiser vs. CTC without LSG who was just injured. Ali comes out with a microphone to address Bruiser & Milonas. I love everything Ali said. Ali says he is not scared and he's going to battle them 2 on 1. You got to love the fire of Ali and having no fear after seeing his partner LSG injured. Ali holds his own against the massive team of Bruiser & Milonas. Ali kicks out of a nice Power Bomb by Milonas. However, in the end the nearly 800 lb. team of Bruiser & Milonas are too much to overcome as Milonas hits his superplex followed by Bruiser's flog splash off the top. Bruiser & Milonas move on in the Gauntlet match. Credit Ali for a solid showing against these two monsters. Next up are The Dawgs with Rhett Titus and Little Willy.
As this match gets started, I was wondering how this would go. We have two fresh guys in with The Dawgs and Milonas & Bruiser who just had a match with Ali. Milonas and Bruiser are on the ropes for a while at the start of this one but in the end, Milonas & Bruiser are too much for The Dawgs and Milonas & Bruiser win when Milonas superplexes Little Willy and Milonas pins Little Willy. Caprice Coleman, Colt Cabana, and Ian Riccaboni mention Bruiser & Milonas' great cardio conditioning even though they are huge guys. I have to agree and thought that was a good point. Next in is the Motor City Machine Guns. By this point, the fresh Motor City Machine Guns (MCMG) are ready to roll whereas Bruiser & Milonas are beginning to burn out. MCMG immediately attack Bruiser & Milonas. The big guys try to put up a fight, but it appeared their tanks were gassed out. Bruiser technically misses a cannonball on the outside when he accidentally hits Milonas. Bruiser rolls back into the ring just in time to receive Made In Detroit from MCMG. MCMG moves on with team #5 coming out, The Young Bucks.
I should stop for a second and mention that I felt Bruiser & Milonas had a strong showing here. I am hoping for good things from them as a team as we move forward. Things may have been slow in the previous leg of this Gauntlet match but that changes as we proceed. Lots of great action during this leg of the match with these teams. It was about 6-7 minutes of some solid ROH wrestling with these two. The finish surprised me though. After plenty of action, The Young Bucks win when Matt Jackson catches Sabin with a simple backslide. The old school finish was a welcomed addition in an action-packed leg of this Gauntlet. The Young Bucks advance to take on The Kingdom (TK O'Ryan & Vinny Marseglia) who make their way to the ring.
Another good match within the Gauntlet match. I thought these two teams were excellent together. I know they have wrestled each other before but it feels like a long time since I have seen it and I am trying to remember if it was in a 6-man where we have seen it and not a traditional tag. I was even ok with Marseglia using the axe as a distraction and then bringing in TK's bat to attempt to put Nick Jackson out cold. It was a good false finish of sorts because he hits Nick with the bat, but Nick kicked out. Not much long after, The Young Bucks gain control of the match and The Young Bucks hit the Meltzer driver on TK O'Ryan with Matt continuing to do a good job of selling his back that has been injured for a while. The Young Bucks with the win receive a future shot at the ROH World Tag Team titles or as Ian Riccaboni mentions become the number one contender to the titles. This was a fun match with all the different tag teams sprinkled in.
MISSES
None to report
FINAL THOUGHTS: This was a good episode even though we have not gotten to any fall out from Supercard of Honor yet. This was to be expected since this was taped prior to Supercard. The Gauntlet match took up most of the show and that was a positive in this respect. First, Bruiser & Milonas got a couple of victories during the Gauntlet against CTC (with only Ali since LSG was injured before) and The Dawgs. As a new tag team, this helps build Milonas & Bruiser by getting some victories under their belts. And based on what we know right now, I think CTC and Milonas/Bruiser are not done dueling with each other. Second, with The Young Bucks winning the Gauntlet they now become the number one contender to the ROH World Tag Team titles. The Young Bucks and The Briscoes are both money. That will be a heck of a match when it takes place. It is also timely that ROH did this because as of now The Briscoes are the champs but there is a lack of legitimate competition for them. I think it would be a good time to replicate the old John Cena US open challenge to help showcase all the teams in ROH. The Briscoes could make teams like CTC, Bruiser & Milonas, The Dawgs etc. look strong in some high quality non-PPV TV matches. I feel like that would elevate the underneath, mid-card, and contender tag teams in the promotion. That's just my two cents on the ROH tag team situation. In closing, this was a good episode and worth checking out this week.
---
Mike Mills is the PWTorch.com ROH TV Hits and Misses Specialist, providing his point of view on ROH TV weekly. You can follow Mike at @BTT_Podcast and @Mike504Saints on Twitter and you can check out his old school wrestling podcasts at tinyurl.com/BTTPod
---
NOW CHECK OUT THE PREVIOUS COLUMN: ROH HITS & MISSES 4/2: Omega and The Bullet Club Conflict, Champions Challenge, Cody, The Kingdom, Cheeseburger vs. Kikutaro, Purrazzo vs. Iwatani