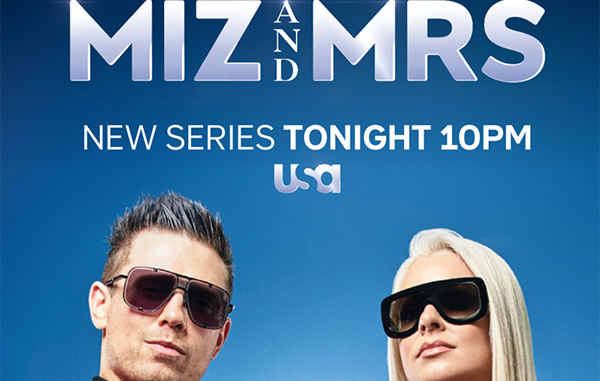 ---
SPOTLIGHTED PODCAST ALERT (YOUR ARTICLE BEGINS A FEW INCHES DOWN)...
---
"MIZ & MRS." – EPISODE 2
JULY 31, 2018
AIRED ON USA NETWORK
The show opens at the former Chateau MarMiz in California. Maryse is showing her mom pics on her phone – inevitably it ends up being the photos from last week's "implied nude" photoshoot. Marjo is bleeped calling "Big Mike" (Miz's euphimism for his penis) a cock. Marjo critiques the Miz's posterior. She says he has a flat ass.
The show open plays. Then in the car Maryse explains the baby shower party items she wants. It's going to be an expensive party. Maryse wants a $1,000 gender reveal cake. The cake delivery will cost $100. So, we're learning that the Miz is thrifty, and Maryse – not so much. Miz then shows off his bartering skills, buying Maryse a bear and roses.
Back from break, Miz arrives at Smackdown and encounters Dolph Ziggler, who confirms his invitation to the gender reveal party / baby shower. Miz and Dolph have been friends for a very long time in WWE. Evidently as children they lived about six minutes away from each other and never met. Anyway, an Xavier Woods cameo. He does something weird with his abs. Also, No Way Jose is on screen for the obligatory Titus O'Neil minute. Match footage of Miz vs. Seth Rollins is shown. Meanwhile, at Chateau MarMiz – baby shower preparations are transpiring, both Marjo and the Miz's mom, Barbara, are present.
While the ladies are prepping for the party, Miz is picking up his dad from the airport. The cost of the cake is discussed, as well as how much cheaper it would be to just get one from a grocery store. The Miz's dad, George, insists on picking up the cake. For whatever reason, the cake is put in the backseat. This is a terrible place to put a cake. "This does not look good," is the last thing that Miz says before driving away with the cake. Inevitably, he slams on the brakes and the cake is not seat-belted in, so, if you've seen the promo commercials for this show, then you know what happens.
The cake did not survive. Miz returns to the cake place. He pays $2,200 to have the cake remade. Mike finally makes it home. Maryse points out that he's like five hours late. Miz hasn't told Maryse about the cake catastrophe. Anyway the four-tiered cake that Maryse originally wanted shows up. Dolph Ziggler, Rosa Mendes, and Ryan Cabrera are present at the party. Also present are John Morrison, Dana Brooke, and James Roday (from "Psych"). People mingle. In the mean time, Marjo has discovered the remains of the original cake in Miz's Jeep. No, George and Miz did not do a good job cleaning up the crime scene.
This is a baby shower, so, baby shower games commence. Maryse's team wins. Marjo then announces she has a special surprise for Miz and Maryse. It's a large black and white photo from their implied nude photoshoot. It's a comedy spot. Someone points out that they "can't unsee that." So, after the party has wound down, Miz and Maryse are outside talking about how much they're going to miss the house. Maryse then points out that she found the mutilated cake in the car. "My dad made me do it!" was Miz's defense, before apologizing. The show closes with the two them laughing about it… until a cut away shot pops up with Miz rhetorically asking how much cake was eaten? Evidently none. Wah wah.
NOW CHECK OUT LAST WEEK'S REPORT: MIZ & MRS. TV REPORT 7/24: Sarah K's report on the series premier including Miz learning the difference between implied nude photo shoot and actual nude photo shoot