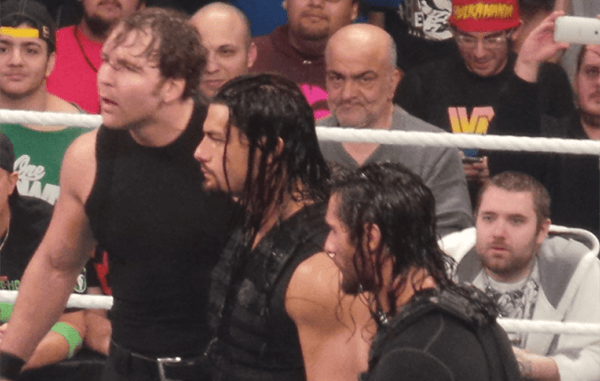 ---
SPOTLIGHTED PODCAST ALERT (YOUR ARTICLE BEGINS A FEW INCHES DOWN)...
---
The following article was originally published on PWTorch.com five years ago this week…
---
KELLER'S WWE RAW REPORT
AUGUST 26, 2013
PHOENIX, ARIZ.
LIVE ON USA NETWORK
[Q1]
-They opened without a video recap from last week. They went right to the "WWE Then, Now, Forever" opening and then The Shield standing at ringside. Triple H's ring entrance then took place. Michael Cole said The Shield have "sort of become" personal security for Triple H. Jerry Lawler said he hopes they're not henchmen.
(WK Reax: I'm not against this being the second chapter of The Shield's role in WWE. WWE Creative seemed to run out of ideas for them and never completely fleshed out what their purpose was other than vague comments about justice. Also, it helps solidify Triple H as a heel because he's not standing alone. It also positions The Shield to perhaps turn babyface down the line in opposition to being treated poorly by Triple H and Orton, although I hope that's a very long time from now as any face turn within The Shield in the next six months would be very, very premature.)
Triple H talked about a paradigm shift and a dawning of a new era at SummerSlam. A clip aired of the finish at SummerSlam. Triple H said that was best for business and not personal at all. He then threw to a clip of last week's show with The Shield attacking Bryan at ringside. Cole said none of the Superstars on the stage intervened because they were afraid of repercussions much like Dolph Ziggler and Big Show faced earlier in the night.
(WK Reax: Boy does that make all of those wrestlers on the stage out to be lousy friends and totally erases any sense of that they have outlaw personalities who don't succumb to threats of two-on-one matches and such things. It really makes the wrestlers out to be corporate contractors who can scared easily.)
Triple H said, "I will admit, that was personal." He said he humiliated Bryan and beat him down in front of the world because he walked into the ring at the start of Raw and insulted his wife, him, and his family. He said that was the personal response he got for it. He said he'd let water run under that bridge as if none of that happened and be a businessman with him. He said the choice is his. He asked if the crowd had heard about the ratings going threw the roof last week. He said every indicator they have shows that business is booming. He said it's all due to one man. He said that one man is Randy Orton. He asked the crowd to show their respect to him.
Orton's ring entrance took place. Lawler called it a luke warm reaction at best. Hunter thanked Orton for breathing new life into WWE. He said he wanted to reward Orton with a gift. He presented him with a brand new Cadillac Escalade. Orton, who had been somewhat reserved and stoic, burst into a smile.
He thanked Triple H for the gift and said he appreciates his recognizing he is the right person to be the face of WWE. Bryan's music played and he walked onto the stage. He looked at the Escalade. "Sweet ride, Randy! That's way nicer than my Honda Fit!" he said, getting a laugh from the crowd. He told Orton that while he's out there making thank you's, he has some of his own. The crowd chanted "Daniel Bryan!" He said he's not the biggest, strongest, or prettiest. "Obviously, that's Twinkle Toes Orton in there." He said despite that, the fans have believed in him and supported him, "and you have no idea how much that means to me."
Bryan also thanked John Cena. He thanked him for the opportunity to wrestle in the main event at SummerSlam because obviously Triple H would have never given him that opportunity. He thanked Triple H for proving to everyone that his view of what's best for business and what a WWE Champion should look like is as narrow-minded and misguided as Vince McMahon's. He said the rebel in the leather jacket who used to thumb his nose at authority is now just a "sellout in a suit" who thumbs his "rather large nose" at each and every member of the WWE Universe.
[Q2]
Orton told "Dan" to think about whom he's speaking to. He said he should show both he and Triple H the respect they deserve. Bryan said, "Let's hear it for The Face of the WWF!" He said at Night of the Champions, when he gets his shot at the WWE Title, his face will be rearranged and he will once again become WWE Champion. The crowd chanted "Yes!" Triple H condescendingly called him Jimminy Cricket and sang "When you wish upon a star, makes no difference who you are." Triple H deepened his voice and said in the real world it makes a difference who you are. He said he's not an A player, he's a B at best. He announced Bryan vs. Seth Rollins later. He said when he's done with Rollins, if he makes it past him, he can go one-on-one against Dean Ambrose. Then, if by chance, he wins that, he will get Roman Reigns. He said he can prove his worth ethic in a gauntlet match.
-They went to Cole, Lawler, and JBL at ringside. They threw to a clip of the C.M. Punk-Paul Heyman-Curtis Axel angle last week, then announced Punk vs. Axel tonight. Lawler said fans get to vote for the stipulation – Heyman banned from ringside, Heyman as special ref, or if Punk wins then Heyman must step into the ring with Punk. Gee, I wonder. [c]
(1) CODY RHODES (w/Rosa Mendez) vs. FANDANGO (w/Summer Rae)
Damien Sandow joined the announcers on commentary. When he mispronounced Fandango, Cole corrected him. A minute into the match Fandango's music played and Miz and Rosa Mendez danced onto the stage dressed up like Fandango doing a hideous dance. JBL said, "It's Miz renewing his idiot license." JBL asked if Miz was having a seizure. Cody snuck up behind the distracted Fandango and scored the pin. When Sandow attacked Cody, Miz joined Cody and the two babyfaces cleared the ring. G.M. Brad Maddox walked onto the stage and announced a tag match with all of them starting right now. [c…]
[Q3] […c]
(2) CODY RHODES & THE MIZ vs. FANDANGO (w/Summer Rae) & DAMIEN SANDOW
The match was joined in progress after the break. In the end Fandango abandoned Sandow, leaving him vulnerable to Miz's Skull Crushing Finale for the win. After the match Miz's music stopped and Fandango said his name and then danced to his music for a while.
WINNERS: Rhodes & Miz in 4:00.
-A new "Get Your Groove On" commercial aired for WWE Shop featuring a teen dancing with a white background while kicking it with WWE hats and shirts. [c]
-The vignette aired on Los Matadores coming soon to WWE.
-Josh Mathews interviewed Christian backstage regarding his thoughts on the direction Triple H is taking WWE. Christian said that's a tricky question because those who speak out face consequences. He said he lived through the McMahon-Helmsley era and has scars to prove it. When he mentioned learning from history, Orton walked into the picture and said he will beat him tonight with the RKO. Christian said, "I know that Triple H likes to play with sledgehammer, but it seems to me he's found himself a new tool." Oh, snap. Orton smiled and said he'd see Christian in the ring.
-They went back to the announcers. Lawler said that got personal in a hurry and would be good. They plugged the stip voting again. Cole said social media fans can go to the Tout App and see Heyman's instant reaction.
-Renee interviewed C.M. Punk, available live on the WWE App a few minutes earlier, who encouraged fans to vote for the third option.
[Q4]
-They went backstage to Heyman and Axel. Heyman was not happy with his health and well-being put in the hands of the WWE Universe. Axel assured Heyman he'd win the match. "You believe in me, right Paul?" he asked. Heyman paused and said, "Like my life depends on it."
(WK Reax: Axel's inflection still isn't where it should be. He sounded like he was repeating lines he rehearsed instead of lines he feels. Working "perfect" puns into his promos just draws unfavorable comparisons to his dad. He's just not there yet and I'm not sure he can get there. That X Factor is missing.) [c]
-WWE Fact: Raw last week had ten times more social activity than any other show on broadcast TV.
(WK Reax: Do people who still watch "broadcast TV" know how to use smart phones and tablets?)
(3) C.M. PUNK vs. CURTIS AXEL (w/Paul Heyman)
Cole quoted Heyman on Smackdown last week saying Punk had gone down a spiral and turned into a madman without him. Lawler revealed 81 percent voted for option three. 12 percent voted for Heyman to be banned and 7 percent voted for Heyman to be ref. The screen noted that "Los Matadores" was trending on Twitter. Axel bailed out for a breather early. Punk chased after Heyman on the stage. Axel caught up to him and took over. At 3:00 when Punk set up a top rope elbow, Axel rolled to the floor. Punk dove onto Axel at ringside. They cut to a break as they showed Heyman looking worried on the ramp. [c]
[Q5]
Cole said Lesnar was probably watching this back in Minnesota. At 10:00 Punk hit the top rope flying elbow for a near fall. Axel escaped Punk's attempted Go To Sleep and then landed spinning neckbreaker for a near fall. A minute later Punk landed Go To Sleep for the win.
WINNER: Punk in 11:00.
-JBL told Heyman to run. Lawler said walruses can't run. Heyman walked backward off the stage, but two referees came out and ordered him back to the ring. When he escaped their grip, he was dragged back to the ring by security. Punk grabbed Heyman's face and shoved him into the ring. Punk pushed Heyman into the corner, but Axel came up behind Punk and gave him a low blow. Axel then handcuffed Punk's hands behind his back. Heyman slapped him repeatedly and yelled at him. He said, "Come on tough guy, fight me!" The crowd chanted for Punk. Punk stood up and swung his leg and kicked Axel out of the ring, then kicked Heyman, taking him down. Axel entered with a chair and hit Punk from behind. At ringside Axel beat up Punk up against the announce table. Heyman then bashed Punk over and over with a kendo stick. Heyman got down and said, "I gave you my heart, you broke my heart, I loved you!" The crowd replied with a "Walrus" chant. Heyman looked distraught afterward, rather than satisfied. JBL said, "That was hard to watch."
(WK Reax: Good angle with Booking 101 on display. Let Punk get his hands on Heyman briefly, then snatch it away before he lets loose, and then have the heels beat him down down two on one.) [c]
[Q6]
-They replayed what happened before the break, then showed a clip of Punk bleeding on his back from the shots with the kendo stick. That aired live on the WWE App.
-Justin Roberts introduced Jo Jo as the guest ring announcer. She's one of the stars of "Total Divas."
(4) BRIE BELLA (w/Nikki Bella, Eva Marie) vs. NATALYA (w/The Funkadactyls)
When Natalya had Brie in the sharpshooter, Nikki yanked Brie out of the ring to save her as the ref was distracted by Eva Marie. Brie then gave Natalya her finisher for the win.
WINNER: Brie Bella in 2:00.
-Afterward, A.J. Lee walked out and spoke from the stage about last week's "Total Divas" episode. She mockingly got excited about the show. Then she said when she looks at Natalya and The Funkadactyls, she sees a bunch of interchangeable expendable useless women. The Bellas and Eva at ringside yelled, "Say that to our face!" A.J. said she has done more in one year than all of them have done in their entire collective careers. She said she saved the Divas' Division. "Why? So a bunch of ungrateful stick plastic mannequins can march through without even a thank you?" She said she worked hard to get to the top, not because she "sucked… (pause) up to the right people." She said they are useless excuses for women and can never touch her. "And that is reality," she concluded before dropping the mic.
(WK Reax: Was A.J. designed to be a heel or face there? It seemed like a heel promo, but the crowd was cheering her.)
-A clip aired of last week's Raw angle with Ricardo joining RVD. Cole plugged the RVD vs. Alberto Del Rio match up next. [c]
[Q7]
-A clip aired of ADR turning on Ricardo on Raw three weeks ago.
(5) ALBERTO DEL RIO vs. ROB VAN DAM (w/Ricardo)
They cut to a early break after RVD kicked ADR over the top rope to the floor. The kicked totally missed, and even JBL acknowledged it, saying it didn't connect completely but made enough contact to knock him down.
(WK Reax: So RVD either potatoes people or completely misses?) [c]
Cole said they were just informed that if RVD wins tonight, he gets a World Title match at Night of the Champions in three weeks. That pretty much gave away the finish. At 8:00 Ricardo stood on the announce table and led a chant of "Rob Van Dam!" RVD then leg-scissored a distracted ADR and leveraged his shoulders onto the mat for the win.
WINNER: RVD in 9:00.
-The announcers threw to Cena's announcement last week that he's injured and leaving WWE for the next four to six months to try to get himself healthy. Then they showed pictures of Cena after surgery with his elbow wrapped and then an image of the elbow with just a small bandage on it after surgery.
-A commercial aired for the new DVD release "Best of WWE at MSG." They included clips of The Rock and Bruno Sammartino talking.
[Q8] [c]
-WWE Fact: WWE has all ten of the top selling sports DVDs including the '90s stars DVD at no. 1
-Mathews interviewed Ryback who walked into the picture and seemed to imitate Razor Ramon and then he called himself "The Big Guy." When Mathews brought up people were saying he bullies people. Ryback grabbed him by the face and shoved him down. He said he finally found a way to shut him up.
-Back to the announcers at ringside, Lawler said Ryback is not a good rep for their Be A Star anti-bullying program. Then they reviewed the Heyman-Punk angle earlier.
-Renee interviewed Heyman and Axel in the parking garage. They bragged about what they did to Punk earlier. Heyman, who looked like he had been crying for 20 minutes and was still red-eyed and still crying. He said he humiliated Punk, who was beaten up by his own father figure. He said now his prodigal son will learn he, Heyman, was the last person he should ever come up against. They got into a rental car and were driven away.
-Christian's ring entrance took place. Then Orton's. [c]
[Q9]
(6) RANDY ORTON vs. CHRISTIAN
The announcers spent the early minutes talking about the Orton-Bryan feud. They're really pushing the image that Orton is "pretty" as a way to get fans to boo him. At 5:00 Orton shoved Christian off the top rope and Christian took a nasty looking back bump on the edge of the ring apron before falling to the floor. The announcers really reacted. Then they cut to a break. [c]
They replayed Christian's bump from two angles. Lawler called it a miracle he survived. At 11:00 Christian avoided an RKO and then mounted Orton with ten punches in the corner. Christian went for a DDT out of the corner, and he did hit it, although Orton seemed to collapse early and it looked a bit odd. Christian scored a two count. Orton delivered a DDT off the middle rope a minute later to take over "just like that," punctuated Cole. Orton then pounded the mat and set up the RKO. Christian blocked it, though. He leaned against the top turnbuckle to catch his breath more and he waited for Orton to stand. He signaled for the spear and went for it. Orton leapfrogged him, but Christian turned and speared him in the other direction leading to a near fall. Orton went for an RKO seconds later, but Christian reversed into an attempted Kill Switch. Orton gave Christian a thumb to the eye and then hit the RKO for the win.
WINNER: Orton in 15:00.
(WK Reax: Cole continues to be the best he's been. Something so fundamental, but seemingly sporadic if not discarded in recent years among top announcers, was shaming the heel for cheating. Cole did so here, saying Orton resorted to a thumb to the eye to gain victory.)
[Q10]
-Afterward, Bryan appeared on the big screen. He said the more he thinks about it, the more he realizes Orton is the Face of WWE. "A pretty car for a pretty man," said Bryan, mocking Orton's good looks. Bryan asked what happens if he beats Orton at Night of Champions. He asked if that makes him the new Face of WWE. He then stepped back and showed that he defaced Orton's new sleek black Cadillac with "Yes! Yes! Yes!" spray-painted all over it in orange. [c]
-Backstage Orton, Triple H, and Maddox gathered around Orton's vandalized SUV. Brad told Orton that everyone in the locker room is laughing and cheering just like the fans were. Triple H said he considered that car his personal property because he gave it to Orton. He said he feels the same way about the WWE Title belt – that it's his and he just has Orton carry it for him. Triple H said he wants everyone in the locker room to watch what happens to Bryan tonight. He said if anyone thinks about getting involved and "crossing that line or looking sideways at that ring" they will get personally fired by him.
(7) TITUS O'NEILL (w/Darren Young) vs. JACK SWAGGER (w/Zeb Colter, Antonio Cesaro)
Before the match Zeb aimed his mic work at the Prime Time Players. He talked about welfare. "If you can't feed 'em, don't breed 'em," he said, adding that their parents should have gotten that message. He said the Real Americans are what's right about America, and the PTPs are what's wrong. Lawler said Swagger and Titus are two raw-boned young men who don't know their own strength.
[Q11]
In the end, Young broke up a pin attempt by Swagger on Titus. As Swagger yelled at him, Titus gave him his signature slam for the win.
WINNER: Titus in 3:00.
-The announcers threw to pictures of the SummerSlam match with Bray Wyatt vs. Kane surrounded by fire. He said a message from Bray was up next. [c]
-The latest odd and creepy Wyatt Family vignette aired. Afterward the announcers just shook their heads and said they didn't know what to make of that.
-Another clip aired of Bryan showing off the defaced Cadillac.
-Backstage Maddox asked a doctor about Punk's condition. He doc said he was refusing medical attention. Punk barged out of his locker room isolation and demanded a match against Heyman where he can't escape. He said he doesn't care about anything but getting revenge on Heyman. Maddox agreed to a handicapped elimination match, and if Heyman tries to get out of the match, "you'll never see him again." Punk said if Heyman escapes, not only may Heyman never be seen again, but Maddox may not, either.
-They showed the wrestlers from the back walking onto the stage. [c]
-The Los Madadores vignette aired again.
-Renee interviewed Big Show on the stage about last week's three-on-one match against The Shield. He refused to answer. She then asked Dolph Ziggler a similar question. He refused to comment, also. She jumped over to Miz. He commented, saying that what happened to Ziggler and Show and what's about to happen to Bryan is… and then he stopped short of complaining. Cole said you can't blame them because they'd likely be fired.
(WK Reax: WWSCD? What would Stone Cold do? He would dare Triple H to fire him and disregard the threats. Everyone standing on the stage look really bad conforming to the threat of being fired. This booking is very Triple H-centric, and I can hear and understand his rationalizations, but ultimately it is undercutting a key quality that makes pro wrestling work – that the wrestlers are the outlaws and promoters have trouble keeping them in line. Having every babyface care more about their jobs than standing up for what's right might make sense in any other situation outside of pro wrestling, but in the context of WWE TV, it castrates the entire roster in order to get over Triple H as the power hungry corporate head out of control. There's a big trade-off here if the wrestlers don't rebel sooner than later and "cross the line.")
(8) DANIEL BRYAN vs. SETH ROLLINS
At 4:00 Bryan dove through the ropes at Rollins at ringside, and Rollins took a great backward flip bump over the announce table and landed in one of the announce chairs. Bryan threw him into the barricade next as they cut to a break. [c]
They came back from the break and picked up the already nice pace and brought the crowd into the match with oohs and ahhs and pops for every twist and turn and near fall.
[Q13]
At 11:00 Bryan gave Rollins a German suplex off the top rope. Rollins flip-bumped to the mat. The crowd erupted. Bryan showed great fire as he made his comeback official. He yelled "Yes! Yes!" and the director got so excited he went to a shot of the crowd and missed Bryan's finisher, which is extremely rare. Bryan scored the pin, but instantly Ambrose entered.
Bryan applied the Yes Lock a minute into the match, so Reigns attacked Bryan. The ref called for the bell. By virtue of that, Ambrose was DQ'd and Reigns became the official wrestler in the match. Bryan applied the Yes Lock on him. Ambrose broke it up. The Shield attacked Bryan three-on-one. The rest of the roster watched as Bryan took the beating. Cole called it a massacre.
WINNER: Bryan via pin, DQ, and DQ in 13:00.
-Triple H walked out and stared down some of the wrestlers on the stage, then smiled and watched The Shield triple powerbomb Bryan. Triple H rubbed it in as he stared down Ziggler. Show turned and looked away, but eventually shifted back to stare at Orton when Orton walked into the stage. Orton then walked to the ring with a smile on his face. The Shield held Bryan up as Orton gave Bryan an RKO. The crowd booed.
(WK Reax: Orton might have gotten cheered against any other babyface right after his heel turn, but against Bryan the fans are against him. The Shield matches were how Bryan got over so big and moved to that next level in the first place earlier this year, so it made sense to feature Bryan against them again this week, the first week without Cena. Very good action between Bryan and Rollins.)
---
NOW CHECK OUT THIS FLASHBACK: 5 YRS AGO – KELLER'S WWE RAW REPORT (8-12-13): Summerslam hype, Heyman, Punk, A.J. Lee, Vince McMahon, Cody, The Shield, Sandow, Bryan, Cena, Orton