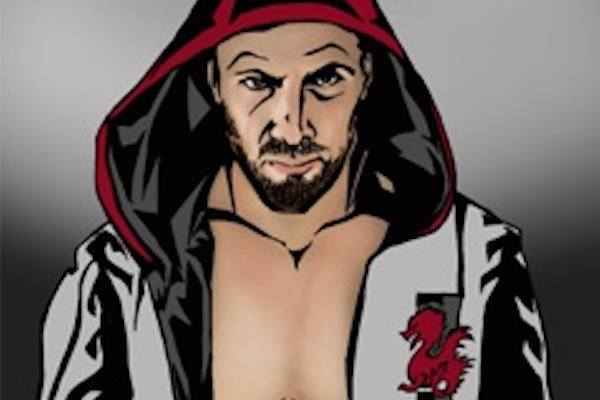 ---
SPOTLIGHTED PODCAST ALERT (YOUR ARTICLE BEGINS A FEW INCHES DOWN)...
---
The following report was originally published on PWTorch.com five years ago this week…
---
KELLER'S WWE RAW REPORT
AUGUST 12, 2013
SACRAMENTO, CALIF.
AIRED LIVE ON USA NETWORK
[Q1]
-After the generic "WWE Then, Now, Forever" snippet, the show opened with Daniel Bryan's ring entrance. No pyro, no Raw opening. Michael Cole noted that six days before he battles for the WWE Championship, he'll face Wade Barrett. He said Mr. McMahon does not want to see Bryan become champion. They threw to a clip of Bryan cutting Barrett's beard instead of letting Barrett cut his last week. Then a clip aired of Barrett trying to trim Bryan's beard on Samckdown, but Bryan blocking it and winning with the Yes Lock.
(1) DANIEL BRYAN vs. WADE BARRETT
Cole said Barrett demanded this rematch tonight. Justin Roberts announced that the special referee would be Raw G.M. Brad Maddox. At 3:00 Barrett whipped Bryan into the ringside steps. Bryan clotheslined Barrett over the top rope to the floor a minute later, then dove through the ropes and tackled Barrett. "Flying goat!" yelled JBL. Back in the ring Bryan threw a barrage of round kicks to Barrett's chest, but Barrett ducked the kick to the head and then schoolboyed Bryan. Maddox counted to three very very quickly and awarded Barrett the win.
WINNER: Barrett in 6:00.
-The crowd chanted "No! No!" at the official decision. Then "Yes! Yes!" as Bryan cornered Maddox. Maddox pointed at his referee badge. JBL told him not to blow his SummerSlam match by going after Maddox. Bryan made a move toward Maddox, who slipped to the floor and retreated. "We almost lost our main event at SummerSlam," said JBL.
-Cole plugged that Bryan and John Cena would be face to face on "the controversial" Miz TV later. Jerry Lawler plugged the C.M. Punk vs. Paul Heyman match coming up later. They showed a split screen of Randy Orton and Damien Sandow. [c]
-"WWE Fact: Last week, in one of the highest rated WWE weeks ever, over 20 million unique viewers watched WWE programming."
-Sandow taunted Cody Rhodes, who joined the announcers at ringside, with the new Money in the Bank briefcase which replaced the one Cody threw into the sea. Sandow chained it to the ringpost to keep Cody from stealing it. Cole plugged the Cody vs. Sandow match at SummerSlam.
[Q2]
(2) DAMIEN SANDOW vs. RANDY ORTON
Rhodes said he is going to be sure Sandow does not become World Champion before he does. Cody said as Sandow's once best friend he was blind to some of his faults. At 4:00 Orton dropkicked Sandow off the ring apron to the floor. They cut to a break. [c]
Lawler asked Cody if he would blame Orton for taking advantage of an opportunity to cash in the MITB to win the WWE Title. Cody said no. Lawler asked why he's so upset with Sandow because "that's exactly what he did." Cody said he's upset because Sandow is parading around saying he's the better man.
(WK Reax: That's a decent comeback by Cody, but Lawler's point is why this storyline doesn't make a lot of sense if the goal is to get Cody over as a babyface. I could have seen the roles reversed and Cody costing Sandow the MITB match and winning it himself, and Sandow crying sour grapes as part of a Cody babyface turn. The whole idea that Cody is upset about Sandow doing what was fair and legal in the MITB match is not a great momentum builder for a newly turned babyface. But they did what they did, so now why would Lawler draw attention to it? It just further undercuts Cody's ability to get over as a babyface.)
At 13:00 Orton had Sandow down and began playing to the crowd. They erupted for the big star as he pounded the mat to signal for the RKO. Sandow blocked it, though, and then bailed out to ringside. Orton went after him, but Sandow rammed Orton's back-first into the ring apron, then head-first into the ringpost. Sandow rolled Orton into the ring and scored a two count. Cody tried to yank the briefcase off the chain, which distracted Sandow. Orton then surprised Sandow with an RKO for the win.
WINNER: Orton in 14:00.
(WK Reax: Again, WWE just has no moral constitution guiding what is considered an honorable way to win. How does Sandow get heel heat when he did nothing wrong. He had his momentum taken away by Cody distracting him at ringside, then Orton scored a relatively cheap win. It makes Cody look like he wrongfully interjected himself into what was otherwise a one-on-one fair fight in which Sandow conducted himself with honor.)
[Q3]
-They showed Rob Van Dam backstage doing the splits on chairs and balancing as he moved his arms out and around. Cole called it his unique prematch ritual. He plugged that RVD and 19 other Superstars will have a chance to earn a U.S. Title shot in that match later.
-They cut to Ambrose backstage talking to Seth Rollins and Roman Reigns. Ambrose asked in what other line of work you can be lazy and unproductive and still be brought back every day to do the job you're not good at anymore. Rollins said this old guard running around thinking they own the place don't anymore. He said the "complacent hollowed out icons living off their reputations" have to go. He said it's time for a new generation to rise up, and they're the leaders. He said they're younger, hungrier, and just better.
Reigns said they've delivered justice all around the world, but nobody can compare or compete with them. He said he'll ask nicely if there are two men out there who want to take their tag titles away at Summerslam, "make your move." Ambrose said nobody in the battle royal can beat them because he is the unbeatable champion in the industry. He said Punk is a catch phrase and Cena has a trophy, but his title is the title that everyone runs from. He said if Andre the Giant's ghost isn't in that battle royal, he isn't losing his title at SummerSlam.
(WK Reax: What did the Shield do there that makes them heels? A lot of what they said (or all) probably resonates with most fans as true. The writers/bookers have to have their mind on making sure the heels come across as cocky in an unjustified way somehow, ignoring or glossing over their own shortcomings or something along those lines. Other than that, though, good delivery from the Shield and good stress put on a couple titles that don't get much attention on Raw.) [c]
-They went to Cole, Lawler, and JBL at ringside. They plugged the official song of SummerSlam, then threw to a pretaped interview with Brock Lesnar.
-Lesnar said people are wrong who think he's just the muscle representing Heyman, who has a personal issue with Punk. He said he doesn't like Punk, either, because he goes around calling himself the best. He said, "You listen to me, The Beast is the Best, and you're looking at him." He mocked Punk taping his hands, wearing tattoos, and thinking he's a tough guy because he takes beginners MMA classes.
Brock bragged that he was an NCAA Heavyweight Champion and UFC Heavyweight Champion. Lesnar said he was an undisputed WWE Champion "back when C.M. Punk was wrestling in front of 100 people in high school gyms." Clips aired of Punk on an IWA indy show. He said he will give him credit for holding the WWE Title for 434 days non-stop is impressive, adding, "especially for a guy like him." He said Punk has never faced anyone like him because there is nobody like him. He said size does matter and Punk will learn what it means to truly be "victimized" by Lesnar.
-Josh Mathews interviewed Punk backstage regarding facing Heyman tonight "this close to SummerSlam." Punk said there's no one alive who is afraid of Heyman in a one-on-one fight. He said Heyman challenged him to a fight he can't win, but everything Heyman does is for a reason and he is playing a chess game. He said Heyman has his pawns in place, but when you come after the king, you better not miss. He said if the Beast is the Best, he'll have a chance to prove it Sunday.
-The Great Khali's ring entrance took place with Natalya and Hornswoggle. Cole said Big E. and A.J. were facing them next.
(WK Reax: Isn't the goal to entice people to stick around through a commercial break, not turn them away?) [c]
[Q4]
-A soundbite aired where Big E. said Dolph Ziggler used to beg him to be at ringside for him, but he never needed Ziggler. He said he'll prove that at SummerSlam. "Show off? Nah. Show over," he said.
(3) BIG E. LANGSTON & A.J. LEE vs. THE GREAT KHALI & NATALYA (w/Hornswoggle)
They cut to Ziggler and Kaitlyn watching the match backstage on a monitor.
(WK Reax: Their viewing angle was slightly more natural this week than usual when they show people backstage watching monitors, but still unnatural and staged looking.)
Cole said Jim Ross is working on a new app. Lawler asked what that would do. JBL said, "Go to a football practice, drink too much, and sell barbecue sauce." At 3:00 Natalya applied the Sharpshooter. A.J. tapped out, but Natalya released the hold a second before the tapout. The whole thing was weird. The announcers wondered if she tapped, then guessed that the ref was distracted. But he wasn't. Natalya stood mid-ring and the ref looked ready to raise his hand. But it didn't happen. Natalya applied it again. A.J. reached for the bottom rope, but then tapped out again.
WINNER: Natalya & Khali in 3:00.
(WK Reax: Most badly botched finish in WWE Raw history?)
-Afterward, Big E. hit Khali from behind, then went after Hornswoggle. He kicked him to the floor. Khali then chopped Big E. who then bailed out to the floor.
(WK Reax: That entire segment would have been cut from a pre-taped show. What a complete total mess and waste of time.)
-They showed McMahon heading toward the entrance tunnel.[c]
-Cole plugged that Shawn Michaels was hosting the SummerSlam Kickoff Show which will feature the U.S. Title defense by Ambrose.
-McMahon made his way to the ring to "No Chance in Hell." The announcers talked about McMahon's desire to keep Bryan from becoming WWE Champ, but also not liking Cena as champ. They replayed the Maddox-Bryan finish from earlier. McMahon said they are due an explanation for that finish. He called Maddox to the ring.
Maddox said Bryan matches tend to get out of hand and he carefully stated he thought the WWE Universe would appreciate an authority figure with the guts to make the right decision no matter how popular it may be. McMahon said, "Surely you would have to admit that was a pretty fast count?" Maddox said he was a little excited because it was the first time he had the ref shirt on in a while. He said he might have rust in his game but he did his best. McMahon said if he did the best he could, there's no reason to apologize because everybody makes mistakes. Maddox asked for a second chance. McMahon: "At what?" Maddox asked to be the official for Cena vs. Bryan at SummerSlam.
[Q5]
McMahon asked if he could be impartial despite any personal feelings he might have. Maddox assured him he could. McMahon asked if he would stop calling Bryan names like troll and dwarf, and stop talking about his emaciated toothpick physique. As McMahon was about to declare him the ref, Triple H's music interrupted.
As the crowd chanted "Triple H!" McMahon asked the fans not to feed his ego any more. Triple H said he couldn't hear him because 15,000 people were chanting his name. Triple H said even though they haven't seen eye to eye lately, it seems like there's a lot on the line on Sunday beyond the WWE Championship. Triple H said the right referee for that match would be him. Triple H kicked Maddox and gave him a Pedigree. [c]
-"WWE Fact: WWE plus its Superstars and Divas have over 175 million social media followers!"
-A vignette aired of Kane and the Wyatt Family last week, with Kane proposing a match with a ring of fire at SummerSlam. Cole made it clear that the fire is not meant to set anyone ablaze, but rather prevent anyone from interfering in the match.
(4) KANE vs. TITUS O'NEILL (w/Darren Young)
WINNER: Kane in 1:00 with a chokeslam.
[Q6]
-Afterward the Wyatt Family intro video took over the big screen. Bray said, "We're here." He then walked to the ring with Rowan and Harper. Bray sat at ringside in his chair, but then Kane walked out. Rowan and Harper warned Bray, who popped up from his chair. Kane dropped his arms and fire blasted from the ringposts. Bray stooped to his knees and laughed like a crazy man. JBL said on Sunday it will be Kane vs. Bray with a line of fire preventing any interference. [c]
-Mathews interviewed the Bellas backstage. They played a clip of the Bellas-Natalya confrontation last week. Mathews asked if tensions are rising in the Divas locker room. They said he's "so cute but so dumb." They said they are in total control now of the Divas division. Natalya walked in and challenged Brie to a one-on-one match this Sunday at SummerSlam. Natalya called Eva a rabbit and invited her to be at ringside. Natalya said she's bringing her friends. In walked the Funkadactyls. Natalya said you can barely even see Brie's welt from last week. Brie said you can barely see Natalya's. Natalya wondered what she was talking about. Brie then slapped her. That welt!
-They showed Alberto Del Rio attacking Ricardo last week. The announcers all agreed Del Rio went too far in attacking Ricardo like that. JBL, though, said Del Rio is better off without Ricardo.
(5) ALBERTO DEL RIO vs. KOFI KINGSTON
After a nice paced opening few minutes, at 4:00 Kofi signaled for his finishing sequence, but Del Rio turned it into a tilt-a-whirl backbreaker for a two count. Kofi came back with an SOS for a near fall.
[Q7]
Kofi tried to surprise Del Rio with Trouble in Paradise, but Del Rio avoided it and rolled to the floor. Kofi chased him. Back in the ring Kofi surprised Del Rio with a rollup. Kofi caught Del Rio with a kick to the face, but when he dove at him, Del Rio countered with a gut buster and then rolled into his cross arm breaker for the tapout win. Cole said Christian is watching the match and will get his chance at the World Title on Sunday.
WINNER: Del Rio in 6:00 via tapout.
-They showed Mark Henry stretching backstage. He was not doing the splits on two chairs like RVD was, though. [c]
-They showed a scene of Old Sacramento. Then they hyped the SummerSlam World Title match. The announcers threw to a video package on the "storied career of Christian." They showed Christian fighting the Hardys and Dudleys in his early years, and more recently beating Jack Swagger, Randy Orton, and Del Rio.
-Backstage Renee Young interviewed Christian. He said this Sunday if he wins, he becomes the World Champion for the third time, thus proving what he's said all along – he needed just one more match. Del Rio walked in laughing arrogantly and flaunting the belt in his face. He said no more matches for Christian after SummerSlam.
(WK Reax: That segment didn't do much to make me want to see the match. The video was a nice way to remind viewers of Christian's legacy in WWE, but there wasn't a real emotional hook to get behind him. Del Rio was cocky, but we knew that. So it didn't add any new emotion to the mix.)
-Zeb Coulter walked out with Antonio Cesaro and Jack Swagger. He said his dream is an earthquake breaking California off into the ocean, resulting in 2.5 million reasons America would be a better place to live. He asked the crowd to repeat "We The People!" Cole said, "Jerry Brown's not going to like that." [c]
[Q8]
(6) THE REAL AMERICANS (Jack Swagger & Antonio Cesaro w/Zeb Coulter) vs. THE USOS
Jimmy Uso got a hot tag at 3:00. Cole even said it was Jimmy Uso! The Usos dove onto Swagger and Cesaro at ringside a minute later. Zeb distracted the ref as the Usos set up a top rope dive and Cesaro tried to interfere. It didn't help, though, as Swagger ended up the victim of a schoolboy for the pin.
WINNERS: The Usos in 5:00. [c]
-The Miz was standing in the ring after the break. He welcomed fans to Miz TV and then made one of those weird faces. He introduced Bryan first who came out wearing the "Beard is Here" arrow t-shirt. Then Cena.
[Q9]
Miz asked Bryan for his thoughts on Triple H as special ref. Bryan said he thinks it's great someone finally spoke up to Mr. McMahon. He said now he and Cena can have the match the WWE Universe deserves. Cena gave that condescending laugh. He told Miz he has to love this because Miz TV is usually a train wreck of a segment. Cena endorsed Triple H as the ref, saying he can call it right down the middle.
Cena said he hand-picked Bryan because he deserves the opportunity because he's a hell of an athlete and competitor, and he will put up a hell of a fight on Sunday. Miz said that's code for Bryan is going to lose. He told Bryan that Cena doesn't respect him and picked him to ride the wave of his sudden popularity and give himself what he feels is an easy win. Bryan told Miz to shut his mouth in two seconds or he'll punch him in the face. Miz closed his mouth and told Bryan to speak freely.
Bryan said he doesn't get why he and people like him think all he can do is put up a hell of a fight, "like that's the best I can do." When Cena tried to clarify that's not what he meant, Bryan told him not to interrupt him. Bryan said Cena did what he does best last week, getting the WWE Universe on its feet, both cheering and booing him. He said when that red light was on, he grabbed the spotlight. "That is why I don't watch television," he said. He doesn't want to see people like him who are more style than substance, in it for the fame and glory but not the wrestling.
(WK Reax: I bet if you tied Bryan to a chair in front of a TV and forced him to watch the first four seasons of "Breaking Bad," then gave him a DVD set of season five, he'd buy a TV and DVD player the next day.)
Bryan said he doesn't want to be a parody, he wants to be the WWE Champion, not for the fame or glory, but to prove nobody is better than Daniel Bryan. Cena took off his shirt and said, "You almost got me." He then patronized him by telling him use of the word "parody" was "strong," whatever that means. He said he is the reason they're all there. He said the fans chanting "Yes! Yes! Yes! or No! No! No!" are doing it because they believe in him. He said when Bryan hears that, it gives Bryan emotions and inspired him to put his body on the line to show he believes in himself as much as the fans do.
(WK Reax: Cena talked down to Bryan like he was a star quarterback on the high school football team four years ago and went on to a good college career, but now came back to talk to the current high school team and give them a pep talk.)
Cena said he has been in hostile environments, but he has his fans and he will fight for those who are loyal to him. "Parody. Parody is a joke. You got the gall to call me a parody because of how I look or how I act, because you don't approve of John Cena," he said. He said he's heard it all before, such as "five moves of doom" and "get Cena out of here." He said it's been going on for years and he's not the first or last. He said the last 12 years he's shown up and busted his ass, not for people like Bryan who don't respect him, but for the kid in the front row and his dad or the seven year old child named Dakota he met earlier in the day at the hospital.
(WK Reax: I never like Cena introducing hospital visits to sick kids into storyline promos. It cheapens the gesture when he uses Make-a-Wish visits to boost the image of his character on air. I also just wasn't believing Cena at this point. Or better put, I don't sense Cena took the prep for this segment seriously. There were a ton of bullet points and he just seemed to roll through them like he was a pro who didn't need to practice or get emotionally in the moment, and it showed. Since he could stand with Rock and hold his own, maybe he thinks he can breeze through stuff like this, but it's showing that he's not as emotionally in the moment and believing the material. His delivery of the line "You almost had me" felt like a "dry read through" earlier in the day. I didn't even know what he meant because the delivery was so half-hearted. Maybe the storyline is so convoluted in this face vs. face match-up situation that he can't figure out where his character is here, trying to walk a line of appealing to his fans without stepping totally on Bryan's fans. This part just didn't work for me.)
He went on and on with is patronizing lecture, and spoke about his resume, listing all the places around the world he has wrestled. He said he is proud of what he's done and who he is and what he has become. He even got choked up talking about himself. He intensely said the difference between them is not parody, jack. He got in Bryan's space and told him to underestimate him because that's what every one of his peers has thought of him and he has beaten them all. "I've wrestled and beaten them all," he said. He listed Triple H, Shawn Michaels, Batista, Randy Orton, C.M. Punk, and The Rock."
(WK Reax: Interesting to include Batista on the list. Why not Edge instead, or one of many other options? Could Batista be McMahon's "Corporate Champion" who shows up soon to try to take out whoever is left standing on Sunday? Just speculating, and not encouraging bets to placed on that.)
Bryan said, "You talk about those people like they are so much better than me." Cena said he can't put him in that class because he doesn't belong in that class. He asked Bryan about catch-phrases. He asked if his is "Respect the Beard." He said respect isn't given, it's earned. He said if he beats him on Sunday, then he earns his respect. Bryan said there it is, clear and simple, plain as day. "You don't respect me," he said. "Not only that, you are not treating this like you treated your matches with Shawn Michaels, with The Rock, because you respected those men."
Bryan said he has held the WWE Title 11 times, so how could he understand the desire he has for holding the WWE Title just once. "That's all I want! Just once! How can you understand that? You can't. Because this is just another SummerSlam, but for me, this is the biggest match of my life!"
[Q10]
Bryan said there is a custom he loved in Japan that they did before big matches. He said to fire someone up and light that spark from one wrestler to another so they'd bring everything they had to a fight, they'd take their hand and as hard as they possibly could they slapped him in the face. Bryan said he wishes so bad that he could do that to Cena now. Cena smirked like this was some joke. Bryan said he can't because he's "not a wrestler and you don't deserve it." Cena threw the mic down and tossed over a chair, then pointed at his chin and told him to do it. He slapped Bryan. Bryan smiled and laughed. Cena begged for it. "Come on! Come on! Come on!" he yelled. Bryan refused. Triple H's music then interrupted.
A "Triple H!" chant broke out. He was about to talk when suddenly Orton's music played. "Well, this is a twist," said Cole. JBL said it's not a twist, it's a message being delivered. Orton held up the MITB briefcase. Cole wondered if it'd be Cena's night, Bryan's night, or Orton's night at SummerSlam.
(WK Reax: The involvement of Orton gives off that feeling that WWE is hedging on their belief that Bryan is a strong enough opponent to carry SummerSlam's WWE Title match, but rather than make it a three-way like they did with Chris Jericho or Chris Benoit in similar situations, they're using the MITB briefcase gimmick. As for the segment, I didn't love it. It was intense and long, but I just don't know what emotions they were going for. I suppose Cena said what Cena fans wants to hear and Bryan said what Bryan fans want to hear, but there were still problems. They talked too much about Bryan as if they were apologizing for him being in a spot he doesn't deserve and Cena's faults were on display with his preaching defensive lecture of Bryan that went on too long. It's an awkward match-up in terms of the two characters at this point, and therefore the final hard sell promo was a bit of a confusing mix of signals. I think they rattled off a lot of talking points, and every segment of fans of either Cena or Bryan may have heard what they needed to hear to get excited, but in the aggregate I think it was all over the place and not focused and, at times, not well delivered by Cena most of the time.) [c]
-Fandango came out to wrestle R-Truth. R-Truth then came out and did an obnoxious mocking dance near Fandango. Fandango attacked him. Truth made a quick comeback and knocked Fandango to ringside. Fandango pronounced his name on the mic and they cut to a break without an actual match starting.
(WK Reax: The previous segment must've run long.)
-They showed Ryback bumping into a guy backstage to, as Cole called it, "throw his weight around." Cole said Ryback is part of the 25 man battle royal up next. [c]
-WWE Fact: The WWE App has been downloaded over 7 million times.
-Curtis Axel asked Paul Heyman backstage if he's nervous. Heyman said he's begun to have second thoughts about this.
[Q11]
-Ring entrances began for the battle royal. RVD was out first. Then Tons of Funk. Then 3MB. Then Ryback. Then a break. [c]
(7) 25 MAN BATTLE ROYAL FOR U.S. TITLE SHOT AT SUMMERSLAM
The ring was full after the break except for Mark Henry. They aired his ring entrance. A lot of wrestlers who were in matches earlier in the show were in the ring for this. It included 3MB, Khali, Usos, Titus, Ryback, Swagger, Cesaro, Kofi, Brodus, Sweet T, RVD, Wade Barrett. They cut to a break at precisely the 5:00 mark. [c]
[Q12]
In an amazing spot, Kofi sunset flip attempted Cesaro on the ring apron, but Cesaro held on and Kofi's feet stayed one inch from the floor. They showed it in slo-mo and it was pretty cool. Henry eliminated both Cesaro and Swagger with one hard shove late in the match. Henry tossed out Barrett next. Ryback turned and saw Henry. They jawed at each other and met face-to-face mid-ring. Henry went for a powerslam, but Ryback pulled himself to the top rope. He stood on the ring apron. RVD kicked him, and Henry shoved him to the floor. That left Henry vs. RVD. Interesting final two.
(WK Reax: When it came down to Henry and RVD, Henry gave RVD that look that said: "Potato me, mother f—–. I dare you.")
RVD jumped onto Henry's back. Henry shoved RVD backward into the corner. RVD kicked Henry. RVD climbed to the top rope. Henry knocked him off. Henry charged RVD on the ring apron, but RVD ducked and Henry flew over the top to the floor. RVD won.
WINNER: RVD in 14:00 to earn U.S. Title shot at SummerSlam.
-After RVD celebrated and Henry soaked up the loss, Henry then offered RVD a fist-bump. The Shield came out and surrounded the ring. RVD and Henry stood back to back to fend them off. Just as The Shield were about to enter, The Big Show's music played. JBL said they weren't expecting that. Show smiled and walked to the ring. The Shield began to back off as Show walked into the ring. The Shield assessed the situation and left through the crowd.
-Lawler plugged the Heyman vs. Punk match. [c]
-Justin Roberts introduced Heyman. Lawler said this would have been a good week for Heyman to come up with entrance music, such as the funeral march. Heyman was dressed in a blue collared shirt and vest and taped fists and wrists. Has that fashion ever been sported before?
[Q13]
Heyman said the worshippers are calling for their hero, C.M. Punk. Heyman said he doesn't blame Punk for everything that has happened, but rather every member of the WWE Universe is to blame.
He said "Duh?" when referencing people assuming this was a trap. He said their imagination doesn't match his. He then introduced his best friend, Brock Lesnar. Lesnar walked out. Heyman presented Brock with a video package of Brock beating up Punk.
Heyman said Punk's need for the fans' worship will be his demise. He said it's so sinister, insidious, and purely evil, yet also simplistic. He then revealed his trap. He said he's willing to fight Punk right now as long as he walks down the aisle and fights him and Brock Lesnar. "It won't be one-on-one, it will be two-on-one, impossible odds by any stretch of the imagination. And all Punk has to do is play the hero." He said it'd be stupid, a guaranteed beating the week before SummerSlam. "But all heroes are stupid, aren't they?" Heyman said.
Heyman said Punk has a choice. He doesn't have to play the hero. All he has to do is disappoint each and every fan. He said he can turn and fight another day, in this case Sunday at SummerSlam. He asked Punk if tonight he'll be the "smart coward or the stupid hero."
Punk entered the ring from behind Heyman and Lesnar, yanked a camera out of a cameraman's hands, and bashed Lesnar with it. Cole said, "It was Punk who set the trap!" Lesnar retreated to ringside. Punk dove onto Lesnar at ringside. Heyman looked at Punk and said, "Oh my God!" Heyman bailed out of the ring and retreated up the ramp, yelling for Brock over and over. Curtis Axel ran out instead for the save. Heyman fled as Punk beat up Axel. Punk then stood on the stage with his arms out looking down at a stunned and shaken up Lesnar lying at ringside as the crowd chanted "C.M. Punk! C.M. Punk!" He yelled, "I am the best in the world!" Lawler said that's not how Heyman and Lesnar expected the night to end. JBL said the trap backfired. Cole asked if it'd be the Best or the Beast at SummerSlam.
(WK Reax: Good final scene to hype SummerSlam's co-main event. It works so much better having Cole as the straight wrestling announcer in these moments rather than the goofball 90 percent of the time then switching to serious pitchman at the end.)
---
NOW CHECK OUT THIS RECENT FLASHBACK: 5 YRS AGO – WWE RAW REPORT (8-5-13): Daniel Bryan's corporate makeover, plus Ryback, Curtis, Del Rio, The Shield, RVD, Cena, Wyatts, Punk