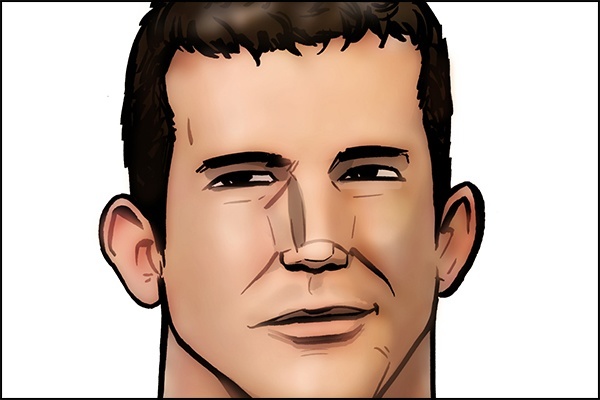 ---
SPOTLIGHTED PODCAST ALERT (YOUR ARTICLE BEGINS A FEW INCHES DOWN)...
---
The following report was originally published ten years ago this week on PWTorch.com… 
---
KELLER'S WWE RAW REPORT
AUGUST 11, 2008
RICHMOND, VA.
[Q1]
-A video package aired hyping John Cena vs. Batista at SummerSlam. It's being hyped far and away as the top Raw match on the show. And it should be. But it's not helping C.M. Punk's reign take hold.
-Michael Cole and Jerry Lawler introduced the show.
-John Cena came out to his full entrance wearing his red and yellow CenaNation t-shirt. Cena said he's facing Batista for the first time ever one-on-one at SummerSlam. He said he's never had an issue with "Dave Batista," as he calls him. He said poof, he has a match with him, then suddenly he's sharing the tag team titles with him. Cena said G.M. Mike Adamle is all about hype and Adamle Originals. He said he called Adamle over and then he mispronounced his name five or six times. That joke is already old (nobody laughed), and that's hardly the worst of Adamle's traits as an announcer. Not even close. He said Adamle suggested they have a press conference or weigh-in or a broken glass arm wrestling challenge. Cena said Adamle doesn't fully realize what he's done by putting him against Batista for the first time ever. He said there's no need for photo ops and posedowns and ho-downs and homerun derby and chili cook-off. He said what you need is a long video package to open the show and a long monologue with some lame attempts at humor to start Raw. Wait, nope. He said all they need is Batista to step into the ring right now. Out walked Batista wearing his tag team title belt. It fits him better than the World Title belt.
Batista stepped into the ring and soaked up the mixed crowd reaction. "You wanted me, here I am," said Batista. Cena said they coexisted last week and they had to or else they would have suffered defeat. He said that's not the case at SummerSlam. He said everyone knows that this is a match that has been six years in the making. Cena said Batista was hand-groomed by two of the best – Ric Flair and Triple H. He said he was taught everything that the business would throw at him. "And I never had that," Cena said. "I never had that opportunity, but I did what I had to. I walked down that ramp and turned critics into believers." He said every single Monday he stands before a nation that goes to battle with him. Boos from the crowd. Cena needs to stay away from those types of lines because it just invites fans riding the fence on him to turn on him because he's talking about being part of his arm. By the way, while talking about what will turn fans against him, those blue jeans shorts are ridiculous looking. There's "big and baggy" in a fashionable way and then there's circus pants. Those look to me like circus pants. Cena then predicted victory on Sunday.
[Q2]
Batista did his patronizing sign and then said he's been watching Cena for a long time, too. He said they are two different sides of the same coin. Batista pointed out they've each won a Royal Rumble, they've each won a main event at WrestleMania, they've each obviously won tag titles. He said he's seen Cena get standing ovations and get booed out of the building, but through all of that he never changed who he was and he respects that. Batista added, "Personally, I wouldn't get caught doing some of the things you do." He mockingly did a Cena signature gesture and made a silly face. "And I understand why some of the people over the age of 15 would want to see me beat you senseless." Cena set the mic down and got upset. Seriously, those shorts are just ridiculous. Batista said he does plan to beat him senseless. Cena raised his belt in the air to a mix of boos and high-pitched cheers. Cena paused, then held out his hand for a shake. Batista accepted, held on, took a step toward him, then released and nodded.
Very good segment. They didn't force the fans to cheer one or the other. They each spoke in a way that is true to their characters. Cole and Lawler then plugged a text messaging question: Who is the bigger star: Cena or Batista? Then lawler plugged a rematch for the tag team titles this week.
-A commercial aired for SummerSlam. It's odd seeing Rey Mysterio and Chris Jericho such prominent parts of the movie-trailer style video for SummerSlam. A couple months ago someone had an idea of who'd be in prominent matches and things haven't exactly played out as predicted.
[Commercial Break]
-A video aired touting WWE's showing in the CINE awards, which have been around for 50 years. Media specialists judge CINE Golden Eagle winners. Past CINE award winners include Stephen Spielberg, George Lucas, and Ron Howard. WWE won two trophies this year for Excellence in Television Production, one for WrestleMania's live PPV and another for the Tribute to the Troops. WWE deserves industry acknowledgment in this area.
1 — KELLY KELLY vs. "GLAMAZON" BETH PHOENIX (w/Santino Marella)
Cole said Kelly told WWE.com that she beats the heat of summer by swimming with their girlfriends. They cut to a shot of recording artist George Thorogood in the audience. Santino joined Cole and Lawler on commentary. Cole asked what his relationship with Beth Phoenix is. He said, "I am a delicious piece of man meat." Phoenix gave Kelly a backdrop. Kelly didn't tuck and landed right on her chest. Awkward. Ouch. Phoenix kicked her in the chest, then went on the attack. Santino said Bragelina is the nickname of Brad Pitts and Angelina Jolie's kids, and the media is now calling his future kids with Phoenix "Glamarella." I'd go with "Santinozon" myself. Kelly caught Phoenix with a boot as she charged. Phoenix recovered immediately and planted her chest first on the mat powerbomb style for the win.
WINNER: Beth Phoenix in 2:00.
-After the match, Santino entered the ring and said it was awesome. He told Beth to give Kelly an extra move, "the one I like where you pick her up, do that thing, and crush her." Mickie James and Kofi Kingston ran out to the ring. Santino and Phoenix bailed out. Santino said they'd save it for SummerSlam. He said they cannot be embarrassed. He challenged Kofi to a one-on-one match right here, right now. Kofi grabbed a mic and accepted the challenge. Santino said, "I wasn't talking to you. I was talking to her." He pointed at Mickie. Funny. Lawler gasped, "What?!" Santino said if he's going to wrestle a woman, he needs practice, so he can learn where and where not to put his hands. He called her Nickie James and said it's her hometown. He said he knows her mommy and daddy are present. Kofi said if he's going to have a match, it's going to be with him. Santino taunted Mickie. Mickie said she accepted. Santino said she'll lose and he'll send her back to the kitchen where she belongs.
[Commercial Break]
[Q3]
2 — MICKIE JAMES vs. SANTINO MARELLA
Cole said Santino confronted Mickie's parents during the commercial break. He said WWE.com cameras caught it "they're trying to feverishly post it as we speak." Feverishly? Really? Mickie applied an early headlock. Santino threw her off and then struck a karate pose. Santino gave her a hip toss. Mickie slithered out and applied a head scissors. Santino powered out and swept Mickie off of her feet with his arm. Mickie got up and swept him. He charged at her. She used a drop toe hold to send him into the ropes. Mickie then rode him and spanked him, then applied an armbar. Santino slammer her to a round of boos. Mickie avoided a kneedrop by Santino. Santino called for a time out. Mickie kicked him. Santino continued to favor his knee. He pulled off his knee pad and threw it at Kofi. Phoenix entered the ring and threw Mickie into the ringpost shoulder-first as the ref was occupied by Santino and Kofi. Santino turned and schoolboyed Mickie with a yank on her tights for the pin. Santino circled the ring in celebration and jumped into Phoenix's arms. Santino puckered for a kiss with his eyes closed, but Phoenix walked away, unaware of his desire.
WINNER: Santino in 3:00.
-With a portrait of President Ronald Reagan, Adamle told Todd Grisham he wants to emulate Reagan's style of leadership by intervening only when necessary, but otherwise letting the Superstars do what they want to do. Adamle told Grisham he's done great work on ECW. Kane barged into the room and walked up to Adamle. "You wanted to see me?" said Kane. Adamle, too dumb to be intimidated by Kane, stood his ground and said they probably have one match too many at SummerSlam, so he's come up with another Adamle Original – Jericho vs. Kane in a SummerSlam Spectacular on Raw. Kane said if that's all he has planned, that's fine. Adamle told him that after the match, he can hand over the burlap bag. Kane told him he doesn't want to do that. Adamle said in a few weeks kids will be going back to school. He said he doesn't need them mimicking him by bringing bags to school. "That's bad for business," said Adamle. He told him to hand over the bag. Kane told him he is making a huge mistake.
[Commercial Break]
-They showed the exterior of the arena in Richmond, then went to a "WWE 24/7" clip featuring Jerry & Johnny Valiant on Oct. 22, 1979 losing their tag team titles in MSG to Tito Santana & Ivan Putski.
-Great transition into a scene of Cody Rhodes & Ted DiBiase, recent tag champs themselves. Cody said they weren't born at the time of that tag title change, but he said they respect history and learn from it. He said Tito & Putski won the tag titles as a team. He said Batista and Cena aren't a team, as evidenced earlier. He said he and Ted are going to work as a team to win back their tag titles. DiBiase said he and Cody are still in their early 20s and their careers are already further along than any Hall of Famers at the same age. He said Cena & Batista have the gall to debate which of them is The Man. He said next year it could be Cody vs. DiBiase in the main event at SummerSlam. DiBiase said they'll win back respect when they regain their tag titles. Good, basic, no-frills cocky old-school promo. I like it. They both carry themselves with that perfect mix of youthful cockiness and genuine confidence.
-Cole plugged that JBL would challenge C.M. Punk tonight in a challenge JBL says Punk can't win.
[Q4]
[Commercial Break]
-Cole and Lawler plugged the Cena vs. Batista "biggest star" poll. In our PWTorch.com poll right now, with Cena, Batista, Triple H, and Undertaker listed as options, Undertaker is in first place followed by Cena. Batista is a distant fourth.
3 — CRYME TYME vs. THE HIGHLANDERS
You haven't lived until you've heard Cole explain to Lawler the meaning of Cryme Tyme's "Word Up" vernacular. JTP hit a slingshot flip shoulder tackle early when Shad yanked the top rope to propel him into the ring. Cole said Shad is a former bodyguard to Mike Tyson. Who does Cole think he is, Matt "Factoid" Striker? Shad finished Robbie with his Nemesis finisher. Lawler made a strange observation: "I think we just saw under Rory's kilt."
WINNERS: Cryme Tyme in 3:00.
[Commercial Break]
-An ECW commercial hyped Mark Henry & Matt Hardy being forced to team together against John Morrison & The Miz tomorrow night.
-Cole announced that Randy Orton was thrown 300 feet off of a motorcycle last night. Cole called it a harrowing scene. Lawler said Randy is lucky to be alive.
[Q5]
-The ring had a table set up, a chair on either side, and a black drape over something on the table. JBL then came out to his full ring entrance. JBL said he's looking forward to ending Punk's reign. Punk interrupted and said he's tired of hearing the same thing from JBL week after week. He said he has the belt because he earned it. Punk said he plans to walk out of SummerSlam with the title. He said he with all due respect to Cena and Batista, he will prove he is the man. JBL looked at Punk in disbelief. He said he's held the World Championship on Smackdown longer than both of them. He said Punk has the audacity and temerity to walk into a business he built and an arena full of fans who came to see him. He asked him what his merits are. "You break into some little no-name independent in Chicago. You go to ECW because they want someone who didn't grow up in a Bingo Hall. You get drafted to Raw in a fluke and low and behold the glass slipper fits and before me stands Cinderella." He said fairy tales are not real. JBL quoting President Clinton. What're the odds?
JBL said he'd give Punk credit for winning Money in the Bank, categorizing it as a performance of his lifetime. "You've got talent. You've also got six days left as World Heavyweight Champion." JBL said he can beat Punk at anything he chooses to do. JBL rolled up his sleeves, then revealed a bottle of Jack Daniels. "A drinking contest, Mr. Straight Edge." He said, "You don't drink, you don't smoke, you don't embarrass yourself in public. You call that healthy and clean. I call it boring. So how about you sit down with the vilified old guard who built this business and have a drink?" JBL poured him a shot and said he'd concede to him he won that contest. "You get a chance to beat a Wrestling God by taking one drink." JBL said he wants Punk to prove that principles, ethics, and morals don't matter and he'll do anything to win. JBL said to keep the title, Punk must be willing to do anything. JBL said if he doesn't do the shot, he'll beat him at SummerSlam as easily as he won this drinking contest.
Punk asked him if he drinks that, "then what, I'm just like you?" Punk said he doesn't get it. "I'm not like you. I'm not JBL, I'm C.M. Punk, willing to check my body at the door come SummerSlam. What I'm not willing to do is compromise my beliefs. I'm not willing to do that. They've gotten me this far. I am extremely successful. I am World Heavyweight Champion." He said he won't let some bully shoe-horn him into his ideal of championship persona. He then turned down the contest. "Thanks, but no thanks." JBL said, "Didn't know you brought your soap box." He said he predicted Punk would say that, so he'll toast to him and the end of the footnote that has become his pathetic World Championship run. Punk then said JBL changed his mind, so he wants to do the toast. He smelled the alcohol and said sometimes it's what you don't do that makes you who you are. He threw the shot in JBL's face, then gave him a running knee in the corner.
Interesting segment. They hadn't been playing up Punk's "Straight Edge" lifestyle on WWE TV lately. Punk is a role model for kids who don't want to drink or give in to peer pressure to try things that they aren't ready for or aren't sure they believe in doing. Usually the roles are reversed and someone in Punk's position is mocked for being square and lame. JBL was excellent.
[Commercial Break]
-A video package aired on Shawn Michaels announcing that he'd have an announcement at SummerSlam. Cole noted that Michaels will be seeing a doctor on Friday to reevaluate his injuries and that Michaels will listen to their advice and announce his future on Sunday at SummerSlam. I like WWE's attention to detail where Michaels is making the announcement on the first WWE broadcast after his doc appointment so it doesn't seem like Michaels is milking it for ratings by delaying it until a big PPV event.
[Q6]
4 — CHRIS JERICHO (w/Lance Cade) vs. KANE
Cole brought up the line Kane's been muttering asking about whether someone is alive or dead. Lawler said apparently he found out. They played up the burlap sap mystery. Kane went on early offense, but Jericho avoided an elbow drop at 1:00 and went on brief offense. Kane then easily tossed Jericho over the top rope to the floor. They brawled at ringside. Cade tried to grab at Kane's boot. That distraction led to Jericho springboard dropkicking Kane. Kane again came back with sustained offense. Clunky match, as you'd expect from these two as their chemistry isn't likely to be great style-wise. When Kane hit a flying clothesline off the ropes and signaled for a chokeslam. Adamle led a dozen security guards to the ring. Jericho tried to take advantage of the situation, but Kane fired back with a big boot. Kane clutched the bag, suspecting Adamle might try to take it. Jericho surprised Kane with the Code Breaker for the win.
WINNER: Jericho in 5:00.
STAR RATING: *
-Afterward Kane clutched the bad while sitting on the mat. Adamle entered the ring. He told Kane he knows this is difficult for him, but he needs to resolve this and he's there to help. He said he knows what is inside the bag. He said he knows what's inside the bag and who he's referring to when he asks if he's alive or dead. "You see, he is you. He is the monster inside of you. You have tried to be a normal person, but you just can't do it," said Adamle. "I know deep down inside you're struggling for that answer." He said when he made the declaration that "he is dead," he proved that he can exorcise his demons and lead a normal life. Kane panted and looked panic-stricken and vulnerable as Adamle talked to him. He told Kane he can live that normal life by giving him that bag. Adamle said the fans deserve to know what's inside the bag. This dragged out a bit too long. He promised him a normal life if he'd open the bag. He quoted Reagan when he said, "Take down that wall." Adamle, with the same inflection, said, "Hand me that bag." Kane said, "There is a mask in this bag. And the man who wore it has been scarred and tortured and damaged beyond all human recognition! The problem is it's not my mask." Kane then opened the bag and pulled out Rey Mysterio's mask. Adamle gasped, "What?" Kane then laughed maniacally and threw the mask to the mat and walked out of the ring. Huh?
[Commercial Break]
[Q7]
5 — JAMIE NOBLE vs. WILLIAM REGAL
Cole said both of these men can be considered brawlers. Regal tossed Noble around early, but Noble fired back with a charging cannonball in the corner. He hit a crossbody block and scored a two count. Regal fired back with a running knee to the head for a sudden win out of nowhere.
WINNER: Regal in 3:00.
-The Smackdown Rebound aired.
[Commercial Break]
-Cole and Lawler ran down the SummerSlam line-up. The results of the text voting: Cena over Batista by a 73 to 27 percent margin. Cole and Lawler said they were surprised. I suspect the poll results would be different if they ran in on Friday during Smackdown. Those who watch Raw exclusively or most often haven't watched much of Batista in years, so that widened the gap. I also think it's true that Cena is the bigger star, but the margin wouldn't be the same if asked of Smackdown viewers. I also think Cena fans are more likely to rally behind him via a text message vote whereas Batista fans are probably more passive about such a thing.
-Ring intros took place for Cena and Batista.
[Q8]
[Commercial Break]
6 — BATISTA & JOHN CENA vs. CODY RHODES & TED DIBIASE — WWE Tag Team Title match
Cena and Batista argued about who was going to start the match. Cena gulped and let Batista start. Cena then blind-tagged himself in. Cody got the early advantage. Cena was about to do his "You can't see me wave" over Cody. Instead he did it in front of Batista, then gave Cody a fistdrop. He saluted Batista as they cut to a break.
[Commercial Break]
After the break, DiBiase took control. Cena hot-tagged Batista who went on a flurry off offense including a spinebuster. Batista stomped the mat, taunted Cena, and set up a BatistaBomb. Cena charged in, tossed DiBiase aside, and got in Batista's face. Cody kicked Batista's leg from behind. Batista went down clutching his leg. Cody tagged in and began working over Batista's leg at 10:00. Batista came back with a powerslam, then tagged in Cena by slapping his face. Cena huffed and puffed, entered the ring, faced Batista, and then got schoolboyed from behind for the pin by DiBiase.
WINNERS: Cody & DiBiase in 11:00 to capture the WWE Tag Team Titles.
STAR RATING: *1/2
-Afterward, Cody and DiBiase went after Batista and Cena for some reason as they faced off mid-ring. Batista and Cena whipped them into the ringside steps. Batista called Cena back to mid-ring. Cena walked toward the stage, then returned to the ring. Security stepped between them. Cole said Adamle sent them there to preserve the main event scheduled for Sunday. Adamle came to ringside as fans chanted "Let them fight." Security pulled them apart. They broke free again. "Shambles and confusion and disarray," said Cole. " A deluge or torrid emotions." Who's writing this stuff for Cole? He continued, "There's an explosion brewing at the biggest blockbuster of the summer on Sunday. It is a match six years in the making. We're going to find out who's better."
---
NOW CHECK OUT THIS RECENT FLASHBACK: 10 YRS AGO – KELLER'S WWE RAW REPORT (8-4-08): Mike Adamle debuts as G.M., plus Cena & Batista in main event, Jericho, Punk, Cody, JBL, Kane