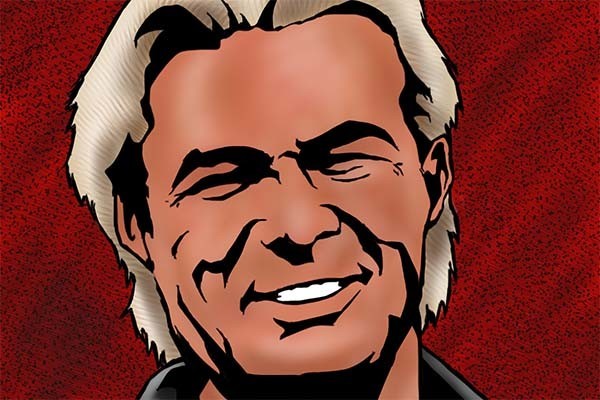 ---
SPOTLIGHTED PODCAST ALERT (YOUR ARTICLE BEGINS A FEW INCHES DOWN)...
---
The following report was originally published at PWTorch.com 15 years ago this week…
---
KELLER'S WWE RAW REPORT
AUGUST 13, 20903
LIVE FROM MOLINE, ILL. at THE MARK OF THE QUAD CITIES
-The opening montage aired followed by the fireworks show, then Johnathan Coachman and Jerry Lawler introducing the show. No mention of Jim Ross.
-Eric Bischoff then came out to the ring to his intro music. He gloated about pinning Shane McMahon last week. Footage aired of Kane attacking Shane leading to Bischoff's pin. "I am so proud of myself," said Bischoff, who then went on to praise Vince McMahon. He said he also has great admiration for "that big-breasted, mature woman, Linda McMahon." He said he also respects Stephanie McMahon, but zero respect for Shane. "Let's face it, Shane has gotten to where he is today for one reason and one reason only, his last name," he said. "You know it, Shane McMahon is the Frank Sinatra Jr. of the WWE." (That's a dated reference Bobby Heenan could be proud of.) He said if not for his last name, he'd be an even bigger loser than he right now. Lawler complained about Bischoff's gloating going overboard. Bischoff said he is an American success story who climbed to the top of the industry because of his hard work.
Jim Ross's music played and he walked out. Coachman said he was shocked he was there. He said he heard Ross was still in no condition to be there. Ross told Bischoff that he set him up to get burned alive by Kane. "You knew what was going to happen," Ross said. "So let me tell you what's on my mind. I know what Kane means to this program, so I ain't gonna file no charges on Kane. But because you put me in an unsafe working environment, I'm gonna sue your ass, you bastard! I'm gonna sue you civilly, I'm gonna sue you criminally, and take every cent you've got you son of a bitch." Bischoff stammered and said he thinks they can work things out. Bischoff then ordered Coachman to leave the announcing desk. "You are nothing but a B squad, wanna be, temporary fill-in," he said. He added that Ross is the best announcer of all time. Steve Austin's music then interrupted Bischoff's attempt to kiss up to Ross. Austin saluted the crowd.
Austin began by saying it's good to see him back on the job. He asked the crowd for a "Hell yeah!" The crowd gave him a "Hell Yeah." Austin said he figured something like this might happen, so he took the liberty of drawing up a little contract to get something worked out between those two. Austin took Ross aside and talked to him privately without a mic. Ross hesitated, but then agreed. Austin informed Bischoff that Ross agreed not to sue him "if and only if Eric Bischoff agrees to face right here tonight on Raw a certain individual." Bischoff said he knows Shane would love a rematch, but as far as he's concerned, the issue is over. Ross said, "Then you better call you lawyer, you bastard!" Bischoff then agreed to it because he said he figured Shane wouldn't be in good shape after the abuse he took from Kane last week. Austin asked Bischoff if he wanted to read the contract. Bischoff said he didn't need to because he knows what's in there. Bischoff then asked Austin to bring Shane to the ring. Austin said, "What are you talking about? Shane's in no condition to wrestle. You saw what happened to him last week. You signed a contract to wrestle tonight, but you didn't sign a contract to wrestle Shane McMahon. You didn't read the fine print, did you? You dumb dumb dumb stupid son of a bitch. What you did do was sign a contract to compete tonight right here in this very ring on Monday Night Raw face to face, man to man, tooth and nail, mono-a-mono with Kane!" Bischoff got an expression that communicated he was soiling himself at that very moment. Ross and Austin opened cans of beer together as Bischoff hung his head, contemplating his fate. Coachman sold it as a match we thought we'd never see. Of course, if Kane is to be a heel, he can't really beat up Bischoff, so I suspect Bischoff will figure out a way to avoid the beating tonight, thus saving the real beating for SummerSlam.
[commercial break]
1 — SCOTT STEINER & STACY KEIBLER vs. JACKIE GAYDA & RICO
Steiner beat up Rico briefly, then tagged in Stacy which popped the crowd. Jackie and Stacy exchanged chops and slaps. Rico kneed Stacy from behind as she hit the ropes. When Rico looked at Steiner, Lawler asked if that was "a queer eye for the straight guy." Test came out at 2:50 and attacked Steiner. They fought in the crowd. Rico then dropped Stacy over the top rope. Jackie followed with a clumsy legdrop for the pin.
WINNER: Jackie & Rico at 3:08.
STAR RATING: 1/4*
Steiner ordered them to cut the music. "This is a bunch of bullsh–," he said. "I'm sick of you (Test) sticking your nose in my business. Get it through your thick skull that Stacy doesn't want to have anything to do with you anymore." He challenged Test to a fight. Test shouted, "It's on! It's on! Just not tonight, baby." He said there was a catch, because Steiner stole something from him and he wants it back. He told Steiner to put Stacy on the line. "We accept," said Stacy, in the new millennium twist on men controlling the fate of women – now women willingly accept putting their "ownership" in the hands of "their man." It seemed to backfire on Torrie, but then it didn't work out so bad since she learned a lot about sex.
-Ric Flair complained to Randy Orton that if he interferes in his match later, he'll be suspected. Hunter entered the picture and complained that he isn't at 100 percent headed into the Elimination Match. Orton interjected and said he isn't defending the title against five guys, it's he and Hunter defending the title against four guys. He guaranteed Hunter that he'd be walking out of the match at SummerSlam with the title. Hunter thanked Orton, but said first things first, they have to deal with Goldberg. Hunter said he's tired of people messing with Evolution, so they're going to start messing back. Flair said, "That's why they call you The Game." It's stuff like that which is a bit nauseating. Wasn't Flair the "dirtiest player in the game?" Doesn't Flair still give some of the best promos in the business when he's positioned as the leader of the situation? Yes. Yes. So why is Flair relying on Hunter as if Hunter is the "brains of the operation" and he's just a 85 IQ sidekick along for the ride? The Flair-Hunter relationship would have been (and still could be) so much better as a partnership, with a legendary mentor and accomplished protege who admits he still has much to learn, than in its current form. Hunter is always saving the day for Flair, who never seems to be able to handle the situation he's in until Hunter shows up.
[commercial break]
2 — THE DUDLEYS vs. LA RESISTANCE – non-title match
The match began with a four-way brawl and ended shortly thereafter via DQ when La Resistance beat down the Dudleys with an American Flag. All in all, a good angle to boost the tension between these two teams headed into SummerSlam. It would have helped if Rene Dupree's initial shots at D-Von on the top rope actually looked like they hit him.
WINNERS: Dudleys via DQ at 0:28.
STAR RATING: n/a
[commercial break]
-Goldust approached Molly Holly backstage and said he has someone for her to meet who is "truly not boring." Lance Storm entered the picture dressed hilariously as Goldust, make-up and wig and all. He and said in a staccato voice, "It is splendid to meet you." He struggled to talk through the rest of his prepared lines, then turned to Goldust and said he doesn't think it's working. Goldust said he had some midgets waiting for them out back.
-Kevin Nash and Shawn Michaels talked about the Elimination Chamber match. They argued politely over which of them would win the WWE Title. Goldberg then walked up to them and thanked them for helping him last week. He said he expects to walk out of the match with the title. Michaels said he has a big problem with it. Michaels and Nash stood next to each other and glared at Goldberg, then walked away.
-Booker T's music played, but Christian walked out instead – with the Intercontinental Title around his waist. Coachman announced that last night in Des Moines, Iowa, Christian beat Booker T. Coachman said despite having a herniated disk in his back, he fulfilled his title defense commitments, but he didn't have enough to keep the title. He plugged that they'd have the whole story next.
[commercial break]
-Christian said that is the last the fans would be hearing of Booker T for a while because he injured Booker's back last night in Iowa. Christian said since it was the debut of Spike TV, he found the perfect opponent to beat in his first title defense. Out ran Spike Dudley.
3 — CHRISTIAN vs. SPIKE DUDLEY – Intercontinental Title
Christian dominated the first half, Spike dominated the second half with a series of good near falls, but Christian KO'd Spike at the end out of nowhere for the win with his finisher.
WINNER: Christian at 4:38 to retain the IC Title.
STAR RATING: * — Rudimentary, but solid match.
-Backstage Bischoff talked to Kane as he was being let out of his prison truck by security guards. He told Kane about what great team they've made lately. He hoped for some friendly acknowledgment from the stone faced sneering Kane, but he got none. Bischoff suggested he lay down and Kane cover him to get the 1-2-3. "Real easy, right?" Bischoff said, breathlessly hopeful. "No, we're not going to do this your way," Kane said. "Tonight we do things my way." I finally figured out who Kane sounds like and talks like – the black kid in the wheel chair on Malcolm in the Middle.
[HOUR TWO]
-Jim Ross walked out to the announce table and said he was there to take over for Coachman. Lawler was pleased, but Coachman seemed to be a mix of hurt and upset. Coachman paused, then shook Ross's hand. Lawler told Coachman he didn't mean that gesture.
4 — KANE vs. ERIC BISCHOFF
"He's a hideous human being without a conscious who doesn't give a damn about anybody," Ross said, describing Kane. The bell rang and Bischoff immediately laid on his back. Kane lifted Bischoff by the throat and lifted him and then paused as Ross shouted, "Chokeslam him, chokeslam him, dammit, do it!" Kane then set Bischoff down and left the ring. "What the hell is this?" asked Ross. Bischoff looked surprised, too, as he sat up and looked at Kane walk to the back. The ref counted to ten. Bischoff reacted with shock and joy at the win.
WINNER: Bischoff via countout at 1:22.
STAR RATING: n/a
-Kane returned to the ring and grabbed the mic. "Let me guess? You people want me to destroy Eric Bischoff." The Pavlov Fans cheered loudly and leaped up and down in anticipation, most oblivious to the obvious – which is that Kane wasn't about to do what they wanted. "I am sick of listening to other people," he said. "I have done what other people have said and it hasn't gotten me anywhere." He said from now on he does what he wants. Bischoff stood in the background nodding happily and applauding. When Kane turned around and gave Bischoff a not-so-friendly look, Bischoff fled quickly. Rob Van Dam then ran out and attacked Kane. Kane sidestepped RVD's first big move off the ropes, so RVD crashed into the ringside barrier. RVD dropkicked Kane in the leg and then dropped him on a chair. He followed up with a Five Star Frog Splash, but Kane moved so RVD landed on the chair under Kane instead. "Holy sh–!" broke out. Kane nailed RVD with a chairshot to the head. "Why didn't he do that to Bischoff? Why didn't he crash Bischoff's skull, that monstrous son of a bitch! For the love of god, why couldn't that have been Bischoff!" Ross screamed. You gotta love some genuine sounding emotion returning to the broadcast booth.
-They showed Trish getting ready for her match next.
[commercial break]
-Terri asked Gail Kim why she did what she did last week. She asked Terri where was she the night she won the Women's Title or the night Trish kicked her in the face. She said now that she has her attention, she's gonna show her and everyone who Gail Kim really is. She came across convincingly heelish, to the say the least.
5 — TRISH STRATUS vs. GAIL KIM vs. MOLLY HOLLY
Trish took Molly down with a clothesline even before Kim made it to the ring, then charged after Kim in the aisle. She threw Kim into the ring, Matrixed under a Molly clothesline attempt, and then took Kim down for an early two count. She followed with a Thesz Press and a series of punches, then rammed Kim's head into the mat several times. Trish slipped on the bottom rope, but recovered nicely, and went for a head scissors on Kim. Molly yanked Trish out of the ring. Then Kim went for a dive over the top rope onto Trish. She caught her foot on the ropes and landed on her face. She's tough, though, as she took two or three seconds to regain her senses, and then continued the match. The fans chanted, "You f–ed up," a chant I've never been fond of under any circumstances. Molly and Kim double-teamed Trish, but Molly set up a charging Kim for an unexpected clothesline and scored the pin.
WINNER: Molly at 3:27 to retain the Women's Title.
STAR RATING: 3/4* — Despite two slip-ups, this was a solid, energetic four minute TV match. The finish by Molly was especially cool. Molly's character is really coming along in part because it's playing to her strength as a "non-diva" character, which is a nice contrast to how the rest of the WWE women wrestlers have been portrayed.
-Hunter talked to Flair and Orton about the Goldberg rematch. Hunter said Bischoff can't change Flair's match with Goldberg, but he can add to it. Hunter said he suggested Bischoff "add to the match" by making Randy Orton the special guest referee. He pulled out a referee shirt for Orton, who took that as an opportunity to take off his shirt. Flair went into promo spaz mode, then hugged Hunter and told him he loves him.
[commercial break]
-An old lady was shown trying to cross the street in traffic. Rosie jumped into the picture in his sorry superhero outfit. After helping her across the street, the old lady asked him who he was. He said he was a"Rosie, the S-H-I-T." The old lady was offended and hit him with his purse. Hurricane entered the picture and said his first lesson is "no good deed goes unpunished."
-Steve Austin plopped down in a chair in Bischoff's office. Bischoff began gloating about how he continues to outsmart Austin. He said he's almost too smart for his own good. Austin then acknowledged that the winner of the Bischoff-Kane match would go on to face Shane McMahon at SummerSlam. "You can't be serious," said Bischoff. Austin said he was serious and gloated about Bischoff failing to read the contract before signing it.
[commercial break]
-WrestleMania Recall showed Jim Ross at his first-ever WrestleMania at Caesars Palace in 1993 talking about how excited he was to be part of WrestleMania.
-Lawler turned to Ross on camera and told him how happy he was to have him back next to him.
6 — RODNEY MACK vs. HURRICANE
Lawler said Theodore Long was on a cruise, but would be back next week. Ross said he didn't get to see what he wanted to tonight, but he couldn't wait until SummerSlam when Shane McMahon could get his hands on Bischoff. Hurricane scored an upset clean pin with a top rope crossbody block. Rodney attacked Hurricane after the match, prompting Rosie to come out for the save. Rosie gave Mack a swinging sidewalk slam.
WINNER: Hurricane at 3:01.
STAR RATING: 1/2* — Fine, but not much to it.
[commercial break]
-Chris Jericho came out to host "Highlight Reel." Jericho said he did challenge Nash to a "hair vs. hair" match, but he needed to clarify the rules. He said when Nash lost, he'd be forced to cut the hair off of his head. He said if he were to lose, he promised to shave every single whisker of facial hair off of his face. "It's a big sacrifice, but I promise to do it," he said. He asked if fans really thought he'd put his head of hair on the line. "I'm a rock star, after all!" he said. He began talking about the beauty of his hair. "I should be in a damn shampoo commercial," he said. Nash sat down in the ring and said Jericho should see the opportunity to lose his hair as a chance to have a make-over. He asked Kerwin in the back to put images he came up with on the Jeritron 5000. A picture showed of Jericho with hair. Then they showed Jericho bald. He looked a bit like Kurt Angle and Steve Austin's love child. A red mohawk was added. Nash said that look was "money." They went to a full head of spiked hair followed by a Lance Storm flat top. Nash compared it to Arnold Schwartznegger's hair. Jericho mockingly laughed. He said what would be really funny is if he were to eliminate him at SummerSlam and regain "his" world title. Jericho said Nash has never been in a Chamber match before, but he has, so he knows first hand how brutal and vicious those matches can get. Jericho then called Kevin, "Nash-hole." Of course, fans began chanting "Nash-hole" briefly. Nash then opened a briefcase and took out a clipper. Nash got serious and said that because he ran his mouth last week about a hair vs. hair match. He said he accepts his hair vs. hair challenge. "Now you've got two options," Nash said. "Number one, accept the challenge, or number two, I kick your ass and I cut your damn hair right now." He got in Jericho's face. Jericho accepted Nash's match, but he said it wouldn't be tonight, it would be next week on Raw. Jericho told Nash to leave the ring. Nash said, "You don't tell me what to do ever. I'll leave when I want to leave." He said he was leaving now because he was tired of his little show. Jericho then attacked Nash from behind with the mic. Nash, though, caught a charging Jericho with a side slam. Nash then clotheslined Jericho over the top rope. Nash gingerly stepped to the floor, then took out a pair of scissors and held them up. The crowd popped. He held up an electric razor. The crowd popped again. He finally put those down and instead grabbed hedge clippers. Jericho tried to escape under the ring, but Nash grabbed him. Jericho then surprised Nash with a fire extinguisher to the face and then fled. The crowd booed as Nash regained his balance long after Jericho was out of his reach.
-They showed Ric Flair and Randy Orton heading to the entry tunnel. Orton somehow managed to wear tight black shorts that were shorter than those Shawn Michaels wore as special ref a few years ago.
[commercial break]
-Ross and Lawler ran down the Raw matches at SummerSlam so far – Elimination Chamber, Shane McMahon vs. Eric Bischoff, and Rob Van Dam vs. Kane.
END OF SECOND HOUR
-Orton walked to the ring in his ref shirt and shorts as if he were modelling underwear at a fashion show. He looked like he was auditioning for the first WWE male spread in Playgirl.
7 — RIC FLAIR vs. GOLDBERG — Randy Orton as Special Ref
It appeared Orton handed something to Flair before the bell. Flair then nailed Goldberg with brass knuckles to start the match. Goldberg went down hard. Flair covered him for a super-fast two count, but Goldberg kicked out. Flair stomped away at Goldberg and back suplexed him for another quick two count. Goldberg no-sold a Flair chop and then flexed like Road Warrior Hawk. He then press slammed Flair followed by a backdrop. Goldberg then nailed Flair with a clothesline followed by a powerslam for a very slow two count. Goldberg got up and glared at Orton. Orton backed down and plead innocence. Goldberg went back to work on Flair, who took a clothesline. Orton again did a very slow count. Goldberg slapped at Orton. Orton slid out of the ring. Flair then nailed Goldberg from behind with the chair, which was legal since the match was no DQ. Goldberg grabbed Orton and Flair by the throats. Flair low-blowed Goldberg to escape before the chokeslam. Flair began working over Goldberg's legs and then applied a figure-four leglock. Goldberg attempted to power out of the hold with his arms, but eventually lay back and screamed in pain. Orton made a fast two count before Goldberg lifted his shoulder again. Goldberg reached the ropes, but Orton stomped away at Goldberg's arms and then walked over to hold Flair's arms to add leverage to the hold. Flair relinquished the hold only to begin kicking at Goldberg's left leg in the corner. He followed with some chops and more kicks. Finally Goldberg had enough and he clotheslined Flair and then Orton. He gave Orton a high backdrop followed by a Spear. He followed with a Spear on Flair, but Orton was too hurt to count. Goldberg kept favoring his knee. Shawn Michaels ran out and got in Goldberg's face, but then superkicked Orton as soon as Orton got up. Goldberg then picked up Flair and gave him the Jackhammer. Michaels then slapped the KO'd Orton's arm against the mat three times to end the match.
WINNER: Goldberg at 7:23.
STAR RATING: **1/2 — Great TV match in terms of effectively hyping the PPV match and playing to the strengths of everyone involved in the match.
---
NOW CHECK OUT THIS FLASHBACK: 15 YRS AGO – WWE in Yokohama, Japan (7-18-03): Big Show vs. Lesnar, Show imitates Hulk Hogan, Angle, Cena, Hardy, Mysterio, Eddie Guerrero