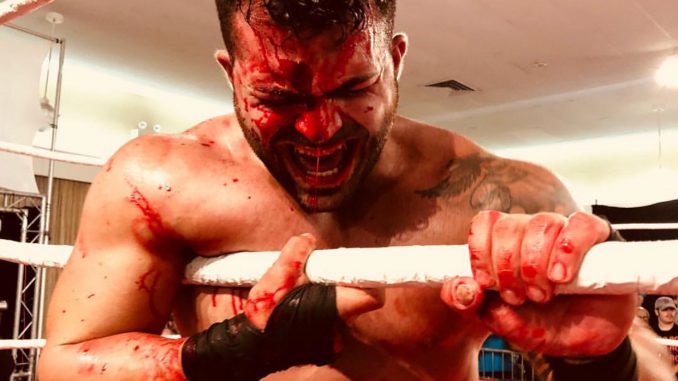 ---
SPOTLIGHTED PODCAST ALERT (YOUR ARTICLE BEGINS A FEW INCHES DOWN)...
---
Mike Verna is a man of many hours.
He eschews titles because he'd rather do it all.
And he's doing it all pretty damn well.
The Brooklynite has built himself a nice career on the independent scene in the Northeast US and parlayed that into regular appearances at Chikara, Chaotic Wrestling, and Beyond Wrestling.
More than his grappling, Verna divides his time between managing a series of GNC vitamin stores in New York City, coaching college baseball, and staying fit in the gym for wrestling.
Oh, and he's a member of the Screen Actors Guild with a growing list of film and TV credits.
But to understand Mike Verna the wrestler, the actor, and the doer of all things, you must first meet the man and his passion for life.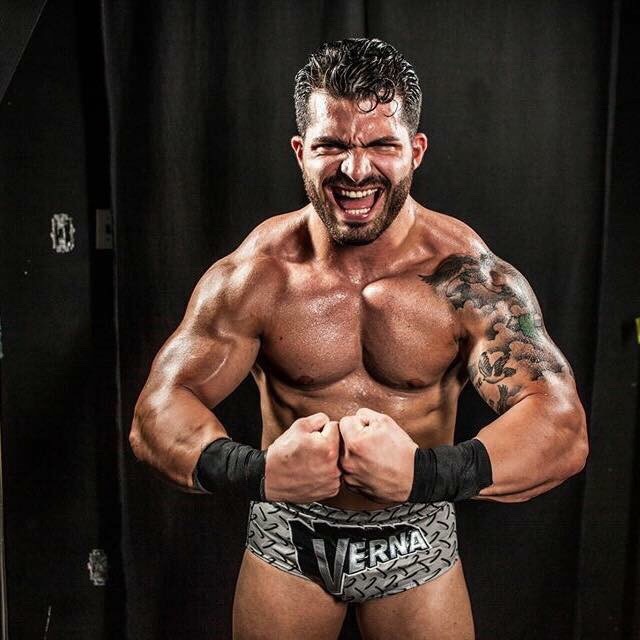 "I don't want to be normal."
Verna, born Mike Taverna, is Brooklyn to the core. Born and raised in the Bergen Beach neighborhood, an hour train ride away from Barclays Center, Verna grew up in a tight-knit family where everyone looked out for everyone and good times were had regularly.
"I'm your typical Brooklyn Italian kid," Verna said. "That is it in a nutshell. Anything you've seen in movies or you've read about growing up Italian in Brooklyn, that is it. It's all about family. It's all about food. It's all about good times. It's all about doing what you're supposed to do in school and in work and having fun while you're doing it."
At the age of 12, Verna was diagnosed with a benign bone tumor in his leg. Surgery involved drilling into the leg and a rehab program that left him in a brace and wheelchair for a year. He recovered and grew into a talented athlete.
Taverna was afforded numerous opportunities to explore his interests and two things stood out above the rest: baseball and wrestling. After a successful high school baseball career, he was faced with the choice of baseball or wrestling. He took some time to mull it over and realized that he could have it both ways. He called it quits on his formal baseball career to pursue wrestling while keeping his foot in the game by going into the coaching.
"I said I'm not going to play college baseball," Verna said. "I'm going to coach back at my high school so I don't lose the game, and I'm going to pursue wrestling. I really had the best of both worlds. I was playing men's league, so I was playing ball which was good, and I started my wrestling career. The rest is really history with that. A great decision I feel like in the long run."
The only question for him was how to go about breaking into the business because the idea of being a wrestler seemed like something only the special, elite few were able to do.
"As a kid you don't really realize you have a shot to be a wrestler when you're older," Verna said. "It's a pipe dream. You want to be like The Rock, Stone Cold, but unlike T-ball you don't really know about wrestling school. You think it's this magical thing and Vince McMahon calls you and makes you a wrestler."
It was only once he learned of the New York Wrestling Connection that Verna knew he could make wrestling a real thing. He walked in the doors in 2011. Even before stepping foot in a ring he was already putting in the work to be as good a wrestler as he could be.
A fitness junkie, Verna hit the gym hard and got his body ready for the meat grinder that is professional wrestling. While nothing can fully prepare you for the bumps, being in peak physical condition made the grind that little bit easier to handle for him.
"The pain was hard," Verna said. "Your first couple of bumps really hurt. Before I even signed up for wrestling school, once I stopped playing baseball, my number one goal was to put on enough size, and enough muscle, to actually be able to be an initial prospect in wrestling."
He definitely caught the eyes of the trainers at NYWC, but Verna had to learn everything from square one. And that meant hours upon hours of drills for weeks at a time. Day after day of learning collar-and-elbow tie-ups gave way to rope running and so on.
The months of drills paid off over time but drove Verna mad.
"You're driving two and a half hours to do what you love, and you respect what you do, you know it's the right decision, but you can imagine it would get a bit stressful at times when all you're doing is locking up for two hours straight," he said.
He was finally getting into a rhythm at NYWC, growing as a wrestler. Then Mike Verna hung up his boots.
The Intermission
At the young age of 20, Verna was offered a job managing a franchise GNC vitamin store. The money was too good to pass up and the hours precluded him from getting out to Long Island to train at NYWC.
Despite never having wrestled a competitive match in front of a crowd, Verna said he felt like his passion could have fizzled out.
"As a student, there's no momentum, there's no steam, there's no buzz, but there is that passion," Verna said. "When you get that passion ripped away from you sometimes it's hard to bounce back from it. What happened was I took about six months off, and I didn't think I was gonna go back. Life picked up."
Despite not training between the ropes, Verna still enjoyed watching wrestling with his friends. Life took him to the Money In The Bank show in Philadelphia in 2012, and the tag team match between The Shield and The Usos lit that fire for wrestling that he thought had long been extinguished.
He reached back out to NYWC but the hours still didn't match up with his job, but they put Verna in touch with Joel Maximo at the Ludus Wrestling School in Brooklyn. And with that, Verna had his dream in sight once more.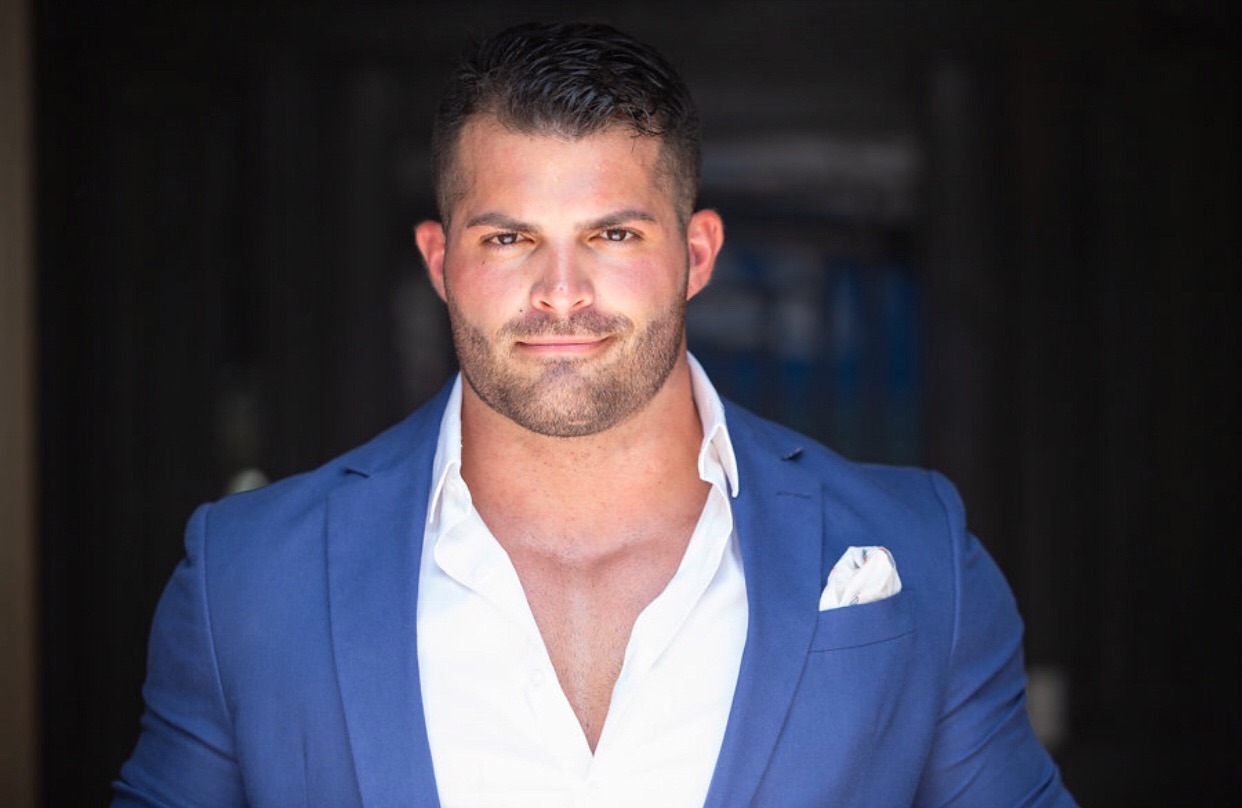 Finding The Gimmick
Under the tutelage of Maximo and his trainers, Verna started to truly become a professional wrestler. Trained by Alex Reynolds, Tony Nese, and Mikey Whipwreck, Verna spent more than a year finding himself in the ring.
"Joel got me into the business," he said. "He created my gimmick. He created my moveset. He was my finishing coach. He polished me up. He taught me how to actually be a wrestler. From there I debuted October, 2013, and the rest is pretty much history at the moment."
In need of a character, Verna dropped the first syllable from his last name.
"It's harder to say than Verna," he said of his last name. "Angle. Cena. Michaels. The list goes on. It's a two-syllable thing."
Verna had his debut for Fighting Spirit Wrestling in October of 2013. It came in a five-way scramble match, and Verna, by his own admission, wasn't ready for the match. But he was in the door.
Now an honest-to-god wrestler, Verna began building his gimmick. With all his muscles, strength, and agility, the Man of Steel wasn't a hard gimmick to create and Verna dove head-first into it.
He grew his career across the Northeast. From Warriors of Wrestling in Staten Island to Dynasty Pro in Upstate New York, Verna's career bloomed. It was a match with JT Dunn at Five Borough Wrestling that really opened him up to the rest of the region and he hasn't stopped since.
With a connection into New England, Verna started finding work with Xtreme Wrestling Alliance in Rhode Island and Chaotic Wrestling in Massachusetts by 2016. From there Verna worked around New England and eventually broke into the top promotion in the area, Beyond Wrestling.
"He's got a great attitude," Dan Barry said. "I don't think anyone's going to talk about Mike and not talk about how nice of a guy he is. Secondly, he's willing to put in work. He's willing to listen. He's willing to try things."
Barry, one half of Team Tremendous, has been a regular in Beyond for years and helped bring Verna into the promotion as part of his Amityville Project stable in 2017 alongside Ryan Galeone and Rex Lawless.
With his strength and agility, Verna was a welcome addition to a promotion that had helped build the likes of Keith Lee, Donovan Dijak, Matt Riddle, and Biff Busick and has worked steadily to improve in the ring ever since.
"Mike will be the first person to tell you that he needs work as a wrestler," Barry said. "He's working on being a better wrestler so when he came into Beyond he was there to learn the most. He's really there to learn and soak in."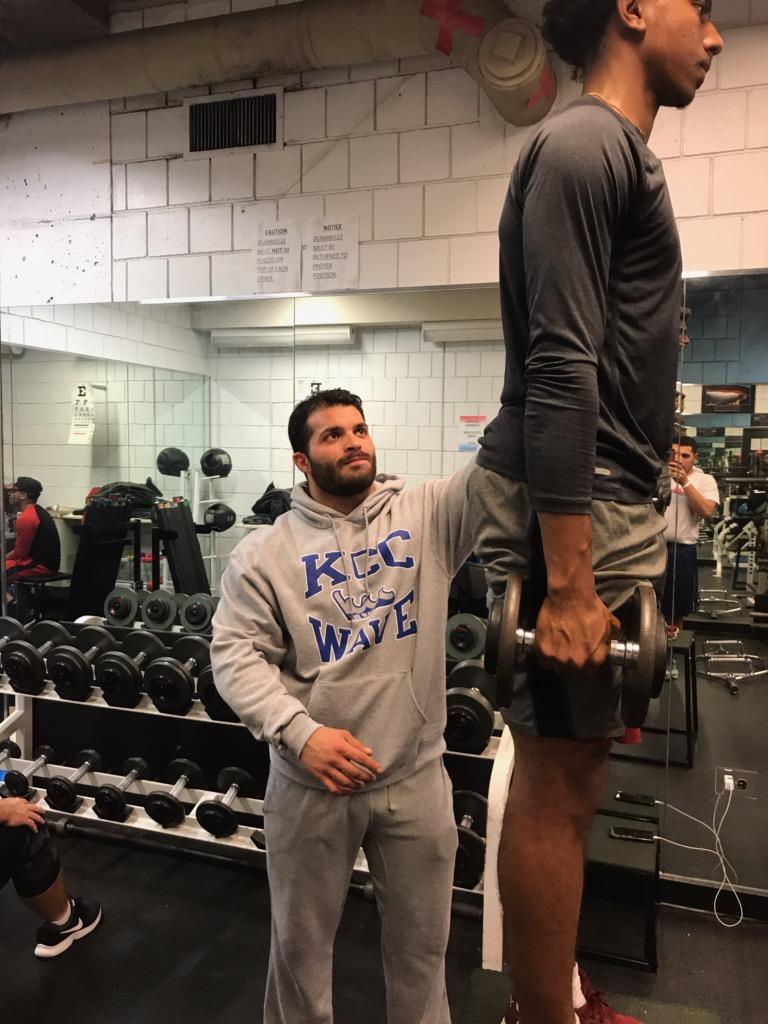 Cash & Catching
As his career in the ring has grown, Verna has continued to grow across life. The GNC job that initially curtailed his wrestling career evolved in a regional manager position that allows him to control his schedule which has allowed his in-ring career to blossom.
Verna oversees a pair of stores in Brooklyn and one each in Queens and The Bronx.
"The good thing about GNC is I have complete schedule flexibility," Verna said. "The key is my hiring. I hired good managers that want to be there. I've been with the same owners for the last seven years. We have a good relationship."
Having the consistent income coming in from GNC, and a burgeoning wrestling career, Mike also finds time to be a baseball coach. After coaching for several years at his old high school he got a job as the assistant coach at Kingsborough Community College in Brooklyn starting with the upcoming season in spring of 2019.
Verna will specialize in coaching the catchers as well as helping with hitting. His outward positivity, as in wrestling, is one of his best traits as a coach.
"He gets along with a lot of different people," Kingsborough head coach Brian Dowd said. "He can have a conversation with a lot of different types of people. It really helps because one of your jobs as a coach is being a psychologist and being able to talk to people about anything. Baseball for me is about 10 percent of what I do."
For Verna, staying involved in the game he has played since he was a kid keeps him fresh. The joy is in the mentoring now as opposed to putting on the cleats and getting on the field as he did back in his high school days.
"One of the passions I learned I had was teaching," Verna said. "It's a passion to share what you know and spread it on to people that want to know it. That's a real rush I kid you not. Teaching and training and coaching is that awesome. That's really half the reason why I enjoy doing what I do."
Dowd had no idea about Verna's background when he started working with him this offseason. Not much of a wrestling fan himself, Dowd said that he loved Verna's passion and having an assistant coach with a variety of athletic experience.
"The commitment in order to get something is the same," Dowd said. "Athletes can sort of merge and get along in those ways. But the pro wrestling aspect is different than baseball because he can come in there with a more aggressive point of view and he can call onto it when he wants to."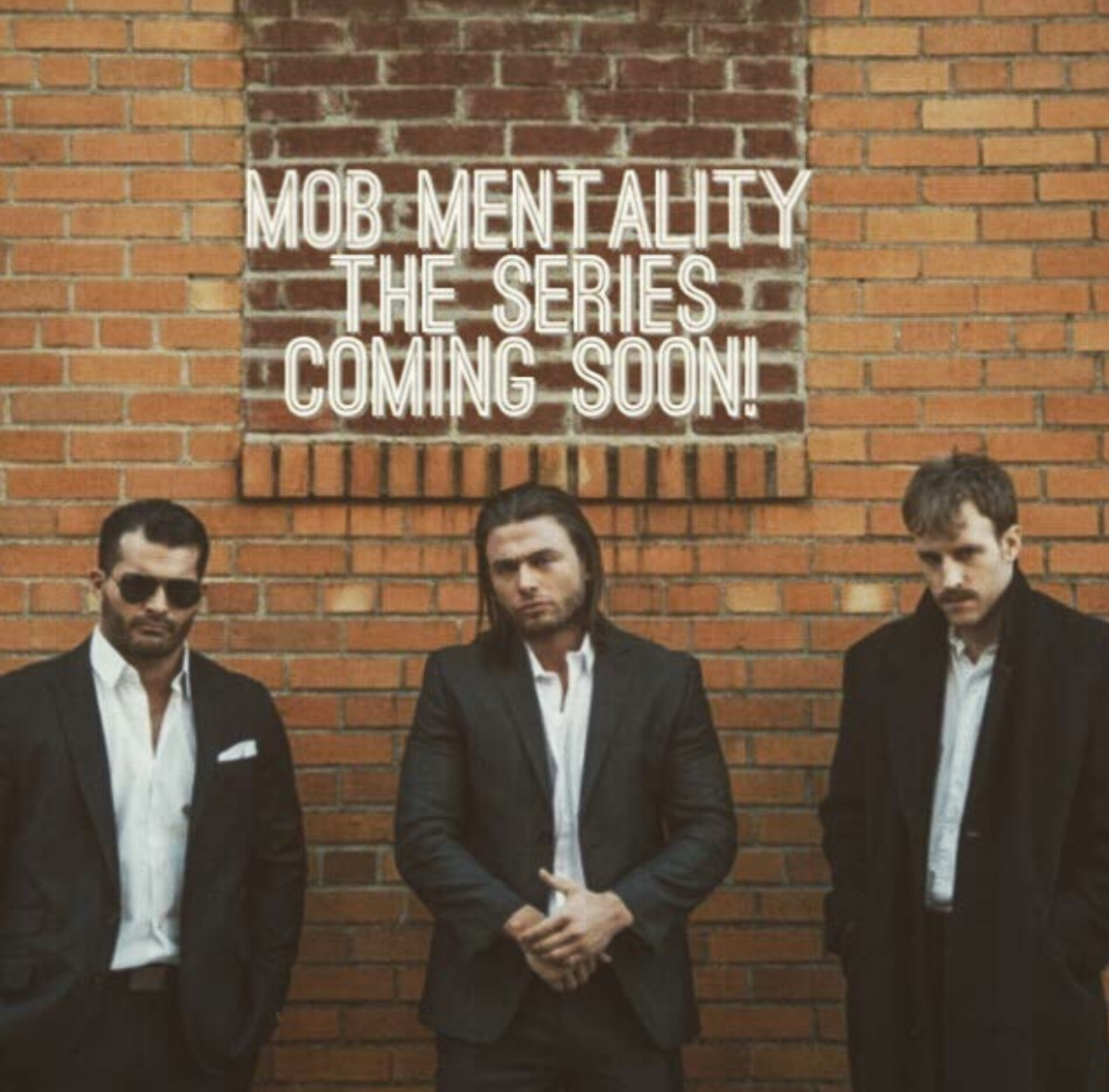 The Actor
Wrestling, at its core, lies at the crossroads of theater and sports. A talented athlete turned talented wrestler, a logical next step for Verna was to take a try at formally acting. Like he has in so many other aspects of his life, Verna thrived almost immediately.
"If you think of it, wrestling is acting," Verna said. "It's a form of entertainment. It's a form of performance. Wrestling taught me the basics and naturality of acting."
Verna signed up for casting agencies and slowly started getting calls. Initially, it was small jobs without lines, but he got to work on projects like the film Ocean's 8 and the television show Instinct. With his foot in the door the next step was to get bigger roles and eventually a membership to the Screen Actors Guild, Hollywood's top labor union.
Verna's break came last year. Once people in the industry found out about his wrestling background he got brought in to do stunt work on the film Bare Knuckle Brawler, which stars Danny Trejo and will be out in the near future. That got him into the union and the ball seriously rolling on his acting career.
"Once I got into the union things got a bit easier," Verna said. "Now I got an agent. Once I got an agent it's easier because he hooks you up with stuff."
And that began with getting cast in a main role in a pilot. The show, Mob Mentality, allowed Verna to flex his acting chops and get deeper into the business. Isis Djata, the producer from Locked and Loaded Films, which is making the show, said that Verna stood out instantly during his audition.
"He was a natural actor," Djata said. "I thought he had been acting for a few years. I was actually really surprised to find out he was a new actor because he really had very good acting ability. It was only after casting him that we found out he was a new actor."
The show, a contemporary, new-age Sopranos, lets Verna shine as the tough muscle of a street gang. Having Neapolitan heritage, and being able to fluently speak Italian, certainly didn't hurt Verna in the role either.
The show will get pitched to streaming services like Netflix, but regardless of the show's fate, Verna is already turning heads among casting agents across the entertainment industry.
"I think he has a really good future," Djata said. "Mike has something special that you don't often find, and it's a natural, raw acting ability. He didn't take any classes, he wasn't trained by anyone when I met him. He was just someone who was naturally good at acting and commanded your attention."
For Verna, his life is a never-ending string of events, getting to events, and planning for more events. It's a grind that never ends, but he revels in it and stays on top of it.
"I make my schedule at work. I accept or decline the bookings I take," Verna said. "As long as I'm contracted on a project or a movie, the shoot days fit into my openings. The games, they're not scheduled around me but I can schedule around the games. It's a balance. I need to regiment everything."
Just 27 years old, the future is bright for Verna no matter what avenue he winds up pursuing full time. He said that whatever one hits first will be the path he will go down professionally going forward. But he loves every minute of it.
"That kid is everywhere," Dowd said. "He's all over the place. He's always on the move. If you want to do something bad enough you better have the energy to do it, and he definitely does."