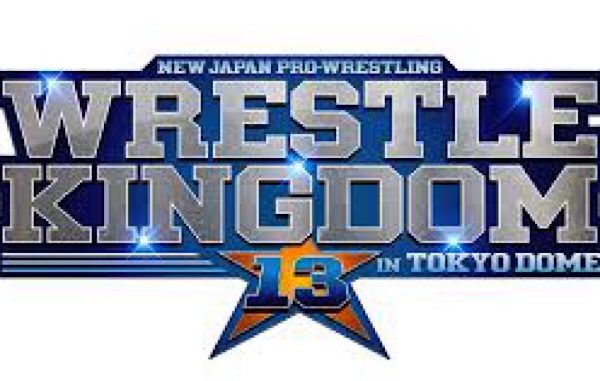 ---
SPOTLIGHTED PODCAST ALERT (YOUR ARTICLE BEGINS A FEW INCHES DOWN)...
---
PWTorch NJPW WRESTLE KINGDOM 13 PPV PREVIEW
Where to watch: njpwworld.com (subscription service. typically costs about $10.00 per month), fite.tv (pay a one-time fee of 34.95 and own the replay forever. This service works great with smart TVs. You can cast right from your phone to your TV).
When does it air: January 4, 2019. Pre-show begins at 2:00a.m. EST and Main Card begins at at 3:00a.m EST on njpwworld.com and fite.tv. A two hour version of the show will air on AXS TV on Jan. 4 at 8p.m. EST as well.
Commentators: Kevin Kelly, Don Callis, and Chris Charlton
MATCHES 
PRE-SHOW
Never Openweight Six Man Tag Team Championship  #1 Contender Tag Team Gauntlet match: Togi Makabe & Toru Yano & Ryusuke Taguchi vs. Yuji Nagata & Jeff Cobb & David Finlay vs. CHAOS (Hirooki Goto & Beretta & Chuckie T) vs. Suzuki-Gun (Minoru Suzuki & Davey Boy Smith Jr. & Lance Archer) vs. Hangman Page & Marty Scurll & Yujiro Takahashi.
Radican's Analysis: This match is replacing the traditional Battle Royale match NJPW had held in previous years prior to the start of the main card. That match was fun because it would have surprises like legends and outsiders making appearances. The Never Openweight six man straps don't mean a lot, so this is a way to get a bunch of guys on the card that didn't make the main card. I'm not expecting a lot out of this match, but it should have better in-ring wrestling than the traditional Battle Royale match. 
Prediction: The stacked Suzuki-Gun team wins the belts.
MAIN CARD
(1) NEVER Openweight Champion WIll Ospreay vs. Kota Ibushi
Radican's Analysis: It was believed that Ospreay was going to be the NEVER Openweight Champion, but he suffered an injury in September and had to pull out of his match against former NEVER Openweight Champion Taichi at the Power Struggle PPV back in October. The stars aligned for NJPW to get to the match they wanted for Wrestle Kingdom 13, as Ospreay healed up in time to beat Taichi in a #1 Contender match for the NEVER Openweight Championship at the World Tag League Finals on Dec. 9. On the same show, Ibushi beat Hirooki Goto to capture his first NJPW singles title and the match was set.
The match was greatly enhanced by The Golden Lovers vs. Will Opsreay & Kota Ibushi match at Road To Tokyo Dome on Dec. 15, which featured Ospreay and Ibushi having some crazy exchanges. No exchange was better than when Ibushi went for a super hurricanrana and Ospreay landed on his feet. The cameras perfectly captured the look on Ospreay's face and the disbelief on Ibushi's face, as he hadn't turned around yet, but knew Ospreay had landed on his feet.
This match is going to be crazy. These two showed what they could do at Road To Tokyo Dome and I can't imagine what they'll pull off at Wrestle Kingdom 13, but it will be spectacular. You can watch Golden Lovers vs. Ospreay & Tanahashi for free below. I highly recommend watching this match before watching Wrestle Kingdom 13 tomorrow.
Prediction: Ospreay is well on his way to transitioning to heavyweight. I think this is the right time to give him a big win on a big stage to propel him forward as a player in the heavyweight singles division going forward. I think Ospreay wins with the Storm Breaker, but I wouldn't be shocked if Ibushi retains and they have another match at New Beginning in late January or early February that sees Ospreay crowned as the Never Openweight Champion.
(2) IWGP Junior Heavyweight Tag Team Champions Suzuki-Gun (El Desperado & Yoshinobu Kanemaru) vs. R0ppongi 3K (SHO & YOH) vs. L.I.J. (Shingo Takagi & BUSHI)
Radican's Analysis: SHO & YOH won the Jr. Hvt. Tag Team Tournament back in November defeating the very same teams they're facing at Wrestle Kingdom 13. These three teams put on a spectacular performance at the King of Pro Wrestling PPV back in November. It's disappointing that SHO & YOH won the tournament only to have Takagi & BUSHI inserted into their title match Wrestle Kingdom 13.
That being said, this should be an excellent match. Desperado and Kanemaru put in their best performances to date at the Power Struggle PPV and it will be hard for them to top how crisp their timing and execution was in that match. The real excitement for me in this match is seeing Dragon Gate legend Shingo Takagi wrestle in the Tokyo Dome. He's amazing and he will be a huge part of what makes this match memorable if it turns out well.
Prediction: I have no idea who's winning this match, as the titles change hands often. I think it's time for a fresh start, so I would like to see Takagi and BUSHI have a run with the Jr. Hvt. Tag straps. I'll go with them winning the titles here, but I wouldn't be shocked with any possible result of this match.
(3) RPW Undisputed British Heavyweight Champion Tomohiro Ishii vs. Zack Sabre Jr. 
Radican's Analysis: This match is an example of two companies working well together in a way that benefits both companies. RPW out of the U.K. has run multiple programs around their heavyweight title using NJPW wrestlers in 2018. The programs have taken place on RPW shows and NJPW events. Ishii won title to Sabre at an RPW show held during WrestleMania Weekend in 2018. He dropped the title to Minoru Suzuki at RPW Strong Style EVOLVED U.K in July before beating Suzuki to capture the title again at RPW/NJPW Global Wars U.K. in October. Ishii went on to beat Suzuki in a brutal rematch at NJPW's Power Struggle PPV back in November, which lead into a rematch against Sabre for the title at Wrestle Kingdom 13.
Prediction: Sabre has been in the background for awhile. He lost to Naito at Power Struggle and it seems like the right time for him to pick up momentum again. Ishii is always a fan favorite, but it's time for Sabre to get the win and I see him capturing the RPW Undisputed British Hvt. Title at Wrestle Kingdom 13 via Orienteering with Napalm Death.
(4) IWGP Tag Team Champions GOD (Tama Tonga & Tanga Loa) vs. L.I.J. (EVIL & SANADA) vs.  The Young Bucks (Matt & Nick Jackson)
Radican's Analysis: G.O.D. beat the Young Bucks for the heavyweight tag straps at Fighting Spirit Unleashed on Sept. 30 in a show that was held in Long Beach, Calif. They had a good match, but The Young Bucks never got a rematch. EVIL & SANADA won the World Tag League Tournament last month, which came with a shot at the tag team titles, but The Young Bucks got involved and were inserted into the match due to the fact that they never got a rematch.
Even though NJPW doesn't have a history of automatic rematches, The Young Bucks were inserted into the match. I think the match will be better in the ring because The Young Bucks are in it, but from a storyline standpoint, it makes the time investment in watching World Tag League not worth it, as a team that didn't even entered the tournament is getting the same opportunity as the team that won it. I'd like to see NJPW improve on this aspect of their booking.
Prediction: I think G.O.D. are in line for a continued push in 2019. They ran wild as heels during the G1 Climax tournament last year and I think a win on this stage will continue their push into 2019.
(5) IWGP U.S. Hvt. Champion Cody Rhodes vs. Juice Robinson
Radican's Analysis: Cody beat Robinson for the U.S. title at Fighting Spirit Unleashed back in September. Robinson had an unremarkable reign with the title and compounded the feeling from a booking perspective that he wasn't a very good champion by having a losing record in the G1 Climax while U.S. champion. Juice beat Trent Beretta in a very good match in Toronto in November on the last show of ROH's Global Wars tour. He challenged Cody to a rematch after the match. Originally Cody was supposed to defend the title against Trent, but was pulled off the show with a knee injury.
Robinson is a very good wrestler, but NJPW has gone too far in painting him as an underdog and it's hard to take him seriously as a champion given the way he's booked. That being said, with Cody tied up with AEW, I fully expect Robinson to get a convincing win at Wrestle Kingdom and a more serious push in 2019 in NJPW.
Prediction: Robinson wins a very good match via Pulp Friction.
(6) IWGP Jr. Hvt. Champion KUSHIDA vs. Taiji Ishimori
Radican's Analysis: Ishimori faked an injury and attacked KUSHIDA after a six man tag match at Power Struggle to set up this match. Ishiomori came to the ring with Bullet Club on crutches, but then attacked KUSHIDA with his crutch.
With reports of WWE being interested in KUSHIDA going around, it seems like now would be the time for Ishimori to take his spot at the top of the cruiserweight division. They had a really good match at the first night of the Super J cup back in 2016, but with Ishimori portraying a new and more villanous character, I expect this match to surpass their previous effort.
Prediction: Ishimori wins a classic cruiserweight style match.
(7) Kazuchika Okada vs. Jay White
Radican's Analysis: Hiroshi Tanahashi and Kazuchika Okada had another classic match at Destruction in Kobe with Tanahashi's G1 Climax 28 briefcase on the line in September, but it was the events after the match that were the catalyst for this match taking place at Wrestle Kingdom. White had been part of CHAOS, but he didn't get along with any of the members of CHAOS. A turn was expected at some point, but not on this level. After Okada lost to Tanahashi, White, who had beaten them both during the G1 Climax tournament, attacked Tanahashi. Then to big surprise came when he attacked Okada. Rocky Romero and YOSHI-HASHI tried to help Okada, but White got rid of them quickly.
Gedo came to the ring and appeared to be acting as a peacemaker, but instead he blasted his longtime protege Okada across the back with a chair. Gedo, who had been Okada's manager and father figure for seven years, said after the match that Okada was a loser and didn't belong in the Tokyo Dome main event anymore. He said it was White that now belongs in the spot.
This should be an excellent match. There's a ton of heat behind it given that Gedo turned on Okada and sided with White. This should be a heated match and White has mastered his heel persona. After Okada lost the IWGP Hvt. Championship to Kenny Omega at Dominion, he seemed lost, but he has found his purpose feuding with White. Okada is angry and out for revenge in this match.
Prediction: White has been so good and a win on this stage would do him wonders, but I think NJPW will protect Okada's prestige at The Tokyo Dome and have him win their first match and perhaps drop a fall to White in the near future on a lesser stage. With so many good matches on this card, I feel that this match has the best storyline going into it.
(8) IWGP IC Champion Chris Jericho vs. Tetsuya Naito
Radican's Analysis: Jericho beat Naito in a brawling style of match at Dominion for the IWGP IC Championship. Jericho defended the title against Naito's stablemate, EVIL, at Power Struggle in November and won. After the match, Jericho attacked EVIL until Naito came out to make the save. Naito challenged Jericho to a match, but Jericho said no and NJPW made the match anyway.
Since that time, Naito has goaded Jericho. He's mocked his face pain and appearance. Naito cut a great promo to get under Jericho's skin below:
Jericho responded to Naito's promo here:
He also recently cut a promo promising that Wrestle Kingdom would be Jericho's last match, which can be seen here:
Jericho attacked Naito at Road To The Tokyo Dome on Dec. 15 after Naito won a tag match for his team. They also brawled at the press conference for Wrestle Kingdom on Dec. 15 as well. You can see that footage below:
At the most recent NJPW Wrestle Kingdom press conference earlier today, Chris Jericho powerbombed Naito through a table and their match was made No DQ, which is strange for NJPW, as the officials let a lot of things go compared with what viewers that only watch U.S. wrestling might be used to. Jericho asked for the match to be made No DQ and Naito taunted him saying all of his matches need to be No DQ before agreeing to the stipulation and writing No DQ on the contract before signing it. Jericho then attacked Naito and put him through a table with a powerbomb. Naito once again got under Jericho's skin and made his temper explode, which has been how this feud has gone since they started building it. You can watch the footage from their press conference below:
Prediction: My gut tells me Jericho is moving on from NJPW after this match and Naito will go forward as IWGP IC Champion. The real intrigue here is what they do with this match to differ it from their previous match at Dominion that featured a lot of brawling now that it has the No DQ stipulation, which I suppose means that we are going to see both men go way way over the line instead of just way over the line like they would under normal rules.
(9) IWGP World Hvt. Champion Kenny Omega vs. G1 Climax 28 Winner Hiroshi Tanahashi
The build to this match hasn't been the most enjoyable for me personally, but it has bumped up business in Japan, as ticket sales for WK this year are ahead of last year. Omega has called Tanahashi's ways old and really this is a class of ideologies. Omega has cut promos on Tanahashi compared him to a NES and calling him outdated. They've also played up Omega's Best Bout Machine gimmick as part of this feud, as Tanahashi's ideology is to focus on getting the IWGP World Hvt. Championship and how that is the end game for him, but for Omega his goal is to put on the best matches and excel each and every time in the ring by having the best fight with his opponent.
Omega has called Tanahashi "old" and a "motherf——" in promos as well. Tanahashi responded by saying that he's coming to WK with all his rage at NJPW's final WK press conference held earlier today. Omega stated during the press conference that he will kick out of Tanahashi's High Fly Flow finisher. I think despite my lack of enjoyment with the build for the match, they worked their way to where I'm really excited to see them wrestle.
If you want to see why I'm excited to see them wrestle, just watch the Golden Lovers vs. Tanahashi & Ospreay match that I posted in the preview for the Ospreay vs. Ibushi match above. Omega has done a good job of turning himself heel in this feud and I expect the Tokyo Dome to be rocking to see Tanahashi's redemption story completed.
You can watch a couple of preview videos that NJPW has released for the match below:
Prediction: Regardless of Omega's status as a pending free agent at the end of the month, the right way to end the story feels like having Tanahashi win the IWGP World Hvt. Championship and have one more run on top of the company. Tanahashi wins the match after four high fly flows is how this match will end. It feels like the crowd is waiting to celebrate with Tanahashi at the end of a Tokyo Dome main event one last time and Omega has turned the crowd in Tanahshi's favor to set up this moment.
Contact Sean at radicansean@pwtorch.com. Follow him on twitter @sr_torch.