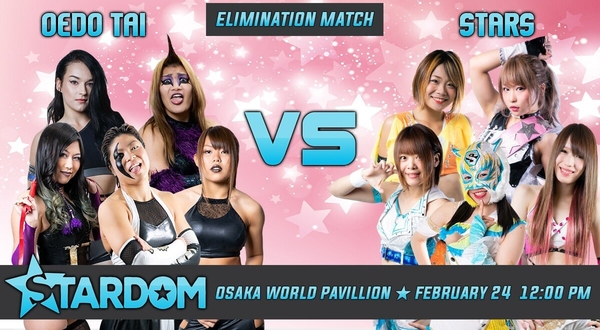 ---
SPOTLIGHTED PODCAST ALERT (YOUR ARTICLE BEGINS A FEW INCHES DOWN)...
---
STARDOM NEW YEARS STARS
FEBRUARY 24, 2019
OSAKA, JAPAN AT OSAKA WORLD PAVILION
AIRED ON STARDOM WORLD
REPORT BY HARLEY R. PAGEOT, PWTORCH CONTRIBUTOR
A duo from Stardom Idols performed their song "Like A Fire" in the ring to kick off the show.
-Alex Gracia said this is one of the last matches of her tour. Leo Onozaki said she hopes to work with Natsuko Tora to win. Tora said she's not too familiar with four-ways but she's aiming for Hana Kimura. No pre-match words from Kimura.
(1) NATSUKO TORA vs. LEO ONOZAKI vs. HANA KIMURA vs. ALEX GRACIA
The babyfaces worked together against Kimura in the opening minutes but she would come back to roll up Gracia for the win.
WINNER: Hana Kimura in 5:26.
(Pageot's Perspective: Nothing memorable.)
-ROH star Sumie Sakai said she was wrestling a baby and was looking forward to spanking her. AZM, whose jet black hair had been dyed to a strawberry color, said Sumie-san is a mystery.
(2) AZM vs. SUMIE SAKAI
As promised Sakai hung AZM up in the ropes early on and spanked her. Sakai bailed to ringside and sat in the front row with the fans. When AZM followed Sakai ran up into the stands and around and back down with AZM in pursuit. Sakai kicked out of a top rope double-stomp from AZM and sat down on a monkey flip attempt to score the pin.
WINNER: Sumie Sakai in 5:02.
(Pageot's Perspective: A fun, light match and a decent reintroduction to Stardom for the veteran Sakai. The former Women Of Honor World Champion is 47 and was wrestling before AZM was born but she can still go in a hard-hitting match when it's called for or entertain in a match like this.)
-Jungle Kyona said it's the first time she and Saya Iida have teamed together as a duo. She was going to fight like it was a title match because it will be when she faces Momo Watanabe for the white belt soon. Watanabe said she only cares about Kyona in this one while Konami said it was practice for her ahead of her challenging Mayu Iwatani for the WOH title on the next show.
(3) QUEEN'S QUEST (Wonder Of Stardom Champion/Goddess Of Stardom Champion Momo Watanabe & Konami) vs. JAN (Jungle Kyona & Saya Iida)
Iida was isolated for the first half. Kyona eventually made the tag and she got the better of a long exchange with Watanabe. In the end, though, it was of course Iida taking the loss when she tapped out to Konami's armbar.
WINNERS: Queen's Quest in 10:14.
-Kyona and Watanabe had to be separated by their factions at ringside post-match.
(Pageot's Perspective: Good preview of the upcoming white belt match even if the ending was predictable. Any time Iida, Hina, Rina, Ruaka, or Hanan are in a match you know who's taking the loss.)
-Bobbi Tyler said this is the biggest opportunity she's had in Stardom yet. Kimura showed up and leapt into her arms. Utami Hayashishita said Tyler's been picking up momentum but it will be a successful first defense for her of the Stardom World Association title.
(4) FUTURE OF STARDOM CHAMPION/GODDESS OF STARDOM CHAMPION UTAMI HAYASHISHITA vs. BOBBI TYLER – SWA WORLD CHAMPIONSHIP
Lots of kicks and forearms. Hayashishita got the pin by transitioning from her torture rack into a German suplex.
WINNER: Utami Hayashishita in 8:18 to retain the SWA title.
(Pageot's Perspective: Hayashishita has been pushed so hard that there's simply no buying into her losing in matches like these. In fact there are probably only a handful of women on the roster now that I could actually conceive of beating her one on one. She continues to have the best singles record in Stardom in 2019 at 5-0 now.)
-Starlight Kid said Stars have faced Oedo Tai before but none of them have faced their new member Andras Miyagi. Kagetsu led her squad in welcoming Natsu Sumire back from her recent excursion. They said this was also Jamie Hayter's last match with them for a while. Miyagi yelled "fire!"
(5) OEDO TAI (World Of Stardom Champion Kagetsu, High Speed Champion Hazuki, Natsu Sumire, Jamie Hayter, & Andras Miyagi w/Nao Yamaguchi) vs. STARS (Artist Of Stardom Champion/Women Of Honor World Champion Mayu Iwatani, Artist Of Stardom Champion Tam Nakano, Artist Of Stardom Champion Saki Kashima, Arisa Hoshiki, & Starlight Kid) – ELIMINATION MATCH
Elimination occurs via pinfall, submission, or going over the top rope and having both feet touch the floor. Oedo Tai attacked before the bell and the fight spilled into the crowd. All ten women returned to the ring. The babyfaces cleared the other four and quintuple-teamed Miyagi, hitting her with a series of signature moves. Miyagi caught Kashima with a backslide.
Saki Kashima was eliminated at 3:23.
Sumire hit her crotch assault on Kid. Kid connected with a tiger feint kick and standing moonsault. Sumire caught Kid with an inside cradle.
Starlight Kid was eliminated at 7:15.
Kagetsu spit water in Nakano's face. Miyagi worked over Nakano. Nakano hit a cutter on Hayter. Hayter with a ripcord kick and backbreaker. The five heels ganged up on Nakano. Iwatani broke up a pin attempt. Triple superkick to Hayter. Running knee from Nakano for the elimination.
Jamie Hayter was eliminated at 12:44.
Hayter distracted the ref in order to try to give Oedo Tai the opportunity to cheat. Instead Kid jumped back in and stomped on all of the heels. She then joined in for a four-on-four group suplex. Iwatani with a dropkick to Sumire. Sumire whipped her with a towel. Northern lights suplex but Iwatani kicked out. Iwatani rolled her up for the pin.
Natsu Sumire was eliminated at 16:15.
Shining wizard from Iwatani to Kagetsu. Samoan drop from Kagetsu. Both women grappled in the ropes and toppled over together.
Kagetsu and Mayu Iwatani were eliminated at 18:21.
Hazuki and Hoshiki battled. They traded kicks at the twenty-minute mark. Hazuki went over the top rope but hung on. She tried to springboard back in but Hoshiki dropkicked her to the floor.
Hazuki was eliminated at 21:27.
Hoshiki climbed to the top rope and dove off onto all of the women at ringside, nonsensically eliminating herself.
Arisa Hoshiki was eliminated at 21:39.
It came down to Miyagi vs. Nakano. Firefighter's carry into a falcon arrow but Nakano kicked out. Miyagi with a dropkick. She caught Nakano coming off the ropes and spun her into a tombstone piledriver. A gutwrench into a second tombstone was enough.
WINNERS: Oedo Tai in 24:14.
-Kagetsu gave the crowd permission to boo them because they didn't sweep the match. Next week Oedo Tai challenge Stars for the trios titles. Kagetsu put over Miyagi and gave her the mic but she handed it right back. Kagetsu said Hayter and Miyagi are just the start. Expect more new Oedo Tai members soon. Our next show will be Hayter's last Stardom match for a while so she said how much she loves Oedo Tai. Sumire, freshly back from a tour of Spain, said in Spanish, "Hello. How are you? Where's the bathroom?" Tomorrow do your half-assed best. They are Oedo Tai.
(Pageot's Perspective: Great match. Miyagi looked like a dominant monster but I'm surprised they didn't go all the way and have her eliminate three or four of the Stars members or at least come back from a two-on-one deficit at the end to take it. Still, she looked very strong and the pair of tombstones looked brutal. I wonder if there's any chance Oedo Tai adds some rookies to their ranks or if they're above that sort of thing. No word on how long Hayter will be gone but we haven't seen the Apaches in what feels like a long time so the world excursions can sometimes be significant.)
---
Find Harley on Twitter @talkinghonor and listen to he and Emily Fear talk all things Ring Of Honor every Wednesday on the PWTorch Dailycast "Talking Honor."