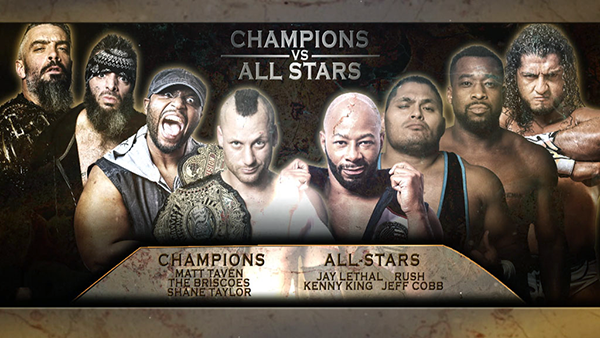 ---
SPOTLIGHTED PODCAST ALERT (YOUR ARTICLE BEGINS A FEW INCHES DOWN)...
---
ROH SATURDAY NIGHT AT CENTER STAGE
AUGUST 24, 2019
ATLANTA, GA AT CENTER STAGE
AIRED ON ROH HONOR CLUB
REPORT BY HARLEY R. PAGEOT, PWTORCH CONTRIBUTOR
Commentary: Ian Riccaboni, Caprice Coleman
We opened with the commentators running down the card. In dark matches that will presumably be exclusive to television Rhett Titus faced Shaheem Ali and Beer City Bruiser took on Vinny Marseglia.
-Riccaboni said that Lifeblood formed in this arena.
(1) ROH WORLD SIX-MAN TAG TEAM CHAMPIONS VILLAIN ENTERPRISES (PCO & Brody King) vs. LIFEBLOOD (Mark Haskins & Tracy Williams)
The villains attacked before the bell and the teams brawled at ringside early. PCO looked for a suicide dive but he "malfunctioned" (as Riccaboni put it) and ended up going for the dive on the wrong side of the ring, crashing to the empty floor. Lifeblood went after King but he took them both out singlehandedly. PCO returned, blood gushing from a gash above his eye, and hit the suicide dive on Lifeblood successfully the second time. "He's not human" chant from the crowd.
Williams fired up at 7:00 but took a spear from PCO. Cannonball from off the top rope connected. Haskins tagged in and unloaded with kicks but got put right down with a sit-out powerbomb from King. Williams crushed in the corner by a splash from PCO and cannonball from King. Haskins dumped PCO. King avoided a piledriver by Williams, backdropping Williams onto Haskins. Sidewalk slam to Williams. PCO went up top but Haskins pushed him off. Williams saved Haskins from a gonzo bomb. Assisted piledriver to King. PCO broke up the pin. Death valley driver from Haskins to PCO on the apron.
As Williams ran the ropes Flip Gordon ran to ringside and hit him with a steel chair. Williams didn't notice he was there so he no-sold it. King guided him into running the ropes again, Gordon hit him again, and this time Williams went down. Gonzo bomb.
WINNERS: Villain Enterprises in 14:31.
(Pageot's Perspective: I'm still under the impression that Lifeblood are supposed to be babyfaces but this feud certainly hasn't done them any favors in that sense. They might have a couple wins over VE but they consistently come across as lesser stars with less charisma. If Juice Robinson was still around it might have buoyed things a bit but Scurll and PCO are so massively beloved that they're fighting an uphill battle, even with Gordon going full heel. Meanwhile it's unclear how PCO suffered the cut but it was a nasty one and not a blade job. He'll be getting stitches for sure.)
-Riccaboni went to the ring for an interview with The Rock 'n' Roll Express. Robert Gibson said it was a pleasure to be back in Atlanta. Ricky Morton said they've been teaming 37 years and will be challenging for the ROH tag titles tomorrow night in his hometown of Nashville. They could become 9-time world tag team champions.  The Briscoes of course interrupted. Jay asked if they didn't get their asses whipped enough last time. (April 27 at Crockett Cup.) Morton said a hot cup of soup and a good night of sleep got them ready to go again. Jay said it's 2019, not 1995 anymore. A swarm of security showed up and got between the teams. Jay promised to beat their asses tomorrow night.
(Pageot's Perspective: This was nearly identical to their Crockett Cup segment. I guess The Briscoes are heels again? Who knows? One week they're faces against G.O.D., then they're heels about RNR, and next week they'll probably be faces again against someone like The Kingdom or Coast 2 Coast. All the ROH graphics to this point have had them listed as Rock & Roll Express. Does another promotion own the rights to their original name?)
-Women Of Honor World Champion Kelly Klein joined commentary.
(2) SUMIE SAKAI vs. ANGELINA LOVE (w/Mandy Leon)
Love blew off the code of honor and clubbed Sakai from behind, while Leon jawed with her. Leon instantly choked Sakai on the ropes as well behind the referee's back. Leon pulled on the ropes to try to prevent a rope break with Sakai in a scissorhold. Sakai hit Smash Mouth at 3:30 but Love kicked out of her finishing move. Samoan drop from Love. They were both distraught that their near-falls didn't put their opponent away despite the match only being four minutes old. Armbar from Sakai. Love rolled out of the way of a moonsault attempt. Leon sprayed hairspray in Sakai's eyes. Botox Injection.
WINNER: Angelina Love in 6:46.
(Pageot's Perspective: Two matches, two bouts of outside interference. As outdated as I find The Allure gimmick to be, I have to admit that Love is a far better wrestler bell to bell than 90% of the wrestlers we see in Women Of Honor. I'm surprised that Karissa Rivera wasn't in Sakai's corner. Last week's TV seemed to be establishing their teacher-student partnership. Unfortunately with a lot of ROH storylines steps one and two get initiated and then months pass with no follow-up. Shane Taylor's alliance with Soldiers Of Savagery comes to mind as does Maria Manic debuting two months ago and still not wrestling a match.)
-CMLL stars Felino and Okumura made their entrance for a trios tag. Their partner, Silas Young, was out next with his new protégé Josh Woods. Woods had a notebook for taking notes.
(3) SHINOBI SHADOW SQUAD (Cheeseburger, Eli Isom, & Ryan Nova) vs. SILAS YOUNG, OKUMURA, & FELINO (w/Josh Woods)
Burger and Okumura started. Felino and Nova tagged in. Young and Isom were next. Isom gained control over Young and 3S went to work. Okumura kicked Burger in the back as he ran the ropes and Young took over. The luchadors double-teamed Burger for about a full minute or two while referee Todd Sinclair just watched and made no effort to get the illegal man out of the ring. Wheelbarrow DDT. Tag back to Young. Hot tag to Isom, who cleaned house. Springboard moonsault onto his opponents at ringside. Hanging DDT from Okumura to Isom. Tower of doom spot. Things continued to be messy with all six men in and out and around. It was unclear who was legal by this point. Felino powerbombed Nova off the second turnbuckle.
WINNERS: Felino, Okumura, & Young in 10:32.
-Young took a mic. "Better luck next time, boys." He summoned Woods. He called him a pain in the ass but said he saw potential in him. He asked Woods if he's been learning what Young's been teaching him. Woods apparently low blowed Okumura but the cameras completely missed it. He then hit a t-bone suplex on Felino. He and Young yucked it up.
(Pageot's Perspective: At least Woods didn't factor into the finish. Riccaboni can read off the résumés of guys like Felino and Okumura as they make their entrance but it's just not enough. ROH has to stop assuming that anybody who watches their product must be intimately familiar with every person on the CMLL and NJPW rosters as well. Some sort of video package would go such a long way to tell us who these guys are before the match. CMLL talent have stolen the show in their past few ROH appearances but it's always solely due to their athleticism. I have no idea who any of them are as characters or even which ones are faces and which are heels.)
-Riccaboni said none of the men in our next match have ever challenged for the ROH TV title.
(4) "DAREWOLF" PJ BLACK vs. "THE HUMAN ROCKET" LSG vs. "THE CROWN JEWEL" CHASE OWENS – #1 CONTENDER TO THE ROH WORLD TELEVISION CHAMPIONSHIP
The ROH stars worked together against the outsider to start. Owens with a sharpshooter to Black. He and LSG battled. Black returned for a top rope overhand chops to both men. High crossbody to both. He stacked them up and hit a springboard moonsault onto both of them. Billy Goat's Curse to LSG. Owens chopped him into letting go. Three-way chopfest. Owens stopped it with dual eyepokes. LSG with a springboard slingblade to Owens. 450 to Owens but Black broke up the pin. LSG crotched Black on the top rope. Tower of doom. Owens tried to steal a pin on LSG with his feet on the ropes but LSG kicked out. Black leapt off the top into a knee to the chin from Owens. High knee to LSG. Package piledriver.
WINNER: Chase Owens in 9:58.
(Pageot's Perspective: Owens will get his title shot in his hometown of Nashville tomorrow night at Honor For All when he faces Shane Taylor. This one was okay. They had high aspirations but it wasn't quite as fluid as it might have been with other people involved.)
-Dalton Castle made his entrance. He wore a glittery suit and had a microphone taped to his riding crop. The fans treated him like a top babyface. He said they get it. They appreciate how important he is. The people backstage walk past him and ignore him. If it weren't for him, ROH would just be a bunch of dorks cutting the sleeves off their perfectly good t-shirts. He wondered if something was missing and gestured to his waist. Maybe getting the world title back would get him back the respect he deserves. He declared himself the most entertaining person in all of ROH and vowed he'll become ROH world champion again. He'll also punch anyone who gets in his way.
Joe Hendry interrupted. Riccaboni freaked out that he was actually here live but the crowd was very flat. Hendry's mic cut out and the crowd responded with a "Dalton Castle" chant. He called Hendry a dingleberry to a pop. Hendry fired up, declaring himself a future world champion, to boos. Hendry challenged him to a match, intending to use Castle as a stepping stone to the world title. Hendry declared himself now the most entertaining man in ROH.
(Pageot's Perspective: That was about as awful as a first appearance for Hendry could go. His unscheduled appearance was intended to result in a huge pop but Castle is so popular that they were firmly on his side. And, just like I said with the CMLL guests, ROH has done so little to introduce Hendry prior to this point that the majority of the crowd had no idea who this guy was in the gold Power Rangers gear, singing and disrespecting Castle. For a promotion that struggles so badly to make stars and get characters over I will forever be baffled that ROH in 2019 insists on taking the handful of people that ROH fans actually adore (Castle, Gordon, Gresham, Briscoes…) and booking them as heels. It seems so counter-intuitive and just makes things so much more difficult for their babyface opponents (Lifeblood, Hendry, Shinobi Shadow Squad…) than it needs to be.)
(5) ROH WORLD SIX-MAN TAG TEAM CHAMPION "THE VILLAIN" MARTY SCURLL vs. BANDIDO
For some reason they spent the first minute dancing. Scurll took out Bandido with a superkick off the apron. He ran into the crowd and teased high-fiving a fan but gave him the finger instead. He took another fan's world title belt, posed with it, and then left it with Bobby Cruise at the timekeeper's table. Bandido took control with a Fosbury flop.
Both men were down at 10:30. Bandido avoided a chicken-wing attempt. Powerbomb but Bandido kicked out. Ex-knee to Scurll. Scurll avoided a 21plex and looked for the chicken-wing again. Bandido avoided and hit a running shooting star press. Both men stood on the top rope for 10-15 seconds slowly getting into position as Scurll looked visibly uncomfortable. The result was Bandido flipping over into a sort of moonsault body slam. Both men laid on the mat but Scurll suddenly no-sold and locked on the chicken-wing. Bandido escaped but Scurll hit the Black Plague.
WINNER: Marty Scurll in 18:53.
-Scurll and Bandido shook hands and hugged. (Really putting some heat on that Lifeblood-Villain Enterprises feud.)
(Pageot's Perspective: Shockingly dull. I've never felt less in tune with the commentators who raved about this dream match living up to all expectations and both men giving their all. The match I watched was slow and disjointed.)
-"The Genius" Lanny Poffo made a surprise appearance accompanied by interviewer Quinn McKay. He joined commentary for the main event. (Is he going to be the victim of a heel turn from his friend Jay Lethal?)
Kenny King entered first with his new valet, ex-timekeeper Amy Rose. Jeff Cobb was out second for his first ROH appearance since his undefeated streak came to an end in the main event of Best In The World on June 28. Jay Lethal was third. He insisted that Rose be sent to the back while Riccaboni said she has a manager's license now and is allowed to be in King's corner. Lethal and King came to blows at ringside until security separated them and Cobb tried to talk Lethal down. Rush was out last for the all-star team. (Interesting hierarchy considering Rush is the only member of the quartet to not hold gold in ROH and Lethal is the longest-reigning world champion in ROH history.) Shane Taylor was out first for the champions, followed by The Briscoes, then Matt Taven.
(6) ROH WORLD CHAMPION MATT TAVEN, ROH WORLD TAG TEAM CHAMPIONS THE BRISCOES (Jay Briscoe & Mark Briscoe), & ROH WORLD TELEVISION CHAMPION SHANE TAYLOR vs. RUSH, JAY LETHAL, JEFF COBB, & KENNY KING (w/Amy Rose) – ELIMINATION MATCH
Cobb and Taven started for their teams but Rush wanted in so Cobb allowed it. Taven tagged out to Jay Briscoe. After some even back and forth Rush spat on Jay and tagged in Lethal. Mark Briscoe also tagged in. More quick tags back and forth after every three moves. The all-stars began to isolate Taven. Rush and King worked well together but Lethal tagged in and slapped King across the face. Taven tagged to Jay at 10:30. Time for Lethal to be isolated by the champions including some dirty tactics behind Todd Sinclair's back. Things broke down at 16:00 with Mark leaping off a chair to hit a cannonball over the ropes that took out Cobb and Taylor. Redneck Boogie from The Briscoes to King. Cobb narrowly broke up the pin. Rose offered a water bottle to King in the ropes. Jay took it and poured it on her to a big pop. King rolled up Jay off the distraction.
Jay Briscoe was eliminated at 17:22.
Rose was dripping wet so King sent her backstage. (He is still a heel after all.) King danced around the ring in celebration while Taven, Taylor, and Mark conferred on their strategy. King meanwhile talked smack to his own partners about being the only one to eliminate somebody so far. King and Taven locked up. Lethal tagged himself in. He got the advantage over Taven, which sent Taven scrambling to tag Taylor. King blind-tagged himself back in, annoying Lethal. King goaded Taylor into charging before ducking and sending the big man toppling to the floor. King with a corkscrew crossbody. Taven leapt in and took a blue thunder from King. Taylor ran Lethal back-first into the ring post. King with a spinebuster to Mark. King looked for an up and over but Taylor caught him and nailed Greetings From 216 for the clean pin.
Kenny King was eliminated at 22:29.
Taven rolled Lethal into the ring. Taylor with a backbreaker. The heels worked over Lethal. On the floor Lethal dodged a big boot from Taven and Taven took out Taylor by accident. Back drop to Taven at ringside. Mark wanted a superplex on Lethal. Lethal fought him off. Lethal Injection!
Mark Briscoe was eliminated at 27:56.
Taven immediately jumped on Lethal and started pummeling him. The heels isolated Lethal again. Lethal looked for a tag. Taylor tried to pull him back from his corner. Lethal kicked Taylor off and Sinclair took a back elbow from Taylor. Tag to Rush. Snap German suplex. High knee to Taylor. The Worst Referee™ Todd Sinclair yelled at Rush for being in the ring "illegally." (He didn't care about that sort of thing during the trios tag earlier.) As he ordered Rush out of the ring Taven of course kicked Lethal between the legs. Two high knees from Taven and Taylor but Cobb broke up the pin. The four other men fought with Lethal down. Taven leapt over the ropes to take out Cobb and Rush with a splash. Lethal took out Taven with a springboard dropkick. Lethal Injection caught and Taylor planted him with Greetings From 216.
Jay Lethal was eliminated at 32:21.
Taylor was in ecstatic disbelief that he pinned Lethal. Rush and Cobb went face to face with Taven and Taylor. They threw hands. Cobb avoided a Climax. Spinning side slam. Taven countered a Tour Of The Islands into a Russian leg sweep. Rush and Taylor fought on the floor. Cobb wanted a tag but his partner was nowhere to be found. Rush jumped into the ring and went after Taven. Sinclair just watched while they fought. Rush disposed of Taven. Taylor snuck up from behind. They traded chops, then forearms. Rush put him down in the corner and looked for The Bull's Horns. Taven jumped onto the apron with a steel chair. Rush saw him coming and tensed up, bracing himself for the shot to the back, instead of… I don't know… moving?
Matt Taven was eliminated via disqualification at 36:35.
Taven with two more chair shots to Rush's back. More chair shots to the ribs, then he choked Rush with the chair. As Rush hulked up and powered the chair off of his throat the video abruptly ended.
According to ROHwrestling.com, Taven then left and Rush hit The Bull's Horns on Taylor for the win.
WINNERS: Rush & Jeff Cobb for Team All-Stars in 37:00+.
(Pageot's Perspective: The fact that the video cuts off before the end of the main event is so embarrassing that I can't even make it up. I'm watching this 18 hours after the show finished live in the arena. That means that either nobody has noticed in the past 18 hours that the conclusion to their show is missing or people have noticed and nothing has been done about it. Neither scenario is at all forgivable.
The match itself? Pretty good. Taylor looked like a big deal. The King-Rose partnership was forwarded a little. Lethal loses again, which will be fuel for Jonathan Gresham to goad him about. Rush didn't quite look as special as you might expect since he's obviously the next person challenging for the world title but that's par for ROH in 2019. They're great at hearing who's special on the indies, scooping them up, and riding their already-established wave of success. They just don't really build on it in any way.)
---
Find Harley on Twitter @yrechoheart and listen to he and Emily Fear talk all things ROH every Wednesday on the PWTorch Dailycast "Talking Honor."