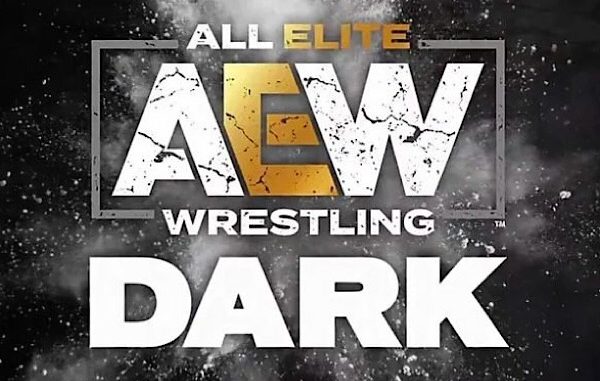 ---
SPOTLIGHTED PODCAST ALERT (YOUR ARTICLE BEGINS A FEW INCHES DOWN)...
---
AEW DARK TV REPORT
APRIL 12, 2022
RECORDED AT UNIVERSAL STUDIOS, ORLANDO, FL
AIRED ON YOUTUBE.COM
REPORT BY RYAN HOWARD, PWTORCH CONTRIBUTOR
AEW Dark Announcers: Excalibur and Taz
Ring Announcer: Dasha Gonzalez
-Excalibur and Taz on the call, welcoming us to the show.
(1) POWERHOUSE HOBBS vs. AXTON RAY
Hobbs immediately rag dolled Ray to start things off. Ray showed off his agility by doing a backflip out of the corner, but ran right into a lariat. Hobbs applied the Torture Rack for the ultra quick win.
WINNER: Powerhouse Hobbs in 1:30
(Howard's Analysis: If you could put multiple Hobbs squashes on a single episode of Dark, that wouldn't be a bad thing.)
-A video package is shown that highlighted the Eddie Kingston & Chris Jericho feud. Both men cut promos as the soundtrack to the formation of the Jericho Appreciation Society. Kingston feels bad for 2point0 & Daniel Garcia, but doesn't feel bad for Jericho & Hager. Eddie asks what their kids will think when their fathers won't be able to walk. If you play Kingston's game, you leave scarred and if you go to hell, you know the devil isn't someone to mess with. Tell me if you've heard this before, but Eddie Kingston cut one hell of a promo here. This was an excellent video package building to tomorrow night.
(2) MAX CASTER vs. MIKE REED
Reed used his speed to outsmart Caster in the early going, as a slingshot splash connected, but Reed wasted too much time. As Reed went for a cross body off the second, Caster caught his opponent and hit a bodyslam. Reed escaped a chin lock, but Caster cut him off with a back suplex. Reed countered an uppercut into a backslide for two and fired off a few right hands. Caster went for a chain shot, but Reed blocked it into a Flatliner. Reed attempted to use the chain, but the ref stopped him, which allowed Caster to hit a pop up low blow kick. A brainbuster and Mic Drop sealed the deal for Platinum Max.
WINNER: Max Caster in 4:00
(Howard Analysis: Despite being a heel, Platinum Max scissored with many fans post match, which is something I feel weird even typing out.)
-Another fantastic video package aired, this time on Ring of Honor TV Champion Minoru Suzuki and Samoa Joe. I can't believe we're getting this match in ROH and to say I'm looking forward to it is a severe understatement. I wonder if these gentlemen will chop each other?
(3) DIAMANTE vs. MYLO
Mylo is making her AEW debut and Diamante welcomed her with a series of chops. Mylo threw a headbutt and crucifix pin for a near fall. Mylo hit a dropkick, but missed the follow up and Diamante connected with a release German suplex. Diamante took her time, as she dismantled Mylo with multiple short arm clotheslines and locked in the straight jacket body lock choke for the win.
WINNER: Diamante in 1:30
(Howard's Analysis: Diamante has been stacking singles wins in 2022, which makes me hope she's bound for something big in the near future in the AEW women's division.)
-Our third video package of the night highlighted the AEW Tag Team Title match on tap tomorrow night with reDragon challenging Jurassic Express. Kyle & Bobby are ready to remind the world who the hell they are, which Jungle Boy & Luchasaurus didn't spend a year wrestling every schmuck in the book to give up the titles this easily.
-We get a Rohit Raju running down the "stars" of AEW and not being impressed. He tells us he is THE star and everything should revolve around him. Tonight he will shine a light on Dark and says he will defeat Shawn Dean tonight in the main event. This was a solid promo from Raju and happy he got a chance to cut one.
(4) JORA JOHL vs. TEDDY GOODZ
Both men are coming off of losses last night on Elevation, as Goodz hit a charging forearm early, but Johl responded with a stalling double arm under hook back breaker. Goodz fought off a suplex twice, threw some chops, but ran right into a snap powerslam from Johl. Goodz stunned Johl, tried a Diamond Cutter, but Johl avoided it and hit a sit out fireman's carry slam. Johl loaded the boot and hit a nice pump kick to the face for the victory.
WINNER: Jora Johl in 2:30
(Howard's Analysis: I don't understand how Jora Johl is still in the A.F.O. since he hasn't been accompanied by anyone since Andrade took over. Regardless, this was an impressive victory for him and hopefully a start of a winning streak.)
-Our final video package of the evening is on the Texas Death Match on tap for Rampage this week for the AEW World Championship. Had we not gotten that amazing Eddie Kingston promo in his video, I'd say this was the best of the bunch we've seen tonight, as Adam Cole vs. Adam Page is a big time match that has a big time feel. They've done a great job building this, but I wonder what's next for Adam Cole if he loses to Hangman? I have a feeling CM Punk is up for whoever walks away champion.
(5) EMI SAKURA vs. CHARLETTE RENEGADE (w/Robyn Renegade)
Both ladies traded stiff chops to begin things, but Emi hit a kitchen sink knee to gain control. A hair mare sent Charlette clear across the ring, as Emi started her We Will Chop You chant. Taz was a little sad he couldn't do his chant, as Emi tweeted she wasn't a fan. Charlette ran into Robyn on the apron, as Emi got an eye poke and back breaker. La Magistral ended things super quickly as Emi got the pin.
WINNER: Emi Sakura in 2:00
(Howard's Analysis: It felt like the miscommunication by the Renegade's was kind of unnecessary, but regardless, Emi made short work of Charlette here tonight.)
(6) SHAWN DEAN vs. ROHIT RAJU
Taz tried to argue Dean's wins have been tainted, while Excalibur said the same thing could be said about MJF. This froze Taz and he realized he had zero argument and reluctantly agreed. Raju scored an early takedown and showed no respect for Dean, as he wiped his feet. Dean returned the favor and it led to a fast misdirect spot, as Raju hit a leg sweep. Dean popped up and fired off a few arm drags and dropkick. A combo of kicks resulted in a near fall for Dean, who clotheslined Raju outside. Raju avoided a dive and slammed Dean on the apron with a sweep. Back suplex on the apron got Raju a two count back inside. Raju hit a nice spinning neckbreaker and fisherman's suplex for another two. Dean mounted his comeback with a single arm suplex and this time was able to hit a somersault dive to the floor. Back inside, Dean went to the top and hit a massive splash for two. Raju escaped a slam and fired off a few shots into a leaping Flatliner for a very close two. A frustrated Raju missed a pump kick, but ran right into a hammerlock driver from Dean to give him the win.
WINNER: Shawn Dean in 6:00
(Howard's Analysis: Strong showing for The Captain before his big rematch with MJF tomorrow night. These are the kind of competitive matches I'd like to see more of on Dark, as Raju did a very good job, even in defeat, while Dean looked great as well. This was a very enjoyable main event.)
FINAL THOUGHTS: I think after this episode tonight, they're nearly all out of matches in the can for Dark. My birthday is in two days, all I want is for Dark to have more competitive matches in the next wave of tapings. I could cut and paste everything I said last week right here this week as well. The positive of this week was the lack of actual matches meant we got video packages about the matches for Dynamite, which I loved. I like highlighting what we're in store for on your main show. I'd like more of that on future episodes of Dark. The video packages were the best part of this episode, but Match of the Night goes to Shawn Dean vs. Rohit Raju.
I know I sound like a broken record, but with Tony Khan purchasing Ring of Honor, Dark & Elevation would be an excellent place to start having competitive matches each week to start highlighting talents you plan on using if and when ROH get a TV or streaming deal. Elevation already has those competitive matches each episode, so please show Dark the same kind of love. I'm not saying scrap squash matches, I'm saying don't let it be entire episodes. Let there be longer matches to give folks more ring time and utilize your talented expanded roster.
---
NOW CHECK OUT LAST WEEK'S AEW DARK REPORT: 4/5 AEW DARK TV REPORT: The Factory vs. Dark Order, Abadon vs. Hera, more