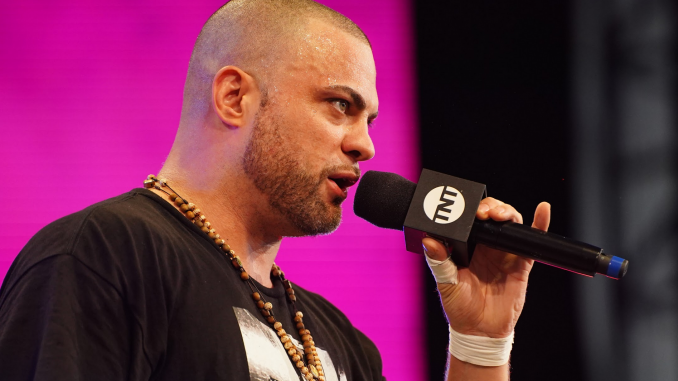 ---
SPOTLIGHTED PODCAST ALERT (YOUR ARTICLE BEGINS A FEW INCHES DOWN)...
---
AEW RAMPAGE HITS & MISSES
Adam Cole defeated Ishii: 50-50
AEW loses a lot of marks from me for not even bothering with a video package on Ishii on Dynamite. Combine that with a lack of an entrance, how am I supposed to be excited for this match if I don't watch NJPW? When I saw Orange Cassidy was ringside to support Ishii, I figured he's just an OC type of comedy character that can put on good matches.
The match itself was fun but unremarkable. Ishii didn't create a lasting impression on me, and this didn't get me excited for the super show in June. He didn't show any sufficiently unique skills, character wise or in the ring, that makes me think "we have to have him back!" However, I wouldn't mind seeing Ishii against Keith Lee, Samoa Joe, or Powerhouse Hobbs in the future.
Jay White interfering and doing Adam Cole's dirty work doesn't do justice to the hype I've heard about him. Maybe the interference itself isn't as much a problem as the way he executed it and carried himself. There's just something a little too ordinary about him. However, I will trust Javier Machado's word that Jay White is more of an acquired taste.
As an aside, I heard Cassidy has been out injured for a while. Good to see he's recovered enough to walk around at ringside.
Jericho Appreciation Society Backstage Segment with Security: HIT
Some entertaining comedy from JAS here. It's a win-win because we get to see Jericho's hilarity, build-up for Garcia's match later tonight, and an excuse to keep Jericho off commentary.
Hook Backstage with Danhausen: MINOR HIT
Hook finally spoke to Danhausen, albeit very few words. All it took was messing with Hook's chips.
I'm not fond of Hook spending several weeks in this "feud." The tepid reaction on AEW Dynamite two nights ago may be an indication of how this may have cooled Hook's hype a little.
Lance Archer defeated Serpentico: IT HAPPENED
Quick, showcase win for Archer, who is going to go up against Wardlow on Dynamite next week. Shawn Spears was on commentary to talk up the match.
I just can't with Lance Archer anymore. The start-and-stop monster pushes and long absences just hurt his character.
Tony Nese/Mark Stirling Video Promo: MINOR HIT
Nese needs a bit of pizzazz if people are to take him seriously now, and videos like this are a good way to keep him in people's minds. I reckon he will have to expand his faction if he wants more notoriety.
Eddie Kingston defeated Daniel Garcia: HIT
A very well-worked, psychologically-sound professional wrestling match (no offense, Daniel). A little tame considering how every promo Kingston has cut on JAS has approached the border of death threats, but you can argue that he wants to save the real violence for Jericho. You can also argue that Garcia has taken too many singles losses on AEW television, but I don't think it's hurt him that much. Best match of the evening.
Post-Match Promo by Eddie Kingston: MINOR HIT
After the match, Kingston cut a very short promo on Jericho. It was fine.
Keith Lee and Swerve Strickland Interview: MINOR HIT
Good promo to keep the feud going, but I don't know what else to look forward to. The rivalry feels played out.
Ricky Starks's Retort to Lee and Strickland: MINOR HIT
One of Starks's better promos, but I just can't stand how he and Taz slide right back into pro-social fan mode on commentary. I don't want to be reminded of how your heel antics is just acting and entertainment.
Britt Baker, Jamie Hayter, Toni Storm Backstage Interview: MISS
Toni Storm did a majority of the talking, and while her delivery was confident, her content was underwhelming. This did nothing to make me excited to see her fight Hayter or Baker.
FTR Video Package: HIT (but MISS on timing)
This video package, hyping up their singles match against each other to qualify for the Owen Hart Cup, should have aired on Dynamite two nights ago. Sandwiching the announcement in between a dozen others was a travesty.
The announcers mentioned that a lengthier build-up will air on YouTube, but even two minutes from that special would have had so much more impact on a prime-time slot on television. These two have tremendous momentum right now, and you need to capitalize on that.
Main Event Promo: MISS
Cargill was alright, Stirling tried but just isn't as smarmy as he needs to be, and Shafir really had nothing to say other than "problems don't care about plans." A weak promo segment after several weeks of great main event promos.
Jade Cargill defeated Marina Shafir to retain the TBS Championship: 50-50
I kind of like Marina Shafir, but Pittsburgh couldn't care less. Despite the odd clunky spot and lack of selling, I didn't think this was a bad match – Cargill is improving every week and Shafir showed a lot of promise. However, the crowd apathy was palpable. Yes, there were pockets of noise, but I never got the sense that the people were invested in Shafir ending Cargill's streak. You can't ignore that in a television main event. So, while the work was mostly good, I have to settle at 50-50 for a rating.
Should Shafir go heel? No. Not yet at least. The AEW Women's Division has a serious lack of good babyfaces. Too many talented wrestlers are heels, and Shafir would just drown on a saturated heel roster. I don't get the sense that Shafir is being vociferously booed either. Instead of a heel turn, I think they should just persist patiently with Shafir for a while (on television, not Dark) and see if the crowds warm up to her. She has mega star potential, but she needs patience and support.
Red Velvet as a member of the "Baddies": MEGA MISS
There was a "Baddies" section at ringside to support Jade Cargill, which included Red Velvet. Yes, you read that correctly, Red Velvet is a heel aligned with Cargill now. Who? What? Where? Why? When did this happen? How did this happen? I know she was booed against Willow Nightingale and acting a little heelish, but how does that lead to suddenly joining the fan club of her long-term nemesis? Shouldn't her heel turn story have more substance?
This is another example of AEW skipping too many middle chapters in character development. It really hurts the product, in my opinion. The Cargill-Velvet rivalry is something that loyal Rampage fans like me have followed closely, and it's disappointing to see it take such an incoherent turn.
Commentary: MINOR HIT
Excalibur and Taz were good tonight, but I'll continue to penalize the commentary for as long as Taz remains an on-screen heel character but morphs into someone else on commentary.
In addition, Ricky Starks continues to seem non-existent at the announce desk. Jericho wasn't here this week to overshadow him either.
Overall Show: MISS
Decent but skippable wrestling. Poor character building, match hype, and story telling plagued the show. Arguably the weakest episode of Rampage to date.
---
CATCH-UP: 4/22 AEW RAMPAGE TV RESULTS: Moynahan's report on Cole vs. Iishii, Kingston vs. Garcia, Hook speaks, Archer vs. Serpentico