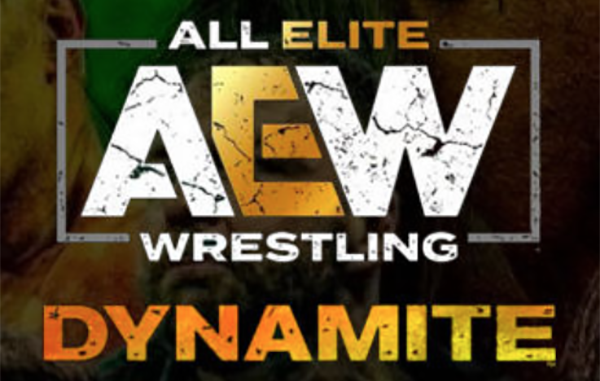 ---
SPOTLIGHTED PODCAST ALERT (YOUR ARTICLE BEGINS A FEW INCHES DOWN)...
---
KELLER'S AEW DYNAMITE "ROAD RAGER" REPORT
JUNE 15, 2022
ST. LOUIS, MO. AT CHAIFETZ ARENA
AIRED LIVE ON TBS
Commentators: Jim Ross, Tony Schiavone, Excalibur
Ring Announcer: Justin Roberts
---
[HOUR ONE]
-The Dynamite opening aired. Jim Ross introduced the show.
(1) CHRIS JERICHO (w/Daniel Garcia, Jake Hager, "Daddy Magic" Matt Mendard, Angelo Parker) vs. ORTIZ (w/Santana) – Hair match
William Regal joined in on commentary. He called Jericho a "toss pot." Ross wondered what that is. Schiavone said he doesn't want to know. Jericho & Co. came out first. Then Ortiz came out. They showed a brief inset image of the March 9 Dynamite where they broke up and the June 1 hair snipping by Ortiz. (Glad to see AEW adding these brief recaps with some backstory to these matches.) Ortiz went after Jericho aggressively early. He beat up Jericho in a barber chair at ringside. Regal kept incorporating various British slang that Schiavone was fascinated with. A graphic hyped Wardlow vs. "Plaintiffs," Dax Harwood vs. Will Ospreay, and a Jon Moxley-Tanahashi "Face to Face," Toni Storm vs. Britt Baker, and Ethan Page vs. Miro in an All-Atlantic Title tournament match. (So that wasn't a dream?)
Back in the ring, Ortiz blocked a huracanrana and powerbombed Jericho off the ropes. Ortiz then hit a diving headbutt and stayed on Jericho's chest for a near fall. Jericho came back with a suplex off the ring apron onto the mat at ringside. They cut to a split-screen break. [c/ss]
(During the break, Sonny Kiss spoke of being gender fluid. She said no one should tell anyone who to be. "There's nothing more beautiful than being yourself, finding yourself, and being exactly who you are apologetically. That's when you have power. Don't let anyone tell you aren't or you can't because it's possible. And I'm living proof.")
Jericho stayed in control during the break, even flexing his arms for the camera Dana Brooke style. Jericho eventually applied a Walls of Jericho mid-ring. Ortiz grabbed the bottom rope. When Angelo tried to knock his hand off the rope, a brawl broke out with everyone at ringside. Eddie Kingston and Wheeler Yuta joined in. Kingston entered and nailed Jericho with a spinning backfist as the ref was tending to wrestlers at ringside. The ref turned around and counted a believable, dramatic near fall (believable only if you thought Jericho would agree to having his head shaved). When Hager stood on the ring apron, Kingston grabbed him. Fuego del Sol then snuck in and jabbed Ortiz in the head with a baseball bat. Jericho got the three count.
WINNER: Jericho in 11:00.
-Excalibur wondered what Fuego's interest was in Jericho keeping his hair. Fuego then unmasked and revealed he was actually Sammy Guevara. Schiavone said Guevara has reunited with Jericho. He said they were together at the very first Dynamite and are back together again. Fans chanted, "Sammy sucks!" The barber entered the ring with a clipper. Ortiz took the clipper and scissors. He snipped off his own hair with the scissors, then shaved his head himself. Kingston said, "This ain't done." Ortiz then shouted, "Blood & Guts! Blood & Guts! Blood & Guts!" Excalibur said that's coming up in two weeks.
(Keller's Analysis: Good to see Guevara back with Jericho because he's 100 times more interesting as a heel with Jericho than as a babyface, and even though he's much better as a heel alone, he and Jericho play off of each other well.)
-The "People's Court" theme played as they previewed the match.
(2) WARDLOW vs. 20 PLAINTIFFS (w/"Smart" Mark Sterling)

Wardlow made his entrance. When he entered the ring, the 20 Plaintiff "security guys" stood on the ring apron. Wardlow knocked a bunch of them off the ring apron. They were announced as eliminated. Fans laughed. They took turns going after Wardlow, but he knocked them down with clotheslines. He released powerbombed one guy into a group who caught him on the floor. Ross wondered who was left. Four entered the ring and charged at him, but Wardlow made one tap and pinned another. The bell rang for some reason. Wardlow beat up some more of them. He stacked up four on each other and covered them for what seemed like the end, but it wasn't. This went on a while (past the novelty of it all) and he finished them off with more powerbombs and pins while Mark Sterling protested and fretted at ringside. Wardlow caught a guy leaping off the top rope and slammed him onto a pile of others for the final pinfall win. The ring announcer said: "All plaintiffs have been eliminated; therefore, this case is dismissed."
WINNER: Wardlow in 4:00.
-Afterward, Wardlow grabbed Mark Sterling and threw him into the ring. As Sterling begged off, Dan Lambert interrupted from a luxury suite. Lambert, standing next to Scorpio Sky, told Wardlow to keep an eye out for members of American Top Team coming after him. They showed Matt Hughes and Tyrone Woodley at ringside. Lambert ordered them to go after Wardlow. They entered the ring. Wardlow asked if Hughes and Woodley are from St. Louis. They nodded. He said he knows they're smarter than to take orders "from some rich asshole in the skybox." He said they could fight, but he thinks they come from the same cloth. Sterling ordered them to attack, but instead they threw Sterling at Wardlow, who powerbombed him. Lambert threw a fit.
(Keller's Analysis: It went on a little too long and was pretty silly, but ultimately I think pretty much harmless fun if they can just move on to something significant for Wardlow right away now. Good to see Hughes moving around and smiling after that nasty train accident and medically induced coma he went through.) [c]
(3) DAX vs. WILL OSPREAY
They again showed brief clips on split-screen of past interactions with Dax and Ospreay as Excalibur speed-talked a recap. As Ospreay came out, wearing a RevPro Title belt (titles for everyone!), Ross said he's among the top five or six wrestlers worldwide in the last six years overall. He said he's young and hungry. Schiavone noted he won the IWGP U.S. Title recently. Excalibur noted he had a different belt with him. (Two belts for everybody!) When the bell rang, Ross called this a "dream match in my eyes." Ospreay did various mannerisms after early shots against Dax. Dax fired back with hard chops and a nice snap suplex followed by a high back bodydrop. Graphics in the corner hyped the ladder match for the AEW Tag Team Titles later and also "Hangman" Adam Page would speak, among other matches. A dueling chant broke out for both wrestlers. Excalibur started listing a ton of Ospreay's accomplishments in New Japan. He even said the acronyms might be confusing for some fans, and explained that the IWGP is the governing body of those championships for New Japan. Ospreay hit Dax with a shotgun dropkick at ringside, sending Dax hard into the ringside stairs. They cut to a split-screen break at 4:00. [c/ss]
Dax landed a series of unreleased German suplexes. With both men down and slow to get up, an "AEW!" chant broke out. Dax set up a top rope back suplex. Ospreay flipped out of it and landed on Dax with a crossbody for a two count. Dax countered with a couple near falls himself at 10:00. Fans applauded. Ospreay slingshot himself onto Dax at ringside. Ospreay landed a top rope flying elbow to the back of Dax's head for a believable near fall. Ospreay went for a cutter, but Dax blocked it and then slingshot powerbombed him for a close near fall. The pace continued and the crowd was really into it, many standing. Schiavone noted FTR are champions of three companies. They stood mid-ring exchanging strikes. Ospreay landed a high hook kick. Dax came right back with a lariat. Ospreay came back with a Liger bomb for a near fall. He then hit the Ospreay Cutter for a believable near fall. Then he went to his running back elbow to the back of Dax's head for the win.
WINNER: Ospreay in 14:00.
(Keller's Analysis: That was one hell of a match. I think people who have never seen Ospreay will be impressed.)
-United Empire members entered the ring and congratulated Ospreay. Cash Wheeler, Rocky Romero, and Trent Beretta entered to try to protect Dax. Orange Cassidy's music then played. They cut to Ospreay looking at the stage quizzically as Cassidy walked out. Cassidy stood behind Ospreay. Ospreay turned around slowly and stared down Cassidy. Dax, Cash, Trent, and Romero joined Cassidy. Ospreay bailed out and left with his crew.
-Excalibur said it became official this weekend that Moxley will face Tanahashi at Forbidden Door for the Interim AEW Title. A vignette aired with Moxley saying Tanahashi is the big name he's been aiming for. New Japan announcer Kevin Kelly said Moxley claims Tanahashi was ducking him. Mox said, "I am the f—in' forbidden door."
-Ross said they'd go face to face live next. [c]
-Moxley made his ring entrance. When Tanahashi came out, Ross said as soon as he saw him, he became a top three favorite. Exacalibur said some have called him the Japanese Bret Hart. Fans chanted, "Holy sh–!" as they had a staredown. Moxley said he's been chasing him a long time. He said he's finally there in all his glory. He said he chased him across the Pacific. Some fans chanted "Tanahashi." Mox said he deserves respect. He said they call Tanahashi "Ace" for a reason, but not for long. He said he's the best pro wrestler on the planet. He said some pretend, but he lives it night in and night out. He said everything will be on the line because he plays for keeps. He said when the dust settles at Forbidden Door, Tanahashi will call him Ace. Tanahashi took the mic, but then Jericho's music interrupted. Jericho walked out with Guevara and Tay Conti.
Excalibur said Jericho fought Tanahashi at WrestleKingdom 14 at the Tokyo Dome. Jericho said the only reason Moxley is standing there is because he wasn't there last week. He said he belongs in that spot, and if he doesn't walk away now, he might burn his face "because I'm a wizard." He said the last time he saw him, he beat him in the main event of the Tokyo Dome. Tanahashi told Jericho to shut up. Jericho ordered his guys to attack him. Hager, Garcia, Angelo, and Matt ran out to the ring. Lance Archer and Desperado then attacked Tananashi from behind. Excalibur explained their backstory briefly. Jericho introduced Sammy and Conti as the newest members of the J.A.S. He said they are the sex gods. He said Archer and Desperado were on loan from their leader, Suzuki. He said they (Jericho & Archer & Guevara) will team for the first time ever at Forbidden Door against Yuta, Shota Umino, and Kingston. Ortiz and Santana ran out to clear the ring of J.A.S. Mox helped out. Tananashi attacked Desperado, then turned for a final staredown with Moxley. Ross said it's a pro wrestling dream match and it could be the Match of the Year, "maybe the Match of the Decade."
(Keller's Analysis: The Moxley-Tanahashi segment before Jericho came out would have been enough, with Tanahashi just saying one memorized line. Yes, they circled back to those two at the end, so that's good, but so much else happened it was information overload.)
-Excalibur threw to a brief video package on Darby & Sting vs. Kyle O'Reilly & Bobby Fish. [c]
-Schiavone interviewed Toni Storm backstage about facing Britt Baker later. Storm said Baker is a dentist, which means she's a smart woman. She said she dropped out of school at age 15, but she's not dumb enough to play the games Britt does. She said she has the skillset of a world champion. She said she'll take the women's division to where it should be. She said she wants to be World Champion.
(Keller's Analysis: Storm comes across as a confident star in these promos. That's half the battle sometimes.)
(4) MIRO vs. ETHAN PAGE (w/Dan Lambert) – All-Atlantic Title Tournament qualifier match
Excalibur speed-talked his way through the details of the All-Atlantic Title Tournament. Schiavone joked that he missed some of it because it was so much so fast, and gave Excalibur credit for saying so much so quickly. They cut to an early split-screen break. [c/ss]
Ethan landed a diving shoulder tackle after the break. Miro came back and landed a superkick to the face. He then went into his Game Over submission for the tapout win.
WINNER: Miro in 9:00.
(Keller's Analysis: Ethan is a good character in AEW, but Miro absolutely should have won this one decisively. Good to see Miro back.)
-A vignette aired with Dante Martin talking about facing Moxley on Friday. He said he's tired of everyone talking about his potential. He said he will be the one to replace Moxley. He said he is inhuman. Matt Sydal was next to Martin backing up what he was saying.
(Keller's Analysis: That was easily Dante's most confident performance on the mic to date. He seemed like a different person in some ways. That's a great sign for his future.) [c]

(5) BRITT BAKER (w/Rebel, Jamie Hayter) vs. TONI STORM
Storm took it to Baker right away. Baker bailed out to ringside. Storm pursued her. Rebel and Hayter distracted Storm, then Baker jumped her from behind. Storm took over quickly and chopped Baker. After some action at ringside, Storm landed a diving crossbody a minute in for a near fall. They cut to a split-screen break. [c/ss]
Baker controlled the action during the break. Baker played possum and scored a near fall. Storm came back with Storm Zero for the clean win.
WINNER: Storm in 8:00.
(Keller's Analysis: Good match and the right finish to elevate Storm.)
-After the match, Thunder Rosa walked out with the AEW Women's Title and held it up and pointed at Storm.
-Schiavone interviewed Stokely Hathaway. He said Jade Cargill has issued an open challenge and he'll be making his commentary debut. In walked Willow Nightengale. He offered for her to be a Baddie. She said they go way back, but she's wanting to prove herself. She accepted Cargill's open challenge. Hathaway accepted and said he's see her Friday. He called her Wilma. Schiavone said it's Willow.
-"Hangman" Adam Page strutted out to his music. He said he made it clear last week he wants a match with Okada for his IWGP Title. He self-deprecatingly said he didn't take into account that Okada might not be champion by Forbidden Door. He said the challenge still stands, though. Out walked Adam Cole who said Hangman "is a stupid cowboy." He congratulated "my good friend, Jay White" for his IWGP Title win. Cole said Okada won't even be at Forbidden Door. Scattered boos. He said there is someone who would like to come out and say hello. Jay White's music and video played. White, though, came in from behind Hangman and gave him the Blade Runner. White kneeled over Hangman and said he couldn't beat Punk. He said he's 2-0 against him, too. He said if he's going to put his title on the line at Forbidden Door, it's not going to be against Hangman; Hangman was still out on his back. Cole said he wants the title shot. "Let's go Jay! That's what I'm talking about," he said. White said that won't happen. He said he holds the prize and he holds the power. He said, "This is the Switchblade Era!" He didn't reveal whom he will defend against. Cole confronted White, upset that he was disrespected like that. White didn't really have anything to say to him and ignored him as he posed for the crowd next to Cole, then returned to the back. [c]
(6) LUCHASAURUS & JUNGLE BOY vs. THE YOUNG BUCKS (Matt & Nick Jackson) – Ladder Match for the AEW Tag Team Titles
JB was the first to clear the ring and climb the ladder about two minutes in, but Matt intervened. They battled on the ladder. Nick joined in and knocked JB off the ladder. Luchasaurus grabbed both Bucks, but they broke free and charged him with a ladder. Luchasaurus ducked. JB gave Matt a Flatliner. JB gave Nick an enzuigiri. Fast-paced action continued. A graphic hyped Keith Lee vs. Swerve Strickland on Friday on Rampage. JB used a huracanrana to send Matt through a table at ringside. Nick powerbombed JB off the ring apron through a table. Nick gave Lucahsaurus a Canadian Destroyer. Nick leaped at Luchasaurus on the floor and 450 splashed him through a table. They cut to a split-screen break. [c/ss]
All four met near the hanging belts on two ladders. The Bucks knocked JB down and then powerbombed Luchasaurus onto the ladder. Nick gave JB a poison rana. Matt landed a top rope flying elbow onto Luchasaurus through a table. JB back suplexed Nick in the ring. JB knocked the Bucks off the ladder and they both landed on the top rope. Nick had a bloody nose. Excalibur said they just found out Forbidden Door will feature Ospreay vs. Cassidy for the IWGP Title and Rosa vs. Storm. The Bucks tipped over a tall ladder Luchasaurus was on and he crashed through stacked table at ringside. The Bucks then gave JB a BTE Trigger in the ring and then climbed the ladder to capture the tag titles. Christian Cage checked on Lucahsaurus at ringside as the Bucks celebrated.
WINNERS: The Young Bucks to capture the AEW Tag Team Titles.
(Keller's Analysis: It seems like a good time to get the Bucks back in focus as the top team in AEW. Wild match. Wild match, just what you'd expect.)
-Christian was helping JB out of the ring, but then gave him a sudden Kill Switch. Ross said the look in his eyes is that of a very disturbed veteran wrestler. Excalibur said JB's mother and sister were helplessly watching at ringside. He put JB's head on a chair, then smashed his head with another chair. They cut to his sister and mom reacting at ringside. Ross said, "Is this how you get back in the game?"