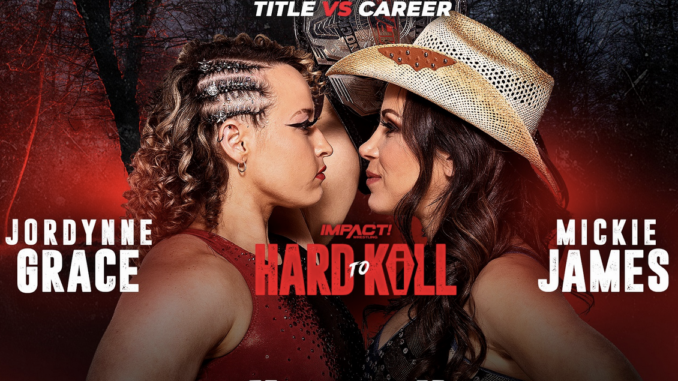 ---
SPOTLIGHTED PODCAST ALERT (YOUR ARTICLE BEGINS A FEW INCHES DOWN)...
---
IMPACT WRESTLING HARD TO KILL PPV REPORT
JANUARY 13, 2023
CENTER STAGE in ATLANTA, GEORGIA
REPORT BY JAVIER MACHADO, PWTORCH CONTRIBUTOR
Commentators: Tom Hannifan, Matthew Rehwoldt 
-The show opened with the wrestler on the stage and a tribute to Don West with a ten-bell salute before they played the intro.
(1) JOSH ALEXANDER (c) vs. BULLY RAY – Impact Championship Full Metal Mayhem match 
Bully Ray came out and immediately hid so he could hit Josh Alexander from behind with a steel chain. This opening salvo already had Alexander busted open. Bully then power-bombed Alexander through a table for a two-count. Alexander stunned Bully with a straight and hit him in the head with a cheese grater Bully had introduced. It was Bully's turn to bleed. Alexander grated Bully some more. Alexander got out some early thumbtacks, but Bully got out of the ring. Alexander set Bully on a table and got up a ladder to drive Bully through it but Bully recovered and tipped the ladder into the ring causing Alexander to (mostly) land on the thumbtacks. Alexander went back on the offensive, but Jason Hotch and John Skyler ran out and attacked Alexander. They hit a 3D (mostly) onto the thumbtacks for a two. They then zip tied Alexander to the ropes.
Tommy Dreamer came out and took out Hotch and Skyler but once in the ring, he exchanged looks with Bully who handed him a trash can, seemingly looking like they were in cahoots the entire time. It was a swerve however and Dreamer hit Bully with the trach can instead. Dreamer got speared through a table for his efforts. Bully then smashed the trash can on Alexander's defenseless head and urged him to give up. Alexander refused. A second strike was met with the same defiance. Bully then paused as Alexander's wife, Jen (who we were told was not in attendance for her protection) ran to the ring. Bully told Jen to beg for her husband and then demanded her wedding ring. When Jen refused, Bully said "okay, now you die" but as he raised the can up to smash her, Jen delivered a low blow. Jen then hit Bully with a sliced bread and freed her husband. Alexander put Bully on a table, climbed a ladder, and hit a frog splash for a two. Alexander immediately applied the ankle lock and Bully tapped. Jen and Alexander celebrated in the ring.
WINNER: Josh Alexander retains in 20:00
(Javier's Analysis: So, this one was… busy. The events fit the story, letting the parties injured by Bully to get some payback.) 
-Mickie James is backstage talking to Tara about how she is anxious about her match when Raven comes in to wish her luck.
(2) CHRIS SABIN & ALEX SHELLY (c) vs. MATT CARDONA & BRIAN MYERS vs. ACE AUSTIN & CHRIS BEY vs. HEATH & RHINO – Impact World Tag Team Four-Way Elimination Championship match 
It was a fast start for this one as chaos breaks out prior to the bell. Once things settle down, Heath and Myers started the match. They took each other out and tagged their respective partners. Myers mixed it up with Rhino for a bit first though, and thumbed Rhino's eyes leading to a roll up from Cardona for an early exit. Bey nearly paid Cardona back with a roll up of his own but Cardona kicked out. Cardona took over and he and Myers worked over Bey. Ace Austin got the hard tag and went on the offensive. Alex Shelly tagged himself in and he and Sabin worked over Ace's legs. Bey got the hot tag while Myers tagged himself in. Bey fended off Myers and Cardona and hit an Austin-assisted Art of Finesse and Austin followed with the Fold, giving Bey the pinfall eliminating Myers and Cardona. The two teams went back and forth until Bey got control and he and Austin went for the same combo finish that eliminated Myers, but Cardona interfered. Bey was unable to recover, and Shelly and Sabin hit a Dirt Bomb for the win.
WINNER: Chris Sabin and Alex Shelly retain in 14:30
(Javier's Analysis: Super fun match of the type that usually opens these Live Events.) 
-Frankie Kazarian came out and congratulated Sabin and Shelly. Kazarian got a mic. He hinted at some behind the scenes drama in AEW he didn't elaborate on and announced he signed a long-term contract with Impact.
(3) JOE HENDRY (c) vs. MOOSE – Impact Digital Media Championship match 
Hendry got a mic. Crowd seemed pretty pro-Moose which surprised Hendry. Just as he was about to speak, Moose knocked the mic out of Hendry's hand. Hendry slapped him in response and the match was on. Hendry hit Moose with a plethora of power moves. At one point Hendry lifted Moose for a stalling suplex and walked half of the perimeter of the ring. Moose took over and slowed things down. Firmly in control, Moose repaid Hendry's earlier slap only this served to wake Hendry up. Hendry lifted Moose up and yeeted him out of the ring. Moose fought back with a Sky High for a two. Moose folloed with a top rope superplex. The ref started the ten cound but both men fired up. They exchanged blows mid ring. The two went for a bunch of quick pins. Hendry hit a pop-up powerbomb for two. Moose hit for a series of uranagis for two. Frustrated, Moose got the belt. The ref took it away an Moose took the opportunity to kick Hendry in the scrotumus region and spear him for the win.
Then… of all people… Santino Marella came out. He declared that he was the new Director. Of. Authority. (D.O.A. I love it. Branded on his shirt and everything). He declared Moose a cheater and ordered the referee to restart the match. Hendry dodged a spear. The two jockeyed for position. Hendry was able to hit the Standing Ovation for the win.
WINNER: Joe Hendry retains in 14:10 including stoppage.
(Javier's Analysis: I figured this would be a fun match, but it was much better than I thought it would be. Hendry is stupid strong tossing Moose around like he did. While Dusty finishes are silly, Santino Marella showing up was a welcome addition. That is, as long you are someone who likes fun.) 
-Kenny King cut a promo explaining his actions earlier in the night. (He interfered in the preshow costing Mike Bailey the match.)
(4) MASHA SLAMOVICH vs. DEONNA PURRAZZO vs. TAYLOR WILDE vs. KILLER KELLY 
The winner of this match would be the next number one contender for the Knockouts title. It was a standard four-way match with each woman getting their stuff in. At the end, Killer Kelly had Purrazzo in a submission while Taylor Wilde had Masha in one. Masha powered out and hit the Snowplow on Wilde onto the other two for the win.
WINNER: Masha Slamovich in 8:40
(Javier's Analysis: A fine match that was entertaining enough.) 
(5) RICH SWANN vs. STEVE MACLIN – Falls Count Anywhere match 
Raven joined commentary and they cut to Gia Miller who was going to interview Rich Swann right before the match. There were audio issues, but it was a moot point as Steve Maclin attacked Swann. Referees showed up to break them apart but gave up and started the match instead. They brawled in the back and into the streets. They fought toward a parking area where a car was leaving, and they used it as a prop (driver was a bit over the top in their reaction though). They fought to ringside, with Maclin in control. They fought back and forth, mostly at ringside until Maclin hit the KIA DDT on the floor for the win.
WINNER: Steve Maclin in 13:45
(Javier's Analysis: Another entertaining match but that's par for the course for an Impact Live Event. With this win I think Maclin will likely be Josh Alexander's next threat.) 
(6) JONATHAN GRESHAM vs. EDDIE EDWARDS 
The match started with back-and-forth grappling as both men tried to outmaneuver each other. Things began to escalate with strikes and dive slowly getting added. Edwards hit an inverted atomic drop and an overhead belly-to-belly suplex to take over. Gresham escaped in the corner and began to pretzel-ize Edwards, focusing on the arm. Edwards came back with a powerslam. A bunch of head strikes had Gresham hurt. Gresham absorbed Edward's strikes and began fighting back, mostly targeting Edward's arm. Gresham gained more momentum as time when on. Edwards slowed him with a Blue Thunder bomb for two. He couldn't put force down on Gresham because of the damage the arm sustained. Edwards went for a superplex in the corner, but Gresham got a sleeper as he floated over. Edwards dropped down smashing Gresham's face to the top of the turnbuckle, further working the head. They went back and forth with a series of near falls. Finally, Edwards was able to hit the Boston Knee party for the win.
WINNER: Eddie Edwards in 19:00
(Javier's Analysis: What an excellent match between these two. Both wrestlers found a weakened body part that the other tried to exploit which served to give the match a story. Great work by two vets.) 
The lights went out. Lightning flashed on the screen. Lights came back on and PCO was in the ring with a shovel. PCO spit sand at Edwards (last we saw PCO Edwards buried him in the Las Vegas desert) and hit him with a chokeslam.
-They air the promo for their next event, Rebellion.
(7) JORDYNNE GRACE (c) vs. MICKIE JAMES – Impact Knockout's Championship match 
The Mattaponi Drum and Dancers played around Mickie James as she represented her Native American heritage before her music started and she hit the ring. If James loses this match, her career ends. They shock hands to start the match. They began feeling each other out. James felt like Grace wasn't taking her seriously, so she began to slap her until Grace retaliated. Grace inflicted her power on James. James got the advantage after hitting a bulldog from the top rope. Mickie James, in control, went for the MickDT but Grace pushed her into the corner for a second rope superplex and follow-up Jackhammer for a two count. James escaped a Grace Driver and went through some of her several of her classic signature moves only to be stopped by a spinebuster for a two.  They went back and forth including a series of quick rollups. James escaped another Grace Driver attempt and hit the Mick Kick and MickDT for a believable near-fall. Grace got a sleeper that James rolled out of but not before she tapped. The ref didn't see it. Grace got another sleeper and James fought out. James got out of the way of a spear, sending Grace into the corner post and hit a tornado DDT for the win.
WINNER: Mickie James to win the Knockout's Championship in 19:30.
(Javier's Analysis: James sold the drama making you think this was it for her. Her family being there was a nice touch.) 
FINAL THOUGHTS: It was a great show throughout (marred by some technical issue in the sound department) that did not fail to entertain. There was a nice mix of match types. It may not have been super newsworthy (except, maybe, James winning the title to continue her career) but it was a worthwhile investment of time.