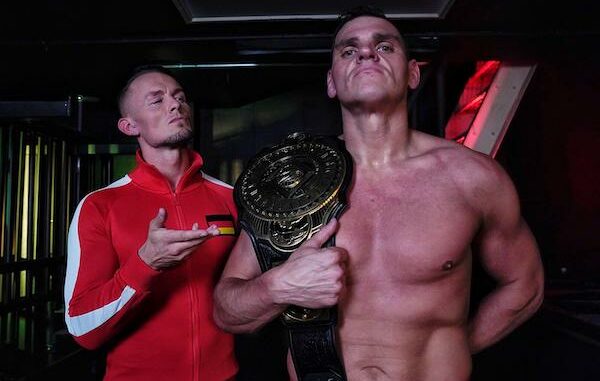 ---
SPOTLIGHTED PODCAST ALERT (YOUR ARTICLE BEGINS A FEW INCHES DOWN)...
---
Gunther vs. Braun Strowman Intercontinental Championship – HIT
Braun, who teamed up with the Green Bay Packers, created a pair of custom boots to honor a young fan who tragically lost his life during the Waukesha Christmas Parade attack in 2021. What a wonderful gesture to show during the episode! The match was good, not great, but this over-delivered. Braun did a great job selling his shoulder throughout the match. I was afraid this match was going straight toward a non-finish run-back at the Royal Rumble, but it wasn't the case. The finish was a little sloppy, but again a complete over-delivery on the match, and Gunther won with a clean finish. No complaints at all about this title match opener
Rey Mysterio promo – MISS
The promo was set up to put Karrion Kross over, but the amount of noise Kross isn't generating is alarming. During Karrion's segments or matches, you can hear a pin droop. If Rey Mysterio can't get something decent out of this guy, it may be time to relevant the direction of this Karrion Kross as a character.
Tegan Nox vs. Xia Li – MISS
This match was there. Tegan and Xia went as hard as they could for a two-minute match. The crowd could not care less about this, which was unfortunate, but I like the overall work of both of these women.
Bray Wyatt Promo – MISS
This Bray Wyatt sounded like the Bray Wyatt of old as the eater of worlds. Bray Wyatt said he was Uncle Howdy which is not true because Bray was attacked by Uncle Howdy two weeks ago. So on the surface, was this a reset again of this character? Who knows at this point? There's a more significant discussion that needs to take place about Bray Wyatt in the wrestling universe. Smoke and mirrors can only cover up so much before, eventually, three months later, you have to have a wrestling match. If Rob Fee was brought in to storyboard the Bray Wyatt storyline, he's undoubtedly jumped the shark because no one knows what is going on with Bray Wyatt.
Liv Morgan backstage with Raquel Rodriguez, Broadcasting team, Liv Morgan vs. Raquel Rodriguez (MISS)
I wanted to group these three segments, so bare me.
Liv Morgan, as a character, is a dumb baby face. So why would you volunteer to be number one in the royal rumble match? Furthermore, the script and dialogue given to Liv Morgan make me cringe. I would like to know if it's the overall material or Liv attempting to overcompensate for the lousy scripting, but either way, it stinks. So what is the Liv Morgan character? The best way I could describe it would be as follows. Liv is a mean girl with a Scrappy Doo fire-up with Harley Quinn tendencies trying to mimic Mick Foley. I wonder if we are to the point of no return for Liv Morgan, but since she cashed in Money in the Bank, Liv hasn't been the same on screen. Generally, I don't have a lot of complaints with the commentary team during Smackdown, but Michael Cole and Wade Barrett sandbagging a (baby face) your trying to present as a big deal was dumb. Liv looked like an idiot for bringing out a table for no reason during the match with Raquel other than the face she's trying to play as her version of Mick Foley. Raquel justifiably squashed Liv in less than five minutes for the unnecessary fight Liv caused in the first place.
Charlotte Flair Sonya Deville brawl – MISS
This feud must continue… Why? The brawl the two had backstage wasn't good, and I know I sound like a broken record Charlotte Flair should not be a babyface. You can tell on screen Charlotte forgets she's meant to be a babyface during the segment. This most likely is a ten-minute filler during the Royal Rumble PLV. If so, it shouldn't.
Kevin Owens vs. Sami Zayn – MISS
Kevin and Sami are a duo who could fight forever; however, you can only book a fifteen-plus minute match if you have a strong finish. Kevin Owens is the number one contender. So why can't Kevin pin Sami Zayn to build momentum toward the Royal Rumble then Kevin gets jumped afterward? I know the match is meaningless, but you could have had your cake and eaten it, too, in this case—a very lame D.Q finish that turned into a fun beatdown of Kevin Owens post-match.
FINAL THOUGHTS: The episode started strong but then jumped the shark following the I.C. title match. Smackdown has the potential to be a good show. However, WWE should tighten up several aspects of the show to prove it's a must-see program, even if Roman reigns isn't advertised by WWE.
---
CATCH-UP: 1/13 WWE SMACKDOWN RESULTS: Keller's report on Sami Zayn vs. Kevin Owens, Gunther vs. Braun Strowman, Rumble hype