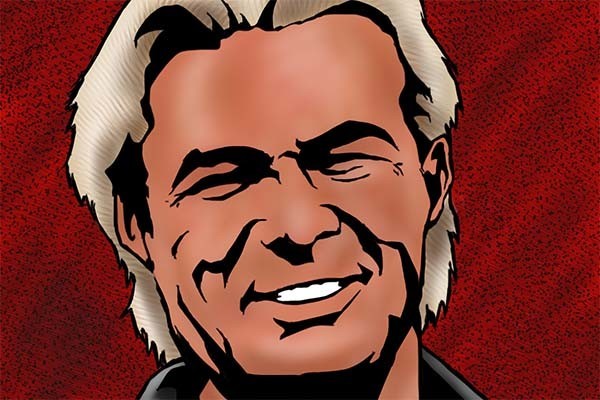 ---
SPOTLIGHTED PODCAST ALERT (YOUR ARTICLE BEGINS A FEW INCHES DOWN)...
---
The following report was originally published 20 years ago this week on PWTorch.com…
---
WWE Raw virtual time ongoing review
Aired Apr. 28, 2003
Live from Boston, Mass.
Broadcast live on TNN
By Jason Powell, PWTorch assistant editor

1st Quarter Hour
The show opened with the usual still-shot photo of Eric Bischoff… The opening montage aired… Jonathan Coachman and Jerry Lawler introduced the show…
Chris Jericho walked to the ring where a pair of chairs were set up on a piece of carpeting. Jericho said he noticed a "gigantic stomach wearing a kilt" last night at Backlash, but then realized it was Roddy Piper. Jericho said that if Piper can have a show on Smackdown, Raw should have something cooler. Jericho announced that he will be hosting a weekly segment called "Chris Jericho's Highlight Reel."
Jericho introduced "an old friend of mine from WCW," adding that the person "destroyed" the Rock last night. Jericho introduced Bill Goldberg, who walked to the ring and sat down in one of the chairs. Jericho asked Goldberg why he refused to wrestle him so many times in WCW. "This is a new beginning, Jericho, and I'd be happy to kick your ass right now," Goldberg responded. Jericho backed off, but then asked, "Who in the hell do you think you are, Goldberg?"
Jericho noted that Goldberg debuted in WWE unannounced, speared the Rock, then walked around like he owns the place. Jericho asked Goldberg why he didn't stay working in Japan or at home with the 57,000 animals he owns. Goldberg started to answer the question, but Christian's entrance music interrupted him. Christian walked onto the stage and said he had a better question for Goldberg. "Since I am so close to the (people), how did it feel last night, Bill, when half of the people booed your ass out of the arena?" Christian asked.
Goldberg responded, "Let me tell you something punk, these people pay their hard earned money. They can come out and they can boo me or they can cheer me. Whatever happens, I'm cool with that. I'm here in the WWE to earn my stripes… They brought me here to do a job, and my job is to get in the ring and destroy everybody's ass who gets in my way. Now if I remember correctly, I got one hell of a response when I speared your ass two weeks in a row. Do you want to go for three, big boy?"
Jericho interrupted Goldberg and told him nobody was going to be speared. He said Christian was asking a legitimate question, because it was obvious that no one wants Goldberg in WWE. Christian, still standing on the stage, called out Rosey, Jamal, Rico, Victoria, and Steven Richards as examples of people who don't want Goldberg in WWE.
"You just show up and you walk into a main event on a pay-per-view?" Christian asked. "Please. Each one of these people deserved that spot ahead of you, especially me." Goldberg interrupted Christian and invited him and the other wrestlers on the stage to join him in the ring if they have a problem. Richards took the mic from Christian and led the troops to the ring to confront Goldberg. Richards entered the ring, but the other wrestlers stopped at the bottom of the ring. Goldberg speared Richards to a pop. The heels backed up the ramp as Goldberg taunted them from the ring…
(Commentary: A really strong segment that played on some of the legit backstage tension involving Goldberg and the other WWE wrestlers. Whether Goldberg realizes it or not, several of the comments made by Jericho and Christian represent the feelings of the majority of WWE wrestlers. All of that said, it would still be nice to hear Goldberg's storyline explanation for why he came to WWE.)
[Commercial break]
2nd Quarter Hour
After the break, WWE crew members helped Richards to the back…
(1) The Hurricane beat Chief Morley at 5.39. Early in the match, Morley mocked Hurricane's pose. Hurricane walked to his corner, wrapped his cape around his waist, and then mocked Morley by performing the Val Venis hip swivel. It took Lawler a full segment, but he made sure to mention how much he misses. After some ho-hum action, Morley missed the Money Shot, which led to Hurricane scoring the pin.
(Commentary: There seem to be live crowds who love the Hurricane, and other live crowds that don't care about him. This crowd falls into the latter category.)
Backstage, Triple H told Ric Flair he wants him to have gold around his waist, so he talked Bischoff into booking them against Rob Van Dam & Kane in a tag title match…
[Commercial break]
Teddy Long and Rodney Mack walked onto the stage for a pre-match promo. Long took shots at Larry Bird, saying he never would have been heard of had he been born black…
3rd Quarter Hour
(2) Rodney Mack (w/Teddy Long) beat an unidentified indy wrestler to win this week's "White Boy Challenge" at 1:58. Long sat in on commentary and had some fun at Coachman's expense. The indy wrestler was one of the whitest indy wrestlers I've seen, perhaps only second to local wrestler Red Lighting who works as one-half of the Malibu Sun Kings. After the match, Long introduced Jazz, who walked to the ring and celebrated her WWE Women's Title win. Meanwhile, a shot aired of Trish Stratus watching the proceedings on a backstage monitor. Tommy Dreamer and Jonah from Tough Enough 3 were seated behind Trish, although they weren't mentioned by the announcers…
[Commercial break]
(Commentary: The White Boy Challenge may seem boring now, but it will be a lot of fun when Tenacious Z plays the "White Boy" who scores the upset over Rodney.)
Backstage, Trish interrupted Bischoff's phone conversation to demand a rematch against Jazz. After Bischoff hesitated, Trish told him she's willing to do whatever it takes to get the rematch. Bischoff pondered for a second, then booked Trish in a match against himself. Bischoff said Trish will get her rematch if she beats him, but will have to go back to his hotel for the night if she loses…
(Commentary: Why in the world wouldn't Bischoff simply give Trish the rematch in exchange for spending the night with him? No, he gives Trish a way out of doing the deed by wrestling him in a match. Bischoff is wrestling's answer to Dr. Evil, only WWE expects viewers to take him seriously.)
Backstage, Test complained to Stacy Keibler about having to team with Scott Steiner. Test also begged Stacy to start trusting him again. "I'd like to," she responded before walking away…
A shot aired of Triple H and Ric Flair walking backstage together…
[Commercial break]
4th Quarter Hour
(3) Rob Van Dam & Kane beat Triple H & Ric Flair to retain the Raw Tag Titles at 15:42. During the match, a shot aired of Shawn Michaels talking on his cell phone to an unidentified person. "He's a sitting duck," Michaels said of Triple H.
[Commercial break]
The heel team took turns working over RVD, as the first hour concluded.
5th Quarter Hour
The heels continued to take turns working over RVD as the match continued into the second hour. RVD finally made the hot tag to Kane, but the crowd wasn't as excited about it as they probably should have been given the buildup. The heels got the better of Kane, which allowed Flair to lock him in the figure four. RVD saved Kane by hitting rolling thunder on Flair, but RVD stood up and took a DDT from Triple H (proving Triple H could have beaten him). Triple H hit the Pedigree on Kane (proving he could have beaten him) and went for a cover, but Kevin Nash's entrance music distracted him. Nash walked to the ring carrying a sledge hammer, which caused Triple H to exit the other side of the ring. Nash ended up chasing Triple H backstage, leaving Flair to do the job for RVD and Kane. After the match, cameras followed Triple H as he approached his limo backstage. Nash caught up to Hunter, who ducked inside the limo to escape him. Nash used the sledgehammer to smash some windows out of the limo, which quickly sped away…
[Commercial break]
The announcers recapped the previous segment…
(4) Scott Steiner & Test (w/Stacy Keibler) beat Christopher Nowinski & Rico at 3:53. Either Steiner entered the match with some facial lacerations, or he bladed about a minute before he was rammed into a ringpost. The basic storyline of the match was that Test didn't want to team with Steiner, and spent most of the match telling Stacy about it at ringside. Test finally took a tag from Steiner and the live crowd couldn't have cared less. Test was dominating the heels, but then backed into his corner while apparently selling an eye injury. Steiner tagged in, hit an inverted DDT on Nowinski, and scored the pin. Afterward, Test threw a fit and stormed backstage with Stacy in hot pursuit.
6th Quarter Hour
Steiner spit out a catch-phrase or two over the house mic, but was interrupted by Rene Dupree & Sylvain Granier, who walked onto the stage. The French heels aired footage on TitanTron of Steiner's debate with Nowinski from two weeks ago. The French heels walked toward the ring. They said they would probably react with violence if they were Americans, but instead they simply wanted to talk over their differences with Steiner. The French heels entered the ring threw the first stone by kicking Steiner in the gut. Steiner quickly took control of the heel team and threw them both to ringside. The French team came back and eventually left Steiner lying after a beatdown…
(Commentary: I've been looking forward to seeing the French team's debut. The word on Dupree & Granier is that they are very green in the ring, although Dupree at least has a lot of potential. Given the fact that they are green, one has to question the logic of booking them against Scott Steiner & Test.)
[Commercial break]
Backstage, Bischoff warmed up for his evil match with Trish Stratus. He told Morley that he called his evil hotel and asked them to place the evil "Do Not Disturb" sign on his evil door…)
Backstage, Booker welcomed Goldberg to WWE. He said he could identify with Goldberg's current situation because it wasn't all that long ago that he was the new kid in WWE. "You have to earn your keep in WWE," Booker told Goldberg. "But once you do, dawg, it's all good"…
7th Quarter Hour
Lawler noted that a group of U.S. soldiers who recently returned from Afghanistan were sitting in the front row…
(5) Booker T vs. Christian by DQ at 5:37 when Rico, Rosey, and Jamal interfered. After five minutes of painfully boring wrestling, Booker took control of the offense momentarily until the heels ran out and attacked him. Goldberg ran out for the save and dominated the heels. Goldberg speared Jamal and Rico, then Jackhammered Jamal. Goldberg went to ringside and speared Rosey through the black barricade between the ring and the crowd. Goldberg exited the arena through the crowd, which popped big for him. Good segment…
[Commercial break]
8th Quarter Hour
The announcers narrated a video recap of the previous segment. Then a live shot aired of WWE crew members covering the broken barricade space with yellow "Do Not Cross" tape. Funny…
(6) Eric Bischoff beat Trish Stratus in a No DQ match at 3:16. Before the match, Bischoff took the mic and asked Trish if she really knew what she was getting involved in. "I know I do, and I know what I'm going to be doing later on tonight," Bischoff said. "Oh, and by the way, this (evil) match is no disqualification." Trish landed a quick kick on Bischoff, but was then mobbed by Victoria. Moments later, Jazz came out with Teddy Long and attacked continued the attack. Bischoff thanked Jazz and Long before sending them backstage. Bischoff then borrowed another page from the Dr. Evil playbook by cutting a promo instead of pinning Trish. Finally, Bischoff covered Trish for the win. Bischoff continued to gloat after the match until he spotted Linda McMahon arriving at the building via a shot on TitanTron. Bischoff suddenly changed his tune and asked the referee to be careful while helping Trish backstage…
[Commercial break]
Linda McMahon walked to the ring to some cheers from the crowd. She said she came to the show to pass down a ruling that was made by the WWE Board of Directors, which she said monitors the work of the general managers of Raw and Smackdown. Linda said since Bischoff likes to conduct his business in public, she didn't feel bad doing the same. Linda called Bischoff to the ring. Bischoff came out and kissed up to Linda by telling her how lovely she looks.
9th Quarter Hour
Bischoff told Linda he was only kidding about the stipulations of his match with Trish. "I'm interested in a more mature woman," Bischoff said in an obvious pass at Linda. She responded by saying Bischoff was making her job very easy, adding that some members of the board don't believe he is fit to continue as general manager. Linda announced that the board had reached a compromise regarding Bischoff's employment. She said the decision had been made that Bischoff will be splitting his general manager duties "50/50" with a co-general manager. Linda introduced "the new co-general manager of Raw…"
The sound of glass shattering came over the P.A. system and Steve Austin walked to the ring wearing a "Bullet Proof" t-shirt, shorts, boots, and his ever-present knee braces. Linda left the ring, leaving Austin and Bischoff together. Austin said hello to Bischoff and asked him if he's nervous. Austin said he knew Bischoff didn't think they could work as a team, but he was offering him his hand anyway. Bischoff hesitated, so Austin asked if that was a sign that Bischoff doesn't trust him. "I've always wanted it to work," Bischoff told Austin. Austin told Bischoff that once they shake hands, they'll be partners as of tomorrow. Bischoff shook Austin's hand. He tried to pull away, but Austin stopped him. "The key word was tomorrow," Austin said before giving Bischoff the Stunner to end the show…