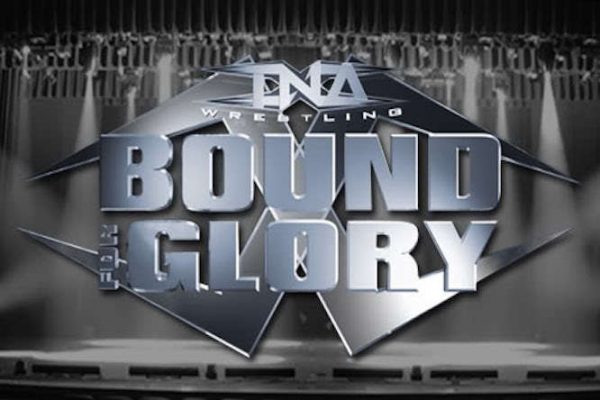 ---
SPOTLIGHTED PODCAST ALERT (YOUR ARTICLE BEGINS A FEW INCHES DOWN)...
---
TNA's annual Bound for Glory PPV took place six years ago today on this date featuring A.J. Styles vs. Sting for the TNA Hvt. Title. Plus, Kurt Angle vs. Matt Morgan in arguably Morgan's best career match.
TNA BOUND FOR GLORY PPV REPORT
OCTOBER 18, 2009
LIVE FROM IRVINE, CALIF.
REPORT BY WADE KELLER, PWTORCH EDITOR
– Available for VIP members in the PWTorch Newsletter archives.
-After a video package, Mike Tenay and Taz introduced the show.
-Zakk Wylde, guitarist from Black Label Society, played the National Anthem. It's a rare moment when a guest band of any kind gets applause and no boos, but it at least seemed that way on TV. Pyro then blasted. Tenay said, "How awesome was that!?" Then he plugged Wylde's appearance at Times Square on Halloween night.
1 — ULTIMATE X MATCH: Chris Sabin, Alex Shelley, Suicide, Homicide, Daniels, Amazing Red
Tenay said during Suicide's ring entrance that D'Angelo Dinero was in town for the event, but he had a family emergency and had to leave. Daniels hit a big spot early with a head scissors of Red, sending him to ringside on top of the other four wrestler. It drew a big pop, and the pops in this arena sound and feel different than in the Impact Zone studio setting. The crowd began a "This is awesome" chant. Shelley dropkicked Red as Sabin spun him. Taz wondered how they think of moves like that. Homcide made the first move across the cable to get to the belt, but Suicide joined him and slammed him to the mat. At 8:00 Homicide climbed the scaffolding and began moving across the cable. Daniels leaped at him with a punch, then yanked him down and into a Death Valley Driver. It was a little clunky in execution. At 11:00 Red climbed to the cable. Suicide met him up there. Sabin joined them. Red executed a sunset flip move, sending both Suicide and Sabin onto wrestlers in the ring. Red hit a springboard twisting corkscrew splash onto Homicide. The crowd chanted, "He's am-az-ing!" Daniels hit Sabin with the BME. Then he climbed a scaffold, as Suicide did on another one. Red followed Daniels and distracted him as Suicide climbed across the scaffolding over the top of the cage. The crowd chanted, "Please don't die." Taz said he's been around a while, but he's never seen anything like this in his life. Suicide and Daniels each tried to suplex the other 20-plus feet to the mat. Daniels dropped down and stood on the cables where they crossed. Suicide dropped down and joined him. To say this was genuinely dangerous is an understatement. They both took a nasty fall that could have gone very wrong, and it it went well was due to a mix of knowing how to maneuver their bodies into safe landings and some luck. The crowd was worried, as were Taz and Tenay. Taz said he had goosebumps. Shelley and Sabin went for the belt, but Red knocked Sabin down. Shelley kicked at Red, but he grabbed the belt to win. He hung upside down like a bat with the belt dangling from his hand. He dropped to the mat where the ref raised his hand. West met Red on the stage and applauded. Daniels was being checked in the ring, but the camera didn't focus on him.
WINNER: Amazing Red in 16:00.
STAR RATING: ***1/2 — Lots of crazy and dangerous bumps, some too dangerous. It delivered what this match promises to deliver.
-They went to Taz and Tenay at ringside. They said there's been a big event buzz all day. Taz was happy that everyone got out of the arena alive. (Did they?)
-Lauren interviewed The Beautiful People backstage, asking them about getting a shot at the tag team titles. They went into a funny bit where they referred to Lauren as J.B. One of them said that's Lauren. Sky said, "It must be the stubble and Adam's apple." Sky said the belts are wrapped "tightly, and I stress the word tightly," around their opponent's waists, but they'll take back what is theirs. Rayne, newly bleached blond, talked about the recent upheaval among the Beautiful People. She said now they're stable and ready to accessorize their sexy outfits with tag belts. Lacey Von Erich said her catch-phrase, "A little bit of Lace (get it!) can make everything beautiful."
-Tenay threw to Jeremy Borash backstage to interview Taylor Wilde and Sarita. Taylor said they're ready for any team any time. She said The BPs can continue to make their excuses and they'll continue to make victories. When Sarita spoke in Spanish, Borash reacted like she was speaking in tongue.
-Tenay and Taz were shown at ringside. Tenay said they have the line-up to match the hype. They set the table by running down the major matches on the show.
2 — TAYLOR WILDE & SARITA vs. THE BEAUTIFUL PEOPLE (Velvet Sky & Madison Rayne w/Lacey Von Erich) — TNA Knockouts Tag Team Title match
Lacey and Sky teased kissing each other as they entered the ring, then shook their heads no. Tenay said there was no payoff, it was all tease. Taz told Tenay to stop acting like a dirty old man. Tenay seemed to take offense. Taz laughed and said he was just joking. Lacey flirted with the referee, Jamie Tucker, before the match, trying to curry favor. She then kissed him. He escorted her to ringside and gave her a chair to sit in. Tenay said it appeared he was going to send her to the back, but now he's allowing her to stay at ringside. Earl Hebner walked out and told Tucker he couldn't play favorites. Lacey kissed Hebner and acted like she loved it. Hebner still sent her to the back. The crowd booed. Taylor rolled up Sky from behind and scored a sudden early two count. This, the second match of the show, didn't begin until 37 minutes into the first hour. At 5:00 Taylor nailed Sky with a stiff looking missile dropkick. Sarita dropkicked Rayne as Taylor rolled into a back suplex for the pin. Wilde grabbed at her nose afterward. It was tough to tell when her nose got hit, but she took a little while to get her bearings.
WINNERS: Wilde & Sarita in 5:00 to retain the tag team titles.
STAR RATING: *
-Lauren interviewed Eric Young and Kevin Nash backstage. Young said he came through on his end of the promise not to fight "my brother," Hernandez. He said he betrayed him. He said he and Nash will eliminate him tonight. Lauren said the only reason Nash is with him is the money he's paying him. Nash said to call it what she wants – a fee, a bribe – but the fact is, it's a win-win. He said he walks out the Legends Champion and 60K richer, while Young gets to walk unscathed because he's got him on his side. He said he's beyond motivated. Young closed with, "Hernandez, welcome to our world."
3 — KEVIN NASH vs. ERIC YOUNG vs. HERNANDEZ — Legend's Title match
Hernandez wore pink wristbands to raise awareness of breast cancer, a charity effort TNA is part of . Nash acted as more of a lumberjack early, beating on Hernandez at ringside, then taking his time rolling into the ring. At 2:00 Nash finally joined the match in the ring. He broke up a pin attempt by Hernandez with an elbowdrop. He threw a barrage of knees into Hernandez's mid-section in the corner. Young then took over on Hernandez. They took turns beating on Hernandez. When Young made the cover on Hernandez, Nash broke it up. Young didn't like what he saw. He complained to Nash and tried to reestablish their agreement. Taz maybe Nash's move was just instinctual. Nash and Young went back to beating on Hernandez. Hernandez made a comeback at 5:00, taking Nash down with a clothesline. When he went after Young, Nash hit him from behind. Hernandez came back with a double clothesline to both Nash and Young. After a sitout powerbomb on Young, Nash broke up the pin. Taz said Nash is wrestling with a broken hand. He swung at Hernandez, who ducked and then dove onto Young at ringside. Nash, though, knocked Hernandez off the ring apron with a big boot. Nash set up Hernandez for a flying Young elbow. Young then pulled down Nash's strap. Taz chuckled and said, "That was a little weird." As Nash set up a Jackknife, Young threw Hernandez head-first into Nash below the belt and then pinned Nash. After the three count, Young fled the ring quickly.
WINNER: Young in 9:00 to capture the Legend's Title.
STAR RATING: * — Nash seemed especially lethargic. The storyline itself was executed well enough, I suppose, but the athleticism and pacing was below par.
-Backstage The British Invasion, Beer Money, and Booker & Steiner argued. The Brits tried to talk everyone into working together against Team 3D because this is their style of a match. They said they need to take out Team 3D as quickly as possible, then let the best team win. Storm said he needs to find his beer.
4 — TEAM 3D vs. BRITISH INVASION vs. SCOTT STEINER & BOOKER T vs. BEER MONEY (James Storm & Robert Roode)
It began as an extensive eight-way brawl that eventually spilled to ringside. They brought ladders into the ring and used them as weapons and props. Booker did a Spinarooni, which despite teasing for several seconds, the director completely missed Inexcusible considering he cut to Devon making a cartoon face as he was choked with a cable. The crowd pop told the PPV audience they missed something. Steiner entered the ring and began suplexing everyone within reach. He played to the crowd, then gave Williams a Frankeninsteiner off the top rope. The crowd popped. Booker, meanwhile, winced at ringside. Roode caught a charging Steiner with a boot. Sharmell walked to ringside to check on her husband. She called for medical help. Williams knocked Steiner off the ladder. Booker was tended to by medics as The Brits celebrated a double-team move on Steiner. The Brits then sent a message to Team 3D by hitting Steiner with the What's Up crotch headbutt. The Brits strutted as Devon crawled toward the ring to try to get back into the match. The Brits brought two tables into the ring as Booker was carried to the back. Ray hit the Brits with chairshots, but Magnus thankfully blocked the shot to his head with his forearm. The Brits made a comeback. The crowd chanted, "We want tables."
At ringside, Ray gave a chair to Wylde who usd it against Magnus. In the ring Devon took out Beer Money with a clothesline and then slammed Williams through a table at 10:00. Ray then set up Magnus for a Devon crotch headbutt. Why is Young dropping Nash's strap "weird," but Devon repeatedly driving his face into other men's crotchal regions not "weird." Team 3D followed with tables as the crowd chanted "tables, tables." They gave stereo chokeslams to Beer Money. Steiner then hit Devon and Ray with chairshots. Neither lifted an arm to protect their heads, selfishly setting the standard for everyone that you're a wimp if you don't sacrifice your long-term well-being for proving you're hardcore. It's sad that TNA and WWE don't fine wrestlers who don't block chairshots. The rationale that they're only hurting themselves doesn't cut it for a variety of reasons, and there's so many equally suitable substitutions that don't put their brain at risk of long-term degradation. Steiner climbed a ladder, but Team 3D tossed him off of it and threw a table below. Devon climbed the ladder as Ray steadied it. Rhino ran out and knocked Ray off the ladder and then bashed Devon with it as Devon grabbed the IWGP Tag Team Title belt hanging above the ring. Team 3D won the IWGP belts back.
Rhino bashed Ray with the chair again, then bashed Devon across the top and back of his skull, again unprotected. Taz called it nearly criminal. Magnus bashed Devon with chairshot as Devon held a chair of his own near his head. The Brits continued to take control of Team 3D. They set up ladders and climbed them. Beer Money intervened. They knocked Williams down, then superplexed Magnus. It was an awkward landing. Beer Money then played to the crowd for the big "Beer!… Money!" chant. They climbed the two ladders, but Magnus knocked Roode down with a chair to the back. Storm swugged a beer and then sprayed some beer in Magnus's face on top of the ladder. He then sunset flipped Magnus to the mat, but came upt clutching his ankle or knee. Williams hit Roode with a chair, who wisely raised a forearm to protect himself (but the sound was still loud and the crowd still popped). Williams climbed the ladder. Roode met him on the other side at 17:00. "Red Flag" Rob Terry interfered. He pressed Roode over the top rope and onto a table. He almost overshot him past the table. He then lifted Williams onto his shoulders on top of the ladder. He grabbed the belt, although not he had a tough time unsnapping it. Williams tumbled to the mat in exhaustion. Terry checked on him. Taz wondered if any of them would be the same after this. Tenay compared it to the Ultimate X match, calling it "career-changing."
-They showed Lashley and Joe warming up backstage in a split-screen.
5 — ODB vs. AWESOME KONG vs. TARA — TNA Knockouts Champion
At 2:00 ODB and Tara decided to work together to take down Kong. Taz and Tenay giggled about a "nip up." They soon fought one another with Kong knocked out temporarily. Tara applied the Tarantula hold on ODB on the ropes. Kong broke it up. At 6:00 Tara hit both ODB and Kong with a moonsault. Security intervened as Tara got into a fight with a mystery woman at ringside. ODB and Kong stopped in their tracks and watched. Tara walked to the back. ODB and Kong finally turned back to fighting one another. ODB lifted Kong, although it was a struggle, and then dropped back. Taz said Kong is the size of a small car. He also wondered what happened to Tara. Tara finally returned, but Kong kicked her to the back. Kong then splashed ODB of the ropes for a two count. Tara came into break up the pin, but was late enough it didn't seem to actually make a difference, although Taz said he thought it did. Kong knocked Tara to the floor, then gave ODB an Implant Buster for a two count. ODB kicked out. Ryesha Saeed slid a chair to Kong. Kong kicked it back at her. Saeed shoved it at her again. Kong again kicked it back. She slid it into the ring again, but just in time for ODB to slam Kong face-first onto the chair when escaping an Awesome Kong. That was good for the win. Kong glared at Saeed.
WINNER: ODB in 7:00 to retain the TNA Knockouts Title.
-Lauren interviewed Morgan backstage. He said this is both personal and business. He said Kurt Angle played him for weeks because he thought it was good for business. He said unlike seven-foot-cliches in this sport, he's an actual seven-foot-athlete. He said he graduated first in his class. Morgan called Bound for Glory "the biggest pay-per-view of all-time." That's pushing it, even with the most loyal TNA fan, although it's not a bad thing to say with conviction. He said he's an educated big man and the future of wrestling.
6 — SAMOA JOE vs. BOBBY LASHLEY
Lashley's ribs were still taped from Thursday when Rhino gave him a Gore backstage. The crowd chanted "Joe's going to kill you" early. Lashley hit a leapfrog into a spinebuster and then an early cross-armbreaker. Joe broke free and punched Lashley. Then he rolled from a heel hook into a legbar. Lashley broke free and tackled Joe, then rode him. They showed Lashley's wife, Crystal, cheering from ringside. TNA doesn't have a good track record with wrestlers' wives being part of the show. Joe bailed out at 2:00 for a breather. Joe looks like he's lost some of the weight he gained the last year or so. His ring trumps, while a little too "Caesars Palace" perhaps, is an improvement over his previous incarnation. Maybe he didn't lose weight and that last outfit was just terribly unflattering. Either way, he looks like an athlete again. He dove through the ropes onto Lashley at 3:00, then chopped him a few times at ringside. The crowd was loudly behind Joe. Joe locked on an abdominal stretch. Taz did a good job explaining how a rib injury impedes breathing. Joe then hit a powerslam and rolled into an armbreaker. Taz feels more at home the more serious a wrestling match is portrayed, which is why he stumbled so badly in the silly garbage match at the last PPV. Lashley was booed when he went on offense at 6:00, which was either because it was a pro-Joe crowd or his forearm and clothesline looked fake. Joe caught a charging Lashley with a urinage, popping the crowd. Joe gave Lashley a single arm overhead suplex. Lashley swept Joe to the mat and applied his sleeper. The ref called for the bell. Taz and Tenay said Joe didn't tap out, but the ref must've believed he lost consciousness. They weren't sure the ref made the right call, as they attempted to blunt the impact of long-term mainstay Joe's loss to the potential short-term asset in Lashley.
WINNER: Lashley in 7:00 via ref stoppage.
STAR RATING: **1/2 — Good while it lasted.
-Borash said he's known Lashley a long time, but he's not sure he really knows him. He said they haven't talked since he attacked Abyss. Foley said his reputation wasn't built on laughs and good times. He said he can laugh, but not tonight. He showed off his barbed wire baseball bat. He said he's bled on seven continents and lost an ear, plus had 325 stitches. He said it did it to make a name for himself. Isn't the goal NOT to bleed, NOT to lose ears, NOT to get stitches? Foley said he won't Abyss's body of work outshine his. He said he will have to earn his reputation the hard way, by going through him.
7 — MICK FOLEY vs. ABYSS
Foley attacked Abyss on the ramp with a barbed wire baseball bat. He gave him a neckbreaker on the stage. Taz said Foley believes Abyss is a carbon copy of him, but he doesn't think that gives Abyss the credit he deserves. Foley climbed scaffolding on the stage. Abyss followed behind. Foley punched Abyss repeatedly, knocking Abyss to the stage. Abyss crashed through it and then went into convulsions. They fought to the ring and used a table wrapped in barbed wire, kendo sticks, and other objects. Foley poured thumb tacks on the mat. Tenay said he banned those. Taz clarified that only Abyss was banned from using them. Abyss set up a chokeslam on Foley, but special ref Dr. Stevie warned him about being DQ'd. Abyss then gave Stevie a Shock Treatment. Daffney slid Foley a taser. Foley jammed it at Abyss and sparks flew in a hokey special effect that didn't last as long as the taser was pushed against him. Foley made the cover and a second ref ran out. That ref counted to three. Abyss didn't hear the first handslap and didn't kick out until after three. The crowd turned on the match badly at that point. Tenay and Taz were left to try to cover for it. When Tenay said he thought it was a three count, Taz said, "You think? I'm being sarcastic. It was definitely three." The ref was left looking like an idiot. Foley pulled out a sock and wrapped it in barbed wire, but Abyss sent Foley head first into the barbed wire wrapped table with a drop toe hold. Stevie yanked the special ref out of the ring. Abyss chokeslammed Daffney off the top rope through a table on the floor, which the director inexcusably missed. Stevie then went after Abyss and chokeslammed him onto the thumb tacks. Dozens were stuck into Stevie's back. Abyss then chokeslammed Foley onto the barbed wire. Abyss dragged Stevie over, made the cover, and slammed Stevie's hand onto the mat three times. In an funny scene, Daffney was still stuck to the barbed wire at ringside, crying for help.
WINNER: Abyss in 12:00.
STAR RATING: 1/2* — Just a mess of a garbage match, which is well past it's freshness date. This type of match has become basically comedy, which is sick given the bodily sacrifices and blood that is sacrificed by the wrestlers. None of it adds up to anything other than a sad geek fest, and that botched ref count destroyed any credibility it might have otherwise had. This is a style of match that needs to be retired for several years and then brought back slowly so that every big bump through a stage, every slam onto thumb tacks, every blow to the body with a barbed wire baseball bat counts singularly as a major angle worthy of weeks of discussion rather than all jumbled up into this kind of mess.
-Borash interviewed Angle, who said he never underestimates anyone. He said he had Styles beat three days ago. He said the next time he faces him, it'll be for the TNA Title without any time limits, but first he has to get through Matt Morgan. He said he sees him as a disrespectful punk who has crossed the Godfather. He said he warned him what would happen.
-Borash interviewed Angle, who said he never underestimates anyone. He said he had Styles beat three days ago. He said the next time he faces him, it'll be for the TNA Title without any time limits, but first he has to get through Matt Morgan. He said he sees him as a disrespectful punk who has crossed the Godfather. He said he warned him what would happen.
8 — KURT ANGLE vs. MATT MORGAN
There was a battle of chants, with alternating "Let's Go Morgan" and "Let's Go Angle" chants. After some back and forth action, Angle controlled offense for a minute. Morgan made a comeback, but by 4:00 Angle had control again and was working over Morgan's legs. He applied a figure-four leglock. At 10:00, Morgan hit a Carbon Footprint for a near fall. Angle came back a minute later with an anklelock. Morgan powered out quickly and then set up Angle for a powerbomb. Angle rolled through into an anklelock. Morgan tried to kick out, but Angle reasserted his grip. Morgan tried again and succeeded. He got up and sold a leg injury. Morgan avoided an Angle charge in the corner and then hit a Hellivator for a believable near fall that popped the crowd at 10:00. Morgan set up a Tombstone, but Angle rolled through into an anklelock attempt. Morgan kicked out, but Angle reasserted his grip. Morgan teased tapping, but gave one last attempt to break out and succeeded. Morgan followed with a hard clothesline for a two count. He said aloud, "Seriously? What else do I have to do?" A chant of "Morgan sucks" broke out. Taz said he disagreed. Tenay said there have been dueling chants all match. When Morgan climbed to the top rope, Angle got up and tossed him to the mat. Taz touted Angle's cardio, saying he's working as if the match just started. Angle hit a frog splash for a believable near fall at 14:00. "We're witnessing Matt Morgan grow up," said Taz. "Matt Morgan is evolving into a star in this match." Morgan lifted Angle off the ropes onto his shoulders, but Angle turned it into a victory roll for the win. Angle lifted Morgan's arm afterward. Taz said Morgan earned Angle's respect in there. Taz said it was a hell of a match.
WINNER: Angle in 15:00.
STAR RATING: ***3/4 — Very good match. A few more minutes and I'd have had considered a four star ranking. The match did not overstay its welcome by any means. It did feel like a career-elevating marker for Morgan, who kept up with Angle. He should have won over the crowd, but it seemed the crowd warmed up to Angle the longer the match meant, perhaps realizing Angle was putting in a great performance by elevating Morgan.
-Taz and Tenay touted how good Bound for Glory has been so far.
9 — A.J. STYLES vs. STING — TNA World Hvt. Title match
Styles wore trunks with a strange-looking color scheme of powder blue and pink on white, which was part of the beast cancer awareness campaign. Sting armdragged Styles early. Styles winced. Taz said Sting sees a lot of himself in Sting, and he compared this to the Clash of the Champions match between Sting and Flair, which put Sting on the wrestling map. The problem with that analogy is that Styles is the only TNA Grand Slam champion, so he's hardly in need of a strong performance against Sting to move into being perceived as this breakout new main event star. Sting could give that to Hernandez, Matt Morgan, Brutus Magnus, or someone else along those lines, but it doesn't apply to Styles. They continued to feel each other out. Styles took Sting down and kicked his back, then dropped a knee and scored a two count. Like Morgan before him, this pro-veteran crowd booed Styles. Styles regrouped at ringside at 4:00. Sting held the ropes open for Styles to re-enter. Taz said he'd have taken a shot at Sting at that point. Tenay said that's the difference between he and Sting.
The crowd booed Styles's next pin attempt. Styles went on sustained offense at 6:00. Back at ringside at 7:00, Styles side-stepped Sting who flew into the ringside barrier. Sting came back to score a near fall at 9:00, but then Styles took control again for a while including hitting a nice looking springboard forearm. At 11:00 Taz wondered who'd run out of gas first. Sting went for the Scorpion Deathdrop, but Styles blocked it and attempted his own, but Sting blocked it too. The crowd began a chant of "This is wrestling!" Sting hit a Stinger Splash in the corner and then hit the Scorpion Deathdrop for a two count. Sting attempted a Scorpion Deathlock submission hold. Styles screamed in pain and teased a tapout, but then he decided to power out instead. he shot Sting off of the hold like he was shot out of a cannon. Styles got up and threw chops. Sting no-sold the chops and pounded his chest. He then took Styles down with a clothesline. As they fought on the top rope, Styles headbutted out of Sting's grip. Taz said Styles was favoring an ankle. He surprised Sting with a Pele kick, then he finished Sting with a Pele kick for the win.
WINNER: Styles in 15:00 to retain the TNA World Title.
STAR RATING: *** — The time-management on this may have been off and they might have had to rush this finish as that came out of nowhere and seemed a bit of a letdown or anti-climactic. That said, by doing that finish in this situation which did "come out of nowhere," it invests in future matches as near falls will mean more even before the wrestler's particular signature finisher is hit. A nice match, but it ultimately didn't feel epic and didn't give this show that "can't miss main event" ending it needed to generate the buzz TNA probably wanted.
-Styles called Sting back to the ring. The mic sound broke up a bit and gave him feedback. He tried a second mic and that didn't work. Styles got frustrated, and then finally he got a mic to work. He said he's been entertaining fans for 23 years and he's in his homestate. He said this ring is his spotlight. Sting returned to the ring and addressed the crowd, which began chanting, "You still got it!" at him. He said since he has the platform, he should cover what a lot of people have been asking him, which is whether he's just wrestled his final match. The crowd chanted, "One more year! One more year!" He seemed genuinely touched by that chant. He referenced Brett Favre and said he's not sure what he's going to do. He said some of the comments fans made at the FanFest over the weekend made him "want to stay forever." Nice finishing speech that seemed genuine. There was a real sense that this California crowd felt a bond with some of the TNA talent on this show, although they also seemed – at least in part – to be into seeing some of the big names in their 40s "one more time."