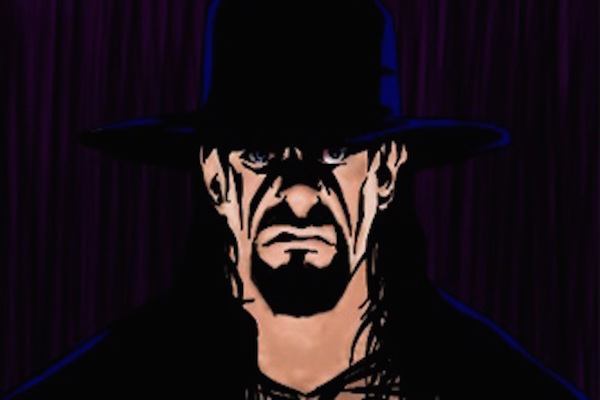 ---
SPOTLIGHTED PODCAST ALERT (YOUR ARTICLE BEGINS A FEW INCHES DOWN)...
---
WWF Survivor Series Flashback – 20 years ago
November 22, 1990

Top Five Things To Know…
(1) Big Debut: The Undertaker made his WWE debut on this PPV nearly 20 years ago.
(2) Most Remembered For: Gobbledy Gooker hatching out of the over-hyped egg and dancing with Mean Gene Okerlund.
(3) Main Event: Ultimate Warrior & Hulk Hogan were the Ultimate Survivors, defeating The Warlord & Paul Roma & Hercules & Rick Martel & Ted DiBiase. Tito Santana was eliminated from Team Warrior & Hogan.
(4) Shawn Michaels Flashback: Michaels, as part of The Rockers, teamed with Jannetty, Jake Roberts, and Jimmy Snuka opposite The Visionaries.
(5) Undertaker Trivia: Lost in the shuffle opposite Team Undertaker was Bret Hart, who teamed with Jim Neidhart, Dusty Rhodes, and Koko B. Ware.
Hart reflected on the match's personal meaning in an interview with Sports Illustrated's Justin Barrasso: "That's the one (Survivor Series match) I remember most. It was the Undertaker's debut in Hartford, but that was the day after my brother, Dean, had passed away. I kind of dedicated that match to my brother Dean, even though it didn't represent it in the finish. I gave my all despite the storyline. I lost to DiBiase at the end, but we had a nice little sequence there before we went into the finish and he beat me. I remember that being a salute to my brother Dean, a tribute to him. That match always had meaning to me."
***
WWF Survivor Series 1990 PPV report
November 22, 1990
Hartford, Conn.
Originally Published – PWTorch Newsletter #97
Cover Dated – November 29, 1990
By Wade Keller, PWTorch editor
World Wrestling Federation presented a live pay-per-view event special live from Hartford, Conn. on November 22, 1990 – "Survivor Series '90."
(1) Ultimate Warrior & Legion of Doom & Texas Tornado (Kerry Von Erich) beat Team Demolition & Mr. Perfect. At 4:00, Warrior splashed Demolition Axe. At 8:00, Hawk, Animal, Smash, and crush were DQ'ed for brawling without control. This left Warrior and Tornado vs. Perfect. At 11:00, Perfect applied the Perfectplex perfectly, leading to Tornado doing the perfect job. Then, at 15:00, Perfect applied another Perfectplex, this time on Warrior, which led to a perfect kickout. Warrior did his usual routine ending in a splash and a three count after Perfect showed off his perfect bumps. Survivor: Ultimate Warrior. (***1/4)
(2) Ted DiBiase & The Undertaker (Mark Callous) & Honky Tonk Man & Greg Valentine beat Hart Foundation & Dusty Rhodes & Koko B. Ware. At 1:00, Undertaker "Tombstone Piledrove" Koko B. Ware and pinned him. At 4:00, Neidhart powerslammed HTM leading to the pin. Brother Love, who accompanied Undertaker to ringside, distracted Neidhart at 5:00. When Neidhart turned around, DiBiase clotheslined him and pinned him. At 8:00, Undertaker walked the ropes and flew into Rhodes with a double strike to his shoulders and neck. Rhodes hit the mat and watched the lights as the referee counted three times. Dusty recovered and attacked Brother Love. Undertaker went over Rhodes and was counted out at 9:00. This left Bret Hart against Greg Valentine and Ted DiBiase. Bret rolled up Valentine at 9;00 and then battled DiBiase one-on-one for five minutes. At 14:00, Bret came off the top rope with a bodyblock, but DiBiase rolled on top of Bret and got the victory. Survivor: Ted DiBiase. (***1/2)
(3) The Visionaries (Rick Martel & Power & Glory & The Warlord) beat Jake Roberts & The Rockers & Jimmy Snuka. At 3:00, Marty Jannetty came off the top rope and was caught by the Warlord and powerslammed for a quick three count. The Model pinned Snuka at 8:00. Power & Glory did their double powerplex on Michaels leading to a three count. This left Jake Roberts, with impaired vision because of that damn white thing covering his left eye – against all four visionaries. Jake only had himself to blame because he picked his teammates. At 15:00, Warlord was DDTed and covered. The referee was knocked down, so Martel sprayed more "Arrogance" into Roberts's eyes. Roberts was counted out at 16:00. Survivors: Martel & Power & Glory & Warlord. (**)
(4) Hulk Hogan & Tugboat & Big Bossman & Hacksaw Jim Duggan beat Earthquake & Dino Bravo & The Barbarian & Haku. At 3:00, Bossman pinned Haku. Bossman then got a hold of Bobby Heenan and got a few blows in. Then, at 6:00, Duggan was DQ'ed for hitting everyone in sight with his two-by-four, then had the gall to act surprised and offended by the decision. Hogan pinned Bravo at 8:00. Earthquake pinned Bossman at 9:00. Earthquake and Tugboat were counted out. This left Hogan against The Barbarian. Four minutes later, Barbarian hit Hogan with a top rope clothesline, which got a two count on Hogan. Then, Hogan made his usual predictable comeback and pinned Warlord with a leg drop. Survivor: Hulk Hogan. (*3/4)
Randy Savage was interviewed and said he planned to regain his World Title. Then he would be ready to retire with the belt since he proved he was the best. Not a tremendous reaction from the crowd.
(5) Tito Santana & The Bushwhackers & Nikolai Volkoff beat Sgt. Slaughter & Orient Express & Boris Zhukov. Tito pinned Zhukov at 1:00. Akio Sato was pinned by Butch at 2:00. Pat Tanaka was squashed even before he could take a bump at 3:00 by Tito. Slaughter pinned Volkoff in a mercy job at 6:00. Then, Slaughter pinned Luke and then Butch. This left Tito against Slaughter at 7:00. For the next four minutes, Tito did his best to make it watchable. The ref got knocked down so Sheik Adnan ran in the ring and hit Toto with his flagpole. Slaughter then apparently put Tito away with a Camel Clutch, but when the announcement was made, Slaughter was DQ'ed for Sheik's interference. Survivor: Tito Santana. (*)
Then, the Survivor Series egg was hatched and the latest WWF mascot broke out revealing "Gobbledy Gooker," a turkey that gobbles and dances. It led Mean Gene to the ring and they danced for a long five minutes.
(6) Ultimate Warrior & Hulk Hogan & Tito Santana beat Warlord & Roma & Hercules & Martel & DiBiase in the Ultimate Survivors match. Santana was pinned shortly after pinning Warlord in the first minute of the match. Power & Glory powerplexed Hogan, who kicked out, clotheslined Roma, and got the pin. Martel then faced Hogan, but soon fled the scene of his beating and was counted out. This left Hogan & Warrior vs. Hercules & DiBiase. Hogan and DiBiase had a one minute version of a Hogan beating, comeback, legdrop, and win. Then Hogan tagged out and Warrior had his version of a one minute match with Herclues ending in a splash and pin by Warrior. Survivors: Warrior & Hogan. (*1/2)
Warrior and Hogan then shook hands and separated the ropes for each other as they left the ring. This was an attempt to get Warrior over as a friend of Hogan's rather than foe, hoping this will allow Warrior to become the drawing card that was hoped. There were opportunities but no signs of a turn on either man's part.
META SCORECARD: The Torch Staffer average score was 3.7 ranging from 1.5 to 6.0. The reader average score compiled from phone calls was 4.25 ranging from 3.0 to 6.5.