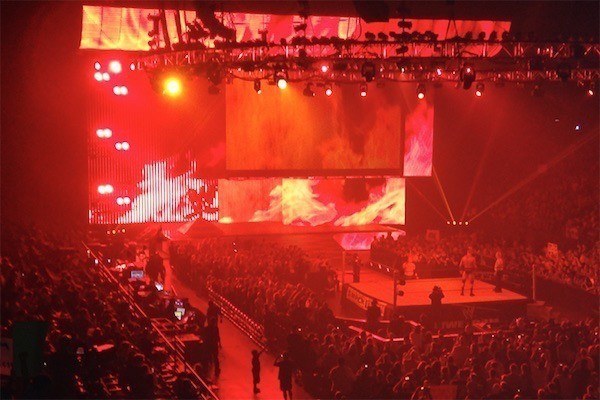 ---
SPOTLIGHTED PODCAST ALERT (YOUR ARTICLE BEGINS A FEW INCHES DOWN)...
---
Monday's Raw following the Survivor Series PPV was rejected by the audience. Raw fell to an historical low TV rating and the last two hours both drew fewer than three million viewers.
WWE Raw TV Ratings Tracking
— November 23: Raw scored a 2.16 rating, down from a 2.28 rating last week.
It was the lowest rating of the year and lowest in two decades going back to the pre-Attitude Era mid-1990s.
– Raw averaged 2.964 million viewers, down ten percent from last Monday's show leading into Survivor Series. Hourly Break Down:
Soft start of 3.190 million first hour viewers, down from 3.541 million 1H viewers last week. It was the fewest first-hour viewers of the year.
2.990 million second hour viewers, down from 3.290 million 2H viewers last week.
Another decline to 2.712 million third hour viewers, down from 3.047 million 3H viewers last week.
– One year ago this week, Raw scored a 3.07 rating the night after the Survivor Series PPV, nearly one full ratings point higher than this week's 2.16 rating.
– Raw's demographic ratings fell across the board:
A18-49: 0.99 rating, down from a range of 1.10-1.17 throughout the fall season.
M18-49: 1.39 rating, down from a 1.49 rating last week.
M18-34: 1.32 rating, down from a 1.50 rating last week.
Raw was opposed by the undefeated New England Patriots on ESPN's Monday Night Football, which increased to 14.2 million viewers, and the final Monday episode of Dancing with the Stars, which likely impacted the adults 18-49 demo.
Caldwell's Analysis: If the product were strong, a post-PPV Raw episode would be able to offset some of the competition. Instead, Raw fell to the least-watched episode of the modern era. It points to viewers losing interest in the product, especially now that ice-cold Sheamus is holding the WWE World Title, top star John Cena is absent creating a void in the middle, and there is a lack of strong characters to really invest in. And, the available, non-injured strong characters that actually got a reaction last night and that TV viewers might invest in, like a Dean Ambrose or a Kevin Owens, were not spotlighted, creating a misalignment of WWE's presentation and the audience's desires. Overall, though, watching last night's Raw, the show just felt lame. It had the feeling of a really un-cool product centered on mid-card acts doing mid-card things.