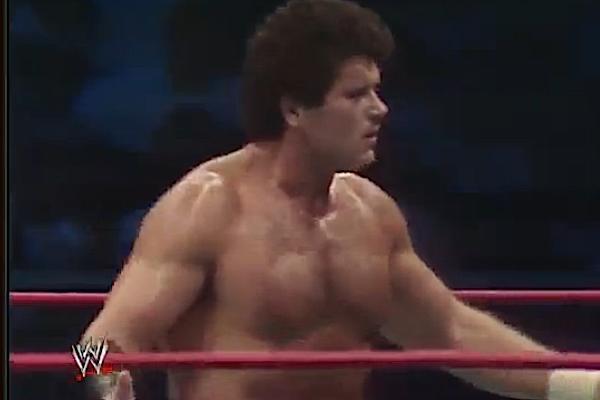 ---
SPOTLIGHTED PODCAST ALERT (YOUR ARTICLE BEGINS A FEW INCHES DOWN)...
---
The recent death of "Iron" Mike Sharpe has generated a nostalgic discussion about old-school "jobbers" among wrestling fans. Many fans have their own sentimental favorites, whether it's the lovable loser, the scrawny kid, the pudgy punching bag, or the loud-mouth villain whose cheating always backfired.
There is not a lot of jobber memorabilia out there, but over the years some enhancement talent have found their way into trading card sets and toy lines. Most of these items don't sell for much, so they'll be pretty easy to add to your collection.
Sharpe, who proclaimed himself "Canada's Greatest Athlete," was a big, bellowing man who wore a black leather sleeve on one arm. He would load it up with a foreign object, usually with disastrous results. Occasionally, however, Sharpe's loaded sleeve would lead to victory over lesser jobbers on Prime Time Wrestling.
Sharpe's only trading card can be found in the 1983 Wrestling All-Stars Series A set. That series also includes trading cards of territory wrestlers turned WWF jobbers like Salvatore Bellomo, "Cowboy" Scott Casey, "Mr. Electricity" Steve Regal, and "Playboy" Buddy Rose.
Jim Powers and Paul Roma were two of the WWF's more well-known jobbers of the mid-1980s, during a time when even the enhancement talent was muscled up. They formed a short-lived mid-card tag team called the Young Stallions. Roma went on to more success after turning heel and teaming with Hercules in the underrated Power & Glory, and then gained even more notoriety as a member of the Four Horsemen and tag team partner of Paul Orndorff in WCW.
Powers also appears in the 2008 DWA Legends Tour Lamincard Series, which is limited to just 50 sets. According to WrestlingTradingCards.com, this set was sold at Deutsche Wrestling Allianz e. V. events in Germany in 2009.
The 1989 WWF Classic set also featured cards of two of that era's best known WWF heel jobbers in "Brooklyn Brawler" Steve Lombardi and Barry Horowitz. Lombardi, a longtime WWE employee, has a couple of action figures as well.
Lombardi appeared as the Brawler in the 12th Series of Classic WWE Superstars from Jakks Pacific and as Abe "Knuckleball" Schwartz in a two-pack with Bobby Heenan.
S.D. "Special Delivery" Jones was a likable, charismatic jobber who may be best known for his kayfabe nine-second loss to King Kong Bundy at the first WrestleMania. His only trading card of note can be found in the 1982 Wrestling All-Stars Series B product.
LJN made a figure of Jones in its WWF Wrestling Superstars line. Two variations exist of this figure: one in a red shirt and one in a more tropical-looking shirt.
Johnny Rodz is a respected trainer and had some early success in the WWWF, but he is probably best known to most fans as a Prime Time Wrestling-era jobber. Jakks Pacific made hundreds of WWF/WWE action figures from 1996 to 2009, and Rodz was one of the oddest choices they ever made. His only figure was included in the 15th series of Classic WWE Superstars.
Lanny Poffo may have been the definitive jobber of 1980s WWF. As "Leaping" Lanny, he would read a poem to mock his foe, toss a Frisbee into the crowd, and then get beaten down. He found more success as a heel as "The Genius," and has several trading cards and a Jakks Pacific action figure. His only notable card as "Leaping" Lanny, however, was produced in 1993 after he was gone from the WWF. Topps Ireland Ltd. included him in the unlicensed 1993 Wacky Wrestling set, which may be one of the worst wrestling products of all time.
Perhaps the most jobber-rich wrestling product in history is the 1988 NWA Wrestling Supercards set from Wonderama International. In addition to just about every wrestler from Jim Crockett Promotions and other NWA territories from that era, this trading card set also features a bevy of jobbers who were regularly seen on World Championship Wrestling on TBS.
Included in this set are cards of Tommy Angel, Rocky King, Curtis Thompson, the Italian Stallion, Cougar Jay, George South, David Isley, and others.
PWTorch Collectibles Specialist Michael Moore can be reached at michaelmoorewriter@gmail.com. Follow him on Twitter @MMooreWriter.