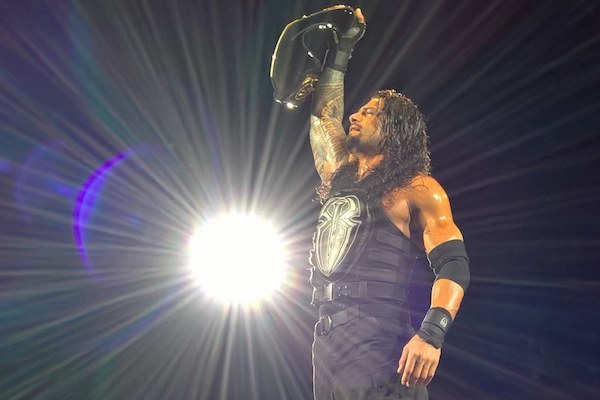 ---
SPOTLIGHTED PODCAST ALERT (YOUR ARTICLE BEGINS A FEW INCHES DOWN)...
---
WWE Live Show Results
April 20, 2016
Belfast, N. Ireland
Report by PWTorch VIP subscriber John Service
(1) Cesaro beat Stardust.
An entertaining opening match. This singles bout went ten-and-a-half minutes. In the opening minutes of this match,  Stardust played to the crowd and bizarrely sat down amongst a group of fans in the front row,  before the action returned to the ring. Once this happened, Cesaro unsurprisingly took control of this match before Stardust managed to block an attempted "Cesaro Swing."
After this happened, momentum swung in favour of Stardust with the former IC Titleholder working over the taped-up left shoulder of Cesaro and in the process getting a surprising amount of offense considering his lower mid-card status. Cesaro did eventually regain control of this match down the stretch following a barrage of uppercuts. The match ended at the 10:29 mark when Cesaro racked up a 14-revolution "Cesaro Swing" on Stardust, that was immediately followed by a Sharpshooter for the submission win.
(2) Darren Young & Zack Ryder beat the Social Outcasts (Heath Slater & Bo Dallas).
With Titus O'Neill suspended, Darren Young formed a makeshift team with Zack Ryder to take on the Social Outcasts duo of Heath Slater and Bo Dallas. The Social Outcasts came out for this match first and cut your typical heel house show in-ring promo where they ripped into the local town/city, and talked about how tonight was the start of a winning streak for the Social Outcasts.
After the opening bell rang, the heel team immediately exited the ring (in a move that would be the first of many spots that would be repeated throughout this house show). Once the action returning to the ring, Bo Dallas and Heath Slater isolated Darren Young for most of this match, as the heel attempted to keep the Prime Time Player from making a "hot" tag to Ryder. In the end, Young made the "hot" tag when Bo went for a move off the top rope and Young got his knees up.
Once in the match, Ryder quickly cleaned house and got the win on Slater using the "Rough Ryder," in a match that was kept at around five minutes. On a side note, it's kind of depressing to think that in a two-week period, Ryder has gone from winning the Intercontinental Championship at WrestleMania 32, to effectively wrestling bottom-level enhancement talent such as Heath Slater and Bo Dallas.
(3) Rusev beat Jack Swagger.
Once the match started, Rusev quickly dominated Swagger by laying some boots into the former WWE World Heavyweight Champion. Swagger would eventually manage to stop the repeated attacks from the so-called "Bulgarian Brute," frustrating Rusev to the point that after a few minutes he decided to blow the match off and walk away.
As Rusev walked towards the locker room area, Swagger chased after Rusev and jumped him from behind. Swagger would then quickly return him to the ring, and once the action got back inside the squared circle, Rusev took control of the match by wearing down the lower back area of Jack Swagger to set up for his Camel Clutch finishing move. Despite these repeated attacks, Swagger would briefly mount a comeback, with him nearly got a surprise submission victory using the Patriot Lock. However, Rusev managed to grab the ring apron cover to force a rope break, and while the referee was distracted, the Bulgarian poked Swagger in the eye. This distraction led to Rusev winning with the "Accolade" Camel Clutch submission hold after roughly 12 minutes.
(4) WWE Tag Team Championship Triple Threat match: New Day (Big E. & Xavier Woods) beat The Usos and The Dudleys.
A solid triple threat bout. The New Day received an incredible response from the Belfast fans, getting what was easily the strongest fan response up to that point in the evening. Once the match got started, The Usos isolated Xavier Woods, tagging in and out while slapping the back of Xavier Woods. This caused Woods to leave the ring and attempt to get counted out of this match. However as Woods walked away he was the victim of a brutal sounding slap to the back from Bubba Ray Dudley, who followed the WWE tag champion down the entrance way to near where I was seated.
Once Xavier Woods was safely returned to the ring, The Dudleys tagged into the match a few minutes later and took control of the match. This match would reset once again when one of the Usoss hit a superkick on Bubba Ray, leaving both men struggling to make the "hot" tag to their respective corner. Once this happened, the match became a free-for-all, with all three teams hitting their signature moves (including two 3Ds from the Dudleys).
In the end, New Day retained their belts at roughly 10:00 when Xavier Woods threw one of the Usos to the ringside area, and covered D-Von for the win.
In a post-match angle, the Dudleyz and Usos had a staredown that ended with the Bubba and D-Von taking stereo superkicks from Jimmy & Jey Uso to send the fans into intermission on a feel-good note.
(5) Sin Cara beat Tyler Breeze.
The first match to take place after intermission was a basic singles match that helped settle down the crowd for the second half of this show. Sin Cara dominated much of the offence in this bout during the opening minutes, using his fast-paced lucha libra style to stop Breeze getting a foothold in this match (including hitting a suicide dive elbow on Breeze at ringside). Tyler briefly got into this match scoring a close two count with his "Beauty Shot" finisher, but Sin Cara put the former NXT star away with the Swanton Bomb to end the match just shy of the 9-minute mark..
(6) Triple Threat WWE Women's Championship match: Charlotte (w/Ric Flair) defeated Sasha Banks and Becky Lynch 
Unquestionably the best match of the evening, this triple threat match was essentially a re-match from WrestleMania 32. At the start of this match, Sasha and Becky teamed up against Charlotte (something that a young child in the row picked up on, causing him to explain he was going to cheer for Charlotte, as two-on-one wasn't very fair). After a few minutes, Sasha Banks was taken out of the match by a boot to the face from Charlotte, giving the fans their first one-to-one encounter between Charlotte and Becky. Sasha made a quick comeback a few minutes later, before Charlotte quickly took control thanks to Ric Flair at ringside.
As the match progressed, momentum wing back and forth until Charlotte retained her championship thanks to Flair dragging Sasha out of the ring while she was trapped in a "Nagata" armbar. This distraction allowed Charlotte to use a roll-up on Becky Lynch where the champion used the ropes for leverage to get the "dirty" win. Overall, a really fun triple threat match, although it obviously didn't reach the lofty heights of their WrestleMania match.
(7) WWE World Heavyweight Championship match: Roman Reigns beat Sheamus.
A solid, if uninspiring main event, this match was originally scheduled to be Reigns vs. Bray Wyatt until last week's incident in Milan, Italy where Wyatt suffered a leg injury. So with WWE having to book this tour slightly on the flay over the past week or so, we instead got Sheamus stepping in and challenging Roman for the WWE Championship on Irish soil.
Before the start of this match, Sheamus cut an in-ring promo where he accused Belfast of being jealous of Dublin, and also stated that Belfast was really part of Ireland and not the U.K. Even though it was essentially the same promo he gave at November's WWE house show in Belfast, it was an effective promo that firmly turned the crowd against him (although I would question the merits of making such a politically-charged promo in a city with such a complicated relationship with national identity, such as Belfast has). Roman Reigns interrupted Sheamus mid-promo to a rapturous reception from most of the fans inside the SSE Arena Belfast (there was a small group of "smart" fans seated a couple of rows behind myself who were mildly inebriated and repeatedly tried to go into business for themselves throughout the show, particularly during the Women's Championship match).
Once the match got started, this was a very solid and (mostly) enjoyable house show main event. Sheamus dictated the pace of this match early on, keeping Roman Reigns down on that mat and working a style that can best be described as glacial. As the match progressed, the pace slowly ramped up as Roman Reigns slowly got a foothold in the match. Both men would score very close nearfalls throughout this nearly 20-minute match, with Roman kicking out of the "Brogue Kick" at the very last second a few minutes before the end of this match.
As you would expect from a house show, Roman Reigns retained his WWE World Heavyweight Championship when he landed both a "Superman" punch and Spear on Sheamus to secure the three count. Overall  this was a perfectly serviceable main event match. Some fans may complain about Sheamus's methodical in-ring style, and while it certainly isn't the most exciting, it is effective in building sympathy for the babyface (which was apparent by the number of "Let's Go Roman!") chants that echoed through the arena.
OVERALL
Ahead of tonight's house show I went back and looked at the report I submitted to the Torch. In that report I noted that while I was skeptical of WWE's approach to creative, I felt the current roster had to potential to lead WWE into a new golden era. And while I still believe this (especially based on how much I enjoyed most of these matches, depute them featuring mid-level roster members), having attended tonight's house show I am more than a little frustrated with WWE.
Despite this show featuring three championship matches, I felt the undercard of this house show was pretty weak, and at times it felt like a two-and-a-half-hour WWE Superstars/Main Event episode (due to the presence of Stardust, Zack Ryder, and The Social Outcasts), while WWE's other house show in Newcastle was loaded with lots of big names such as A.J. Styles, Kevin Owens, and Sami Zayn, plus Triple H. It felt like this show in Belfast was merely an afterthought to WWE management. This lacklustre undercard could have massively been improved had WWE taken the time to move one of these marquee matches onto the Belfast date.
My other complaint (and this is one beyond WWE's control) is with some of the older, "smarter" fans. Where I was seated, there was a group of 3-4 male fans in their mid-20s who while seemingly partially drunk, decided their best course of action in making WWE aware of their frustration with the current product was to try to start random chants. And while I fully support WWE fans making the company aware of any issues they see with the product, I felt the execution of this "protest" was at times disruptive, with these fans swearing rather loudly in an area where there were mostly kids aged between 6-10. I also found these chants at times to be disrespectful of the wrestlers, who are trying to make the best of their current positions within the promotion.
One final point I would make to these fans who may be reading the report is that if you are willing to spend £40/$60 on a ticket to effectively annoy other fans with your own version of "Mystery Science Theatre," perhaps it's time you tried looking at other wrestling products such as Progress, EVOLVE, PWG, ROH, or New Japan that offer true alternatives to the PG WWE product. WWE arguably have enabled this practice in recent years, by openly commenting on the crowd at the post-WrestleMania episode of Raw, and I hope this experience was merely a one-off and not the start of a more problematic trend.
In terms of attendance, the SSE Arena Belfast (formerly known as the Odyssey) holds roughly 11,000 people and the building looked close to a sell-out. The crowd mainly consisted of families with young kids between the ages of 6 and 10, though there was a decent amount of wrestling fans in the mid-life 20s (myself included) who would have grown up watching the Attitude Era product. Interestingly no return date for WWE was announced for the traditional October/November tour, although WWE are set to return to this building in June as part of the summer NXT U.K. tour.
BIGGEST POPS OF THE NIGHT
Cesaro
The New Day
Roman Reigns
Sheamus
WORST REACTIONS OF THE NIGHT
Stardust
Jack Swagger
Tyler Breeze