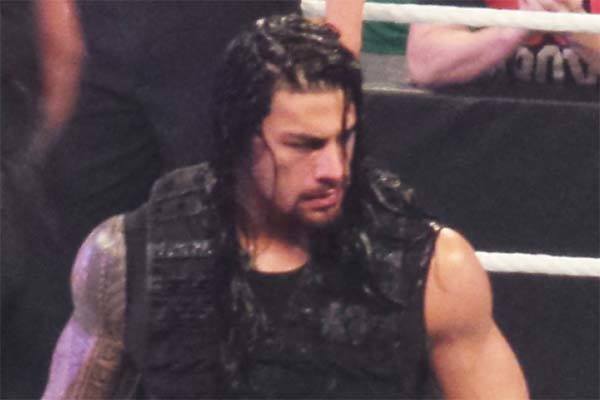 ---
SPOTLIGHTED PODCAST ALERT (YOUR ARTICLE BEGINS A FEW INCHES DOWN)...
---
(This column was originally published in the Pro Wrestling Torch Newsletter and PWTorch VIP website 0n June 28th.)
By Bruce Mitchell, PWTorch senior columnist
While everyone shares their Roman Reigns Steroid Needle Memes, there are more important things to consider in the wake of this week's shocking news.
Once again, Roman Reigns proves he is no John Cena. Reigns makes history as the first Face of the Place to publicly fail a WWE drug test, while John Cena comes back months sooner from major injuries than anyone else and, while he's waiting, he squats ginormous amounts of weight. Cena is jacked up enough he doesn't have to wear… what is it Reigns has on? A unitard?
We know though that, like Reigns, Cena is tested regularly. The Rock performs in the ring at WrestleMania each year. Hell, he's a bona-fide movie star. Think he's ever been tested?
Then there's the family, the ones who set the standard for the company, and for the entire professional wrestling industry. Shane McMahon, the 46 year old prodigal son who saved last year's WrestleMania by main-eventing against the Undertaker, he sure looks great, doesn't he? He wants to run the business when his father steps down. You think he steps up and sets an example for the rest of the performers by getting tested, just like they do? I wonder if the rank and file every-show talent, the ones who get tested and don't headline the biggest show of the year, think he should?
Then there's the son-in-law, Triple H, the WWE Defending Champion at WrestleMania. He not only sets the standard for the main roster and the NXT prospects, he stands in judgment over them all. Think he's tested? WWE doesn't disclose that. Like his brother-in-law Shane, he also is 46 years old, and he looks even better than Shane does. Unlike him, Triple H had no problem performing in the ring with his shirt off.
Vince McMahon once told a congressional sub-committee that formed in the wake of the Chris Benoit murders that the inspiration for offering drug treatment to ex-WWE contracted talents was: "Two words: public relations." McMahon, the most powerful man in pro wrestling and the only 70 year old so jacked he regularly appears in Muscle and Fitness magazine, made it clear he isn't tested, and he was performing in the ring as recently as within the last year.
Consider, too, the corrupt idea that it is somehow all right for Reigns to start his suspension after he worked both the key Money in The Bank Sunday night show and the Monday Raw that followed, and conveniently end it before the Battleground show. Imagine if The Golden State Warriors' Draymond Green had been allowed to serve his suspension in between Game 5 and Game 6 of the NBA Finals? That suspension may very well have cost the Warriors their second world championship.
That NBA suspension served as a deterrent to Green's behavior because it didn't minimize the consequences of his actions to the team, the business around him. Don't think the Warriors won't do everything they can to ensure that Green, a valuable member of their team, stops kicking other players in the nuts because they want to make sure they have all hands on deck to pursue next year's championship.
The Warriors couldn't choose Green's punishment. That would be ludicrous. It's a complete conflict of interest between the NBA's desire to keep the game clean and the Warriors' desire to win championships.
Yet, that's exactly what is going with WWE and Roman Reigns right now. If WWE had immediately suspended him for a month, according to their own rules, and kicked him off the MITB show and the next night's Raw, it would have hurt those shows but put pressure on not just the wrestlers but management to do everything they can to make sure to their rules are followed and performers' health actually protected would multiply. By playing games with the suspension, WWE put short-term business interests over the health of their talent.
What do you think that it is the McMahon Family likes in Roman Reigns, anyway? What is it that drew them to him from the moment he stepped into their developmental system? What could have tempted him, if indeed he failed a PED test, to take a risk like that at such a volatile point in his career?
Which brings us to another key WWE Superstar, Brock Lesnar, who also headlined last year's WrestleMania at a huge all-muscle 300-plus pounds. Lesnar, another top WWE performer, has been tested five times in 15 days by the USADA, the independent drug testing agency that polices UFC, where Lesnar will fight in the big UFC 200 show. The USADA are not about public relations. They are serious about helping UFC keep PEDs out of the octagon, so serious it has already changed some fighters' careers.
The USADA, much like Lesnar's opponent Mark Hunt who drew his conclusions based on the evidence of his own eyes, saw what Brock Lesnar looked like at WrestleMania. They are doing everything they can to also ensure the UFC biggest stars and biggest red flags are properly vetted. It means that fighters who don't want to risk their health don't face peer and fight pressure to match the cheaters.
What happens if one of Lesnar's tests comes back dirty? What if, on the heels of Reigns making national headlines for WWE, Lesnar makes even bigger headlines? Many wrestling fans fool themselves that it is the "fake" label that hurts the genre the most in the eyes of the general public, but it's the "steroids" one that hurts more.
WWE, because of their compromised Health and Wellness, would find the public relations progress they've made since the policy's inception in 2006 again damaged.
Mainstream sports, with the exception of quarterback wives, are now addressing this health problem in much deeper way. Major League Baseball is now dominated by pitching instead of hitting, a change publicly attributed to the cleaning up of their game. The Olympics just suspended the entire Russian Track and Field team for their continued, comprehensive PED corruption. The gap between the testers and the drug designers continues to narrow.
One of the keys to this change in the balance of power in an everlasting battle is the independence and transparency to which most of these testing agencies and the sports they serve are committed.
Which brings us back to Roman Reigns. What drug was he suspended for, anyway? Are there any other Superstars, maybe some who also don't pass the eye test, who failed tests but their suspensions weren't transparently announced? After all, Reigns is the only big name Superstar whose failed drug test and/or suspension was announced since Randy Orton many years ago.
WWE committed to meeting mainstream corporate standards, not Just McMahon Family standards, when it went public. Reigns's suspension alone is not evidence that their policy is fair or up to par with their rival UFC's and other sports standards. For the good of their business and the health of the people who generate their money, it is past time the WWE met the standard of the world around them, and had comprehensive, independent, and transparent drug testing for everyone who performs in their rings, full time, part time, or once every now and then.
(Bruce Mitchell has been a PWTorch columnist since 1990.) ###