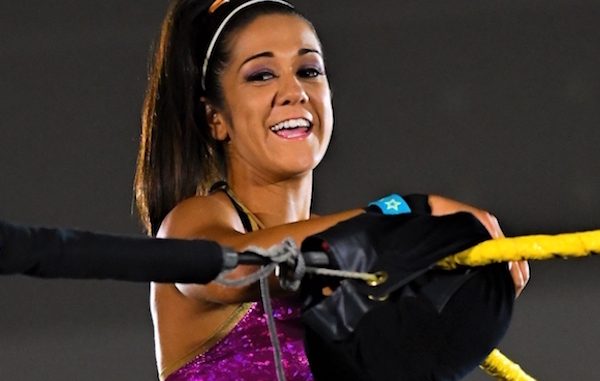 ---
SPOTLIGHTED PODCAST ALERT (YOUR ARTICLE BEGINS A FEW INCHES DOWN)...
---
Veteran wrestling reporter and interviewer Brian Fritz of Sporting News interviewed Bayley this week. Here are highlights:
-On being a character in the new WWE 2K17 videogame: "I was hearing that I'm supposed to be in the game, and I don't want to count my chickens or anything, so it wasn't (sure) until I got an actual tweet from a fan," Bayley said. "The fans always find out about stuff before I do. They sent me a picture — it was the little default thing of me in the game and I was like, 'Oh my God, it's really happening.' … Now I get to have dream matches. I can be myself, I can team with 'Macho Man,' I can have my matches with Lita because she was my hero growing up. I can put myself in all these different scenarios and now I'm always going to be a part of the '2K' roster."
-On who she played on Playstation as a kid: "I would play as Goldberg, which was cool because now he's on the cover and I get to be on the same game as Goldberg."
-On her reaction to being drafted to Raw instead of Smackdown: "I saw that Carmella had gone to 'SmackDown' and I thought that would be amazing since we're best friends but, at the time, the championship was on 'Raw,' so that was also where I wanted to be because that's one of my goals, to be the WWE Women's Champion. I was kind of leaning more toward 'Raw' because I knew Carmella and I would still see each other — we still talk all the time — but I needed to be in that title picture, and having to be on the same roster as Sasha (Banks) has been really helpful as well."
Keller's Analysis: I think fans can sometimes forget that WWE has wrestlers find out along with everyone else what their future is, and it's a bit like finding out who is going to be in class with you in school – and finding out some friends are but other friends aren't.
-On the timing of her being brought up to the main roster months after Sasha, Charlotte, and Becky Lynch: "If I were to have debuted as the same day as Sasha, Charlotte and Becky, I wouldn't have grown as much as I did. Being with NXT for that extra year really put the pressure on me having to be the champion and leading the division. We were going to all these places for the first time. So, to be at the forefront of all that was really important to me. Also, just working with all the younger girls and the newer girls, girls that were just starting up, girls that were just trying to get comfortable on shows and working with people like Asuka and Nia Jax. Those are two different competitors that I would have never had the opportunity to work with had I gone up the same time as them."
Keller's Analysis: I agree Bayley benefited from coming in later and not in a big group.
-On Sasha Banks beating Charlotte to win the Women's Title in the Raw main event last week: "I was trying to keep my composure around Sasha backstage and just play it cool like it's just another day at work. You're just going to have a great match, don't worry about it. But inside, I wanted to shake her and be like, 'You realize what you're doing?' This is such a huge deal to the company. I just wanted to shake her and hug her and tell her how happy I was. I was just so happy to see them at that level, and it's just another step in the division, a step in the right way, where we want that to become a regular thing and be able to main-event 'Raw,' where it's not just a, 'Oh my God, the women and main-eventing Raw.' I want it to be a normal thing and start to be a pay-per-view thing and a 'WrestleMania' thing."
Keller's Analysis: That is the next big step – when Women's Title matches headline PPVs and Ra and nobody makes a big deal out of it because it feels normal.
-On how she gets nervous watching Charlotte and Sasha take risks: "I always get nervous watching any of the women, especially those two because they take crazy risks. When I saw Charlotte go up to the top rope and do her corkscrew thing, my heart dropped. I get really nervous and sweaty and jittery when I watch them… It's different for me because, especially with her … I see her as a sister. So whenever I watch her matches I always yell at her when she comes back for doing certain things. 'Stop doing that!' For me watching, I'm always nervous for her. When that happened, I was just hoping she was OK. 'SummerSlam,' that was a huge match and I was standing out in the crowd … to feel everyone's emotions. The crowd was so into that match and it was amazing."
Keller's Analysis: I'm glad the women are keeping each other in check, or at least trying to. The chances Charlotte and Sasha Banks take have been excessive, dangerous, and ultimately unnecessary to the story they're trying to tell. They need to stop trying to prove they can do all kinds of crazy moves and instead take pride in telling their story the way Bret Hart and Steve Austin did in their WrestleMania classic – with moves inside the ropes, well paced, well executed, that tell a story that absorbs the fans. A "This is awesome!" chant is a sign of failure if it comes after a big spot because it means fans are reacting to the move instead of the drama of the story being told.
-On advice Triple H has given her: "He always tells me that people will always remember the way you make them feel. They might not remember the moves, they might not remember the match, but they're always going to remember how you made them feel. That's always something that sticks with me. So when I make my entrance to the ring or give someone a high-five, I want them to feel happy and always remember that moment."
She also talks about what custom ring entrance she's going to create for herself on WWE 2K17.
CHECK OUT THE FULL ARTICLE AT SPORTING NEWS: WWE star Bayley on 'WWE 2K17': 'Now I get to have dream matches'
---
Brian Fritz can be reached at btrfritz@gmail.com. Follow him on Twitter@BrianFritz and listen to his Between The Ropes podcast on Soundcloud.