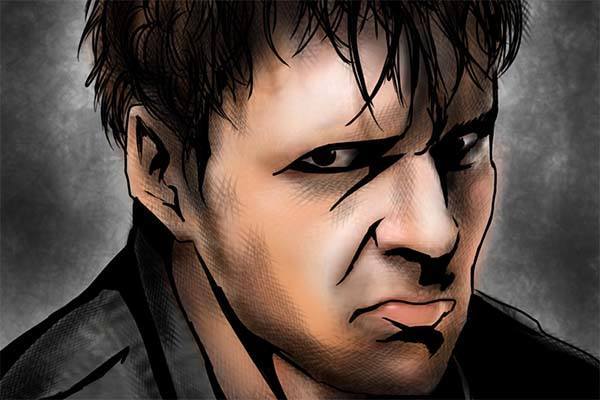 ---
SPOTLIGHTED PODCAST ALERT (YOUR ARTICLE BEGINS A FEW INCHES DOWN)...
---
SMACKDOWN HITS
Lynch – Bliss: I enjoyed this segment involving Becky Lynch and Alexa Bliss. Lynch has this earnest way about her that makes her very easy to root for. Bliss has really been finding her voice as a heel on the main roster. I'm not sure about having her dress like Harley Quinn, but whatever. Her mic work has been good lately as it was here. I liked her line about how Becky had had back surgery to have a yellow streak put in. The physicality at the end worked well to put heat on Bliss and give Lynch a stronger reason to want revenge.
Natalya vs. Nikki Bella: While I don't care about the premise for this match, Natalya vs. Nikki Bella was good. I don't care about Raw vs. Smackdown elimination matches at Survivor Series. Therefore, I don't care who the captain of the Smackdown women's team is. And I still don't get why with such a small roster to choose from, Daniel Bryan wouldn't put Natalya on the team, or risk having Bella left off by making the stipulation that the loser of this match would be off the team. But as I said, it was a good match. Natalya controlled for most of the match and was good in her offense. Nikki made a few comebacks and looked strong in escaping that surfboard at the end of the match. She applied the STF way better than John Cena ever has. That alone is Hit worthy. I really hope that Carmella isn't on the team as it makes no sense why she would be on it with team leader Nikki Bella, and she isn't nearly as good at Natalya.
Styles vs. Ambrose: I wish this nearly 20 minute match hadn't been interrupted by two commercial breaks. I wanted to see as much of AJ Styles and Dean Ambrose as I could as they were having a very good match. They are both great wrestlers and they work well together. I liked James Ellsworth's role. He did a nice job of cheerleading for Ambrose throughout the match. Styles was good in getting a few cheap shots in on Ellsworth. The match built nicely with multiple counters and near falls. WWE assumed that most fans would assume that Ambrose would get the win to earn a future WWE World Title shot. So, Ellsworth accidentally costing Ambrose the match by attacking Styles and getting him DQd was supposed to be a big shock. It worked well enough, but it would have worked better if Ambrose hadn't been so reluctant to allow Ellsworth in his corner in the first place. That is my only criticism of an otherwise good main event (ok, second criticism after the commercial breaks).
SMACKDOWN MISSES
Wyatt vs. Kane: When these two wrestle each other, it starts to put me to sleep. They barely used the No DQ stipulation. I'm so over the supernatural crap, so I just rolled my eyes when Luke Harper magically appeared on the announce table to kick Kane. At that point, why wouldn't he stay in the ring to help Bray Wyatt since it isn't against the rules? That would have made sense given their characters. Then we got the Randy Orton appearance and twist with him hitting Kane with an RKO. That was supposed to be this big deal including later on when he said that if you can't beat 'em, join 'em. However, I don't care. My guess is that Orton is playing mind games with Wyatt and doing this to set him up. Even if that's the case, I still don't care.
Miz, Ziggler, and the Rest: These segments gave me a headache. I didn't like the mic work from The Miz or Dolph Ziggler. The Spirit Squad are already wearing out their welcome. Heath Slater was fun for a long time trying to get his contract after the draft. But, this was not a good performance. He was bad. And he was scripted to be a coward and hypocrite with his attack of Miz for backing away from a challenge only to do the same himself. That isn't a babyface move. Rhyno was the only one who had a good performance here. The match itself was thankfully kept short and went the way it should, but I found Miz and Ziggler took away from the quality of the match doing guest commentary instead of enhancing it.
For another view from the original Hitlist author, compare Jason Powell's views to mine by visiting ProWrestling.net's "Hitlist" section here.
NOW CHECK OUT LAST WEEK'S SMACKDOWN HITS & MISSES: SMACKDOWN HITS & MISSES 10/18: Styles-Ellsworth, Nikki Bella & Carmella, Natalya's Cat Instagram, Orton-Wyatts, Spirit Squad
---
Jon Mezzera is PWTorch.com's WWE Hits & Misses Specialist, providing his point of view for Raw and Smackdown each week. Email him at jmezz_torch@yahoo.com. Act now and become his 68th Twitter follower @JonMezzera (pretty clever handle right?). Just be aware that not only doesn't he live tweet Smackdown and Raw, he doesn't Tweet much about wrestling, and he doesn't even Tweet much at all. So act now!