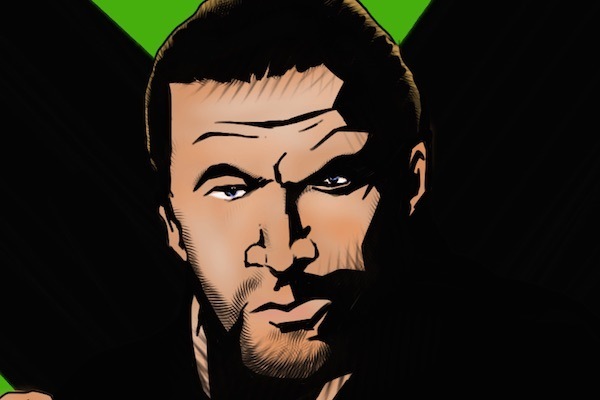 ---
SPOTLIGHTED PODCAST ALERT (YOUR ARTICLE BEGINS A FEW INCHES DOWN)...
---
RAW HITS
Owens – Jericho: Raw got off to a good start with Chris Jericho coming out to address Kevin Owens. Jericho was very clever in some of the ways that he changed up a few of his catchphrases into a more babyface manner or a more serious less comedic way. For instance, the way that he did the "be quiet" bit was more angry and intense than when he's used it in the past. He was great on the mic. Owens was great when he came out to answer Jericho. This was well written. It answered the questions in a believable way. It got to the big match at WrestleMania for the United States Championship. The physicality at the end with Samoa Joe and then Sami Zayn getting involved also worked and set up two matches for later in the show.
Zayn vs. Owens: Both of those matches set up in the opening segment were short. The first was the longer of the two at about 5 minutes. Normally I would be upset that this match wasn't longer and that Zayn lost relatively easily. However, it made sense in this context. Owens was fueled by the anger that he felt after losing the Universal Title the night before. He is in the big match against Jericho at WrestleMania. At this point, Zayn has nothing going for WM. He probably will be in the Andre the Giant Battle Royal. I hope for better things for Zayn, but at this point he isn't going to be protected. The match was good while it lasted. They played their parts well in the match. And Owens getting the clean strong win made sense here.
Swann vs. Neville: This was the second night in a row with a very good Cruiserweight Title match. Neville has been great as the heel Cruiserweight Champion. His performances in and out of the ring have been very strong. Rich Swann didn't do his goofy facial reactions that he often does in his matches in terms of facial reactions. He was more serious here which helped the quality of the match. They worked well together and put on a good match that the fans in Chicago gave a great response to. My only issue with the match is that even at 14 minutes, we only saw about seven minutes of it because it had two commercial breaks. In the end, it was another clean hard fought victory for Neville.
Austin Aries: WWE was very smart to do this angle in Chicago where it was likely to get the huge response that it got. WWE has done a good job of building up anticipation for a return to the ring for Austin Aries. He has been enjoyable to listen to on commentary for the cruiserweight segments on Raw and 205 Live. And while I feel he works better as a heel than a face, he needs to be a face now to give a strong challenger to Neville for the Cruiserweight Title. This interview was very well done to escalate to the point where Aries would make his statement by attacking Neville. They were both good in their performances. The fans popped huge for it. And now you have a big Cruiserweight Title match to look forward to at WM.
Goldberg – Lesnar: I want to know what big secret Goldberg was about to reveal before he got interrupted by the C.M. Punk chant and then by Paul Heyman. The fans gave Goldberg a mixed reaction. There were a lot of fans cheering him and chanting his name, but quite a few that were booing him. It will be interesting to see how his reactions play out in the weeks to come leading to WM itself. My guess is that he gets positive reactions on Raw, but a more mixed and slightly negative reaction at WM. Heyman understands the importance of building up your opponent. So, he talked up Goldberg as being every bit the beast and conquerer that Brock Lesnar is. He basically lulled Goldberg into not paying attention to Lesnar who took advantage by hitting him with an F5. Lesnar needed to make a strong statement and get the better of Goldberg here after what happened between them at Survivor Series and The Royal Rumble.
RAW MISSES
Tag Team Title Situation: The first hour plus of Raw was very good. It didn't start to get bad until Enzo & Cass came out. They continue to be lame. Sure, they got a better response by kissing up to the Chicago fans, but they are going to start getting worse and worse reactions moving forward. At least that's how I feel. I don't like having a Tag Team Championship match only last seven minutes. And we only saw half of it. It was a rematch of a very rudimentary Title match at the PPV the night before. These two teams don't excite me, especially when working together. This one ended with a DQ which doesn't help. I enjoy the dynamic between Cesaro & Sheamus. And maybe we'll get to them having a match against Gallows & Anderson at WM. But I suspect we will get a triple threat instead which is disappointing. At some point several years ago, WWE decided that WM has to be the show of multi-man matches. Triple threats, fatal four ways, six-to-eight man ladder matches, battle royals, etc. have unfortunately become the norm.
Women's Title Picture: Just like we are likely to get a triple threat match for the Tag Team Championship at WM, we know for sure we are going to get a triple threat for the Raw Women's Title (at least, I'm still not convinced that Nia Jax won't be added). They had a triple threat last year. Why do the same this year? At least Bayley was a little upset over how she won at Fastlane as opposed to how happy she was how she won the Title in the first place. None of this worked for me. The scripting of Mick Foley, Bayley and Sasha Banks wasn't good. Once again, the heel Charlotte sounded the most reasonable. Foley should not be polling the fans as to what they want to see. A title match at WM should be based on merit, not what some fans cheer for. Stephanie McMahon was making good points, but in an obnoxious way. This set up Bayley vs. Banks with Charlotte on guest commentary. The constant bickering among her and Byron Saxton got tedious. The ending of the match didn't make much sense. Bayley would have gotten to the rope on her own to break the hold, but Charlotte tried to cheat and it backfired on her. The match itself was good otherwise, but the context wasn't good.
Triple H Interview: Did Triple H really say he didn't give himself his nicknames? I remember the interview with Jim Ross when he first called himself The Game. He always has given himself his own nicknames. Now he is a heel and you could argue that heels lie, but then a babyface should probably correct the record which of course nobody did here. Maybe Seth Rollins will in the weeks to come, but I doubt it. He also spent time talking up WWE's medical professionals in a weird way. What does that have to do with anything? It had to be in response to C.M. Punk's lawsuit and accusations in an odd message in his home town. Triple H was doing his babyface corporate character while at the same time being an ass and a heel towards Rollins. It was disjointed which makes sense as he has been disjointed for months now as the babyface who brings the fans NXT and the heel Authority who screws over wrestlers on Raw.
Joe vs. Jericho: A 3 minute squash match? Really? A match of this magnitude ending so quickly continued the bad stretch of Raw. I understand that WWE has to keep Samoa Joe strong. I understand that he is being built up as the destroyer. I understand that they were trying to protect Chris Jericho by having him lose via a count out. But he was counted out after taking Joe's submission choke hold finishing move. If it happened in the middle of the ring, he would have lost in the ring instead. A count out in this situation is not an actual out for Jericho. They gave Owens a very strong victory, but Jericho a pretty weak loss. I don't understand that. They don't even have anything on the horizon for Joe at WM. I have thought that maybe Finn Balor will return to face him, but if that's the case they need to get to it soon.
Strowman, Reigns, Undertaker: I suspect that I am in the minority of fans on this issue, but I did not like the ending of Raw. Why was Undertaker on Raw? There was no reason given. He came out to interrupt Brawn Strowman's challenge to Roman Reigns. But, why? It was odd how Strowman backed out of the ring at that point. Undertaker didn't say anything. He came out, Strowman left, and then he started to leave also. What was he doing there? If Reigns didn't decide to come out at that point, Undertaker had no purpose to showing up. He was leaving. I don't get it. Compare this to when Triple H challenged Undertaker on a Raw for a match at WM by pointing to the sign several years ago. That felt like a huge moment. Here, they both looked up at the sign and it felt like a let down. It left me cold. This is one more big match at WM which doesn't get me excited. If it really turns into a heel turn for Reigns, and not just being a heel for this one match like I suspect, then it may be worth it in the end. But, this first step didn't work for me. This was a bad ending to a bad second half of what started out to be a great show.
NOW CHECK OUT LAST WEEK'S ARTICLE: WWE RAW HITS & MISSES 2/27: Lots of Misses this week with Stephanie-Foley, New Day, Bayley, Gallows vs. Cass, Rollins, Contract Signing
---
Jon Mezzera is PWTorch.com's WWE Hits & Misses Specialist, providing his point of view for Raw and Smackdown each week. Email him at jmezz_torch@yahoo.com. Act now and become my 68th Twitter follower@JonMezzera (pretty clever handle right?). Just be aware that I don't live tweet Raw, I don't tweet much about wrestling, and I don't tweet much at all.