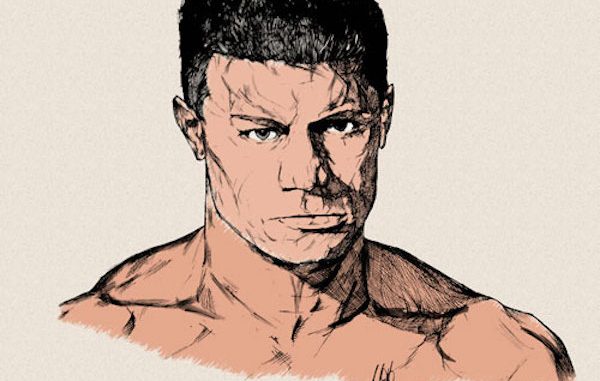 ---
SPOTLIGHTED PODCAST ALERT (YOUR ARTICLE BEGINS A FEW INCHES DOWN)...
---
CHAOTIC WRESTLING "RHODES TO GOLD"
AUGUST 4, 2017
DANVERS INDOOR SPORTS ARENA (Danvers, Mass.)
REPORT BY MIKE MCMAHON, PWTORCH CONTRIBUTOR
Chaotic Wrestling packed an estimated crowd of 500 people into the Danvers Indoor Sports Arena in Danvers, Mass. on Friday night for a big card, which included ROH World Hvt. Champion Cody Rhodes putting his ROH Title on the line in a Title vs. Title match against Chaotic Hvt. Champion Elia Markopoulos.
Markopoulos, you might remember, formerly wrestled for TNA and took part in a Gut Check segment in 2012, when he was just 18 years old. After Gut Check, he was assigned to OVW until 2015.
.@ChaoticWrestlin tonight in Danvers. Cody Rhodes headlining vs. @Eliamarkopoulos. Place is packed. I'll have a report @PWTorch later. pic.twitter.com/5cZ6lEkZKZ

— Mike McMahon (@MikeMcMahonPW) August 5, 2017
(1) Cam-An Connection (Cam Zagami & Anthony Greene) beat Da Hoodz (Davey Cash & Kris Pyro) to retain the Chaotic Tag Team Titles
This was a really solid opener that had some great action with wrestlers the crowd were genuinely invested in. Cam Zagami was a contestant on the first season of John Cena's "American Grit" show, which aired on Fox.
Da Hoodz remind me of a cross between LAX and The Gangstas. They came to the ring with a baseball bat and chains and from the second they hit ringside, were jawing with fans in the first few rows. They were making their return to the company after a few months away.
The Cam-An Connection is a good act as a team. I've seen them on a lot of shows around New England the last couple of years, and they keep getting better. There's a chemistry between them and I wouldn't be surprised to see that take them to some bigger stages down the road.
(2) Robo the Punjabi Lion beat four opponents in a "Punjabi Procession of Pain" gauntlet match
Robo has the superstar look. He's not overly tall, but he's in great shape and has a certain superstar quality to him. He's still relatively new to wrestling, I believe, but you can tell from looking at him that he's going to go places because he carries himself like a true pro and he doesn't look like an indie wrestler. He looks like a star.
(3) Dan Terry beat Brick Mastone
Mastone was supposed to face Brett Domino, but he was found beat up backstage. Mastone, whose gimmick is that he's on a losing streak, said he planned on destroying Domino, and told the referee that he would gladly take the count-out victory. But, before he could, Dan Terry came to the ring as a replacement. Terry ended up getting the win after about six minutes, but after the match, Mastone got his heat back by beating up Terry.
(4) Donovan Dijak beat Christian Casanova and Josh Briggs in a triple threat match to win the Chaotic New England Championship
This was Dijak's last match in Chaotic Wrestling, a place he has called home for the past four years, and fittingly he won the New England Championship on his way out the door.
This was the match of the night. Dijak received a standing ovation before he even set foot in the ring and the crowd, knowing this was his last match in the promotion before heading to NXT, was on fire for every second of it. Dijak winning the championship leaves a lot of interesting possibilities for what the company might do with the championship. Regardless, this was the right move putting the title on Dijak. The crowd was so pro-Dijak in this match, it would have been a disappointment for him not to win.
Someone sitting near my tried to make the point that Chaotic should have used this match as a springboard for Josh Briggs, giving him a big win over Dijak as he leaves the company. But, I don't think that would have worked. This crowd didn't want to see Dijak lose, and putting Briggs over would have brought the crowd down and it could have turned him into a heel.
After the match, Dijak cut an emotional promo thanking the fans. And, he endorsed Josh Briggs as his replacement when it comes to "athletic big guys." Dijak could not have been more complimentary of Briggs in his post-match promo (see below). The promo got Briggs more over as a babyface than a pin would have.
Briggs, like Dijak, is very athletic for a big man and I've been a fan of Casanova as well. They're two very different wrestlers in terms of shape, size and style, but both have bright futures. Casanova is more of a cruiserweight but he's shown a lot of depth as a character the last year.
What a way to go out @DonovanDijak #ThankYouDijak pic.twitter.com/le0DWzK9X1

— Chaotic Wrestling (@ChaoticWrestlin) August 5, 2017
(5) JT Dunn beat Mike Verna
This was the most hard-hitting match of the night. Dunn and Verna brawled through the crowd and around ringside before the match ended up back in the ring and Dunn got the win after two Death by Elbows.
Three weeks ago I attended an XWA show in Rhode Island and wrote that Dunn is ready for a bigger stage after his match with Johnny Mundo. The same analysis still applies. There's just something about JT Dunn. He's not the biggest wrestler in the locker room and he might not even be the most technically sound, but people gravitate towards him. He has that innate quality to draw people in.
(6) Dick Justice beat Chase Del Monte
Prior to the match, Del Monte interrupted Ted DiBiase during his promo and, well, it didn't end well for Del Monte …
Leave it to @chasedelmonte to interrupt a legend like the @MDMTedDiBiase, but the #WWE HOFer always puts his money where his mouth is pic.twitter.com/AHNMY5Le8U

— Chaotic Wrestling (@ChaoticWrestlin) August 5, 2017
Being down as long as he did allowed Justice to get the advantage early. There was a lot of comedy in this match but the crowd was absolutely loving Justice. After the big brawl throughout the building, this was a nice change of pace. Justice getting the win was a bit of a surprise. Even though Del Monte took a beating prior to the match, which is his "out" in terms of excuse making, Del Monte was the Hvt. Champion not all that long ago and just a few months ago wrestled Rhodes to determine the No. 1 contender.
(7) Cody Rhodes fought CW Hvt. Champion Elia Markopoulos to a no-contest
This match was set up as title vs. title earlier in the show after a promo. Markopoulos was playing the heel throughout the match and in the promo earlier in the show. During the promo at around the midpoint of the show, Brian Milonas also appeared and said that he was going to take out whoever won the main event. Milonas said there was no better way to impress Ring of Honor than to take out their champion, who refuses to sign a contract with them.
Markopoulos has been a babyface but up against Cody, he was going to play the heel. The crowd was behind Cody 100 percent in the promo and in the match. But, the booking, from Markopoulos' standpoint, was strong because he left the match a babyface, and a bigger one than when he came in.
The match itself was a little disappointing, not from a quality standpoint, but the no-contest finish just felt flat when the match had been built up as a title vs. title match earlier in the show. Cody has been on Chaotic shows before, and the title vs. title stipulation had people around me expecting a title change assuming Cody would once again return to the company soon (it should be noted, after the show, Cody tweeted that this was his last Chaotic show for a while). No one expected the ROH Title to change hands, but a lot of people after the promo expected to see Cody win the Chaotic Title in the main event. When that didn't happen, it felt a little disappointing.
The no-contest came when Milonas walked to ringside and took out the referee when Cody was about to pin Markopoulos. A second referee hit the ring when Markopoulos was about to pin Cody, but again, Milonas pulled the official to the outside through the bottom rope and hit him with a clothesline. That emptied the Chaotic locker room and a huge brawl took place in the ring and around ringside.
Oh, so how did Markopoulos leave the match a babyface? Well, he leaped off the balcony.
INCREDIBLE

It's total bedlam in Danvers and Champion @Eliamarkopoulos just made a death defying leap onto the Roster!!#RhodesOfGold pic.twitter.com/mUi7nlqOKE

— Chaotic Wrestling (@ChaoticWrestlin) August 5, 2017
Overall, this was a really entertaining show. Chaotic does a nice job of blending different styles and also giving their wrestlers time to develop characters and tell stories. This wasn't an indie show where it was just a bunch of random matches thrown together. They do a good job of telling compelling and logical stories, weaved from show to show, which is one of the reasons their crowds have grown and people keep coming back.