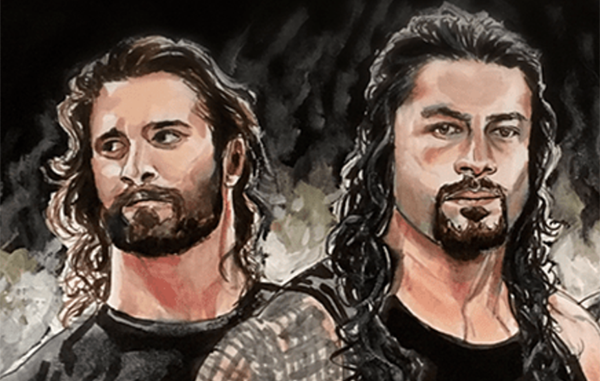 ---
SPOTLIGHTED PODCAST ALERT (YOUR ARTICLE BEGINS A FEW INCHES DOWN)...
---
There was a time, during the original brand split, where Smackdown were dominating proceedings. That was during the early times of the Smackdown 6. Angle, Edge, Benoit, Eddie Guerrero, Chavo Guerrero, and Rey Mysterio. They effectively had the strongest mid card that it is possible to have. Meanwhile, Brock Lesnar was at the top taking on Big Show and The Undertaker while future superstars like John Cena were coming up at a calm pace.
Then, successive brand splits and swaps slowly started to result in major talent rapidly moving over to the red brand. The real show that Raw was more important was when the WWE title was moved off of Smackdown in a champion for champion trade. As time moved on Smackdown was increasing left in the dust.
This changed with the arrival of one A.J. Styles. Upon his arrival, Styles made Smackdown his show and he has pushed the ratings since his arrival. Unfortunately, with firm rumours of his expected trade and a recent heavy reliance on yet another McMahon to keep people interested, Smackdown's role in proceedings seems very much in jeopardy.
This time last year I laid out some predictions and detailed good trades in my eyes, complete with some names that would hard the products they represent if they are moved. I'm Tom Colohue and this is Colohue Dogma.
---
Follow Tom Colohue on Facebook and @Colohue for updates.
---
Raw Banks
1. Roman Reigns
Roman Reigns was my first bank last year and he is once against my first bank this year. Our future Universal Champion is probably the most Raw brand talent in the company; a home grown, company shilled Vinny Mac favourite made of muscle, aggression and fury. A trade to Smackdown Live, a show built around a more indy style, would simply be confusing.
Yes, there is the potential for good feuds, but Reigns' high impact style is lacking in realistic opposition. Meanwhile he is currently on a brand with Samoa Joe, Braun Strowman, Bray Wyatt and, potentially in the near future, Jinder Mahal. Roman is a natural leader for the red locker room.
2. Matt and Jeff Hardy
Jeff Hardy is due to return shortly and looks likely to be almost entirely defined by the broken Matt Hardy storyline. Now, love this gimmick or not, it's hard to argue that it required very particular parts in order to succeed and those parts are undoubtedly on Raw. Bray Wyatt, an ideal opponent, has already been in that position for almost six months. Goldust, the only other natural opponent, seems to be next.
Of the others who could do well against Matt Hardy, only Baron Corbin is on Smackdown. Meanwhile, Elias is on Raw, so what tag teams are there for the Hardys to feud with on the blue brand? Perhaps Breezango?
Sticking to Raw, with Wyatt, with Goldust and Elias and potentially Aleister Black coming up to Raw for a mania feud with Wyatt, the Hardy Boyz are exactly where they should be.
3. Sasha Banks
Glamour, style, a streak of utter evil, the beautiful Mrs B was born to lead the women of Raw. With the need to push a newly face Nia Jax, a dominant Rousey who will be kept away from the title for a while as she develops and new faces such as potentially Naomi, a heel Sasha Banks will be absolutely essential to be the journeywoman, the star maker, the one who makes everyone else look good.
Meanwhile, Smackdown Live has a serious problem when it comes to female heels. It's almost all that they have, meaning that someone of Banks' naturally vile talents is absolutely essential on Raw.
---
Smackdown Banks
1. A.J. Styles
Seriously, don't do it.
What Roman Reigns is to Raw, AJ Styles is to Smackdown Live. Styles leads the locker room there. Styles embodies the indy style that Smackdown Live is going for. He is worshipped, respected and everything you need of a champion. Daniel Bryan may be about to take the top face spot, and Styles might be about to undertake a "dream match" with Shinsuke Nakamura, but there are still years upon years of dream matches to come. Daniel Bryan is the most obvious of course.
A move to Raw would set Styles in the role of underdog. While he can put on a great contest with your Samoa Joe and your The Miz, putting Styles in the ring with someone like Braun Strowman will only hinder Strowman's development given that Strowman can still only really wrestle one kind of match. Recent feuds with Ambrose and Reigns, as well as a great match with Brock Lesnar mean that there really isn't much room for AJ Styles on Monday Night Raw.
2. The New Day
New Day's move to Smackdown Live was well heralded given how big a name they brought to the table and the calibre of match they can deliver. The fact that they went on to consistently deliver the best matches on every pay per view show was as much a bonus as anything.
The New Day are also the biggest draw in tag wrestling and a genuine ratings boost whenever they appear. Smackdown needs people like that and with one of the top blue brand tag teams seemingly destined to move over, The New Day need to stay to anchor the division and ensure more high quality exchanges in the near future.
3. Becky Lynch
Heavily rumoured to be moving across to Raw, Becky Lynch would be a story barely even begun if that rumour is true. Lynch has struggled immensely for consistency and any genuine push. She is an obvious talent with immense personality, a great bond with the audience and to WWE's credit they have always ensured that she wins big matches in big ways. Unfortunately, those matches are rarely won when actual stakes are on the line.
Smackdown Live needs faces right now, and with Asuka's streak alive and well, Becky Lynch would be an ideal candidate to be the one to take her down. Additionally, she is another one that truly embodies the Smackdown spirit, having fought and crawled her way through the indy circuit, even giving up at one point, Becky Lynch is everything that Smackdown Live should be.
---
Brand Swaps
Seth Rollins (Raw) for Randy Orton (Smackdown)
This trade was also my top trade last year. It didn't happen then but it should definitely happen now. As extra, this trade should happen while both hold the midcard titles because that would be hilarious when The Miz returns to Raw with no title to compete for, so close, just so close to the record.
Rollins for Orton is the fairest trade possible. Moving Orton to Raw, as face or heel, means that he can walk into feuds with anyone on the roster. The Miz, Ambrose, Reigns, Samoa Joe, Elias, literally anybody. Orton is one of the most recognisable names on the planet and can continue to create stars by going in the ring with anybody. Add in that he and Wyatt have unfinished business and once again mention the potential debut of Aleister Black and doesn't it just make you salivate?
Orton would even be a good opponent for Matt Hardy. Win win.
Meanwhile, Seth Rollins is in the exact same position. AJ Styles? Gimme. Shinsuke Nakamura? Gimme. Dolph Ziggler? Gimme. Shelton Benjamin? Gimme. Xavier Woods? Gimme. Daniel Bryan? Gimme. Shane McMahon? Gimme. The list goes on and he is another one that could go face or heel.
Finn Balor (Raw) for Jinder Mahal and Bobby Roode (Smackdown)
To be clear moving forwards; Smackdown's roster is still bloated and, with more to come via NXT, they need to send people over to Raw to fill the gap in programming that the lack of Cruiserweight action has left. With this in mind, I present this trade.
Finn Balor has the indy style mentioned in buckets and he would unquestionably make a perfect heel foil to the Styles, Rollins, Bryan triumvirate at the top, particularly if he brought The Club with him.
For Jinder Mahal, he has done all he can on Smackdown and, given his new stature, he could do great things over on Raw. Mahal has improved immeasurably this year and could quickly establish himself in an immediate feud with Reigns, despite being on the losing end. Meanwhile his physique, anti-America gimmick and old school heel stylings will add a lot to the midcard over on Raw.
Bobby Roode has not done great on Smackdown and for me a lot of this is just down to his style. Roode is a slower, more traditional worker in the Triple H mould. Beyond Randy Orton, there aren't many others on Smackdown who work that style. Over on Raw of course, there are a ton. He would have an opportunity to reinvent a little and will help pad a roster when he lines up against The Miz and Elias.
The Club and Cesaro (Raw) for The Usos and Chad Gable (Smackdown)
The Usos are ready for the next stage of their career. That means new challengers, new feuds and a new location. The Usos are simply too big for Smackdown Live now and that's a perfect character arc to go down. They have already fought all of the Smackdown Live tag division and need a move to keep things fresh.
Cesaro meanwhile will be moving without a partner as this gives Sheamus the chance to get his neck surgery. Cesaro would provide a fresh heel in the upper mid card all the way to the top of the card. His fast paced style would only be a major addition to the roster.
The Club would be moving alongside Finn Balor in this prediction and they'd be moving to a roster which is more respecting of wrestling talent. Smackdown would allow them to bloom, show what they're really made of, and make a real difference to the tag rosters.
Finally, we have Chad Gable to Raw, where he could retell the NXT storyline that covered the formation of American Alpha. That would give Jason Jordan a storyline too and add a fresh and exciting tag team to the red brand roster. Plus, everyone loves watching someone pay their dues, right?
Bayley (Raw) for Naomi and Natalya (Smackdown)
I've mentioned higher up two things that both count when looking at the women's rosters. Firstly, Raw needs heels and Smackdown needs faces. Secondly, Smackdown has too many names and Raw has too few. This trade is with that in mind.
Bayley needs to be moved away from Sasha. There's no doubting that any more, and this trade would still allow the two to have their match at the upcoming Backlash pay per view. Moving to Smackdown gives her a major opportunity to refresh and to be more and with talents like Asuka, Charlotte, Carmella and Riott to feud with, Bayley can really show what she's made of.
Naomi would be moving to Raw for a couple of reasons but first and foremost she would be the odd face out for a while, taking the pins to make Natalya and Banks look good before the two of them are taken out by Rousey. After that Naomi would have plenty of room to develop and hopefully move towards the same feuds again but on the winning sides.
Natalya would be there, as ever she has been, for experience. Nattie is a great wrestler, a reliable heel and has all the technique necessary to make sure that Jax, Rousey and Absolution all come out looking great whenever they step into the ring.
So what does everybody think? Drop comments below, or message me on Facebook or @Colohue on Twitter and I'll see you soon for more Colohue Dogma.
---
CHECK OUT THIS RECENT COLUMN: MAGIC, MEMORIES, AND MANIA: Top Ten Post Shawn Michaels WrestleMania Matches