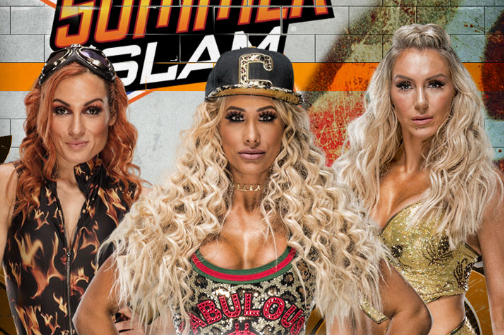 ---
SPOTLIGHTED PODCAST ALERT (YOUR ARTICLE BEGINS A FEW INCHES DOWN)...
---
Before we get into the nitty-gritty of this months' article, I want to go over some of the responses from my current "Elite" performers survey, which of course was the third iteration I've done of the survey.  The reason for this survey is to find out objectively who the most popular performers in the game really are, and who should be and are commanding a premium price within the game on the secondary market (trading or buying/selling).  If you haven't taken the survey what are you waiting for? Here's the link: https://goo.gl/forms/SwxuqTOD8q8Laa7t2.
So far there's just over 2 dozen reponses, which isn't nearly as many as the previous two surveys that I've run, so hopefully you'll all go out and submit a response.  Thus far, the responses are running right in line with the previous two versions, though there have been a few interesting developments.
For the Main Roster Men, the status quo hasn't really changed much, the top three vote getters are AJ Styles at 92%, then Finn Balor at 68% and finally Seth Rollins at 52%.  So Finn has actually moved up to the #2 most popular male and Seth's dropped. The only other male that got 50% of the vote was Undertaker at 52%, so he's seeing an increase in demand lately, probably due to his actual appearances on WWE TV in 2018.
On the more feminine side, #1 and #2 remain Alexa Bliss at 84% and Becky Lynch at 68%.  There's currently a tie for #3 between Charlotte Flair and newcomer Ronda Rousey. Asuka is the only other woman who got 50% of the vote.  I do want to comment on Peyton Royce, who appears to be the next big thing in terms of popularity on the women's side, she's sitting at 44% of the vote currently, with her stable-mate Billie Kay at less than half of that total.  So while there does seem to be a very vocal base of Peyton collectors, those surveyed thus far haven't bought into her hype.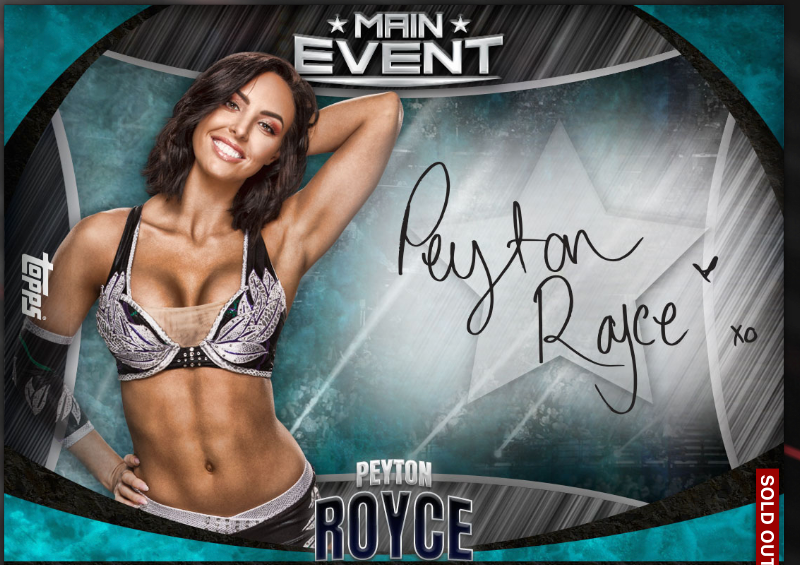 There aren't too many cards that sell for more than this one, see the list below!
The story remains the same for NXT Men too, Adam Cole, Aleister Black and Johnny Gargano remain the top three in that order, with newcomer Ricochet tying Gargano for third.  Curiously newly-minted NXT Champion Tomasso Ciampa is sitting at just under 50% of the vote.
For NXT Women their champion Kairi Sane is sitting at #1 with 83% of the vote, while Nikki Cross is a distant second at 65%.  Shayna Baszler and Candice LaRae are tied for third at just 35%.
Cruiserweights are still the step-child in the game with their cards not moving nearly as well as even legends do.  Neville is still #1 with current champion Cedric Alexander at #2. Neville though is no longer really with WWE, so there won't be much demand for his cards going forward most likely.
On the Legends side, first through fourth are Stone Cold Steve Austin and Shawn Michaels tied for first with 74%, then The Rock at 70% and Bret The Hitman Hart at 57%.
A new category that I created this year would be authority and announcers, a sort of catch-all for those folks who don't usually take up active ring duties.  In this category Paige is #1 with 74% followed by Renee Young at 61%, then Stephanie McMahon and Triple H tied for third at 52%.
Lastly I created a category for "no longer with WWE" for those performers who have cards but aren't with the federation anymore, and that's got Austin Aries at #1 with Emma at #2.  No doubt Neville will show up here next time I run the survey.
So really nothing earth-shatteringly new here, with the exception of Ronda Rousey making the top women performer list, but really did anyone think she wouldn't?
Now how does this all translate to the secondary market you  might ask? Well, when you're trying to make a trade you have to place a value on each side's cards.  Common determining factors to figuring out value would be the set the card comes from, the number in the game (CC or card count), how expensive it was to obtain, and probably most importantly, who's on the card.  Another factor, which I'm going to talk about extensively next month, is how much personal effort you put into obtaining that particular card and it's value to you the individual collector. See that, it's called a "tease."  But I digress.
Alexa Bliss is by and far the single most popular performer in the game, bar none.  Her cards are consistently in demand and easily tradeable. Even her low-end cards, the ones with tens of thousands in the game sell and trade better than their same-set counterparts.  Becky Lynch, Charlotte Flair and Ronda Rousey are all highly valued in the game, maybe not quite as much as Alexa, but still very very popular and very easy to trade or sell. Purchasing them usually commands a premium as well.
When you look at their higher end issues, such as Kiss Signatures you can really see a difference in pricing.  Alexa's 2018 Kiss goes for between $20 and $30, while Becky's sells for between $10 and $18. Same CC cards, issued almost simultaneously too.  Asuka's Kiss sells for even less than Becky's. It's all due to demand, Alexa is just more in demand than the others.
I focus a bit more on the women performers because frankly, the women performers are much more popular in the game than men.  Some players even demand a 2-1 trading advantage when they're dealing men for women and the thing is, they get it more often than not.  Even your lower end popularity of women cards will do better in game than all but your top two male cards. AJ Styles is far and away the most popular male in the game, but he doesn't command much of a premium in trading because Topps has including him in almost every set and he's got well over 100 unique signature cards in the game.  Finn Balor has a number of fans (myself included) and his demon cards can usually garner a premium price, but his normal run of the mill non-demon cards sell and trade about as well as any other top-level guy. In fact I'd say some of his cards will give the women a run for their money, but for the most part, the women's division runs the game.  I can only imagine what the inevitable Evolution PPV set will end up looking like and what they'll end up selling for on the secondary market.
Top 25 Single Card Sales
I'm trying to make this a quarterly feature (because eBay only lets you see the last 90 days worth of sales), the last time I looked at the top 25 it was middle of June, so middle of September is just about 3 months out, let's see what's been leading the charge when it comes to singles on ebay.  This list is based on bona-fide single card sales, no lots of multiple cards are included. If more than one copy sold, the highest and lowest prices it's sold for are listed. If you have bonafide single sales that you'd like to report, send them over to me or comment below!
| | | | | | | | |
| --- | --- | --- | --- | --- | --- | --- | --- |
| Rank | Year | Set | Performer | Variant | CC | Hi | Lo |
| 1 | 2018 | Signature Series | Ronda Rousey | Gold | 34 | $200 | $90 |
| 2 | 2018 | SummerSlam | Carmella vs. Charlotte Flair vs. Becky Lynch | Orange | 25 | $200 | $125 |
| 3 | 2016 | Backlash | Women's 6 pack Challenge | None | 50 | $200 | $173 |
| 4 | 2018 | Excellence | Paige | Gold | 5 | $155 | |
| 5 | 2016 | TLC | Alexa Bliss vs. Becky Lynch | Gold Signature Award | 30 | $145 | $73 |
| 6 | 2018 | Main Event | Peyton Royce | Teal | 25 | $125 | $70 |
| 7 | 2018 | 2nd Anniversary | The Rock | Gold Signature | 10 | $100 | $85 |
| 8 | 2018 | Platinum | Alexa Bliss | Gold | 25 | $100 | $80 |
| 9 | 2018 | Platinum | Alexa Bliss | Gold Signature | 10 | $90 | |
| 10 | 2018 | Five Star | Peyton Royce | Gold Signature | 100 | $88 | $30 |
| 11 | 2016 | Base Set | Nikki Bella | Lime Green | 26 | $83 | |
| 12 | 2018 | Excellence | Bray Wyatt | Gold | 5 | $80 | |
| 13 | 2018 | NXT Takeover Philadelphia | Andrade 'Cien' Almas vs. Johnny Gargano | Purple Signature | 5 | $80 | |
| 14 | 2017 | Topps NOW NXT War Games | Undisputed Era | Mat Relic | 10 | $80 | $75 |
| 15 | 2018 | 2nd Anniversary | The Rock | Silver Signature | 10 | $80 | |
| 16 | 2018 | Off the Panels | Alexa Bliss | NYCC Variant | 50 | $79 | $33 |
| 17 | 2018 | Platinum | Braun Strowman | Gold Award | 5 | $71 | |
| 18 | 2017 | High Caliber | The Rock | Gold Signature | 5 | $70 | |
| 19 | 2017 | High Caliber | Kurt Angle | Gold Signature | 5 | $70 | |
| 20 | 2017 | Black Friday | Sasha Banks | Award | 36 | $70 | |
| 21 | 2017 | Topps Now Roadblock | Charlotte Flair | Mat Relic | 25 | $70 | |
| 22 | 2018 | Platinum | Alicia Fox | Gold Signature | 10 | $70 | $25 |
| 23 | 2018 | Vintage | Alexa Bliss | Base | 35 | $70 | $50 |
| 24 | 2018 | Wrestlemania 34 | Bayley vs. Sasha Banks | Purple Signature | 5 | $66 | |
| 25 | 2018 | Gold Rush | Alexa Bliss | Base | 50 | $65 | $20 |
The number 1 card this time is Ronda Rousey's first gold signature, limited to just 34 CC.  The price range is all over the place though, that high end is really super-high, and the low end is just a steal.  The mean price is probably right abound $100 though. Having both Becky Lynch and Charlotte Flair the #2 and #3 most popular females in the game on one card along with Carmella, add signatures and a hard 25cc limit and you've got yourself a $200 card.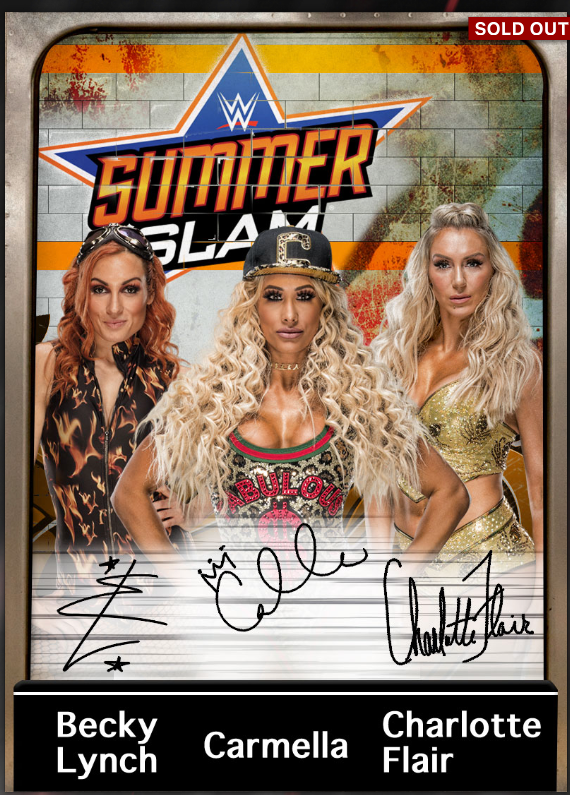 Take a Low CC and add the #2 & #3 most popular women in the app and you too can have a $200 digital trading card.
The #3 card is one of the oldest on the list, and while it's always in demand, the Backlash 6 Woman Signature is so rare that you almost never see one in the wild, except that there have been several sales of it in the last 90 days.  At least three unique cards sold during the time frame, and it's possible more than that, but I can't tell since there are 5 closed auctions but only 3 unique sellers. $200 is the most this card has traded for thus far as far as I can tell, but the sky is certainly the limit as more players join and want the card (realizing that they can't afford it though).  With only 50 copies in the game, it's always someone's holy grail.
As I mentioned earlier Peyton Royce has a good number of very vocal advocates out there in the game, and her popularity led to her having two very low CC cards in the top 10.  Her teal Main Event Signature was by and far the most popular card in that set which was loaded with top talent, and even better, the award for collecting all 10 ME Sigs was a Ronda sig.  Peyton's 5 Star Gold Signature is still the most expensive and most desirable card from that set and sells accordingly, putting it in the #10 spot this time.
Alexa Bliss was well represented with fully 6 out of the top 25 cards bearing her likeness.  No other superstar came close. It's very interesting to see that the sheer number of low CC cards ending up in the top 25 listings are dropping.  The first Top 25 I wrote up earlier in the year had 24 out of the 25 cards at 10cc or less, and of that almost all of them were 5cc or less. The second list in June was a bit better, only 21 out of 24 were 10cc or less. This time that number dropped dramatically to 12 cards.  So either Topps isn't releasing as many low CC cards or they just aren't selling as hotly.
Miscellaneous Notes:
Vintage base was released a little bit ago, providing yet another base variation with a low (35) card count.  Player collectors as usual whined about trying to get their favorite performers. Free players whined that they couldn't afford to buy packs.  Most players bought a few and moved on. The award is an Elias Signature base variation, which would be only his third signature in the game, and clearly the lowest card count of them all.  The award hasn't been scheduled yet.
Topps NOW returned in game after a several month absence, however the three-card drop wasn't the typical physical-to-digital release that we've seen in the past, this was a "commemorative" release from when AJ Styles, Charlotte Flair and Bobby Lashley visited Yankee Stadium and did their "live signature" event a few weeks ago.  They were not well received, and didn't sell very well. AJ ended up at 155cc, Lashley 121cc and Charlotte just over 250cc. They were all behind the paywall as well, and as such there is only one current auction on eBay for $17 for a 3 card set. Only the Charlotte has had a single sold and that went for just under $6. Talk about underwhelming.
After months of waiting Topps finally issued the Unmatched Seth Rollins awards this month.  You remember Unmatched right? It was a massive set that was only available on the Prize Wheel, a silver version was easily obtained because it came on everyone's wheel, but the Gold version was only available on the "premium" wheel that you got when you paid 100 diamonds to refresh your wheel.  Except when they screwed that up for at least two waves and gave everyone Gold cards. It was lame. In any case, the gold Seth award came in at 239cc, while the silver was 1731cc.
A couple of new sets have just hit the game: a new iteration of Blackout, an entirely new "Pop Art" set which looks promising, a new Signature Series version, and a Women's Champion set.  Topps seems to have a new paradigm when it comes to certain sets, 600 Diamonds for a guaranteed insert and 100 diamonds for reduced odds. IF there's a coin option it's 10K coins for very very long odds.  They're doing this with the Women's Champion set (no coin option), and the Pop Art (no 100 diamond option). The Blackout set has two variations, a B&W and a Color. The B&W is guaranteed at 100 diamonds with a 1:4 chance for the color.  The 5K coin pack offers 1:40 odds for the color and 1:15 for the B&W. Honestly this is the best way to do appease everyone, but it will diminish the secondary market value for those higher odds cards. At least everyone has a chance.
Don't forget you can find me in game at GRENDELSEN, and I'm always happy to trade or answer any questions you might have.  Leave questions or concerns here and I'll see you next time.