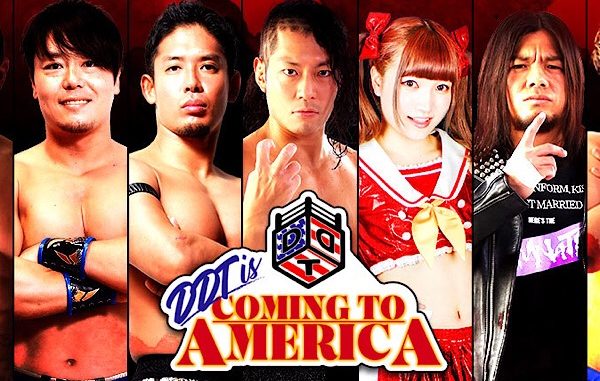 ---
SPOTLIGHTED PODCAST ALERT (YOUR ARTICLE BEGINS A FEW INCHES DOWN)...
---
ALAN 4L'S "DDT IS COMING TO AMERICA" REPORT
APRIL 4, 2019
LA BOOM, QUEENS, N.Y.
AIRED LIVE ON FITE.TV
On a week where traditionally many of the outfits running shows forget about the little things, cut corners and generally don't represent themselves well – DDT made a simple statement before their show even started to signify that they had no intention of falling into those traps.
They had one of their English speaking employees, a very affable man who identified himself as Mr. Haku I believe, get on the microphone and greet the crowd in such a genuinely enthusiastic manner that it instantly lifted the mood in the room. He introduced company president Sanshiro Takagi to lead the crowd in a simple cheer of "STARTO" to kick off the show. It was nothing major at all, but these are the little things that so often get left by the wayside for some reason.
That wasn't the only thing to get the crowd going before the show started. Mr. Haku brought out reigning Ironman Metalweight champ Saki Akai to explain the nature of DDT's resident 24/7 title but before that could happen, we got a very visual example. Makoto Oishi hit the ring and surprised the champ with a cradle to become the 1,351st champion to the delight of the crowd.
(1) Shuten-dōji (Yukio Sakaguchi & Masa Takanashi) vs. DAMNATION (Tetsuya Endo & Soma Takao)
Couldn't have asked for a more rock solid match to establish the high standard of wrestling in DDT. There was always going to be a lot of weird and wild stuff on this show but this showed that when it comes to basic wrestling DDT's guys are as good as anyone.
Sakaguchi and Takanashi are a couple of the promotion's veterans, with the former being the son of the legendary Seiji Sakaguchi (one time president of New Japan). He is a striker with an MMA background, while Takanashi is a tricky mat wrestler with all kinds of unique manoeuvres up his sleeve. DAMNATION is DDT's most popular stable, similar in so many ways to LIJ that it's a hard not to call them a rip-off. Endo is a real prospect and has the look and athleticism to be one of the best guys in Japan. He's just missing the charisma…. Should sound familiar to LIJ fans
The match was over and done with in less than ten minutes but all four guys got to shine before Endo put Takanashi away with an incredible looking version of his Yurikamome Hold. The action was solid and crisp throughout.
WINNERS: Tetsuya End0 & Soma Takao
Match Rating : 6/5/10
(2) Iron Man Heavymetalweight Title – Battle Royal
Your participants in this one were Kazuki Hirata, Makoto Oishi, Saki Akai, Yoshihiko, Kikutaro, Colt Cabana, Mizuki Watase and Yuu.
Our first dose of DDT frivolity here. My personal highlight was Kikutaro making his entrance, all fired up and then being stopped in his tracks by a jerk doctor from the New York State Athletic Commission. Despite being a veteran of over 20 years, Kiku sadly forgot to get his pre-show tests done and they had to be administered by the doc at ringside. He failed due to high blood pressure and was prematurely eliminated from the match.
Yoshihiko for those that don't know is an incredibly dynamic and impressive performer. Also Yoshihiko is a blow-up doll. But DDT is the last place to discriminate.
We got a bunch of whackiness which the crowd ate up and after several title changes, the belt ended up back where it was at the start of the night – with Saki Akai.
WINNER: Saki Akai
Match Rating : FUN/10
(3) HARASHIMA & Kazusada Higuchi vs. Jason Kincaid & Shigehiro Irie vs. Ethan Page & Akito
HARASHIMA has been one of the best wrestlers on the underground scene in Japan for over a decade and whilst it was a shame to have his only booking of the week be a multi-man tag, this was still a lot of fun. His partner Higuchi however has gotten plenty of exposure on other events with a show-stealing performance against J.D. Drake on the WWN Supershow gaining him a lot of new fans.
Higuchi is a former Sumo, who is very reminiscent to a young Genichiro Tenryu. He and fellow hoss Irie had some awesome exchanges in this one. Page and Kincaid have done several tours of Japan with DDT and are very familiar with the other wrestlers in this match. As a result the action here was smooth as can be.
HARASHIMA used his Somato finisher (running double knee strike) to defeat Akito in 9 minutes. Short but fun.
WINNERS: HARASHIMA & Kazusada Higuchi
Match Rating : 6/10
(4) Weapon Rumble In U.S.A. – Sanshiro Takagi vs. MAO
This was crazy! "Weapon Rumble" is a gimmick match which essentially is a cross between a Royal Rumble and a Hardcore Match. There's only two competitors but at regular intervals a new weapon enters the fray. Oftentimes these weapons will be people who sometimes turn against the competitor who tries to use them. The best occurrence of this was when Chunsuke Nakamura made his entrance and after his impeccable Shinsuke routine which had the crowd in raptures, he low blowed Takagi.
MAO is one of DDT's hottest young prospects. He's being pushed as the new Kota Ibushi especially from the perspective of his fondness for the extreme. Ibushi was one of the trend-setters of wild antics in DDT from wrestling in campsites to playing with fireworks in the most dangerous of manners. MAO is continuing that legacy with many of his own creative twists. His downfall in this one was his favourite weapon – the giant Tupperware box. He crashed through several of these before finally a Sunflower Pomb from the President through two boxes put MAO away.
This lasted 12 minutes and the crowd loved every second of it. Best thing on the show so far.
WINNER: Sanshiro Takagi
Match Rating : 7/10
(5) Miyu Yamashita vs. Maki Itoh
This only went 6 minutes but it was a tremendous showcase for DDT's Joshi brand "Tokyo Joshi Pro". It also proved a great showcase for Itoh's charisma and Yamashita's athleticism. This was a fierce fight from the get go, which the former idol group member Ito showing great instincts for a relative newcomer to wrestling.
Yamashita has a lot of hype in Joshi circles and she lived up to it here. Her strikes and the way she moves around the ring are world class. She has all the potential to be one of the elite women's wrestlers of this generation. She put Itoh away with Crash Rabbit Heat (a step up knee strike) to get the victory.
If this was 10-15 minutes it could have been one of the best women's bouts of Mania week. As it was, it was a damn good sprint.
WINNIER: Miyu Yamashita
Match Rating : 6/10
(6) Joey Ryan & Royce Isaacs vs. Danshoku Dieno & Antonio Honda
DDT were determined to show every side of their product on this show, and you can't argue that strategy. What that did mean though was we were going to see some of the lewdest humour you could ever imagine in a wrestling ring, and there's nobody more synonymous with that than Joey Ryan and that man he made his gimmick famous with – Danshoku Dieno.
This bout was pretty much all bum and penis based humour with bumcheeks on full display. Not exactly my cup of tea but I did enjoy Honda's fairytale deception spot. If you've never seen it, it just can't be described but it's definitely a reason to check this out on Fite TV.
Match Rating : I can't even…..
(7) KO-D Openweight Title – Konosuke Takeshita (c) vs. Daisuke Sasaki
DDT's top prize was on the line here with what is in many ways their version of Okada vs. Naito. Takeshita is a phenom. He debuted as a teenager in Budokan Hall against one of his idols El Generico. Now, still only 23, he's one of the most impressive physical performers in the business. He has size, power, speed, technical ability and a star aura. Sasaki is a grimey cult favourite – the leader of DAMNATION and a protégé of Dick Togo. His gimmick is that he blew all his money thinking the world was going to end and now he just drinks a lot and gets obsessed about married women. He's also one of the craftiest wrestlers in the promotion.
For a week when fans are hopping from show to show seeing dozens and dozens of matches, these guys were ambitious by doing a leg work match which built slowly. It worked out great with the crowd in the palm of their hands for the finishing stretch. Takeshita's selling of his knee was on point and really made you feel he was using every fibre of strength and natural athleticism he had to get back into the bout. The biggest spots were a CRAZY top rope elbow to the outside by Sasaki while the champ was laying prone across a row of chairs, and a vicious suplex on the apron by Takeshita.
Sasaki is the master of the dirty finish and he used it here to win the title to the shock of everyone in La Boom. A creative low-blow spot set up his capture Hurricanrana to get the three.
WINNER: Daisuke Sasaki to become the new KO-D Openweight Champion
Match Rating : 8/10
If the title change wasn't enough of a treat for the fans on DDT's first trip to America, they got one more for good measure.
(8) KO-D Openweight Title – Daisuke Sasaki (c) vs. Tetsuya Endo
Sasaki barely had time to celebrate before his team-mate Endo made a move, cashing in his Right To Challenge gauntlet (a staple of DDT). The impromptu match was a great way to close the show and Endo looked like a star winning with a GORGEOUS Shooting Star Press.
WINNER: Tetsuya Endo to become the new KO-D Openweight Champion
Match Rating : NR
Sasaki was willing to forgive and DAMNATION closed out the show with Endo positioned as the new star of the company. This was a raging success.
BUT it was not over yet!
Suddenly Saki Akai emerged being chased by the rest of the roster and the Iron Man Heavymetalweight title was on the line! After a few changes, DDT's legend Dieno was the one left standing with the belt (the 1,358th champion) and the show came to a close.
Overall recommendation – DDT took this opportunity very seriously. They wanted the world to see what they were and they made sure that everything about their company was showcased to it's fullest. Not everything will land with everybody but that is DDT at it's heart – it's a variety show. And this show was full of variety. They had a responsive proud who were excited to experience the product and they made sure they got the most out of those fans. The show was paced to perfection, they kept the energy going throughout and they made the experience extra meaningful with the title change and crowning of Endo. Highly recommended for DDT fans or those that want to check out a different flavour of Pro Wrestling.
Follow Torch columnist Alan 4L on Twitter @twitter.com/alan4L