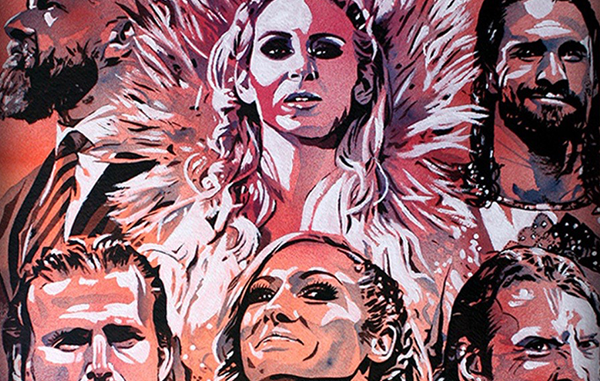 ---
SPOTLIGHTED PODCAST ALERT (YOUR ARTICLE BEGINS A FEW INCHES DOWN)...
---
Last Call for Survey Responses
I'm going to put out a last call for responses to the current "Who's Elite" survey I'm running. So far we have just over 50 responses, I'd love that number to be doubled, but I'll take what I can get. Over the next few weeks I'll be setting up a new poll that will let YOU the fans determine who's the most valuable in the game, or more importantly "Who's Elite?" You can submit your answer HERE.
Wrestlemania Week Sets
It's been a few weeks since the show of shows happened, and the landscape of the WWE certainly has been modified to an extent. The app, well, not so much change as things are chugging along over on Slam just as they've always been doing. New sets come and go, and the popularity of performers peaks and valleys just as it always has and players who populate the fan feed have no idea how to submit decent offers, so business as usual.
Certainly Becky Lynch was the clear winner at 'Mania and afterwards. Her popularity has never been higher than it is right now, and Topps is taking advantage by releasing Becky in almost every set release, front and center. Since she's a dual champion on both shows right now, she's appearing in every weekly recap set, and while those singles are the most popular of the recaps, the CC ends up being very very low (usually under 500). They even gave her a single release special Autograph card which wasn't too hard to pull.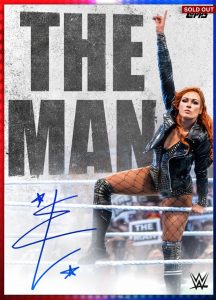 She's certainly "The Man"
The sets released in and around 'Mania itself were, honestly, fairly pedestrian. The first major announcement of the week was that a new batch of live signatures was going to be released, with each of the 10 personalized tickets going for 44K diamonds, or about $200 in cash. Sadly the actual checklist of this round was not at all exciting, with only four of the nine cards devoted to active wrestlers (Rey Mysterio, Kofi, Mandy Rose and Ricochet). The legends performers were all top tier stars in their time (Trish, Ric Flair, Kevin Nash, Razor Ramon and Sting), but they just couldn't garner that much interest with current players. Only Mandy Rose sold out of all 10 tickets. Trish had a solid 7, while Ricochet sold 6 and Flair sold 5. Sting, Razor, Nash, Rey and Kofi all sold less than 3, with Razor selling 1. Topps really needs to drop the prices on these things, because let's face it for that much cash you can get MULTIPLE in-person or on-card legitimate physical signatures.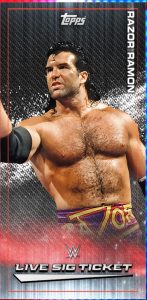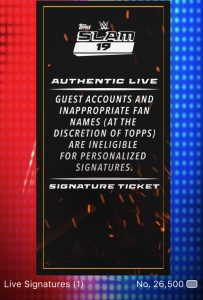 Poor Razor, only got one live ticket sold.
The first real "Mania" set this year was a recap of last years event with a 10 card set with a Ronda award. These were nicely done and in the spirit of recaps and Nows and was fairly well received. The singles ended up around 1600cc, and the Ronda award came in at 710cc.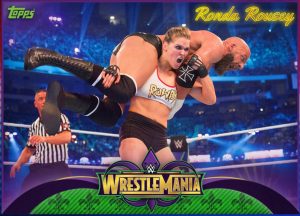 Now this is a great photo for a card.
We got our first major drop of the week with the NXT Takeover base and signatures the same day, and boy did it enrage fans. Because it was the 4th major Takeover at 'Mania or the 4th at Barclays, I'm not sure which, Topps decided that it's highest level of rarity for the 2019 Takeover base and sigs was going to be limited to 4cc, which of course sold out in minutes due to the 18 card set size. Signatures also came in a 20cc and a 1250cc flavor, which really doesn't make much sense, because there's no middle ground between 20 and 1250. Also the set itself was pretty bland as Takeover sets tend to be. We've already got plenty of PPV cards for almost everyone there, and besides War Raiders, I don't see a lot of new sigs either.
Wednesday would bring us NXT Die-Cuts which featured a number of NXT alumni on nicely shaped cards, though no new renders were used if I'm not mistaken. They were limited to 1000cc and only 379 awards were issued.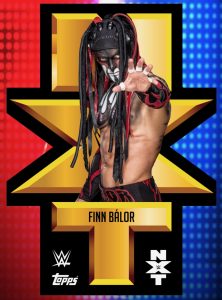 The Demon Calls You!
We also got the single worst set of the week that day, the Wrestlemania Logos Motion cards. Seriously Topps, these are garbage. The motion is silly and the odds (1:20 10K coins, 1 gtd 200 diamonds, 4 gtd 600 diamonds) were ridiculous. Oh but we all got a free one so there's that.
WWE Artist and Topps favorite Rob Schamberger appeared at AXXESS again and Topps did a special puzzle set of his latest creation, one level of which was available to all and one only at the convention. The convention set codes (you entered a code and got the whole set and the award) are selling for between $15 and $25, while convention singles are $4-8 typically. The in-game set was much cheaper and easier to get.
If you look hard you can still get this on eBay.
Finally on Thursday we got the main Mania set with its standard bells and whistles. Instead of 4cc for the highest level of rarity we got 10cc cards. Dual Sigs came in on 4 levels of rarity, 1200, 750, 35 and 5cc. They also did a 2 level Triple Sig for the main event, a silver at 50cc and a gold at 5cc. These have proven to be very popular and rarely come up for sale. I can only imagine what the 5cc would sell for. The rest of the set was pretty much more of the same, 80+ base, nothing special to be honest.
Of course there were the added prize wheels, bundles and predictors along with the two major base sets and they wouldn't really be worth writing about, except that the Mania predictors had a ridiculously small window of sales which expired at Noon PDT on Mania day, meaning a lot of folks on the West Coast missed them. For shame Topps.
Saturday's big release was a full set of Hall of Fame cards, with not only newer inductees, but multi-person cards with past inductees as well. These are really nicely done and would have been really popular if they had been issued in packs, but sadly they were released only as a full set and cost a ridiculous 3500 diamonds or roughly $17.50 in cash. I'm honestly surprised they sold 340 sets.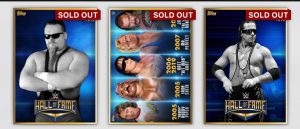 The only 3 cards out of the entire HOF set I wanted, and I bought them off eBay.
The final Mania related set that was released that weekend was the 5 card poster set, each limited to 1000cc and there was no award. I always like these releases and I feel no urgency to complete the set by the time it sells out since there's no awards.
Final note about 'Mania: Topps decided to do two drops of Mania diamond bundles rather than one NXT and one main roster, which must have worked because they sold almost 6,300 bundles with gross revenue over $73K, which is by far the most for any of the tentpole releases since last 'Mania.
New Sets and Notes
The major weekly releases have all continued since taking a break during 'Mania week. That includes the low cc Brave the Elements, Signature Series, Headlines, Legends, NXT Weekly and both sets of Recaps.
For base sets, the Gold Rush set got a couple of additions with Brock and Big E being issued on April 18 and the ongoing "purple base challenge" got a few new cards later that week with Stephanie McMahon, Taynara Conti and Xavier Woods being added to the game.
Topps celebrated Cinco De Mayo with a small 14 card "Red, White and Green" set that will yield a Rey Mysterio award later this month. They fell at 1:12 for 5K coins, 1 gtd at 50K coins, and 6 gtd at 600 diamonds.
New insert sets released after Wrestlemania have been fairly diverse with very few returning sets. Widevision made its debut in Slam after being featured in just about every other app. These are decent in-ring shots which are always welcome, and there were two drops of two variants for a total of 7 different cards. The award was Finn Balor. Level 1 were Silver and unlimited, Level 2 were Gold and had a 500cc limit. Pricing was 450 diamonds for 1 gold and 3 silver, 1:12 Silver, 1:30 Gold for 10K Coins (limited to 75K packs) and 1:12 silver for 10K coins after. Sadly these higher pack prices didn't equal popularity or secondary market sales. Each single of either tier can be found for two bucks or less, with only Becky Lynch going higher. Sets of all 14 cards don't even go for much more than $5.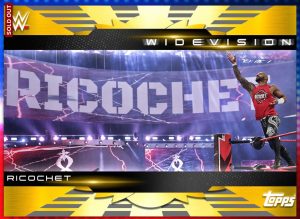 Because you didn't know who was on the card right?
Alongside Kofi's personalized live signatures they released the mass-market version of Live Signatures and "reprints" which are previous cards reissued with the signature on them. None of these are very exciting. Also the CC on them was fairly high, one was 1000 and the other two were 1500.
What was exciting though was that almost a week after Wrestlemania ended Topps decided to bring back the VERY popular Topps Now program with a whopping 7 cards for 'Mania and 4 more for Takeover. Of course the Becky Lynch single holding both belts was the single most popular card of the set, and still goes for between $6 and $8 on ebay. Whether or not this means we'll get further Nows is up in the air, I hope so to be honest, they're so easy to trade!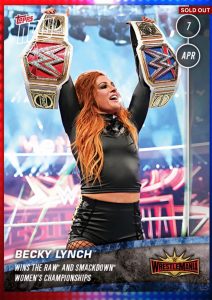 THEY'RE BACK!
In the middle of April Topps unleashed a "designer" series entitled "Main Exhibit". Each designer got four different cards of various super-stars in two variants, a standard and gold frame edition. The standard is unlimited, while the gold sold out at 500cc. These were 1900 diamonds for 4 frames/8 standards, 600 diamonds for 1 frame, 2 standards, and 10K coins for 1:5 chance at a standard. There were a total of 28 cards, (7 sets of 4 cards) in each variant, with 7 awards. The standard awards are dropping as I'm writing this, and look to be just over 1000cc each with the framed awards just over 200cc. While these are certainly a different look and much more interesting than other releases, the sheer size and confusing nature of the awards turned a lot of players off. The gold frames for the most part didn't even sell out at 500cc, and will be available in later "combo" packs.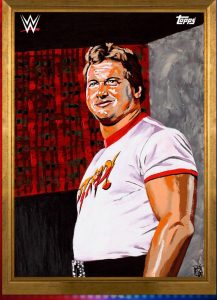 Just one of many unique art cards, of course I had to choose one by Schamberger, rather than someone else…but hey, it's the Rowdy one! No, not Ronda.
Standouts was a unique set that was dropped in the middle of April. This was a new design featuring action shots, or at least non-renders. The checklist though was devoid of the top of the top tier cards, with just Charlotte Flair and Roman Reigns standing out. The award was two different Ricochet cards, so his vocal fan-base was appeased. Otherwise they didn't sell very well, with under 500cc for each single being sold and only 121 awards issued.
Everyone got a free "Final Chapter" of the Shield insert on April 21. 9,344 of these were given out, so it looks like our player-base is back down to just under 10K active accounts.
Excellence Wave 2 dropped on April 24 and most players yawned. Seriously they haven't updated the base design in three years. These are boring. Of course some players chased the rare sigs, especially the dual versions, but none of them were new and everyone who got a sig already had them in the game. When Topps doesn't bring anything new to the table, collectors don't seem to care.
Then there was the annual "Superstar Shakeup" which has had its own set for a couple years now, Topps eschewing a new base variant that they did in 2016 and 2017. 13 Raw and 17 Smackdown stars got new cards which were 1:20 in 10K coin packs or 200 diamonds for a guaranteed 2. AJ was the award for all 13 Raw inserts and Roman was the award for all 17 SDL inserts. The singles sold out between 425 and 525cc, the awards ended up being 185 for AJ and 178 for Roman. These types of inserts usually have good long-term value for player collectors.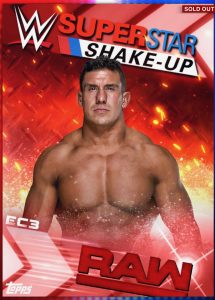 I still can't believe WWE is calling him "EC3"
Destruction is a new set in two drops that had its first 8 was released just last week. There's two variants, "Inferno" (500cc limit) and "Disintegrate" (unlimited). These are just the same old renders with a new background. The second drop of 8 is still forthcoming, and the awards for each variant are Roman Reigns. There is a Becky Lynch in the first drop and a Toni Storm in the second. Storm only has 5 other cards in the game currently and is a hot commodity.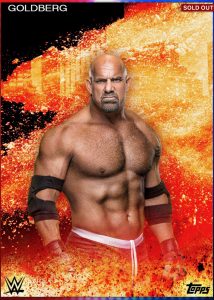 Ooh Goldberg.
One of those new Toni Storm cards comes in this year's version of "Main Event" which last year suffered from an error in odds yielding very cheap low CC teals. This year they fixed the issue, but the cards are bland and full of superfluous text. They also screwed up the initial diamond packs, not including any of the actual low-tier base, and only 1 or 2 of the high tier base or sigs. They were supposed to be all Main Event, not regular base. Topps had to reissue the packs and refund everyone's diamonds. The less I say about this release, the better. BORING. Oh also, the base teals are 25cc, but the signature teals are 50cc. That makes no sense.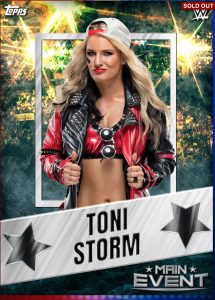 This card has sold for over $20 believe it or not.
Lastly this time around we got "Superstar Silhouettes" a four card set of "motions" which have a Finn award. The set is 10K for 1:40 chance, or 600 diamonds for a guaranteed card. The motion effects are very banal. It actually dropped the morning of this writing and after a whopping 3 hours of release there's just over 100cc of each card sold.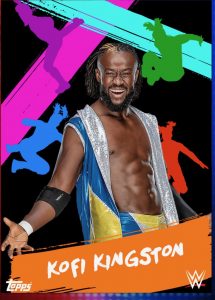 The background moves, that's it.
Don't forget you can find me in game at GRENDELSEN, and I'm always happy to trade or answer any questions you might have.  Leave questions or concerns here and I'll see you next time.