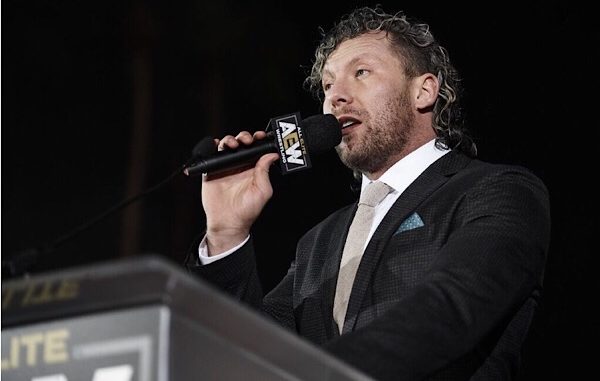 ---
SPOTLIGHTED PODCAST ALERT (YOUR ARTICLE BEGINS A FEW INCHES DOWN)...
---
Kenny Omega conducted an interview with Gamespot.com during E3 last week. Among the highlights were Omega discussing his upcoming match against Jon Moxley at All Out on Aug. 31 in Chicago and what makes AEW different from WWE. Here are some key excerpts from Omega's interview with Gamespot.
-On the lessons he can take from Double or Nothing to weekly TV:
 I mean, you really have to take a look at the good and the bad, the positives and negatives, and you have to be very constructively critical about your own performance. Now that we're essentially running the show, we have to be critical about what we can improve moving forward. So for me, I'm a real tough critic of myself. And, so, I unfortunately always look at what can we improve moving forward. So, for me, some production issues. We can clean up some of the camera work. Some of the audio issues. I didn't like that I could barely hear my theme music. You know what I mean?

But these are things that are such an easy fix. The things that we got right, were actually the hardest things on the show to get it right. We gave a full show, from start to finish, that looked completely different from start to finish. No one match appeared similar to one another. And especially the last three, four matches, they were all so visually different from one another. Different in feeling, different in atmosphere. And that's something really tough to do in wrestling because when you really dumb down the idea of wrestling, and when you think of it at the bare-bones level, it's… People think, "Okay, it's two guys, and they're oiled up, and they're wearing Speedos, and they're grappling with each other, rolling around.

Wrestling has evolved to a point where it could literally be anything, and that's kind of what the whole idea of AEW was founded on, was that wrestling can be anything, and we can expand those ideas. We can expand the entire universe of wrestling beyond what people have come to expect and beyond what people are used to seeing, even. So, in America especially, people associate professional wrestling with one company. And that's fine. That's totally cool. We want to be an alternative to that, and we want to expand on that entire idea.

So if you like what they're doing, that is great. I'm happy you love it. But, if you come over and watch what we're doing, we're going to give you not only what they're doing, but we're going to give you a bunch of flavors and types of wrestling that are much different than that. And I think, based on the first show, we're on the right track.
-On what has surprised from scouting arenas and putting shows together:
Right. So what people don't understand is that a lot of us, actually, that came from New Japan, that came from Ring Of Honor, we assumed a lot of responsibility there as well. I was kind of the driving force behind a lot of my storylines, behind a lot of my creative ideas. It's the stuff that you don't really see. I mean the tech stuff. Some of the set design. Those are things that are new to me, and even agenting matches or working on foreign visas, things like that, these are all things that are very new in my world, and these are the things that keep me awake at night. So, I mean, when we're thinking about how to plan the show, what order things should go in, how to produce a show, timing-wise and all that, working on sponsorships, selecting the arenas, working on the advertising aspect of it.

And then, you know for me, kind of being the sole Japanese liaison right now, not only am I having to do that during the day, during normal North American hours, I have to be awake for the Japanese time zone. And I have to work with our ladies and men up there to get their visas sorted out, to make sure that they're feeling comfortable, make sure their flights and their travel's squared up, hotels, et cetera, et cetera.

So it's very mentally draining, and I've been very under-rested. And then on top of that, when you strip all that away, I was in the first main event, so I got to still worry about my own performance. It's really tough, and I think when you burn the candle on both ends, eventually it's going to start to show. My big worry was not that, "Can I do it or can I not do it?" Of course I can. But for how long? Because everyone has their limit. So, right now, we are understaffed. But every week that goes by, we're finding new talented people. We're configuring this team and building a team that really wants to join this project and be successful with us. So the first show, to get it all out, was a bit of a struggle. We did it. Next we've got Fyter Fest coming up. Already, we're teamed up with CEO, so we have a lot of people in the [fighting game community], people from the 10-0 crew there that do hard work there, helping us put that together.

So, as time goes by, we're getting help from the usual suspects but also unusual sources as well. And moving forward, before we hit TV, I think we'll have our core crew assembled, and we'll be ready to just hit it home.
-On keeping TV fresh week to week on TNT:
I appreciate all the genres of movie or television show or whatever. Sometimes I'm in a specific mood. Sometimes I want to be scared. Sometimes I want to laugh, sometimes I want to cry. But a lot of times, I would love to feel a broad spectrum of emotion with you. And I feel that when you achieve that, you can engage a larger audience, and you can keep them engaged. When I look at what makes a Marvel film entertaining… What makes them so popular? Why does everyone like them? Why do kids like them? Why do adults like them? Why is it the go-to film anytime a Marvel film is released? Well, it's because there's drama, there's comedy, there are serious moments that make you angry. there's serious moments that make you want to cry. It has all of those things, but at the end of it, it's a story of good versus evil, much like professional wrestling.
-On facing Jon Moxley on Aug. 31 at All Out:
Yeah, it's crazy because I remember seeing him on TV. I saw something there. I knew that there was something magnetic about him, something special about him. WWE never showed it. And then when I see him nowadays, when I see these backstage promos, when I see the stuff that he's done in Japan, when I see the stuff that he's doing around the world, I see this new enthusiasm. I see the spark. I even see the physical condition that he's in. It's unlike anything I've ever seen. This is not the Moxley that came from that other place. This is a Jon Moxley that's reborn. I have to assume that this is a new entity, that this is a new person, and he has a type of enthusiasm and that sort of never-say-die attitude. And, with the skillset that he has, that magnetic charisma, with that ability to sell a match with this promo skills, with that ability to be incredibly physical, he's kind of like a new-age Terry Funk. You know what I mean? He brings something very new to the table that people clearly enjoy.

But the problem is, is that he's kind of coming into my world. And, I don't want him to think that it's going to be easy for him. I don't want him to think that he's going to get a free ride. You can talk the best game in the world. You can. You can brawl like the best of them. But the fact of the matter is, I made my name by being the best. I made my name by having the greatest 20-minute matches, 30-minute matches, 60-minute matches, and I've shown that I can do it in all styles of professional wrestling. Now, finally, he has the platform to show if he can be that multifaceted tool. So this is going to be the grandest stage for him, and this is going to be the biggest test for him as well. Yes, he can brawl. Yes, he can talk. But now, can he wrestle? Now, can he win? Now, can he fight? Now, can he have the type of performances that AEW is going to command from him? This is the real test.
You can read Omega's entire interview with Gamespot HERE