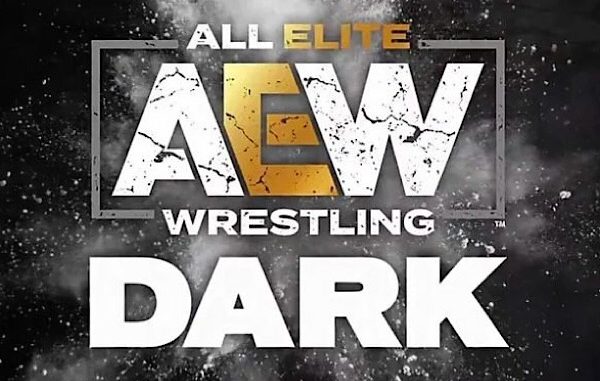 ---
SPOTLIGHTED PODCAST ALERT (YOUR ARTICLE BEGINS A FEW INCHES DOWN)...
---
AEW DARK TV REPORT
JANUARY 4, 2022
RECORDED AT UNIVERSAL STUDIOS, ORLANDO, FL.
AIRED ON YOUTUBE.COM
REPORT BY RYAN HOWARD, PWTORCH CONTRIBUTOR
Announcers: Excalibur and Taz
Ring Announcer: Dasha Gonzalez
(1) TONY NESE vs. ALAN "5" ANGELS
Angels used his speed to catch Nese with a single leg dropkick early and showed aggression in the corner. Nese jabbed Angels in the throat, swept the leg, but missed the follow slingshot moonsault. Angels hit a springing dropkick, but was cut off climbing the ropes. Nese rolled through a sunset flip and damn near took Angels head off with a spin kick. Angels fought back with a diving cross body off the top, step up hurricanrana and enziguri. Angels hit a nice double stomp to the back and moonsault out of the corner for two. We got dueling chants from the crowd supporting both guys until Nese hit a pump handle piledriver for a very close near fall. Taz mentions someone popping right up from a move like that recently. Both men went to the apron where Angels hit an STO. Back inside, Angels tried a running start out of the corner, but Nese planted him with a release German into the buckle and the Running Nese for three.
WINNER: Tony Nese in 7:00
(Howard's Analysis: Very good opener to kick off Dark in 2022, as these two worked very well together. This is the second week in a row where Taz has mentioned Nese scouting Hook, so like I said last week, I fully expect Nese to be perhaps the next Hook victim.)
(2) ANNA JAY (w/Tay Conti & -1) vs. DREAM GIRL ELLIE
Commentary wonders how Anna is feeling following that brutal tag match on Rampage. I think she'll be fine, considering this was taped before Rampage. Anna hit a nice Northern Lights suplex, but Ellie fired back with corner strikes. Anna turned the tables with a corner forearm, spin kick and flipping neckbreaker. Ellie wanted a DDT, but ate a superkick into the Queen Slayer for the submission.
WINNER: Anna Jay in 1:30
(Howard Analysis: Quick win for Anna, as the highlight of this match honestly was Taz trying to rhyme as many words with Ellie as possible.)
(3) GUNN CLUB (Billy, Austin & Colten) vs. ROLANDO PEREZ & AUSTIN GREEN & DONNIE PRIMETIME
Billy is wearing his sons Ass Boys shirt that Danhausen brilliantly created. Austin Green took turns tossing Austin & Colten down due to his size, so Billy tagged in to even the size advantage. Billy tried shoulder tackles, but bounced off Green multiple times. Billy got in a sucker punch, but as soon as Austin & Colten jumped back in, Green took them both down again. For some reason Green tagged in the much smaller Perez, who quickly got beat up, as did Primetime, who was starched with an Austin right hand. I have no reason why, but Austin dove face first clear across the ring and it confused even Excalibur. Despite that, Austin hit the Colt 45 on Primetime for the three.
WINNERS: Gunn Club in 3:00
(Howard's Analysis: 2022 kicks off with a victory for Billy Ass & the Ass Boys. I'm still trying to figure out why Austin did a diving face plant in the corner when no one was there. Maybe the ghost of Danhausen cursed him briefly?)
(4) MARINA SHAFIR vs. VALENTINA ROSSI
Rossi foolishly tried to throw some strikes at Shafir, who planted Rossi with a slam and high round kick. Shafir got a nice judo throw and triangle choke variation for the quick submission.
WINNER: Marina Shafir in 1:30
(Howard's Analysis: Shafir meant business here tonight as she picked up her first of what I assume will be many AEW wins. Her classical music entrance music fits her well, too.)
(5) BOBBY FISH vs. RYZIN
This is a rematch from a few months ago on Dark, as Ryzin avoided a slingshot senton early and hit Fish with an enziguri. Ryzin posed momentarily, which let Fish pop him with a strike and shot a double leg to the corner. Fish connected with a sliding lariat, roundhouse kick and exploder into the ropes. Fish signaled for the end and hit a Buzzsaw Kick for the victory.
WINNER: Bobby Fish in 2:00
(Howard's Analysis: Quick work for Fish tonight, who is now 2-0 against Ryzin.)
(6) LEYLA HIRSCH, KRIS STATLANDER & RED VELVET vs. RENEE MICHELLE & SOFIA CASTILLO & MARINA TUCKER
Taz mentions how his hair used to be as luxurious as some of the ladies in this match. Velvet quickly took Tucker to her corner and Leyla hit a running double knee. Leyla ignored Statlander wanting the tag and slapped Velvet on the chest to make the tag. Michelle tagged in for her team and wiped out Velvet, but Castillo entered and got herself hung up in the ropes before hitting a superkick. Tucker tried a fireman's carry slam, but Velvet turned it sort of into a DDT. Hirsch was taken down off the apron by Castillo, which let Statlander make the hot tag and clean house. Statlander hit an axe kick, but didn't realize the bling tag from Hirsch, who shoved Statlander out of the way to get the arm breaker and the submission.
WINNERS: Leyla Hirsch, Kris Statlander & Red Velvet in 2:30
(Howard's Analysis: Simple and to the point continuation of the Statlander & Hirsch feud as I fully expect a full blown Leyla Hirsch heel turn at some point. I'd love for her to become a member of Team Taz down the line.)
(7) THE ACCLAIMED (Anthony Bowens & Max Caster) vs. BLANCO LOCO & AXTON RAY
Max Caster's opening rap had a Nancy Reagan reference thrown in, so nice to keep it current. Ray fought free from an early attack; Loco tried to keep it up, but ate a nice Caster dropkick. Caster nailed a powerslam, but Bowens could only get a two. Loco escaped Caster, tagged Ray, who leaped clear to the top rope, but couldn't amount to much. Loco was hit with a back hand from Caster, spinning slam from Bowens and finally a Mic Drop from Caster for the win.
WINNERS: The Acclaimed in 3:00
(Howard's Analysis: It appears as if we're getting The Acclaimed vs. Darby & Sting soon, which should be a good one. Being in there with Darby & Sting will only boost The Acclaimed.)
(8) JAMIE HAYTER vs. MADI WRENKOWSKI
Madi got a takedown and headlock, but Hayter quickly turned the tide. Both ladies traded super stiff chops in the corner, with Hayter getting a majority of them. Overhead suplex from Hayter got only a one count. We learn from Taz that Bryce Remsberg has heat with him for not following him on Twitter and also being shorter than Taz. Hayter continued to pick apart Madi, who fought back with some forearms and powerful clothesline. Hayter responded with a misdirection forearm and a super gnarly Uranage that caused Madi's legs to fold up under her. Hayter put things away with the tear drop brainbuster for the victory.
WINNER: Jamie Hayter in 3:30
(Howard's Analysis: It's always good to see Madi on Dark, but I seriously hope her leg is ok after landing awkwardly from that weird Hayter uranage. This was super hard hitting from both ladies, as Hayter looked strong in victory and so did Madi in defeat.)
(9) DANTE MARTIN vs. CHANDLER HOPKINS
Hopkins stomped on Dante's foot to escape a cravat, but at a turnbuckle off a missed splash. Dante hit a slingshot dropkick that sent Hopkins to the floor. Dante went for a dive, but ate a Hopkins kick and followed with a somersault flatliner. Hopkins hit a nice handspring spin kick for two. Dante fought back with his speed and high dropkick for one of his own. Dante backflipped out of the ropes to avoid Hopkins, hit a tope outside and his double springboard moonsault for the three.
WINNER: Dante Martin in 3:00
(Howard's Analysis: Both guys fit in a lot of stuff in three minutes, as Martin chalked up the W, while Taz mentioned how he & Lio Rush are going to suffer for what they did to Team Taz.)
(10) SAMMY GUEVARA vs. HO HO LUN
Both men traded waist lock takedowns before Sammy fired off loud chops, even with Lun wearing a shirt. Sammy did a few leapfrogs and dropkicked Lun to the floor. Sammy did his little pose in the ring, but Lun raked the eyes back inside. Lun hit a nice dropkick off the middle rope, but took too long to capitalize. Lun raked the face with his boot, tried a brainbuster, but Sammy escaped with a back elbow. Sammy returned the favor with the face rake, hit a knee to the face and brutal G.T.H. Unfortunately for Lun, Sammy wasn't done, as he hit Cross Rhodes to send a message to Cody and got the win.
WINNER: Sammy Guevara in 4:00
(Howard's Analysis: This was a good win for Sammy, but if he loses to Cody, which he probably should, where does he go from here? You have to think his TNT Title reign was the most underwhelming so far, but are they really going to hot potato this title after changing hands 2 weeks ago? That doesn't seem likely.)
(11) POWERHOUSE HOBBS vs. COLT CABANA
Colt tried to compare his chest size to Hobbs and hit an early shoulder block, which Hobbs no sold. Colt got a running start and hit a shoulder tackle, but Hobbs popped right up and hit Cabana with one of his own. Colt tried to play mind games on the floor, so Hobbs went right out after him. Back inside, Hobbs ran over Colt like a truck and picked him apart. Colt hit a double hand chop, some jabs and bionic elbow. Colt tried a Flying Apple, but Hobbs avoided it and hit a spinebuster for two. Hobbs mocked the Dark Order pose but ran into a boot. Colt tried a moonsault, but missed and Hobbs locked on the Torture Rack to get the submission.
WINNER: Powerhouse Hobbs in 4:30
(Howard's Analysis: I dug this match quite a bit, as Hobbs' power didn't allow Cabana to do much of his comedy offense. I want Hobbs to go on a huge winning streak in 2022 and hopefully gets himself into the TNT Title picture. Team Taz needs more gold.)
(12) BRIAN PILLMAN JR. vs. JD DRAKE (w/Cezar Bononi)
Commentary puts over Drake's skills as a bowler in the early going with him in control. Pillman did a leapfrog, dropkick, tried Air Pillman, but Drake bailed outside. Pillman put on the brakes and wiped out Drake with a dive off the apron. Bononi distracted Pillman, which allowed Drake to hit his comeback forearm flush to the face. Drake ran distraction on Rick Knox so Bononi got in a couple cheap shots to get Drake a two count back in the ring. Drake hit a big time standing senton for another near fall. A clubbing lariat to the neck got Drake his third close fall, as he choked Pillman with his shirt. Taz said that might smell bad like Old Spice and says that's what Excalibur wears, which Excalibur agrees. He then says he thought Taz meant an old spice, like coriander, which popped Taz. Pillman mounted his comeback with a corner clothesline and took out Bononi with a dropkick off the apron. Pillman fought off Drake and hit Air Pillman for the victory, despite Knox stopping the count oddly. The match still ended and Pillman's music just started playing.
WINNER: Brian Pillman Jr. in 6:30
(Howard's Analysis: We haven't seen Julia Hart since she was misted from Malaki Black and I have a feeling she might have gone to the dark side, so we'll have to see. Despite the weird Knox count, this was a good showing for Pillman before his match with Black tomorrow night. Drake always makes his opponents look good.
FINAL THOUGHTS: This was a solid start to AEW Dark in 2022, as you built your Statlander & Hirsch story, had guys like Sammy & Pillman competing on Dynamite & Rampage look strong, your squashes and some good wrestling as well. The opener with Nese & Angels was probably my Match of the Night with how much they fit in. I also like Marina Shafir picking up her first AEW win. To top this all off, you had classic Taz & Excalibur banter about Old Spice and coriander.
---
NOW CHECK OUT LAST WEEK'S AEW DARK REPORT: 12/28 AEW DARK TV REPORT: Howard's report on Wardlow, Blade, Anna Jay, Nese, Diamante, Acclaimed, Janela, Orange Cassidy, Yuta, Kiss