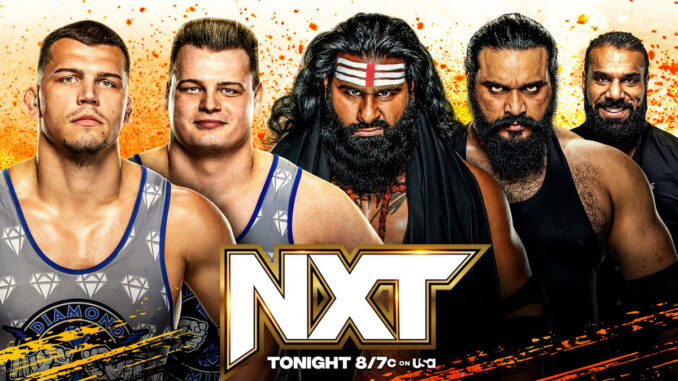 ---
SPOTLIGHTED PODCAST ALERT (YOUR ARTICLE BEGINS A FEW INCHES DOWN)...
---
CREED BROTHERS vs. INDUS SHER w/ Jinder Mahal
Finally! The match happened!
We've been waiting for this tag match for months now, and finally it took place to kick off this weeks NXT TV. This wasn't as good of a match as it may have been if it took place on a PLE – as it should have, but it was a solid tag match between two hoss teams.
Both teams worked in spots to make themselves look strong and credible. The addition of Jinder Mahal to Indus Sher, even in a managerial role, feels special. Which is weird considering Jinder has been relegated back to the lower mid card on the main roster after his championship run. Bald Jinder in his suit and scarf looks like the wise man directing his two monsters in Sanga and Veer Mahan.
Picking up a pretty dominant win, Indus Sher stood tall over their opponents standing alongside Jinder. A great way to kick off this hopefully dominant run for Indus Sher.
Verdict: HIT
ZOEY STARK vs. INDI HARTWELL
With Zoey and Indi making their Royal Rumble debuts this past Saturday, they showed a backstage segment where the two got in an argument over who had a better showing in the rumble. That argument led to this match tonight.
Indi has had a bit of a chip on her shoulder as of late, and while we didn't see that fire in her character work in the backstage segment, we definitely saw it in the ring. That said, the standout to me in this match was Zoey Stark. She has fully embraced this heel character and it shows in every aspect of her work. The way she walks, the looks on her face, the way she wrestles, the overall way she carries herself — it's all beautiful heel work.
The match overall was just okay. The two don't have the greatest chemistry together, and that showed with a few mistimed spots like an arm drag towards the end of the match. Zoey picked up the win, as she should have. She's been on a very dominant run as of late. Indi, while I love the character, has been booked as a solid midcarder for her entire NXT run. Losing to Indi, without it kickstarting a push for Indi, could damage Zoey in the long run.
Verdict: HIT
VON WAGNER vs. DIJAK
Dijak is the number one contender for the North American title, facing Wes Lee at Vengeance Day on Saturday. Von Wagner felt overlooked, and challenged Dijak to a match tonight. Wes Lee said that if Wagner wins, he'll be the contender for the title after Vengeance day.
I can't say I particularly loved this match. A lot of times when you get two big men in the ring, you get excited for a hoss fight. Two monsters fighting for dominance. And while that sounds good on paper, in execution it's rarely done well. Creeds vs Sanga was done relatively well. This match just felt… clunky? (for lack of a better term). I wouldn't call it a bad match, I just don't think that Von Wagner quite knows how to work as effectively with another big man as he does with a scrawny jobber.
Dijak picked up the win, but the booking of this match really confused me. Wagner just came out to try and get a title shot, only to get beaten by the current number one contender? Wagner hasn't been doing much lately, I feel like any shine he's built up over the last year is starting to fade. Especially without dominant wins.
Verdict: 50/50
TYLER BATE vs. AXIOM
Earlier in the night, Axiom was backstage watching an old NXT UK match between Tyler Bate and A-Kid. Bate walked into frame and said that he always liked A-Kid and wondered what happened to him. He said that Axiom reminded him of A-Kid and challenged him to a friendly match tonight. The humor of Axiom actually being A-Kid was kind of funny, but it felt a little overdone.
This match was a bit slow to get started with the two reversing each other's arm drags in creative ways for a few minutes. But once it kicked into gear, it kicked into high gear. Two incredible talents with a history of great matches in NXT UK were sure to deliver. Even if one of them is now under a hood.
It took five Tyler Driver's to put Axiom away, but the Big Strong Boi came out victorious. Match of the night, easy.
Verdict: HIT
STEVIE TURNER vs. DANNI PALMER
The in-ring debut of Stevie Turner, the streamer of NXT. I must admit, I love the gimmick. Nobody has taken an influencer gimmick and made it as cringeworthy and annoying as Stevie has thus far. There's nothing I hate more than "influencers" on the internet.
Wait… am I an influencer writing this column? Uhhhhh…. ¯\_(ツ)_/¯
I liked what I saw in the ring. Relatively polished in the ring, I definitely think she has the "it factor". She has the look, clearly has the charisma, and can go between the ropes.
Verdict: HIT
DREW GULAK w/Hank Walker vs. CHARLIE DEMPSEY
For months now, Hank Walker has turned to Drew Gulak to teach him how to be a better wrestler and finally beat Charlie Dempsey. Tonight, Gulak attempted to show Walker how it's done.
Completely off topic, but by this point in the show I was way behind of the live broadcast. So I started watching this match on 1.5x speed to catch up before PWT Talks NXT went on the air at 10:15pm EST. I highly recommend watching this match on 1.5x speed, it's comical how fast they move.
If Axiom and Bate didn't have an amazing match earlier in the night, this might win my vote for match of the night. It wasn't everyone's cup of tea, a lot of chain wrestling/showing off their mat skills. I love that stuff. I'd rather watch a technical classic than flippy stuff any day.
Gulak picked up the win after Dempsey was inadvertently thrown into Hank Walker standing on the apron. It was just enough of a distraction to let Gulak roll Dempsey up with the most dreaded move in wrestling, the roll up pin.
Verdict: HIT
CHASE U vs. THE DYAD vs. ENOFE & BLADE – WINNER ENTERS TAG TEAM TITLE MATCH AT VENGEANCE DAY
Pretty Deadly, Gallus and New Day are already set to clash at Vengeance Day for the NXT Tag Titles. Why not turn that triple threat tag into a more chaotic fatal four way?? The winners of this match will join those three teams at Vengeance Day.
I am not a fan of multi-man tag matches like this and the upcoming fatal four way on Saturday. They're always too chaotic and it's hard to follow the action. This match was no exception. While they did slow things down a bit towards the beginning of the match, they got a bit chaotic towards the end.
Enofe & Blade were the standouts of this match to me. Chase and Hudson already feel established. The Dyad is part of,  arguably, a top faction, and already cut their teeth as GYV. Enofe and Blade still feel like the underdogs, the up-and-coming pair who may fly under the radar for most. They've come such a long way over this past year, it's just a matter of time before they make a name for themselves on the main roster.
Chase U picked up the win after pinning Jagger Reid and will officially challenge for the NXT titles at Vengeance Day.
Verdict: HIT