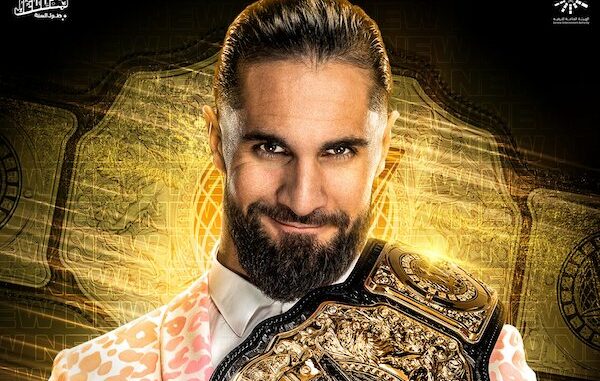 ---
SPOTLIGHTED PODCAST ALERT (YOUR ARTICLE BEGINS A FEW INCHES DOWN)...
---
WWE NIGHT OF CHAMPIONS 2023 HITS & MISSES
MAY 27, 2023
JEDDAH, SAUDI ARABIA AT THE JEDDAH SUPER DOME
AIRED ON PEACOCK, 1:00 p.m. EDT, 12:00 P.M. CDT
BY FRANK PETEANI (@FrankPeteani), PWTORCH.COM CONTRIBUTOR
Announcers: Michael Cole and Corey Graves
WWE World Heavyweight Championship: Seth "Freakin'" Rollins defeats A.J. Styles in the finals of the tournament to crown the inaugural champion.
HIT
I'm working on accepting this new championship. They can rationalize and explain it all they
want, but I don't like adding a new world title. You can like it if you want. I feel how I feel. That said, I won't let it cloud my judgement.
I didn't think the match was memorable or a classic or anything like that, but it still worked overall for what they were trying to do. The announcers did what they could to make the championship feel important, as they have done on TV in the buildup.
It had a "ground and pound" feel to it instead of the typical high work rate many seem to look for these days. That's ok. Go watch championship matches in MSG in the 70s with Bruno Sammartino. They didn't look pretty or choreographed. There were some cool spots with A.J. hitting the reverse DDT and the reverse suplex sequence Rollins hit later.
Unless I missed it, I didn't hear discussion about Rollins' history of knee injuries when he hurt his knee on that dive. Remember, he did have to relinquish the WWE World Heavyweight Championship back in 2015 when he hurt himself in a match against Kane.
Rollins is the guy that makes sense to start out with this title but, I'm curious to see the opponents they line up for him moving forward. Damian Priest? Finn Balor? Bronson Reed? Dominik? (You watch, the kid will be wrestling for the title before you know it.)
Trish Status defeats Becky Lynch
HIT
It's a bunt single or an infield hit for you baseball fans. I wanted to go miss, but that wouldn't be fair.
Despite my dislike for the story, I thought they had a good match overall. It's interesting seeing Trish wrestle in this era. Her prime years took place in a time where the focus wasn't on the women as it is now. It's funny too because they had good people back then (Victoria, Molly Holly, Jazz, Jackie, and the like) but women's wrestling felt more like an afterthought. Anyway, it took Trish a bit to get rolling and at times it looked they weren't working well together, but they got it right. The match felt about 3-4 minutes too long, but that's a minor quibble at best.
The finish was crap. Let's call it what it is, but let's see what comes of it. Zoey Stark is clearly going to get the WWE "secondary push" from Trish. Becky at some point must get her win back, and things are complicated with Zoey involved now. I'm not confident with Vince looming around as he doesn't tend to follow up on things because he forgets, or he loses interest in a story. Hopefully they have something good in mind.
By the way, it's ok that a returning legend gets a win. Conventional wisdom dictates Becky winning this match, which is fine and sensible. The problem is that becomes too predictable. This is fine, but as I mentioned, they must follow through on what happened in the finish.
I still don't like Trish as a heel. It feels like she's playing a role. I felt the same way about Edge last year when he formed Judgment Day. I'm also tired of WWE telling me about different women who "paved the way." Wendi Richter paved the way, Trish paved the way, Stacy Kiebler paved the way, Torrie Wilson, Lita, Natalya, this one, that one. It feels like they use that for whomever they want to spotlight.
WWE Intercontinental Championship: Gunther (champ) defeats Mustafa Ali to retain.
HIT
If I was grading this match on the overall story, it would be a miss. That would not be fair.
Mustafa Ali has been treated like a joke throughout his time in WWE. Now suddenly when it's convenient for them and they need a contender I'm supposed to look at him as a threat to Gunther? To top it off he wins a Battle Royal to earn this match. I know they do that from time to time but it's never good way to determine a challenger. At least have the guy beat someone of meaning. Then you want to give him offense against a very protected top-notch champion, and I'm supposed to sit in my corner and color and not say a word? Ali has lost squash matches on TV before our very eyes. Okay, I said my piece.
Like I said, it wouldn't be fair to grade this match a miss. Ali did look good with what they gave him. He is a good talent, but I might as well watch paint dry waiting for WWE to let him flourish. Start, stop, start, stop, how many times have we seen it? Anyway, the result was correct here and the match didn't overstay it's welcome.
WWE Raw Women's Championship: Asuka defeats Bianca Belair (champ) to win the championship.
MISS
I wanted to like this match going in. It was fun seeing these two live at WrestleMania. It just didn't hit for me. Their match at 'Mania was much better. I feel bad saying as such because it looked like they worked hard, but it's a miss.
The finish was quite clever on the part of Asuka. The problem is, and I think Zack Heydorn pointed it out on Twitter, the announcers need to be upset about it. They need to sell that someone cheated to not just win a championship but ended the longest reign of any women's champion in the modern era. Did WWE even care about that? No, what does Cole and Graves do? They celebrate it. Cole says, "Play Misty for Me Asuka." That doesn't work for me, I'm sorry.
Not to mention, the Raw Women's Championship still resides on Smackdown! Does that not bother anybody around here? I would have forgiven that if the match was a little better but, it wasn't. Swing and a miss here folks.
WWE Smackdown Women's Championship; Rhea Ripley (champ) (w/Dominik Mysterio) defeats Natalya to retain.
PUSH
This match was dead in the water heading in. Natalya has been treated as a joke and nowhere near credible for some time, and out of the blue she gets a championship match. I understand that's done in wrestling from time to time, but you're better off building Natalya up. I get that it features Rhea and makes her look dominant, but what does squashing Natalya even mean these days?
With that said, the match was what it should have been. It shouldn't have gone longer. For that reason, I can't give it a miss. I just can't give it a hit. Welcome to the introduction of "pushes" on a Hits & Misses report.
…. oh, and the Smackdown Women's Champion resides on Raw. I'm not letting that go until it's fixed.
Brock Lesnar defeats Cody Rhodes via technical submission.
MISS
This match had three problems going on. One, I still don't understand Brock's problem with Cody. If he or anybody explained it, I missed it. One minute he's happy go-lucky, high-fiving fans, and generally looking like he's having a good time. Next thing, he's attacking Cody? Why? Number two, this is not the story they need to be telling with Cody right now. He lost a big match at WrestleMania and won over Brock via a "banana peel" at Backlash, a match where he runs away after the win. Number three, why would WWE let him wrestle with a "broken arm?" (I mean I know Kurt Angle won a gold medal with a broken freakin' neck but, come on.)
You must be careful with the underdog "overcome the odds" story. The fans resented John Cena for years and they were even starting to do with Roman Reigns. That's where Cody is right now and obviously, we'll see how things shake out. If you want Cody to be at a main event level, he will have to beat Brock decisively. Right now, he's not there. He did kick out of the F-5 so, that's a good thing (not that I like kicking out of finishers but it's what's done, and Cody getting to do that matters).
As far as the match itself, I understood it for what they were trying to do. The steel plate in his elbow has been a thing they've used before ("Cowboy" Bob Orton, Lex Luger). They protected Cody with the pass out rather than him tapping out. I understand that. The issue is not what they're trying to do. The issue is, should they be doing this with Cody right now. The problem is, after Brock, what opponents do you have that you could feed to Cody to rebuild him after WrestleMania?
WWE Undisputed Tag Team Championship: Sami Zayn & Kevin Owens (champs) defeat The Bloodline (WWE Undisputed Universal Champion Roman Reigns & Solo Sikoa)
HIT
The closing segment of this match is what makes it a hit. Given everything that had happened on TV between the Usos and Roman & Solo you were waiting to see how things would shake out.
Thank you, Corey Graves, for talking about the history of the Samoan tag teams (Wild Samoans and the Samoan Swat Team who became the Headshrinkers, SST managed by a young Paul Heyman).
I enjoyed seeing Sami Zayn genuinely happy at the loud reaction for his entrance. Without getting into the point of contention Saudi Arabia has been, it's good to see. Paul Heyman introducing Roman & Solo followed by Sami doing the same for he and Kevin were nice touches. Sami speaking in Arabic worked, even if a lot of us didn't understand what he was saying. The slow start to the match with Kevin tagging in Sami with the crowd doing the "ole'" chant was a perfect way to get things going.
The match itself took a minute, but that's fine. With the drama of the finishing sequence lurking, I liked them working a slow pace. It makes the final minutes stand out. Now, I do have to say I'm surprised they have gone in the direction of Jimmy being the one to stand up to Roman and not Jey. If we want to get technical, Jimmy did just kind of "fall in line" when he came back a few years ago. He was trying to get Jey away from Roman if you remember. I don't think they're tying that in, but it's at least worth mentioning.
They have set up intrigue for television moving forward with the Bloodline story. I'm glad they didn't Roman "all the belts." They did pin Sikoa here, who had been protected, but I don't think that hurts him overall.
Hits 4
Misses 2
Pushes 1
Closing Thoughts
I'm never going to fully say I like these Saudi shows but I'm not going to dump on them for the sake of doing so because they're in Saudi. That's too easy. I will say this was on the higher end of these shows. As Brandon LeClair pointed out in his Alt Perspective report, they did a nice job of folding this into WWE "cannon." Shows of this kind in the past felt like glorified house shows that were not consequential to current WWE storylines. There's nothing I'd re-watch, but I wouldn't run into the other room if someone had it on.
With that said, the hits have it and this report is adjourned. Talk to you again in early July after Money in the Bank. Salute everyone!
Follow Frank on Twitter @FrankPeteani. Thank you for reading!