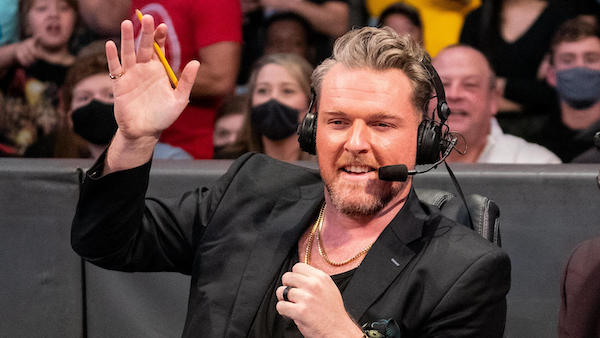 ---
SPOTLIGHTED PODCAST ALERT (YOUR ARTICLE BEGINS A FEW INCHES DOWN)...
---
Pat McAfee says his relationship with WWE is stronger than ever and revealed in a new interview with SI Media that Vince McMahon and Nick Khan both helped him with recent business negotiations.
"So you know, myself, Michael Cole, Nick Khan, Kevin Dunn, Hunter Hearst Helmsley, Vincent Kennedy McMahon, we all are still very much in contact with each other," McAfee said of his relationship with WWE. "Two of those men, Nick Khan and Vince were people that when I had a question about something that was going on through this whole process, very much answered my questions and said — Vince gave me a stern, 'Do not' for one thing that I was thinking about doing because I did not appreciate the way something was kind of laid out by one particular person in a company that I was kind of negotiating with and everything like that. So I sent a question. 'This was said. Am I allowed to say this back?' And it took a couple hours and I got a, 'DO NOT,' period and then it was like, 'Now is not the time' or something like that. I'm like, okay, okay, f*ck.
"Business-wise, I will listen to him and then Nick, same thing. It'll be another situation because Nick comes from the sports media world obviously. So Nick knows pretty much all of these humans that I was kind of talking to and everything like that. Nick Khan was like a ghost in this thing where I'd be like, 'This person, what type of person are they?' That type of stuff. He would send me back like boom, boom, boom, bang, pow. Think about this. Thank you so it's like, my relationship with the WWE, I don't wanna say it's stronger than it's ever been, but actually stronger than it's ever been and we are all very much talking about how I get back into the universe because I love it.
"We talked about this earlier. I love it, I think I'm good at it, I think I'm supposed to be in there," McAfee said of WWE and the pro wrestling business. "I understand why people are doing things. I think that's why commentating was a good spot for me alongside Michael Cole, the greatest of all time. Getting to get Stunned by Stone Cold Steve Austin, I lived out like dream after dream after dream over there. I love that place. Our relationship is very strong so I know you said you can say anything to that but actually, I think we're working. We're all trying to figure it out." (h/t Post Wrestling)
Pat McAfee last appeared on WWE television during an impromptu match against The Miz at WrestleMania. McAfee defeated Miz, making his WrestleMania record 2-1. McAfee defeated Austin Theory at WrestleMania 38, but lost to Vince McMahon.
---
CATCH-UP: Logan Paul comments on potential return to the WWE